POV Holder:
?
Next POV
Sept 6th
POV Used
?
POV Ceremony
Sept 8th
HOH Winner
Frankie
Next HOH
Sept 10th
Nominations:
?
Have Nots
?
POV Players
?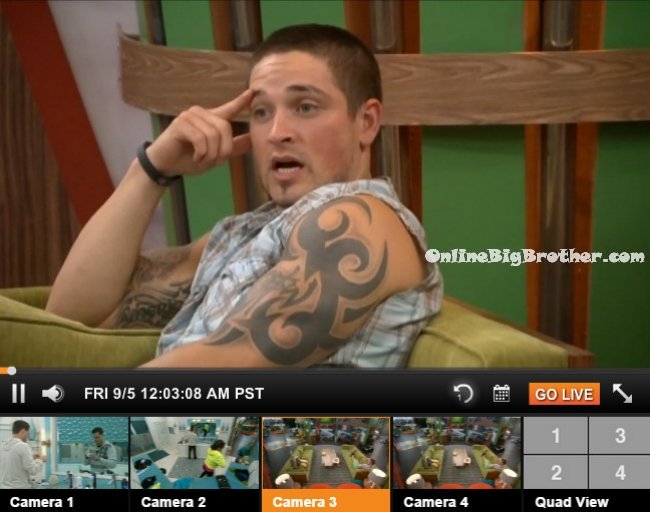 12am In the living room – Caleb and Cody are talking. Caleb says I was 2 balls away from being HOH again. Cody asks how do you think he's doing the noms? Caleb says I have no idea. He could put me up due to what I did in the BOB or he could put me up because of what I told him. You know? Cody says I don't think there's any way, no chance. I bet money its me. Caleb asks what would be his reasoning? Cody asks what's his reasoning for anyone? Caleb says I just told you what mine was. I just sat down during the BOB and he had to fight for his life but after that he did use the veto on me so we've .. I've thought we have fixed that. Cody says but the thing is, is that nothing can.. Frankie joins them. And says can we discuss the last people that have won HOH Derrick, Frankie, Cody, Caleb, Derrick, Frankie. Derrick says so basically we all earned this.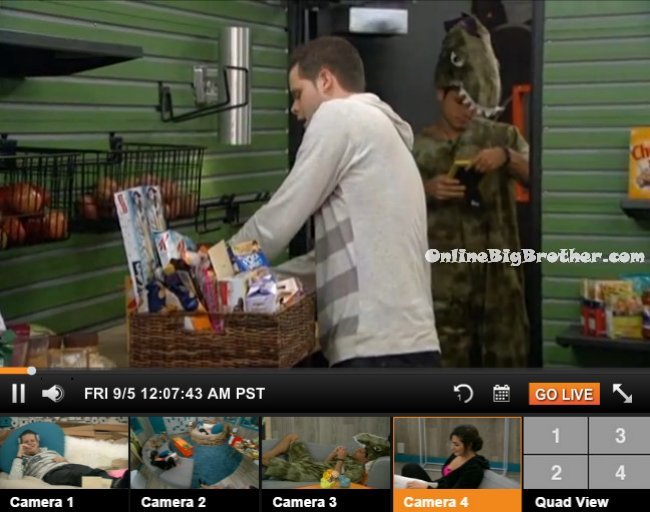 Big Brother tells Derrick to go to the storage room. Derrick goes in and finds his HOH basket. Cody joins him and grabs his HOH photo. Cody asks who's that? Cody asks who's that? Your brother? Derrick says no, no. Cody asks why would I say that's your brother. That's your daughter with who? Derrick says hold on one second I am trying to think about something. I almost want to.. damn. Cody asks what? Derrick says not the best picture to show. (Possibly a photo of Derrick in his police uniform with his daughter Tenley?) Big Brother blocks the feeds. When they come back Derrick says I'll tell you, I'll explain. Cody brings out Derrick's basket. Derrick comes out of the diary room. Frankie asks are you getting a new photo? Derrick says yeah. Derrick then reads is HOH letter from his father Tim.
Big Brother 16 Live Feed FREE TRIAL – Use the FLASHBACK feature to watch everything you've missed!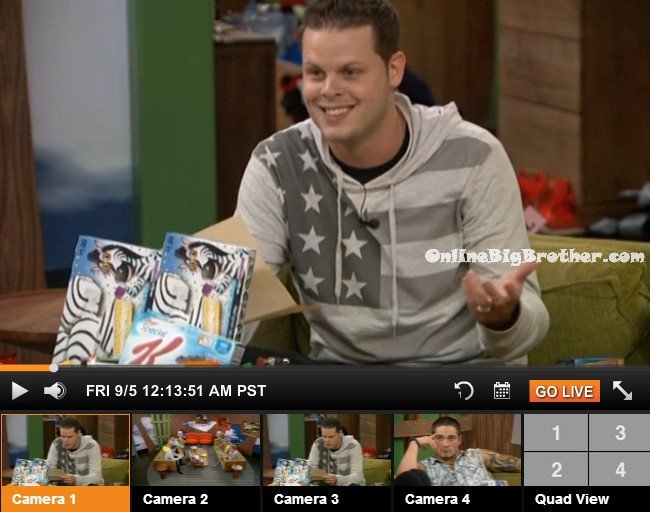 Derrick,
If you're reading this letter then you've become HOH again! I guess congrats are in order again! I'm not much for sending letters but seeing you through a fathers eyes gives me a chilling sense of pride. You've turned into an amazing human being. As years have past distance grows with your independence but it doesn't seem to affect how through my eyes how incredibly proud of you've made me in every sense of the word. I'm not sure there's an explanation for how I feel about who you've become but I'm sure you being a father yourself you'll see what I see as your daughter grows. As you know a dads love is indifferent from a mothers. We just express it differently.
Love pops! Tim.
P.S. You asked me to take care of your wife and daughter and they want for nothing, so relax enjoy this wonderful experience. You seem to be surrounded by a group of wonderful people.
Derrick tells them to enjoy anything in his basket. Victoria asks why did you give them back your picture? Derrick says it wasn't a good picture. It wasn't a good picture at all. It wasn't a solid picture. Victoria says oh. Caleb asks all blurry and jacked up? Victoria asks all blurry? Derrick says yeah it wasn't that good. Derrick gets up and says I want to see if they'll do something for me? So that I can explain.
One way to support this site that doesn't cost you anything extra is making your
Amazon purchases through the links Below
For in Canada use the following link:
Amazon.ca
12:35am Derrick, Cody and Frankie clean out the storage room fridge. Frankie reads an expiration date and says October 22. We're not going to be here then are we? Unless that's the twist from the button we pressed? Frankie hugs Derrick. Derrick says I hope you're right but you know where I'm coming from though? It's tougher you're older, you understand everything. They're like dude it a blast. But me if I walk home from them its like. Frankie says I know. Derricks says sorry, to come so close and not be able to.. Frankie says but if it is because we pushed that button .. then. Frankie says but there was no way you can't. Frankie says I think they would have rather someone sneak in.. in the middle of the night and.. Frankie says hopefully they give us a mission this week. Derrick says I know, I know!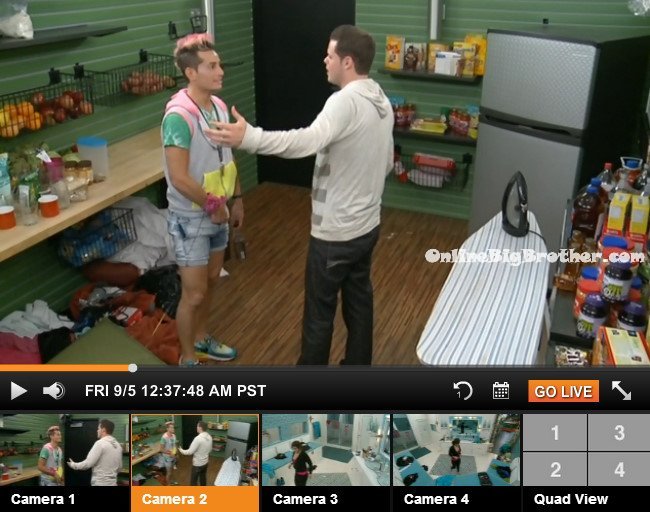 12:45am In the living room – Derrick, Cody, Frankie, Victoria talk about Christine questioning if their season has a view discretion advised warning and how Christine was boo'd when she left. Derrick ask you don't think she was asking about the view descretion because of your sexuality or something like that do you? Frankie says I don't know. Derrick says clearly there were some personal insults being thrown around in there. She hated Jocast and HATED DONNY! She hated that man. Hated him. She was probably in there hating on Jocasta, Donny, Nicole, you (Frankie). Frankie says I don't think she said anything about my sexuality she likes gay people. I think she was just pissed that I was here. Derrick says you don't know if she was bashing you and your sister. That could have been your family booing her. Frankie says no that's not my family. Derrick says you don't know what she was saying about you though. Cody talks about the Reset Button and says that it was getting pushed either way whether I pushed it and blamed it on someone else. Derrick comes out with another HOH item. A craft thing his wife made with her hand print and 5 reasons why she loves him. 1. Your an amazing husband and Dad. 2. Your smile, your eyes! 3. The way you can always make me laugh. 4. The way you listen to people and give them honest caring advice. 5. Your big heart plus the fact that you make the best pancakes. Love you babe. Keep up the great work.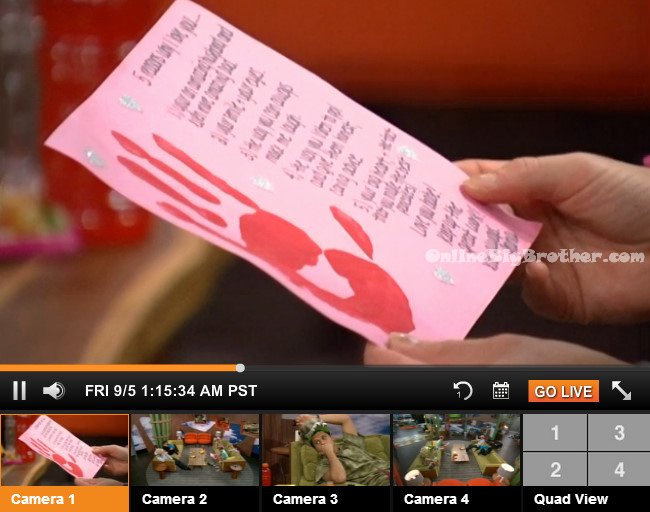 1:35am Derrick goes into the Reset Button room and looks at it. He says please, please, please don't be something that's going to ruin my game. Please don't be something that will ruin my game. It's not going to be good.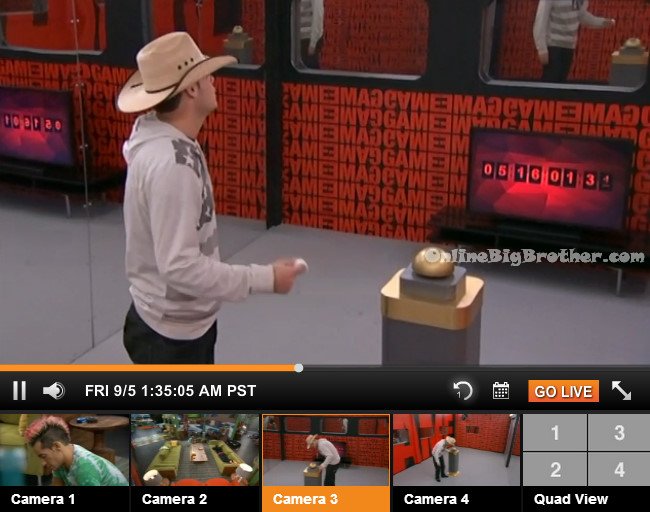 1:50am Frankie comes out of diary room and says who wants to see my HOH ROOM!! They all run up to the HOH room and heads inside. Frankie freaks out when he sees a photo of him and his roommate Lauren. Frankie got a red suit, his sisters album, etc. Frankie then reads his letter from his friends.
Frankie, Frank, Burankis,

Frankie my love I am so ecstatic watching you! Tough times never last but tough people do so keep strong as you are and keep it light because nothing is ever too serious. I hope you realize what life changing role you've had in this world and you've had to everyone around you. Everything I touch I break .. red wine glasses, hearts, my body. Everything and everyone you touch you change. You are a true honest person with a fierce force not to be reckoned with. Just know that your spirit and journey through life will open everyone's eyes and mind to become a better person and to push themselves to be as inspiring as you. It just isn't the same without you but you know I'm striggy shuffling around with the same ridiculous energy we emit. Good girl. Isn't it fun eating, sleeping and running around with a whole new random group of people. It must be challenging but it makes me smile. You are irreplaceable. Keep shining bright babe and I will see you when you're back. So I can give you the biggest strigs hug ever. I love you so much and I miss your face and your insanity every night! Love Lauren Strigs.
See what they can't show you on TV! -Try the Big Brother 16 live feeds for FREE!