POV Holder:
?
Next POV
Sept 6th
POV Used
?
POV Ceremony
Sept 8th
HOH Winner
Frankie
Next HOH
Sept 10th
Nominations:
?
Have Nots
?
POV Players
?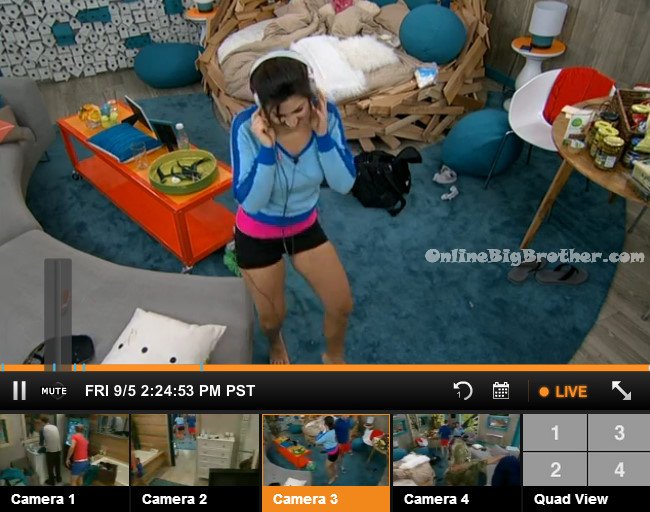 2:25pm Big Brother blocks the live feeds to wake up the house guests again. When the live feeds return – The house guests are up in the HOH room. Victoria is listening to Frankie's HOH cd of his sister. Derrick is in the bathroom getting ready. Cody is pulling up his dino suit and it looks like he was sleeping. Caleb heads downstairs. Frankie asks isn't that a great song? Victoria says amazing. Victoria says she going downstairs to make coffee. Derrick tells Frankie that he is getting more paranoid than Caleb right now. I'm nervous about those two because they are beasts. Frankie asks did you say anything to Caleb last night? About Cody going on the block? Derrick says no I didn't say anything to Caleb. Derrick says I didn't say a word so if he said anything, he's lying. Frankie says no its not about you. Caleb is also scared about Cody. Derrick says I love Caleb but if he wins I am scared to go home because of what Nicole said. They talk about Caleb being loved. Frankie says how many of those people in the jury will actually separate game from personal? Derrick says none of them. They (Caleb & Cody) are loved. Frankie says we're the villains. I was close to Christine for a little bit. Derrick says we just got to get to the end. Derrick says he knows his path to win. IF he makes it to the end he wins. Derrick says all three of you have played the best games. Derrick says if you smoke me in the end I want a trip somewhere like Africa. Frankie says I'll put some money in a college fund for your daughter.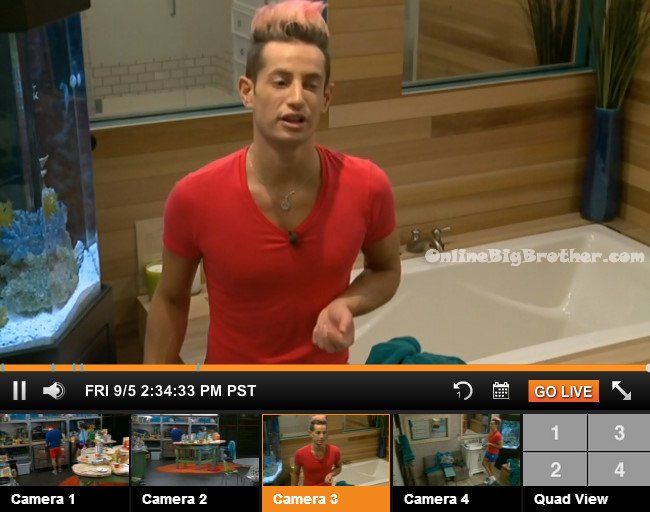 One way to support this site that doesn't cost you anything extra is making your
Amazon purchases through the links Below
For in Canada use the following link:
Amazon.ca
2:30pm Caleb starts yelling from downstairs that he pushed the button again and the clock stopped. They all start running to the Reset room. Victoria yells the clock stopped!! They ask him why he pressed it and Caleb says I don't know because we talked about it!! Caleb says you were going to do it. They run into the room and Caleb laughs about how he tricked them. Frankie says I almost broke both my ankles so if your plan was to take me out before the next competition you almost did it. He says he just had to. Cody tells Caleb that he presses it every time he walks in there.

2:45pm – 3pm
Caleb tells Frankie that he told Cody if he goes up on the block he just needs to trust that we will keep him here. Caleb says we just need to get to the final four. She doesn't deserve to be here. Caleb says if you or I are up there.. one of us is going home. We're the two biggest beasts in the house. Frankie agrees. If we're both on the block and you win the veto I know you would choose to keep me. I don't know about Cody or Derrick. Frankie says stick to the plan. Caleb says when we are all sitting around the table as the final 4 that's when we talk about it. Caleb is in the kitchen telling stories.
In the living room the tv screen says Nominations Today.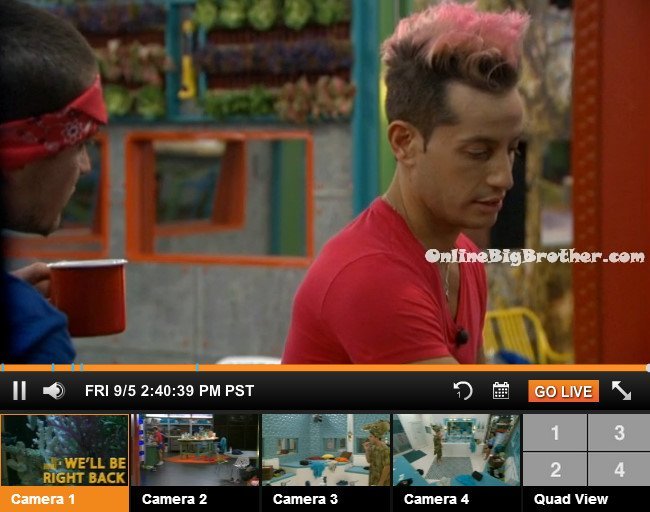 3:05pm In the fire room – Derrick tells Victoria I don't think he is going to put us up together. Victoria agrees. Derrick says as long as we don't go up on the block together, we're good. Derrick says he might put you up. You're the only girl. He might say we've all won compettions but if you go up you're okay. We all get to play in the veto so it doesn't matter who goes on the block. And if you don't win the veto you have no one to blame but yourself. I'm going to try and win it because if I don't I could go up. We're all going to try and win it. Derrick tells Victoria to keep her head up. Victoria says okay.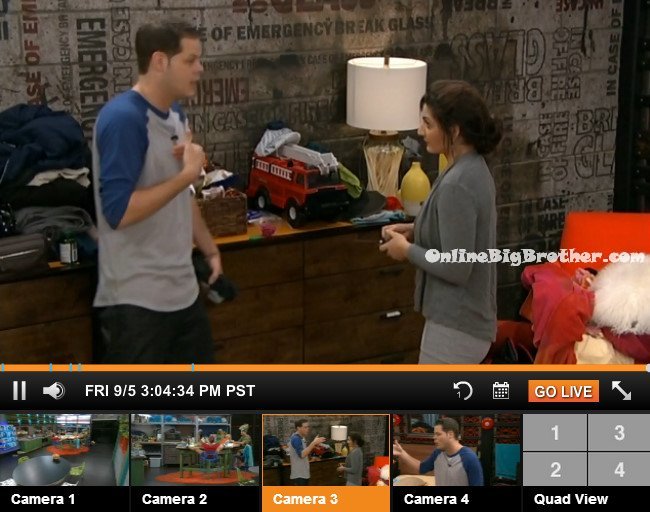 3:10pm – 3:20pm In the kitchen – Caleb says that if he doesn't win he is banking on winning America's Favorite. He tells Victoria if there is 10k or 20K in one of the competitions up for grabs he is going for it. Big Brother plays a Jocasta HOLLA. Caleb laughs at how soon they'll get a Nicole and Christine Holla. Caleb says Christine will refuse to do it if they try to get her to do it. Big Brother plays a Donny HOLLA. All the house guests laugh at how cool it was. They talk about how they were asked in the diary room about why they thought Christine was boo'd when she was evicted. Cody says he said it didn't have anything to do with him. Derrick says everything we do has a ripple effect. Big Brother keeps going in and out of blocking the feeds.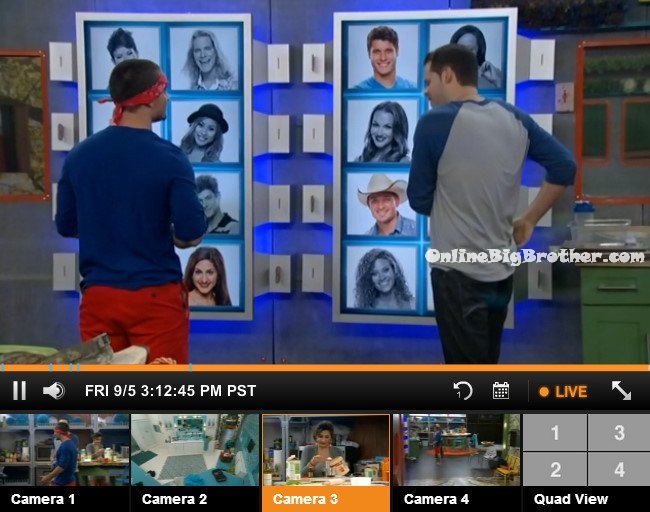 3:20pm The live feeds are showing the Jeff Schroeder live feed highlights .. The nomination ceremony could be happening now…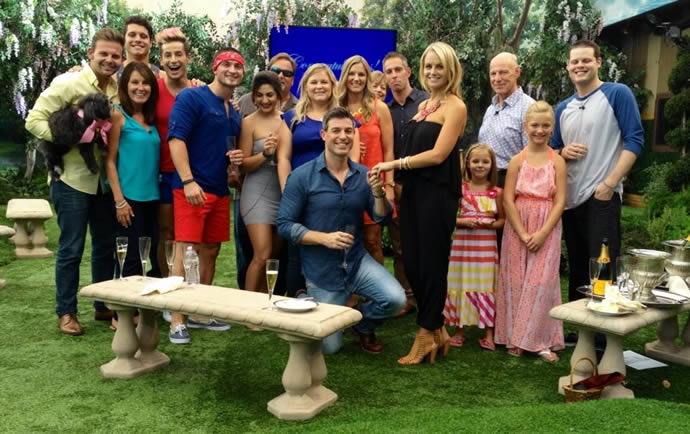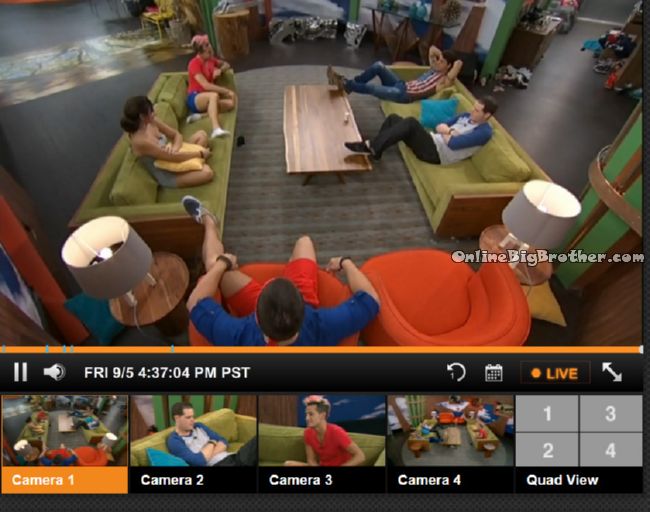 4:40pm
Feeds come back Jeff and Jordan get engaged. The house guests talking about it.. Apparently some county music star was there. the ring is supposed to be Humongous.
Jeff told them the house is disgusting
5:06pm Living Room Frankie, Derrick and Cody
They are talking about the drama of the season. they are under the impression that this season was good and entertaining. Frankie says they will have even more drama when the season ends. Derrick says he never watched the feeds near the end because it's boring. Derrick says that near the end people have a better idea about who is going home.
(LOL imagine a whole season that felt like final 4)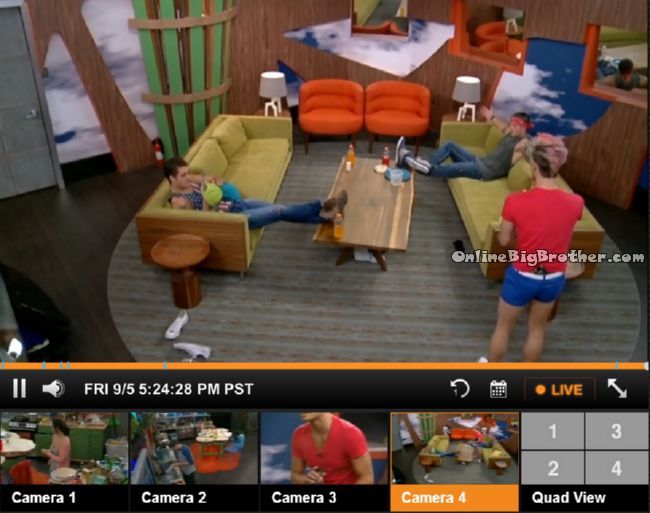 5:24pm Living Room Caleb, Frankie, Cody and Victoria
They are joking around with their competition wins. Frankie says Caleb can't count the BOB he won for himself. Caleb says that EVERYONE was on board for Caleb to throw the BOB. Frankie says he knows he knows everyone turned on them. Cody tells Caleb to pump the brakes. Caleb says no way pump the brakes everyone of them were supporting Caleb on that.
Frankie turns around at Cody says he knows they were trying to get him out that week.
(This was all done under the guise of laughs and semi jokes)
6:25pm Nominations Ceremony underway
What was said about the twist
UPDATE: All the Houseguests, who competed last Thursday, will play for HOH all over again
#BBrewind
If That button is pushed in the coming days then next weeks live vote will stop live on the air The two nominees Will immediately come off the block The Game will rewind and the entire week will be replayed that means next week's nominees could go from being on the block to becoming head of household. It's a week you do not want to miss as we are full steam ahead to the finale. Tune in Sunday to see who is the new Head of Household To see this Big Brother Rewind twist unleashed on the houseguests and to witness the return of Big Brother legends Jeff and Jordan for a surprise announcement. Then to make way for the NFL we are changing our schedule for the rest of the season. POV back up for grabs Tuesday 8/7c then the Live Eviction will be Wednesday 8/7c will another house guest be evicted or will the game stop dead in it's tracks.
If you found value in our site, the work we do and the community we foster please consider leaving a donation using pay pal below.
[polldaddy poll=8285104]