POV Holder:
?
Next POV
Sept 6th
POV Used
?
POV Ceremony
Sept 8th
HOH Winner
Frankie
Next HOH
Sept 10th
Nominations:
?
Have Nots
?
POV Players
?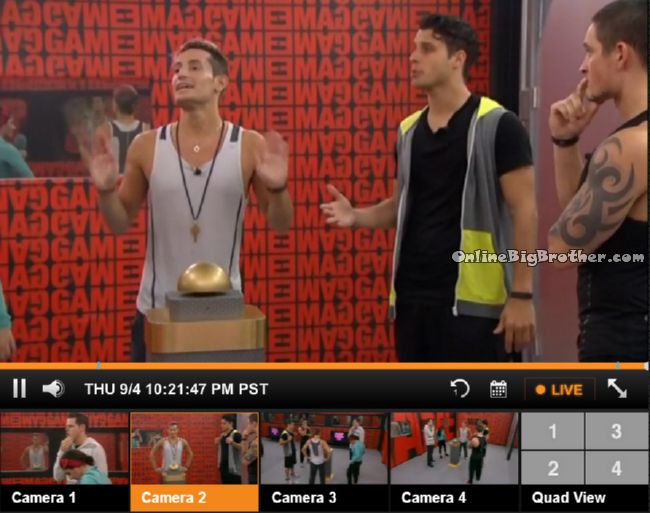 10:23pm Frankie wins the HOH they are contemplating pressing the button
The Card on it reads "The choice is yours it only takes one"
They decide to push the button a count down start
Derrick says there is something happening on Wednesday night. Cody and Caleb are excited they think it's something good. Derrick thinks it might be a eviction, "It'll be something that alters the game".
Derrick points out Wednesday at 5 o'clock there will be something that alters the format of the game. (Derrick isn't happy)
Cody says there might be a live show on Wednesday
(It will be interesting if Frankie makes a move and stabs someone in the back then with the rewind it doesn't matter)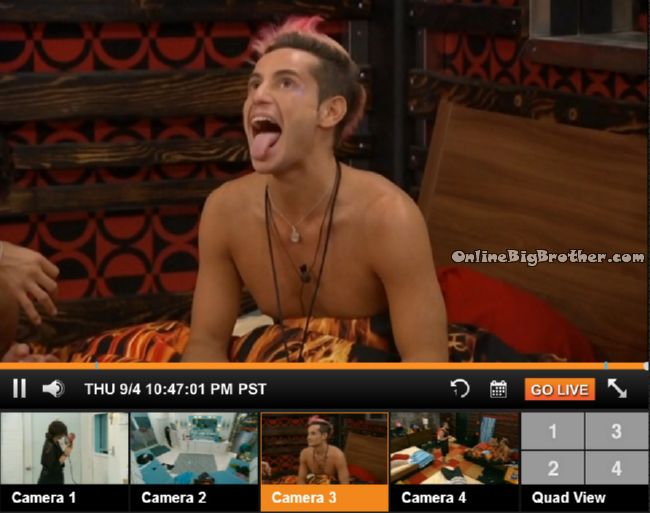 10:37pm Fire Room
Frankie keeps saying pushing the button was the best thing to do isn't thinking of the negatives, "what a boring week there could have been but not now"
Derrick isn't happy about the button being pushed. Caleb and Frankie are saying they have to push the button never in BB history has anyone not pushed the button. Frankie stresses that the fans would be pissed if they pushed the button. Caleb says the only thing he was worried about is it saves Victoria by messing up the nominations.
Frankie – I'm going to put on my best makeup Wednesday night"
Frankie asks if they want to talk about Noms. Derrick doesn't want to ruin the day but Frankie is the HOH they can do whatever.
Frankie says Victoria is the target.
Frankie thinks the button means they are going to have a luxury comp. he starts sticking out his tongue starts saying BLAH BLAH (See image)
10:56pm Storage Room Frankie and Derrick
Derrick was worried that pushing the button would dethrone Frankie's HOH.
Caleb joins them. Frankie says Caleb has kept him safe twice and so has Derrick but Cody only kept him safe once.
Frankie grabs at Caleb crotch, 'Stop it Frankie people are going to think I'm fruity.
Frankie – You're not fruity i'm just a homosexual man in a house with hot guys
Frankie leaves.. Derrick whispers to Caleb "Frankie ia beast man " Frankie comes back in they talk about Nominations sounds like Victoria and Cody are going up.
Caleb – at the end of the day Victoria is our target
11:15pm Derrick and Frankie
Derrick – Franke i'm being honest with you i'm going to win the next HOH and you are safe
Derrick says he's not going to get out another TA member and get booed like that. Derrick can't win in the end against Cody or Caleb or Frankie but he would rather Frankie win it because of the charity.
Victoria joins them and Frankie leaves. Derrick says for her not to get too upset if she goes up. Pressing that button is going to be REAL BIG it's not a luxury competitions a celebrity visit or a trip it's something that Alters the game
Derrick tells her she's the TOP girl of BIg brother 16 "At this point it's a friggin crap shoot.. you are the number one girl out of all these girls.. you already won I still have 3 guys to beat"
Victoria is scared to get booed now. Derrick is scared to.
Victoria points out Zach got no boos and Christine got a lot there is something up. Adds that Nicole got huge Cheers.
Derrick – Victoria you won you're the top girl in the house"
Victoria tells him if she leaves this week he needs to win it.
Derrick is worried because they are starting to see him as a competitor.
11:35pm Everyone in the living room
Chit chat about Christine getting booed
Frankei – There was a sigh when I won the Veto..
Derrick tells them how awesome big brother Canada was. Frankie says they had crazy production.
11:48pm Talking about the competition
Cody says he had 7 Seeds planted, "My sh1t was flying"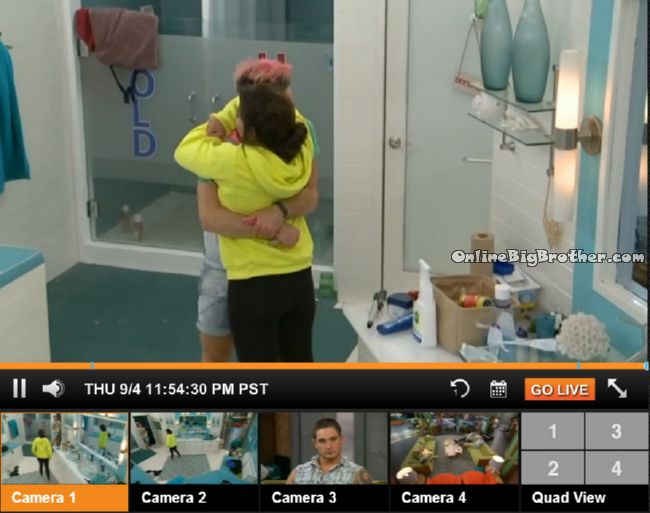 11:55pm bathroom
Victoria is nervous
Frankie is too they have no idea what is going to happen on Wednesday
Victoria says she's the last girls in her eyes she';s already won
They hug Frankie tells her
Frankie tells her they are in the final 5 they should proud of where they are "Nothing is over yet don't get all melodramatic"
Frankie wonders if Christine if furious right now. he tells Victoria about when Caleb was picking the HAve nots and was Asking who only did it once. Christine was pointing at Frankie but Caleb picked Nicole and Derrick volunteered.
What was said about the twist
#BBrewind
If That button is pushed in the coming days then next weeks live vote will stop live on the air The two nominees Will immediately come off the block The Game will rewind and the entire week will be replayed that means next week's nominees could go from being on the block to becoming head of household. It's a week you do not want to miss as we are full steam ahead to the finale. Tune in Sunday to see who is the new Head of Household To see this Big Brother Rewind twist unleashed on the houseguests and to witness the return of Big Brother legends Jeff and Jordan for a surprise announcement. Then to make way for the NFL we are changing our schedule for the rest of the season. POV back up for grabs Tuesday 8/7c then the Live Eviction will be Wednesday 8/7c will another house guest be evicted or will the game stop dead in it's tracks.
If you found value in our site, the work we do and the community we foster please consider leaving a donation using pay pal below.
[polldaddy poll=8285104]