POV Holder:
Chrisitne
Next POV
Aug 4th
POV Used
?
POV Ceremony
Sept 1st
HOH Winner
Caleb
Next HOH
Sept 4th
Nominations:
Nicole and Christine
Have Nots
Derrick and Nicole
POV Players
Victoria, Nicole, Caleb, Cody, Christine and Derrick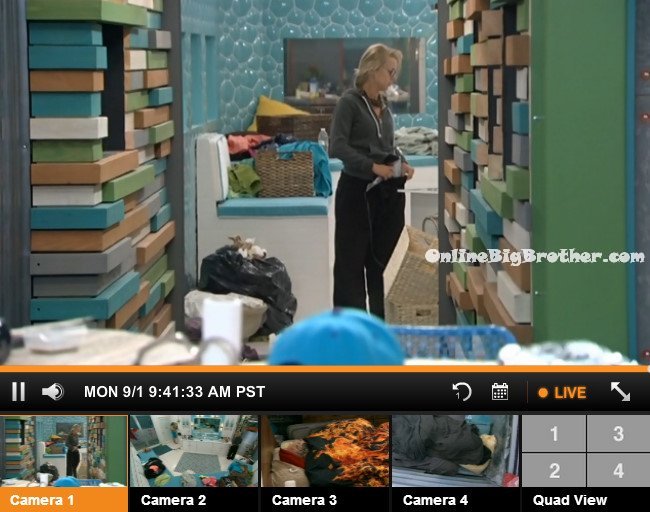 See what they can't show you on TV! -Try the Big Brother 16 live feeds for FREE!
9am Big Brother blocks the live feeds to wake up the house guests. Victoria has been up since 6am showering, getting ready for the day and painting crafts in the kitchen. Christine and Victoria are in the bathroom. Christine comments that she can't taste the difference between regular coffee and starbucks coffee. Victoria says wow and you're a barista?! Nicole joins them. Big Brother calls Victoria to the diary room. Victoria asks why are they calling me what the freak. Nicole tries to warm up from the ice box room by sticking a blow dryer down her pants. Caleb joins then and says don't you love it when they wake you up from a dead sleep to go into the diary room and you sit down all muffed up and.. Christine says they tell you to come back later. Big Brother blocks the feeds. When the feeds come back Frankie hugs Caleb and asks to shower in his HOH room. Nicole comments to Christine about what they're going to ask in the diary room. It's so awkward to ask you to use the veto on me when I know your using it on yourself. Nicole wondered why some times the people on the block give speeches and some times they don't. She says that they told her because some times its obvious.
One way to support this site that doesn't cost you anything extra is making your
Amazon purchases through the links Below
For in Canada use the following link:
Amazon.ca
In the kitchen – Caleb asks Frankie if he's staying up there with him tonight? Frankie says yes if you want me to. Caleb says I just want the last night alone. Caleb says you can stay up there as long as you want day or night. Caleb yells hey Christine .. WHEN YOU GO IN THAT DIARY ROOM! Frankie says please vote to evict Jocasta. Caleb tells Frankie you should have seen your face when I told you I don't trust you. I trust you more, there's just that 1% Like I trust you 99%. Frankie says I know where you're coming from because you have a different outlook on life like you trusted people with your life. I've never had that before. Frankie says I think we can make the final 4. Caleb says if we do we deserve it. Victoria asks Frankie about what outfit she wore before. Frankie then tells Caleb that Victoria can't even remember what outfit she wore she's not going to do well in the before or after competition. Caleb says I can't remember what I've worn either.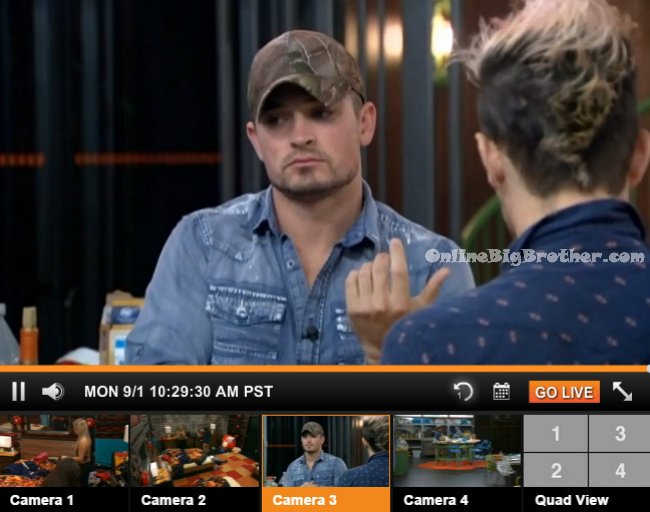 10:35am In the havenot room – Caleb wakes up Derrick and tells him that he'll know what to do when he gets up there but basically I was talking to Frankie and he said we were good. He said he thinks we'll make it to the final 4 so I think we're good.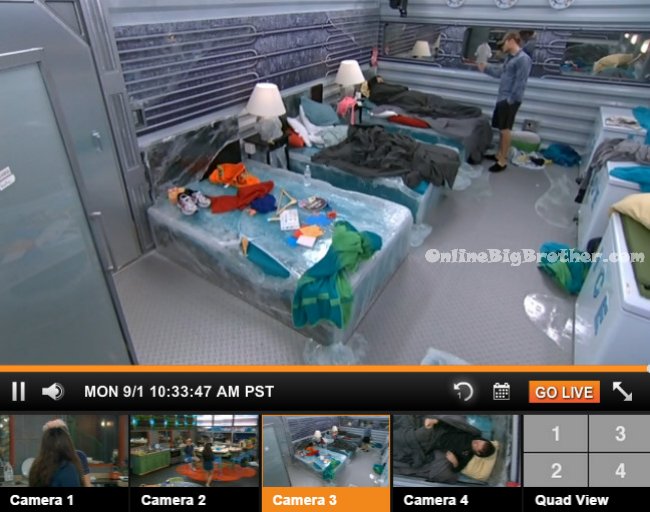 10:40am In the bathroom – Frankie comment on how we must be getting something since we're still locked out of the backyard. Nicole asks you think so? Frankie says there still can't be some a$$hole sitting out there with a microphone. It can't be have/havenot that's over. It could be a luxury competition.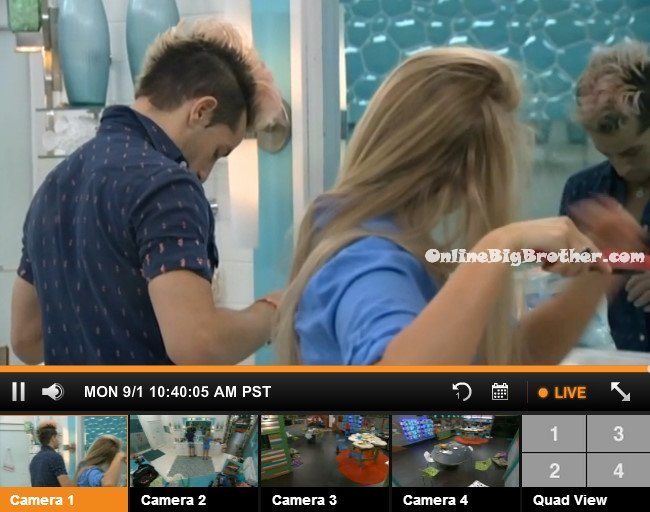 10:45am – 11am Frankie runs up to the HOH and asks Caleb why no backyard. Caleb says maybe luxury comp. Frankie asks do you know what you're going to say? Caleb says probably say Victoria sit down and get comfortable because you're not going anywhere. Nicole's the target. I'd like to tell her something that makes her feel comfortable because she doesn't like it up there. Frankie says yeah that sounds good. Caleb says we're literally 2 HOH's away from final 4. Frankie says the veto is always an option. Caleb says but there's always another option. It's never happened before .. the Brigade only got 3 of them to the finals. Caleb says I still feel like someone will try to break that up before it happens. Frankie says I know you do and you've given that to me. My gut is definitely concerned now. I hope you don't do it to me. Caleb says if I was going to do it, today would be the day I would do it. Don't be scared because I'm putting up Victoria. Frankie asks is that where all this paranoia coming from .. is someone coming for me? Caleb says it was just me sitting up here thinking about how you had done it to me before but we go past that. I did it with Cody too wondering if he would go with Christine. Caleb says if it was me and Cody sitting on the block and you won the veto.. Frankie says I would use it on you. Caleb says and I would do the same if it was reversed. The only person I am scared to sit next to is Derrick because people would want to take him for game strategy. Just like with Victoria but I hope she isn't here at that point. Frankie says if I'm going out of this game I would like the knife to come from the front. I want to be able to fight for my life. I think we've earned that at this point. Caleb says I think we're good and I hope we make it. Frankie says I think we are too. Caleb says I would be proud to sit next to you in the end and to get the 50K. I didn't get beat my Victoria or Christine. I would be proud of that. I know if we're sitting at the final 2 we earned it. Frankie assumes that Victoria would go after Nicole. Caleb says Christine should go next. Frankie says either way it doesn't matter to me. Christine has burned me a few times.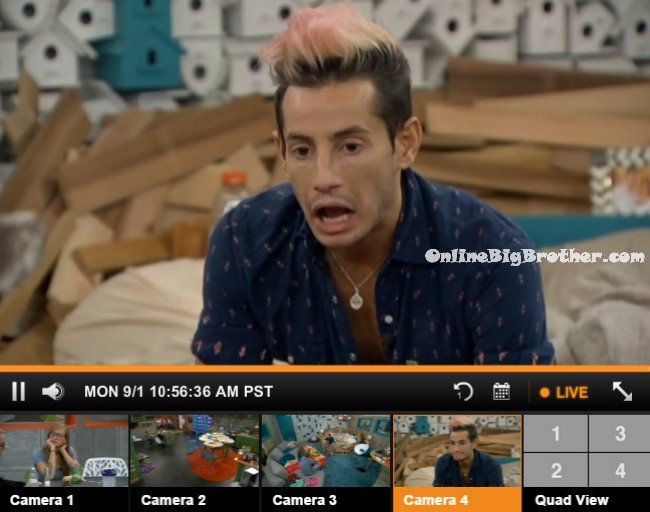 11:10am – 11:20am Frankie says if Christine doesn't win this HOH then she is gone next. Is Cody okay with that? Caleb says yes, he's loyal to the four. They both agree that they won't take Victoria to the end and they don't think Derrick would either. Caleb says I'm already considering her gone. Caleb says say you me and Derrick are in the top 3. If you and me make it to the final 2 we could be possibly the best players to ever play this game. And I've been asked about that in the DR. We've been together since day 2 and if we made it to the end I don't think that's ever been done before. Frankie says we could be up there with DR. Will and Boogie. Caleb says I didn't try to send you home and you didn't try to send me home .. only verbally. Frankie says and it was just a scenario.. I wouldn't never give any names from here on out. Derrick joins them and wonders if he interrupted their conversation. Caleb tells Derrick about what they've been talking about and how they're good.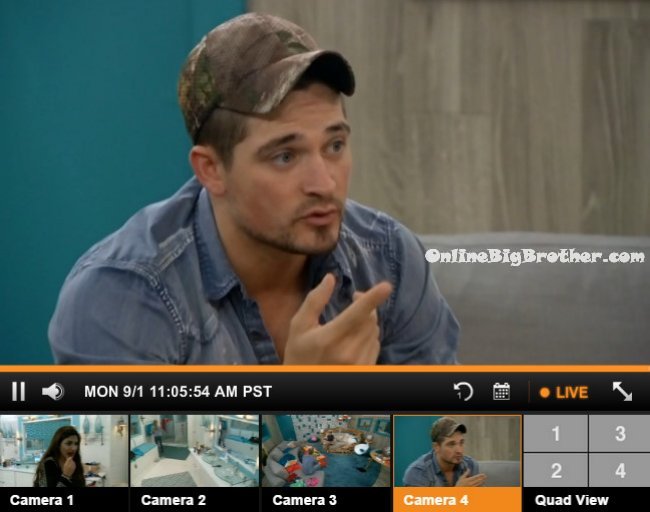 11:20am Big Brother blocks the live feeds..
If you're enjoying the live feed updates this season, please consider donating. Simon and I work 24/7 all season long to keep you updated on everything that happens inside the BB16 house. Any amount is greatly appreciated! Your donations go directly to paying the server and bandwidth fees required to run this site.
[polldaddy poll=8274218]