POV Holder:
Chrisitne
Next POV
Aug 4th
POV Used
?
POV Ceremony
Sept 1st
HOH Winner
Caleb
Next HOH
Sept 4th
Nominations:
Nicole and Christine
Have Nots
Derrick and Nicole
POV Players
Victoria, Nicole, Caleb, Cody, Christine and Derrick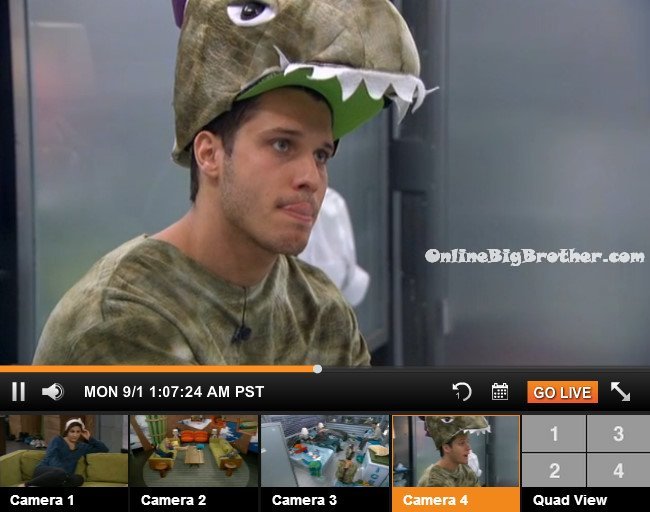 1am in the havenot room – Caleb relay's his conversation with Frankie to Cody and Derrick. Caleb says do I think if he (Frankie) won it would he put me up, I don't know. But I would feel way more comfortable if one of you guys won it. Big Brother blocks the feeds and when they come back – Cody and Derrick are alone. Cody says that Caleb just said that Frankie said he wasn't going to put him up so who does that leave? Derrick says he could just be saying that to Caleb. To not take a shot at him but he's lying through his teeth. Derrick says Christine has been throwing comps left and right but not any more. Derrick says I am glad you're playing in this HOH because I only trust you. Cody says if its you, me, Caleb and Victoria. Caleb is not making it to final 3. Derrick says but I don't see Victoria making it to final 3. Cody asks what gives us the best chance of getting there. Getting rid of Frankie or Nicole. Derrick is worried if Caleb puts up Frankie and then turns and says that you or I were the ones that wanted him out. Cody says if you're not crazy confident with the move then we keep it the same. Derrick says I just don't know. Frankie could win it and put up Christine and Victoria and we would be like wow he kept his word. Victoria joins them. She says she's nervous about tomorrow. Derrick says you should be .. just kidding. Christine joins them and ask if they've seen her retainer? Derrick says Saboteur! Christine says someone wouldn't do that! Cody says he's trying to jack you teeth up!

1:15am Derrick talks to Victoria and asks what's bothering her. Victoria questions what Derrick was talking about with Caleb. Derrick says nothing just about him having to do his DR and and about the backyard. Victoria asks if he would put up Cody. Derrick says no Caleb has to be smart with his decision. Nicole joins them and comments on how Cody is going to sleep up in the HOH room. Nicole leaves. Victoria says that's weird why would Cody ask to sleep in the HOH room. He sleeps in the rock room with Christine. Derrick says yeah but they've been hanging out maybe they wanted to just shoot the sh*t.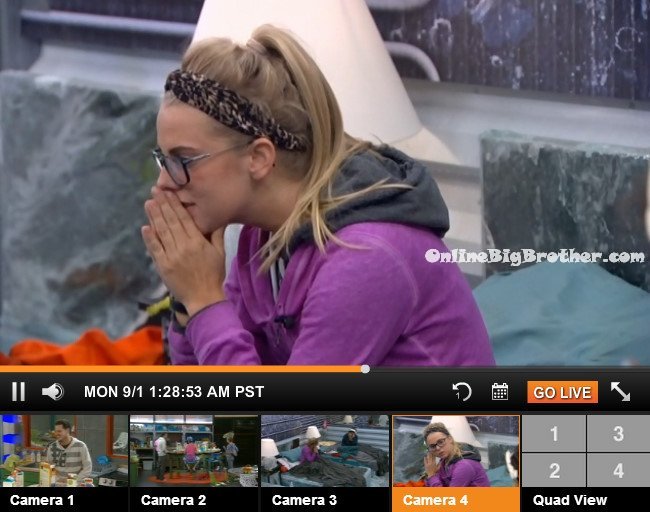 1:30am In the havenot room Nicole talks to Victoria. Nicole says you have nothing to worry about. If you go up against me .. which will probably happen then my game is done. I am accepting it and you have to win comps. You're not going home this week unless this is a double. Victoria says I was so close to getting the veto. Nicole says you weren't even on the block. Victoria says its funny how Cody always bashes my game. In the 4 vetos we were in together I either won or came closer than he did. Victoria asks don't you think its weird that Frankie moved out of the HOH room and Cody moved in. That is very weird to me! Like extremely weird. Nicole says you can't read into it. Victoria says yes I can. Nicole says if anything its a good thing. Nicole asks about what happened when Victoria came into the havenot room with Cody and Derrick. Victoria says it was really awkward and Cody said its just that part of the game. Victoria leaves and Nicole sits in silence.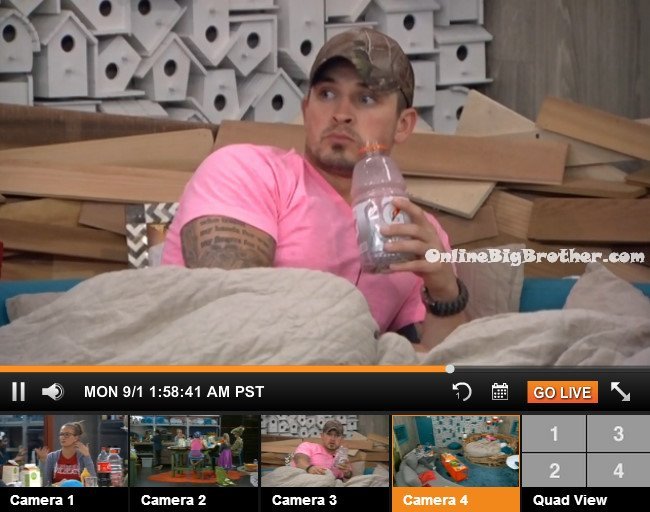 2am UP in the HOH room –
Derrick talks to Caleb about his conversation with Nicole. Derrick says she was talking about how her game is done. I asked her who she would put up if she won HOH and she said Victoria and Christine. But that doesn't mean she would do it. Would I take that to the bank and cash it?! No. Just like I wouldn't if Frankie said that. Caleb says I would need to justify my decision. Derrick says no you don't have to justify your decision. You can just put him up. Frankie is a huge competitor like Nicole is competitor as well. Caleb says difference is she hasn't been showing it and Frankie has. Derrick says if you didn't have Cody or I to talk to what would you do? You obviously think you can beat Nicole in a comp? Caleb says yes. Derrick asks and Frankie? Caleb says no one is beating me. Derrick says Frankie has a better chance of beating you. Caleb says yes. It all comes down to making a big move. Is beast mode going to make the biggest move of the season!? Derrick says it is the biggest move. Caleb asks will he or will he play it safe and just go with the flow. Derrick asks did Cody say if Christine would be cool with it? I'm assuming she wants Nicole out. Derrick says lets say we send Frankie home .. if I win Double Eviction who do I put up? Christine and Nicole. Caleb says yeah. Derrick says Christine is a better competitor than Nicole is. Caleb says that's why I'm scared of her winning. Derrick says although if we keep Nicole.. Christine would go after her. Caleb says how about if you were in my shoes. Derrick says better yet what if I were in Frankie's shoes. I have you, me, Cody that I have a final 4 with. But I can definitely beat Derrick. I also have Christine here. I just don't know if he would try to work with Christine. If Frankie isn't loyal he could put us up. I could too but that's not in my character. Frankie doesn't care what people think about him outside this house. Cody joins them and says that Frankie is coming up in 6 seconds. Frankie joins them and says goodnight and leaves.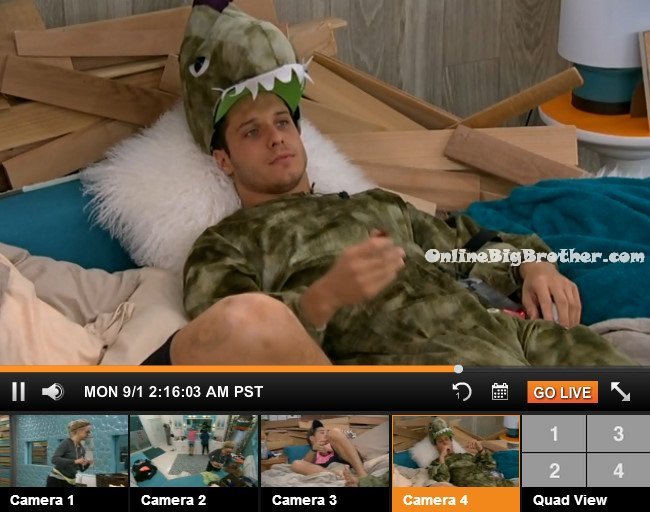 2:15am – 4am Caleb asks what do you think Christine would do if she won HOH? Cody says I have a feeling one of you two would go up next to Victoria. Caleb asks you don't think she would put up Frankie next to Victoria? Cody says no. I told her that skittles thing isn't happening, I pretty much told her if I win HOH Frankie is going up. Cody says that Christine was sitting right here and said two people have put me up. You (Derrick) and you Caleb. Caleb says this is what I am pretty much going to do is put up Victoria and send Nicole packing. Cody asks this thursday who do we target Frankie or Christine? Either way if one of them wins HOH they would target one of us. Derrick says I think if Christine wins you (Caleb) or I would be sitting next to Victoria. Cody says she scares me because I think she is a crazy good competitor. Caleb says after talking to Frankie tonight.. I don't think he is going to try to split us up. Derrick says eventually he is going to have to. Caleb says one of the three of us has to win that final 4 HOH. They talk about how the HOH and Veto holder are guaranteed to go to final 3. Derrick says if I won HOH I would put up Christine and Victoria. Cody says my thing is its tougher to try and get Frankie out when he can play to take himself off. Derrick says that's why this is the only way to get him out by backdo*ring him. Caleb says Frankie said he would put up Christine and Victoria. Cody says he could just be telling you that because you're in power this week. Caleb, Cody and Derrick continue to go back and forth saying the same thing over and over again. Derrick says and then you've got Victoria asking me what dress she should wear just in case he puts me up. Cody says Frankie could be down there saying you would be stupid not to put him up. Derrick says I'm surprised if Frankie thought he was going up tomorrow he would be up here till the lights go off. Derrick says Frankie is the better competitor. Caleb says thats just it then we have to beat Frankie and Christine on the wall. That's if Christine and him are working together. Derrick ask who would you be more mad at if they sent you home. Caleb says I would be pissed if Frankie sent me home when I had the chance to get him out but I would be pissed if Nicole sent me home when she got a buy back into the house.

Big Brother 16 Live Feed FREE TRIAL – Use the FLASHBACK feature to watch everything you've missed!
4:07am Caleb asks what are we doing, what's best? Derrick says send Frankie home! Cody says I'm down! I'm down for whatever. Derrick says if that's what we're going to do we just need to stick with it and we got to win and you know what if it doesn't work it doesn't work. Cody asks what do you think we have the best scenario with? Derrick says we're the 3 most indecisive motherf**kers ever! Caleb says I don't think we're going to go right or wrong either way we go. Derrick says we're not. Derrick asks you're a f**king soldier what does your heart tell you? Caleb says I don't know this is a hard one. Being a soldier I know, you have someone shooting at your face, shoot back. That's normal. Derrick asks what's your guy saying? Caleb says I don't know. Derricks says lets pull a skittle. They would f**king hate us. Cody says I say we all stop talking about it and go to sleep or start bullsh*tting and you wake up and make the decision in the morning. Caleb jokes Cody take a seat. Caleb says we'll figure it out tomorrow. Meet up here when the music starts and we'll talk about it and decide. Derrick says will it matter .. we've talked it all out. It will come down to you. You've already got all the info. Derrick heads down stairs.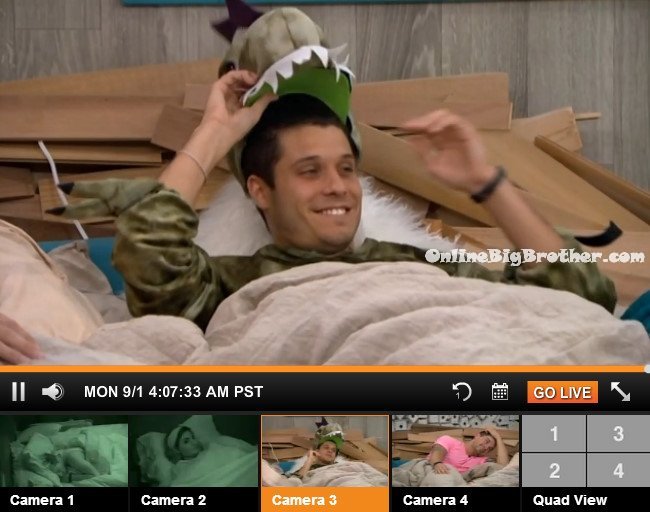 4:25am Cody talks to Caleb about how it makes him nervous that Frankie tried to flip everything on you about keeping Donny. Cody says I know if I want to make it to the end I need to start winning comps. Cody says it comes down to how confident you are Frankie is coming after Christine or working with her.
One way to support this site that doesn't cost you anything extra is making your
Amazon purchases through the links Below
For in Canada use the following link:
Amazon.ca