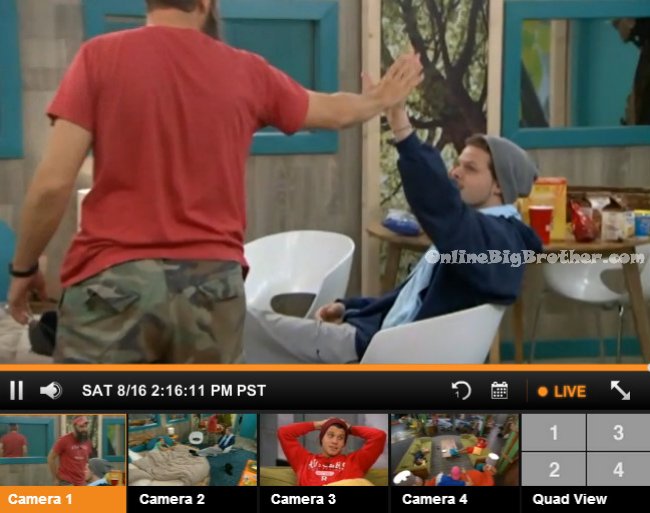 2pm – 2:23pm Derrick heads up to the HOH room.
I am going to start taking items for the Team America mission. As soon as Zach takes off that Gator shirt I am taking it. Donny joins them. Derrick says collectively we all need to be involved in it. Derrick says we could put all the stuff in a garbage bag in the recycling bin in the storage room. Donny says that's crazy that's exactly what I was thinking too.
The items they're thinking of taking are:
Zach's Gator shirt, hat or sneakers
Caleb's bunny slippers
Cody's hat, or Rutgers Hoodie
Derrick my shirt
Donny's visor
Frankie says my sleep eye wrap
Christine's eye glasses or bible or stuffed animal
Victoria's scarf
Take Advantage of the FREE 2 day Trial to watch all the drama!
Derrick says we are't allowed to make it sound like production is involved. Donny says getting the neighbourhood watch started won't be that hard. Derrick talks about having multiple people on watch. Donny says we should wait till after the others start to notice things going missing then we'll bring up the watch patrol. They talk about starting to grab things after the Veto today. Donny says he can even take things in the morning while he's the only one up. They talk about taking Christine's bible. Frankie thinks taking the bible is bad. Derrick says it will be fine. They talk about taking her stuffed animal but its big. They all agree this is a doable mission. Donny says when people are asleep I've got it made, I could take things out of their pockets. Derrick says if we can't get Zach's gator shirt we could take Amber's sweater. They end their meeting and Derrick leaves the room.
2:24pm – 2:30pm Derrick talks to Frankie about how if he makes it to the final two he would take him. I want to beat the best. I am not saying we need to make a final two deal or nothing. I respect your game more than most of these people. Frankie says me too and I am honoured that we got put together. Everyone has turned their back on both of us at one time or another. Donny says we are giving the fans a great seasons. I am not talking about production. I am talking about the fans. You are not my target. You would not be my target because I want to sit next to you. I want to beat the best. Frankie says I feel the same way. I honour you and respect you. Donny says same for you. Donny leaves the HOH room.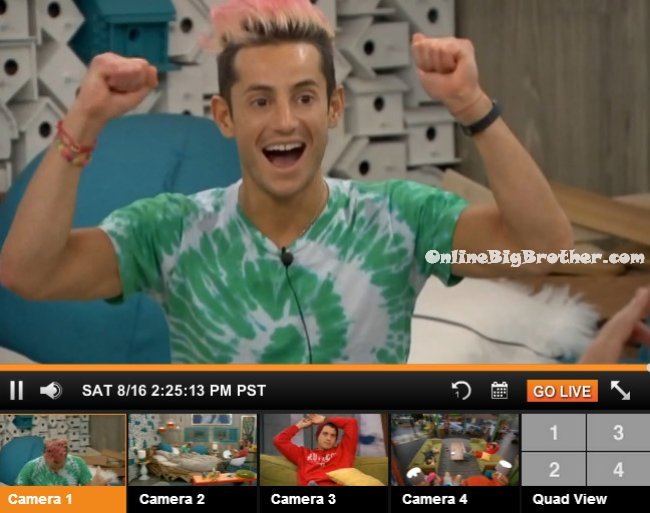 2:45pm – 2:55pm Zach, Cody and Christine talk about Devin. Zach says one of his personalities was alright. Cody says it was decent. Zach says so you're saying he was below average because that's what decent means. Cody talks about how day 1 Devin wanted to start an alliance to get everyone else out that walks in the door. Cody says I was thinking to myself playing too hard..check! Zach and Christine say they wish they were in the first group. Zach says we literally sat around and did nothing for 10 hours! Zach gets up and shows them what Pow Pow was doing when he walked in the door. The conversation turns to talking about the movie Butterfly Effect with Ashton Kutcher. Zach asks them if they're going to watch the season as soon as they get out. Derrick says yeah I would. People will hit me up and be like, yeah you really weren't dogging people.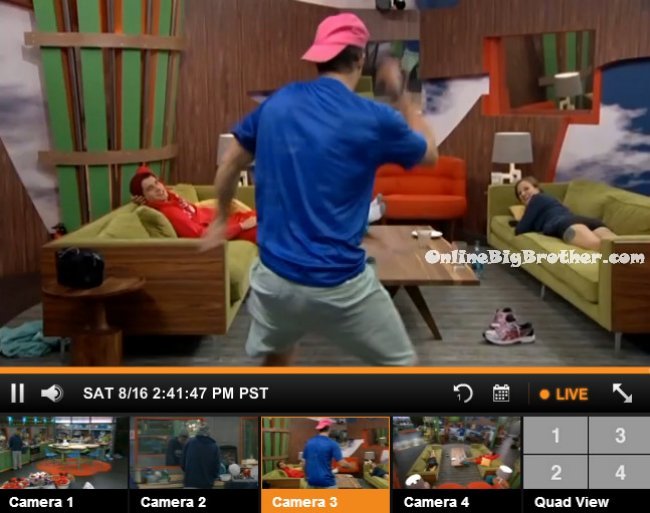 Alliances
The new bomb squad – Caleb, Zach, Derrick, Frankie, Cody, Christine
"The HITMEN" – Cody & Derrick
Team America = Donny, Derrick, Frankie
More polls here https://www.onlinebigbrother.com/big-brother-compendium/big-brother-16-polls/
[polldaddy poll=8244330]
[polldaddy poll=8248683]
Share it YO!
Tweet