POV Holder:
?
Next POV
Aug 16th
POV Used
?
POV Ceremony
Aug 18th
HOH Winner 1:
FRANKIE
HOH Winner 2:
Frankie
Battle of the Block Winner
Donny & Christine
Next HOH
Aug 21st
Original Nominations:
Derrick's Noms (Donny & Christine) Frankie's Noms (Caleb & Cody)
Final Nominations:
?
Have Nots
Christine & Victoria
POV Players
Cody, Caleb, Frankie, Victoria, Donny, Christine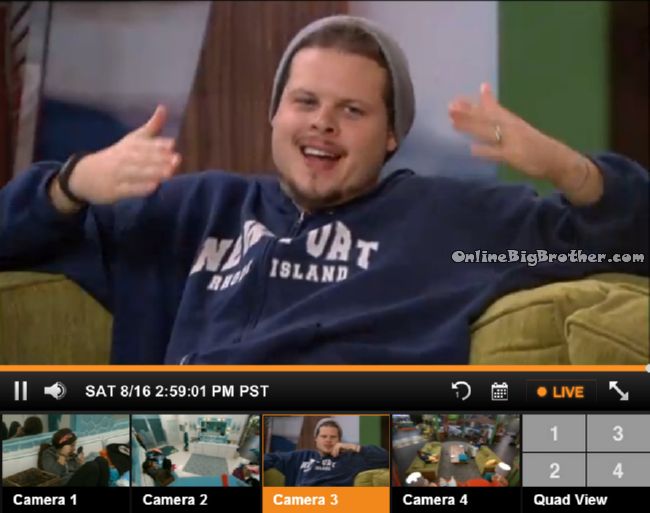 2:58pm Living Room Derrick, Christine, and Zach
Derrick says Nicole is the only person to have carved their name on the bathroom door that is gone. Derrick felts bad ebcuase she was
They bring up Nicole carving her name in the bathroom she did it once but not deep enough so she carved it out a second time. Zach wonders why she just didn't make the first one deeper.
Derrick says Nicole was all over the place "She definitely screwed that up"
Zach tells Christine she has to do her, Christine is scared to because it's breaking the rules, "I'm such a scaredy cat"
Derrick – Loser"
They are suspecting zingbot is coming today. Trying to figure out what the zing will be for Derrick, Something about him being old man going to the old folks home or perhaps something about his daughters blanket.
Zach – "Hey Derrick are you going to use the money to enter a retirement home"
Zach can't wait to be Zinged. They joke Zing bot will say to Christine "Jenn City called she said she wants her game back".
Christine laughing – That's horrible Derrick
Derrick jokes Christine will jump on Zing Bot with a
Christine mentions the zingbot will reveal how they are being portrayed. They start talking about Andy's (BB15) Zing, "Whats pale and floats.. Andy" Derrick remembers Andy was pissed by the zing because he didn't want to be a floater kept saying he made powerful moves. Zach says Andy was a floater.
Talk moves to Season 14 where Dan played Danielle the entire season. Derrick says Danielle was good person for Dan to get because she could win Competitions.
Derrick – I hope our season's not lame.. We don't know it now but I hope there's a Dan in this house that's Running through this house." They thin they have all the characters covered this season.. Caleb is the good guy, Donny is the Underdogs, They have a Eval Di!ck character…
Derrick tells them they have to win Endurance on Thursday if he falls off first he'll rub their feet to help them stay in the competition. Derrick says the one good thing about losing this weeks HOH is he gets to compete in the next HOH
Zach – Dude and you got pictures bro you made out like a bandit
Victoria and Caleb joins them
Zach brings up how funny Caleb has been lately, Christine, Derrick and Cody Agree. They all start laughing at some of Caleb's activities..
Zach brings up MindCraft his brother started getting obsessed about it he almost lost his mind.. Christine and Zach try to explain it.. the graphics are horrible but is a lot of fun.
Zach and Derrick starts to organize a Madden video game night when they get out. 9:30 Tuesday nights is tentatively set.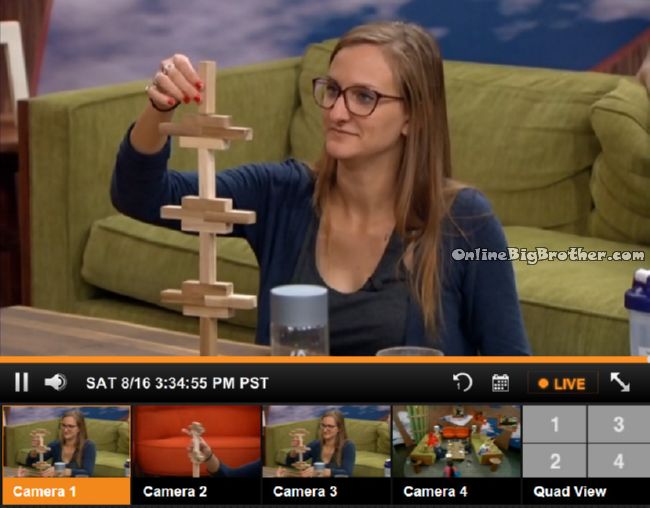 3:41pm Chit chating checking out the irregularities in the Jenga blocks
Christine joking that her and Tim are investments to each other.. He invested in her to become a milf one day and she invested in Tim to be a rock star
Christine says Tim is great he's the nicest guy he'll love all of them.
Derrick says he'll like everyone but Cody.
Christine – Tim, I love you… Mom tell Tim I love him..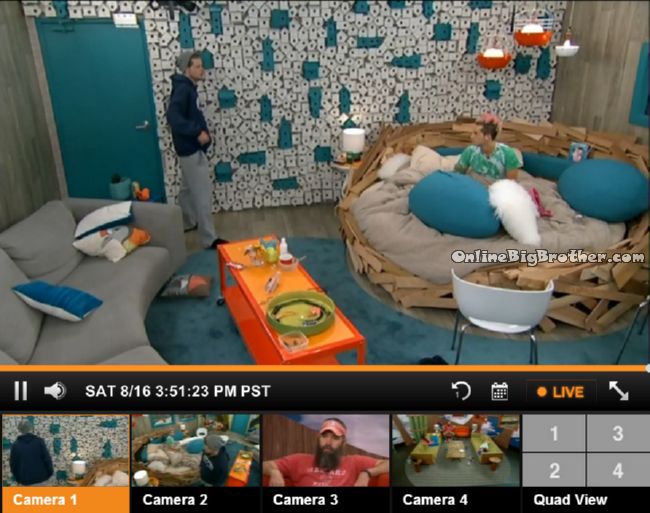 3:50pm HOH Frankie and Derrick
Derrick – I'm on the f*** prowl..
Derrick is going to grab Victoria's purple robe the one she wears all the time.
Derrick – You good to go
Frankie – Ya
Derrick asks about Frankie's talk with Donny, "Does he suspect Christine threw it"
Frankie doesn't know. Donny said he respected them both being competition beasts.
Frankie didn't get much information out of Donny, "I think we're still OK"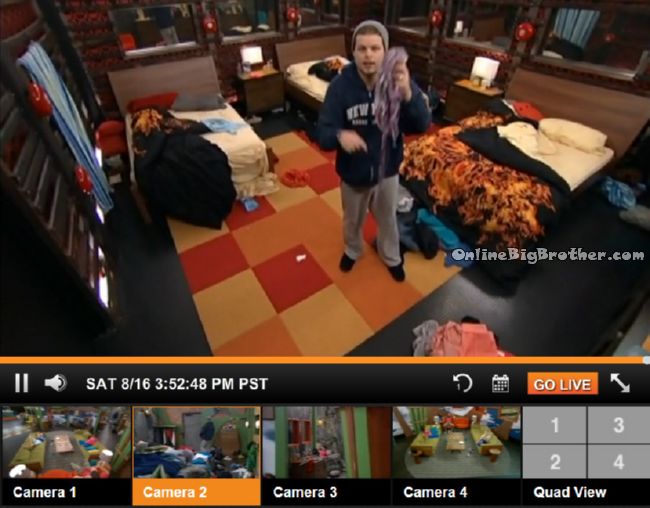 3:52pm Derrick steals Victoria's Purple Robe as part of the TA Task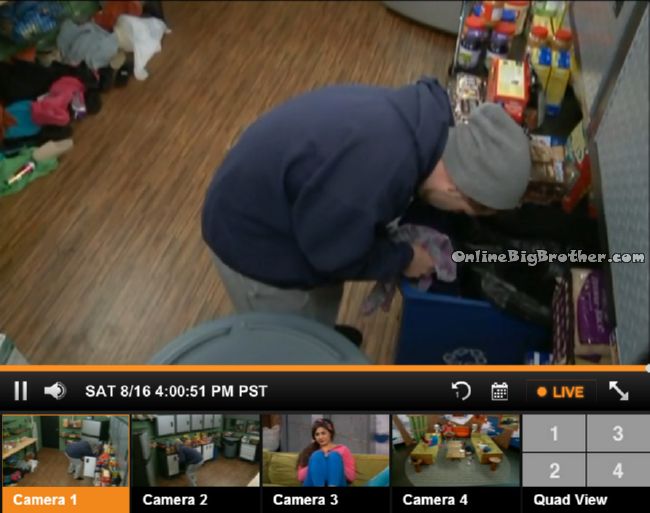 Tosses it in the bottom of the recycling bin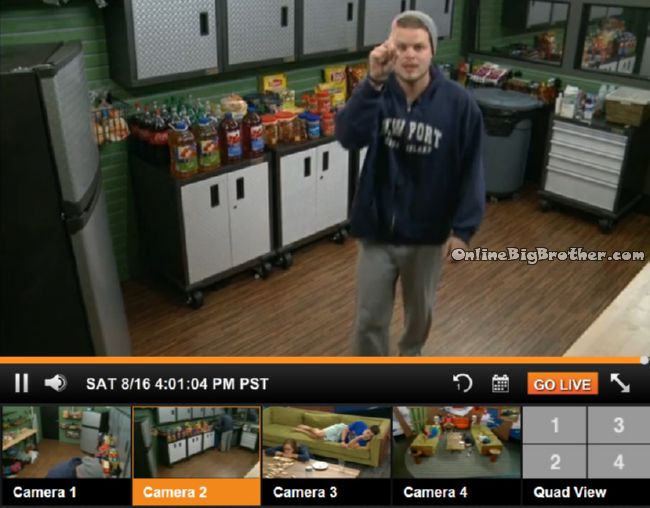 Derrick – "That's One"
4:10pm Living Room Chit chat
Food chains, chick fil a, Sonic's, Moes, Chipotla
Talk moves to Joey stripping naked as soon as the feeds went on. Joey told them her boyfriends would have been cool with it.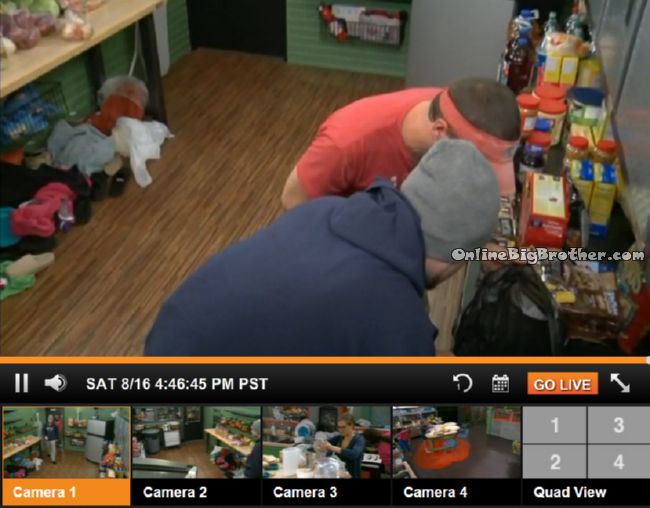 4:46pm Derrick shows Donny the stash
Derrick – THat purple thing she wears every day
Donny oh you got it..
Derrick is a bit worried someone will find it there..
Donny – She's going to notice that today
Derrick is going to take his beanie because he wears it everyday.
4:49pm Feeds go to Jeff.. POV Being played.
6:18pm Still waiting for results
7:04pm Still waiting for results
Alliances
The new bomb squad – Caleb, Zach, Derrick, Frankie, Cody, Christine
"The HITMEN" – Cody & Derrick
Team America = Donny, Derrick, Frankie
More polls here https://www.onlinebigbrother.com/big-brother-compendium/big-brother-16-polls/
[polldaddy poll=8244330]
[polldaddy poll=8248683]