POV Holder:
?
Next POV
Aug 16th
POV Used
?
POV Ceremony
Aug 18th
HOH Winner 1:
FRANKIE
HOH Winner 2:
Frankie
Battle of the Block Winner
Donny & Christine
Next HOH
Aug 21st
Original Nominations:
Derrick's Noms (Donny & Christine) Frankie's Noms (Caleb & Cody)
Final Nominations:
?
Have Nots
?
POV Players
Cody, Caleb, Frankie, Victoria, Donny, Christine
WATCH the next 48 hours for FREE – Big Brother 16 Live Feed TRIAL!
9:30am – 10:15am Big Brother wakes up the house guests. When the live feeds return Donny and Cody are in the kitchen eating breakfast. Zach joins them. Donny says good morning Zachary! Zach says good morning Donny. Cody heads back to bed. Donny asks if I won head of household… whos the two biggest anti-Donnies. Zach says definitely Christine.. she is the biggest. I don't know who the second would be. It would be between Cody, Caleb Frankie and Derrick. Donny says says that's good. I'll dwell on it. Everybody is going to go home and peoples families are going to be like why did you gang up on the poor old man. I mean there's been a lot of negative things in this house but why that good old man? But then they'll forget about it. Zach says or they won't if you go home with the 500K! Donny says its an insurmountable obstacle. I can't win against everyone, every time! They're going to catch up with me eventually and there's too many of them. Zach says there are only 4 more Thursdays.. you already got through this one so you've only got 3 more and then your at the final week. Zach tells Donny if I will HOH you're not going up. Donny says same here. Zach says bigger fish to fry! Donny says if it got down to their final 5 what are they going to do just see where the chips fall. There's nothing we can do about it now, there's not enough of us. Zach says if you win the veto today, that's one of them down. Donny says Cody shafted us didn't he. Zach says yeah. Donny says I scare the pants off them when I come through here without my contacts in when I go to the bathroom. They think I'm up to something. They think I'm reading minds. I'm just a normal person, A good hearted person! It looks like they're going to use a person that's by himself to get their friends out.. have they never watched the show before? Donny asks who makes most of the decisions? Who's the head? Zach says Frankie! Frankie for sure. Donny says hopefully things go as planned this week. I'll still be their target next week. If somehow you can make it Zach, you will have my vote! Zach says thank you. Donny says maybe they will want to use you to get their friends out because your the next closest to them. Donny says Nicole and I were talking about not wanting to give the money to them and then we both looked at each other laughed and said Zach.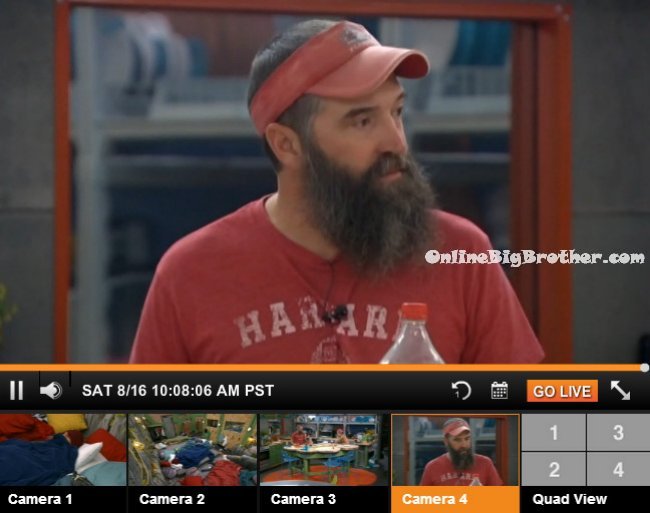 10:10am – 10:15am Donny says its just too easy for them to send home Victoria. They can't get me out this week. I'm hoping they don't go after you. They won't want to give her up because she's weak in competitions .. so that they can win Head of Households. Donny says don't say nothing because who knows they might. And they might think you'll stay around to win HOH to beat me. They might keep you! We hope so! I'll try my best. Just don't say nothing about me. Zach says I won't, I swear to god. Donny says no matter how you get ever.. Zach says don't worry. I've got your back. Donny and Zach head back to bed. All of the house geusts are sleeping.
See what they can't show you on TV! -Try the Big Brother 16 live feeds for FREE!
11:15am Its a quiet big brother house this morning..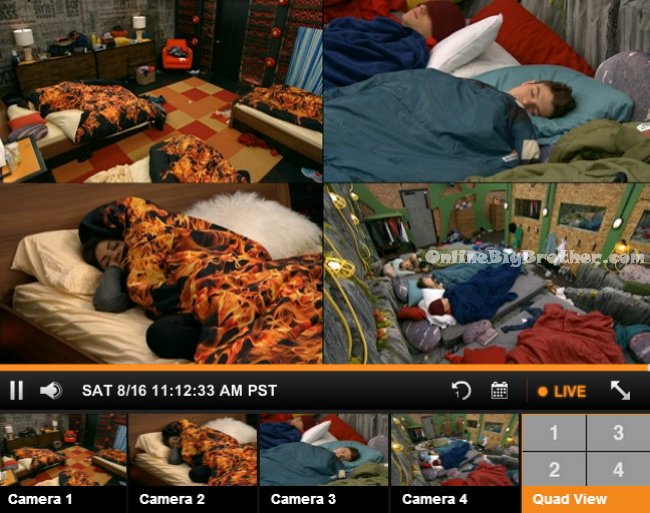 12pm – 12:10pm Caleb comes out of the diary room and asks Cody if he's awake? Big Brother says good morning house guests please report to the head of household bedroom. Chrisitine asks what? Caleb says they said to report to the HOH bedroom. Does that mean sloo? or Table Change? They said not to go back to bed because they have something up their sleeve soon. Big Brother blocks the feeds.
(Its likely for Zing-Bot to come into the house to ZING the house guests and then start the Power Of Veto Competition.)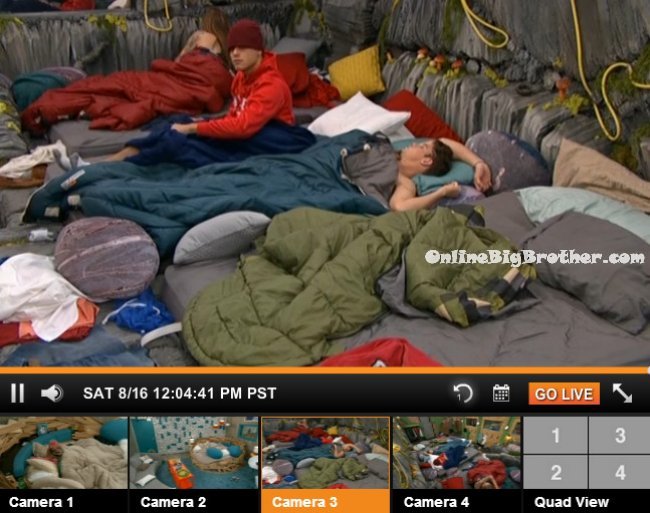 Alliances
The new bomb squad – Caleb, Zach, Derrick, Frankie, Cody, Christine
"The HITMEN" – Cody & Derrick
Team America = Donny, Derrick, Frankie
More polls here https://www.onlinebigbrother.com/big-brother-compendium/big-brother-16-polls/
[polldaddy poll=8244330]
[polldaddy poll=8248683]