POV Holder:
Frankie
Next POV
Aug 16th
POV Used
?
POV Ceremony
Aug 18th
HOH Winner 1:
FRANKIE
HOH Winner 2:
Derrick
Battle of the Block Winner
Donny & Christine
Next HOH
Aug 21st
Original Nominations:
Derrick's Noms (Donny & Christine) Frankie's Noms (Caleb & Cody)
Final Nominations:
?
Have Nots
Christine & Victoria
POV Players
Cody, Caleb, Frankie, Victoria, Donny, Christine
3:00pm Derrick and Frankie
Derrick wonders who Donny puts up in the case where he wins the HOH. Frankie thinks it will be Caleb/Cody and Christine. Derrick is nervous he would go up. Frankie tells him Derrick is the only person in the house he trusts fully, he trusts Caleb but he's too easily manipulated.
Derrick says they were put into this game for something bigger than Big Brother they were given Team America. Adds that he'll never put Frankie up. Derrick says he wants to go to the end with Frankie he's happy with the 50 grand plus the 20 he made from stipend/Team america that's 70 grand not bad. Frankie agrees says he feels the same way with Derrick wants to bring him to the end. Derrick tells him next week the best case scenario is for him to win HOH it'll be like Frankie's HOH.
Derrick wants to start hammering out the team America tasks.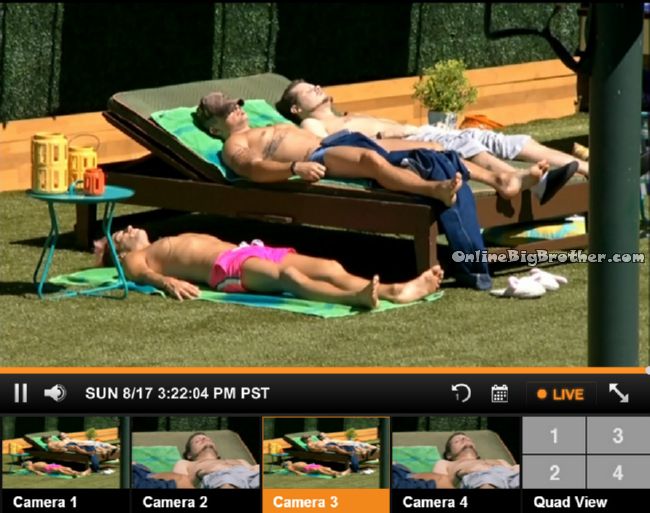 3:16pm Backyard Caleb and Derrick
Caleb – I started watching season 8.. so far this game is so twisted.. Dude this one is completely weird from what I've see
Caleb – I just.. umm.. I dunno.. I proved something to myself yesterday that competition was not physical at all it took brains and I almost won it.
Derrick – you already won a brain competition you have nothing to prove
Caleb – that was the hardest competition we've had
Derrick – they're going to get harder.. this point of the game sucks it doesn't get fun anymore.. the pressure.. you go home 10th or 12th it's OK you were close but now we're getting close.
Derrick is worried if he gets nominated up against Christine he'll go home, he's unsure about where all the votes will go.
Caleb – Christine will go home dude. Frankie, Cody and I will vote for you
Derrick – Frankie and Christine are close.
Derrick says as long as they are both not up on the block they will be fine.
Frankie joins them says the 4 boys need to get together and tell Zach.
Caleb – I'll be there for moral support and bodyguard
Frankie is going to give Christine and Cody the option to be there for the Zach talk.
After some silence Frankie mentions that Victoria is in the bathroom alone staring at her self in the mirror.
Frankie – I wonder if they are trying to get us into a normal schedule.. they tried really hard this morning..
3:31pm Donny, Cody, Christine
Chatting about how awesome the movie Old School
is.
Donny saying they are in the twilight zone. Victoria came outside put a clean towel and a pillow near the pool. Walked over to the hot tub stuck her foot in and laid down on the backyard couch.
Donny – you seen varsity blues
Cody – ya that's the first movie I saw boobies in..
Christine laughs..
(chits chat.. )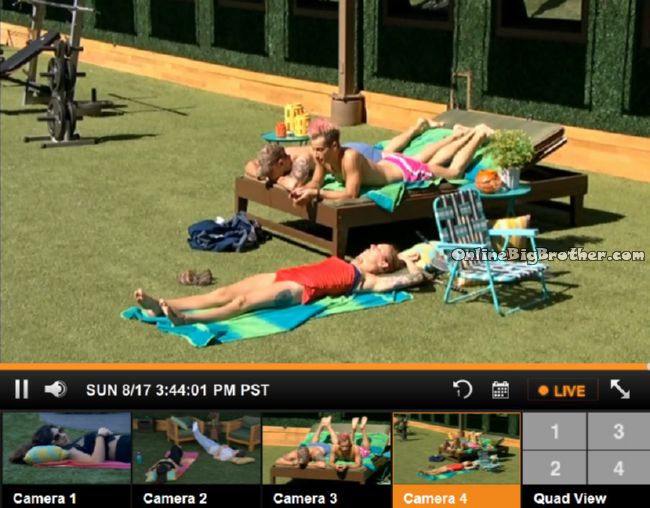 3:44pm Frankie, Caleb and Christine
Frankie says they are going to have the meeting with Zach after dinner. Frankie says Zach already knows he's going up. Zach knows what Frankie's best move is and that is to take Zach out.
Frankie says Zach turned the entire house against him. Reminds them that he's nominating Zach for the three of them they know if Zach wins HOH he'll put up two of them. . Christine calls Zach a baby.
Caleb – Zach only cares about Zach he's shown that.. he won't put up weak players
Frankie – there's nothing weak about us
Caleb – I proved myself yesterday.. they asked me in the DR how does it feel to be 1 light bulb away from winning a mental comp.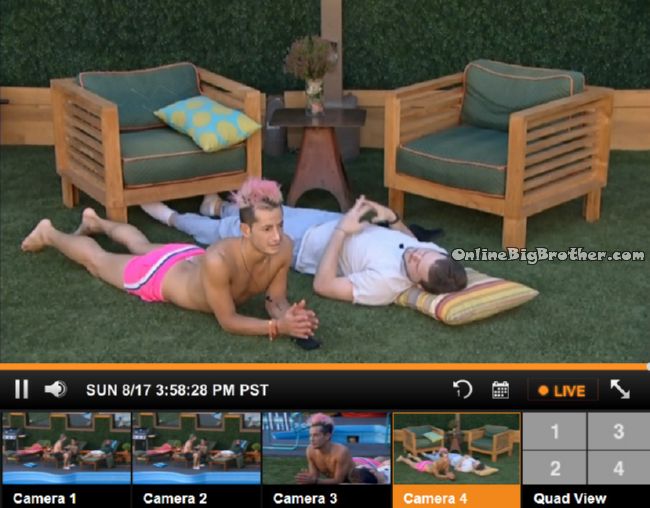 4:00pm Frankie and Derrick
They will tell Zach he's going home tonight after dinner. Everyone will know Zach is going home. Tomorrow morning they will and put the message on the mirror.
Frankie – Blame everything on Zach being pissed he's going home"
Frankie – We got one more chance to use him
Derrick- thanks Zach
Frankie – thank you
Derrick – So all we have left is Donny's visor and Cody's hat.. Do yo think we should throw recycling bits in the recycling bin because it's empty "
Derrick says this was a fun Team America task. Frankie says the neighborhood watch can also be a zach watch. Everyone will thinks he's up to no good.
They start going over the past tasks they think they've won ones they didn't
4:16pm Derrick and Christine
Christine will attend the meeting where they tell Zach he's going home.
Christine saying she wants Donny out So bad.. They start speculating if BOB is next week. Derrick thinks Fans would be pissed if they had another physical competition for HOH.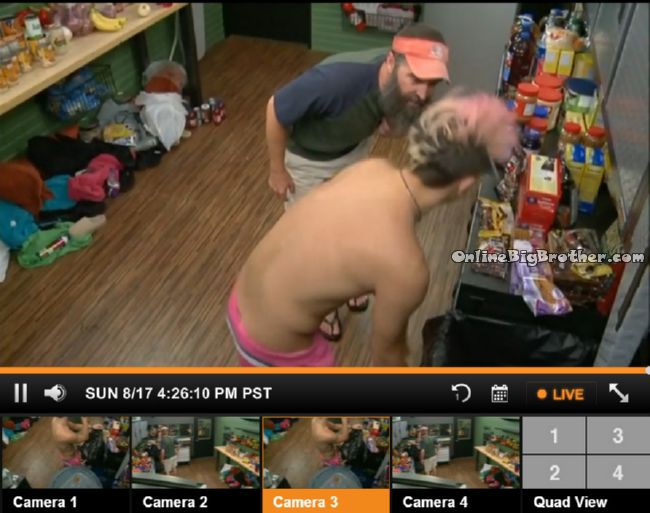 4:27pm Storage room
Donny has his visor and Cody's hat that's everything. Frankie says they are going to put the message up on the mirror in the morning and blame it on Zach. Donny is worried people will blame it on him because he's up early. Frankie points out that Zach stays up late so teh story holds. Donny wants Frankie to wake up early so they can discover the message together.
Alliances
The new bomb squad – Caleb, Zach, Derrick, Frankie, Cody, Christine
"The HITMEN" – Cody & Derrick
Team America = Donny, Derrick, Frankie
More polls here https://www.onlinebigbrother.com/big-brother-compendium/big-brother-16-polls/
[polldaddy poll=8244330]
[polldaddy poll=8248683]