POV Holder:
Frankie
Next POV
Aug 16th
POV Used
?
POV Ceremony
Aug 18th
HOH Winner 1:
FRANKIE
HOH Winner 2:
Derrick
Battle of the Block Winner
Donny & Christine
Next HOH
Aug 21st
Original Nominations:
Derrick's Noms (Donny & Christine) Frankie's Noms (Caleb & Cody)
Final Nominations:
?
Have Nots
Christine & Victoria
POV Players
Cody, Caleb, Frankie, Victoria, Donny, Christine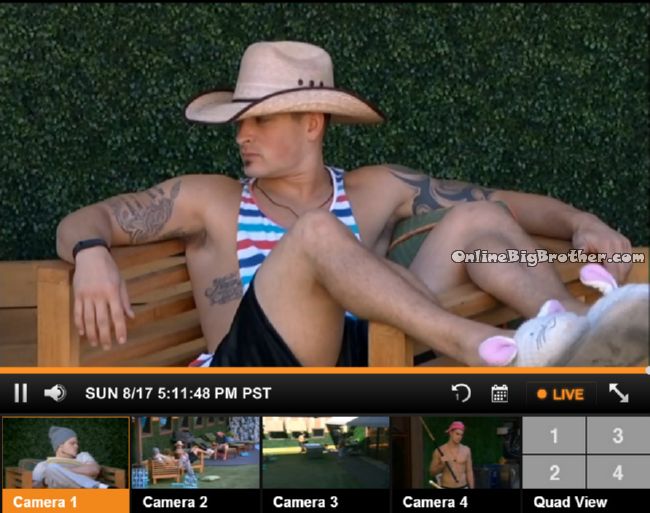 4:40pm Cody, Donny and Caleb
Talking about the cigarette price differences state to state. Donny says supposedly it's 10 dollars a pack in New York. Caleb says where he's from it's 3.40 a pack. Caleb says they should use their suspend buy a flat bed truck worth of cigarettes and sell them in new york.
5:00pm Caleb tells them he was almost cast in Johnny depp's pirate movies as a member of Johnny's depp's "Crew" .Explains that in the movie Johnny Depp had a posse of people in many scenes.
Caleb – you would have seen me with johnny depp throughout the movie.. I have really good connections
Says the deal fell through because the person he knows what was going to get him hooked up got pregnant and had a miscarriage. . (Feeds cut so we don't know the full reason) Caleb wants to go to acting school after the show is over. He thinks once you are done acting school you can get rolls in CSI
Caleb – kinda stinks when we get out of here we're stuck with CBS for a year.
Caleb says he's been mistaken for elijah woods many times. (Just random chit chat about movies)
5:17pm Zach joins DOnny and Caleb tells them the stand your ground law in FLorida
Zach tells the George Zimmerman story, "African american guys walking with a hoodie with his hands in his hood.. George Zimmerman thought this kid had a gun.. George Zimmerman went to the kid blah blah blah..
A fight started George Zimmerman pulls a gun and a kid was killed.
Caleb – they got in a physical fight..
Donny – I don't know about that
Caleb explains that they got in a fight the guy got on George ZImmerman smashed his head the guy got away and shot him
Caleb – THey called it self defense in a way..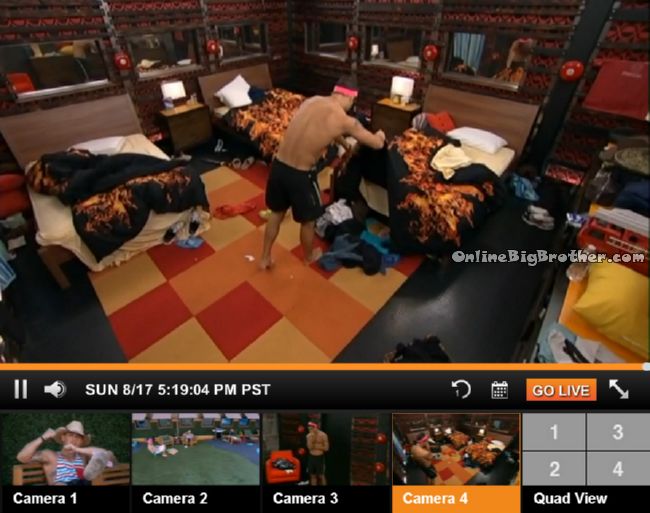 5:22pm
COdy looking for his blue hat. Looks in the fire room and HOH
Meets up with Frankie in the HOH Cody – I think we have a hat thief.. I'm going to go on a search party..
Frankie helps him out they start marching though the house searching for COdy's hat.
Cody tells them he wore it all last night and took it off before bed. COdy says it was Hayden's hate he gave it to POW POW but POWPOW said COdy could have it. Cody wonders if Hayden told production he wanted his hat back and they came out in the middle of the night and took it.
Zach – Impossible..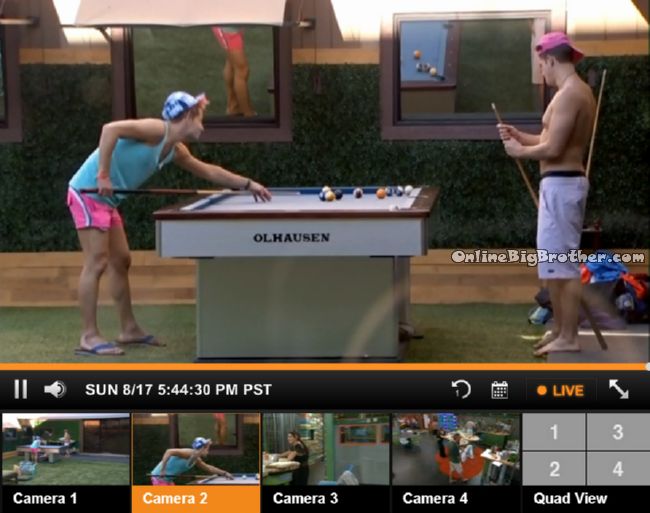 5:40pm Zach and Frankie Pool Table
Zach says Victoria goes to the Diary room every single morning theres a saboteur.
Frankie – and their mission was to take COdy's hat.. Oh and Derrick's hat
Zach – ya.. watch some sh1ts gonna go down tonight..
Frankie thinks it's someone playing a prank he doesn't think it's a saboteur it's probably Victoria.
Donny joins them says the prime suspects are Christine and Victoria. Adds that he's the third suspect "hashtag bearded bandit" Zach – Christine and Victoria are working together.
5:56pm House meeting All the personal items missing are starting to be noticed.
Cody says he "crushed" all the rooms couldn't find his hat.
Zach – Someone is doing some work around here..
they start finding things behind a drawer.. Cody is thinking it's Aryan and Amanda's from last season after everyone gathers up they figure out it was POW POW's stuff.
Mass confusion as everyone discovers something is up..
The Live Feeds are archived. You can go back and watch everything that happens
Try It Free! Subscribe now to the official BB16 Live Feeds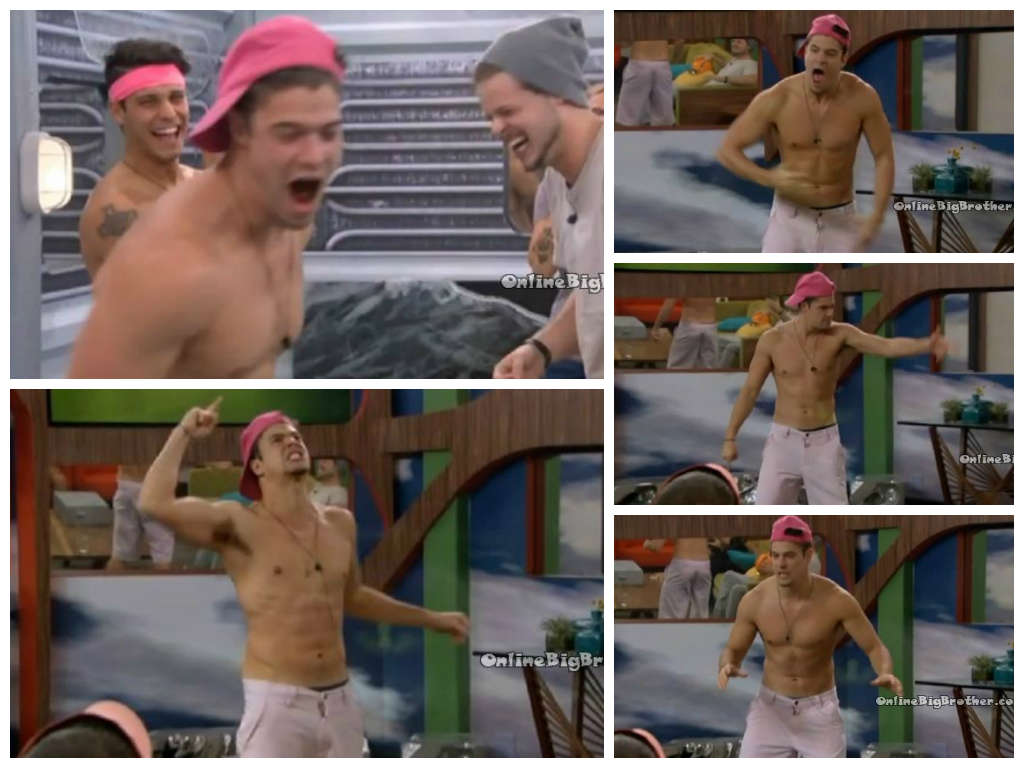 6:06pm Zach finds out his GAtor Shirt is missing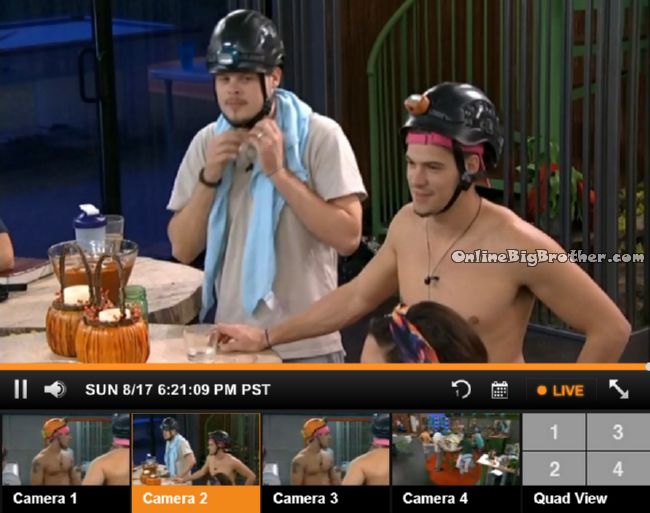 The first Neighborhood watch starts everyone gets suited up.
Christine points out that Production must be in on this because they are never aloud to play with the helmets before.
Zach says Victoria is the saboteur she's the only one not playing the real game. Christine says Zach is hiding the stuff.
Everyone is blaming Zach and Vciotira, Zach tells them they have until 10:30 tonight to find their stuff or he gets paid.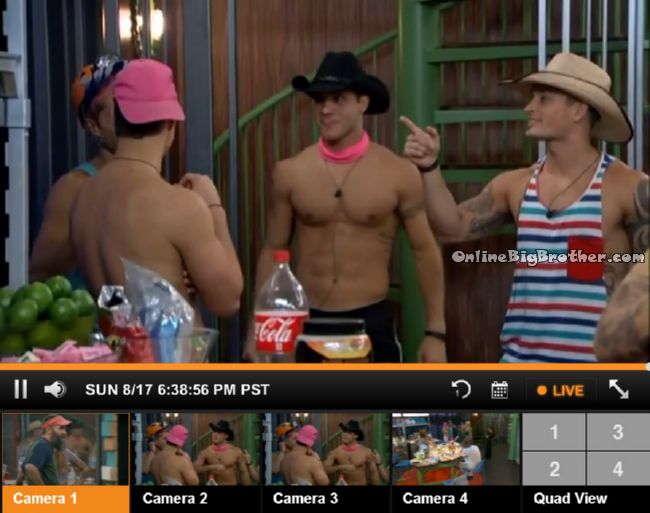 6:40pm Everyone blaming Zach for taking the stuff.. Zach goes to take a nap everyone follows him they want to make sure he doesn't take anything else. Zach plays along..
6:44pm Fire room Caleb, Zach and Derrick
Derrick and Caleb tell him they are not going to leave Zach's side until he brings out their stuff.
Zach – I Swear to god If I go on the block because you guys thinks I'm the Saboteur..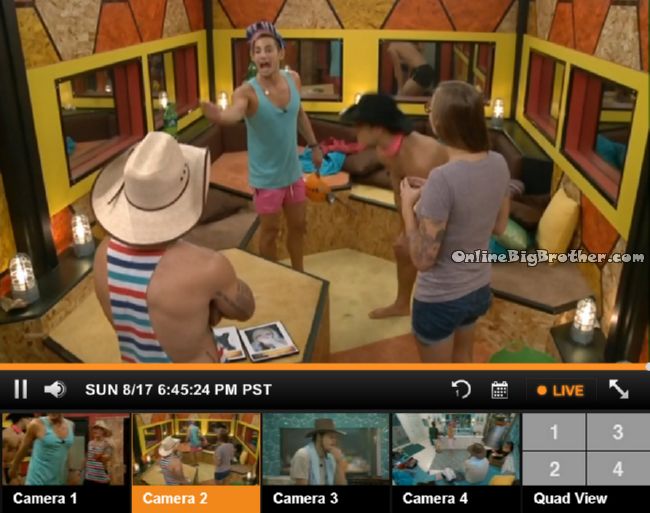 6:45pm BEEHIVE
They're convincing themselves that Zach is the Saboteur. Frankie goes through a bunch of things that Zach did that was unusual. Frankie says they won't need to have the meeting tonight with Zach they can roll him being the saboteur into beign this weeks target.
Alliances
"The HITMEN" – Cody & Derrick
Team America = Donny, Derrick, Frankie
More polls here https://www.onlinebigbrother.com/big-brother-compendium/big-brother-16-polls/
[polldaddy poll=8244330]
[polldaddy poll=8248683]