| | | | |
| --- | --- | --- | --- |
| POV Holder: | Cody | POV Used | ? |
| HOH Winner | Caleb | Nominations: | Frankie and Victoria |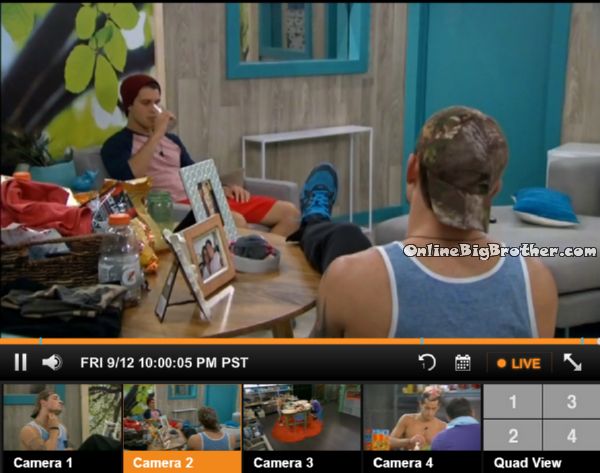 9:52pm HOH Cody and Caleb
Cody – he';s going to be a wreck.
Caleb – he's going to be bawling
cody that';s the game.. to be honest we would never have to that to you and derrick.
Cody doesn't want to jinx it but they are going final 3.
Caleb – Final 3 it's 99.9999 percent
Cody doesn't want Victoria to even think she has a chance to make it because None of them are flipping he wants her scared and rattled like Frankie was today.
Cody says Frankie thinks if he's going home he's going to allstars "He thinks he played a Loyal good game.
Caleb – he didn't play a very good game… I never put you and Derrick up.
Caleb – Derrick put me up cause I told him to.
Caleb thinks the person that goes out third will win America's favorite.
Cody can't wait to talk to his dad and ask him if he ever thought he would have made it so far when they parted ways in june.
Caleb says people like Derrick make it to the end all the time because they are the 2nd place winners
Frankie joins them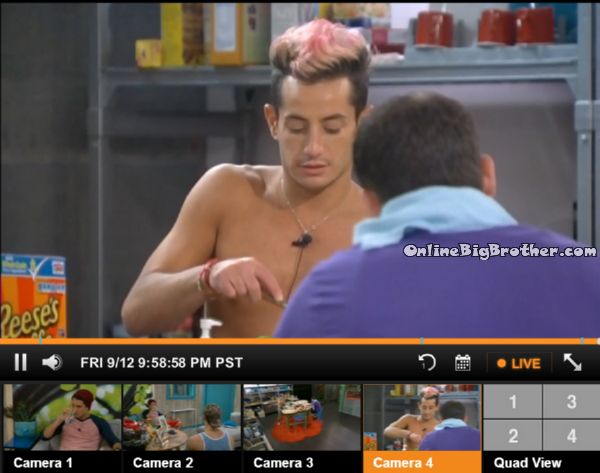 10:00pm Frankie and Derrick Kitchen
Frankie knows the Veto isn't being used and his fate rest in cody and Derrick hands and he feels good about it.
Derrick – we have one more veto it's nuts..
Frankie – i want to be there so badly I can taste it.. I am pretty shot
Derrick – we ll are we're all mentally drained.. I'm going to go lay down for a few.. lay with the witch..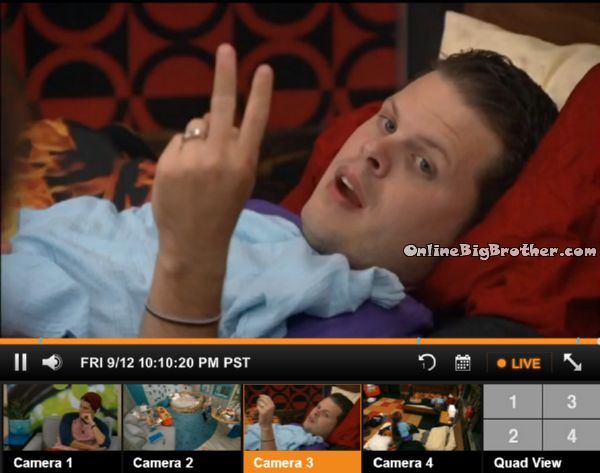 10:03pm Victoria and Derrick
Derrick tells her there is no way she's going home she needs jto stop being paranoid
your good
Victoria he's acting like a lunatic
Derrick trust me please.. I promise you you are safe this.. I promise you look at me .. I will tell you I told you last week.. You are safe.. doesn't mean sh1t we're only in the final 4.. but we're there.
Victoria says Frankie is so pissed about the button
Derrick – I told him not to push it
Victoria – we both did.. he keeps mentioning the whole money thing like you earned it and I didn't
Derrick – who cares..
Derrick – Just make sure this week you just stay close to Caleb and Cody
Victoria – Cody is hard
Derrick – why because you can't stand him
Victoria – ya. I can't stand Caleb but like him more than Cody.. Caleb doesn't BS a lot..
Victoria – Derrick now we're close
Derrick – we still have a lot to go you or I can still go on Thursday.. If I go to Jury you know you have me and Nicole
Victoria – not unless I go up against Caleb, Nicole will vote for Caleb
Victoria thinks she can beat Cody over Caleb.
Derick – you think I should take Cody over Caleb
Victoria – 100%
Derrick says if it's Cody Caleb and Victoria they will take Victoria to the final 2. Victoria says Cody and Caleb have a final 2. Derrick thinks if it's Cody, Caleb, and him they will back stab each other and take Derrick because they thinks he's easy to beat.
Victoria says Cody and Caleb have a "Pack"
Derrick – I guess Caleb will vote for Cody because they have a pack
Victoria – what other person has never been on the block.
Derick i'm the only one
Victoria – You are straight you are honest you handed someone the HOH
She tells him he played amazing thinks he deserves to win it more than anyone else.
Derrick wants to know why he deserves to win it.
Victoria – you never lied or manipulated people.. you've never been on the block.. you've kept your word, you've played the most amazing game.
Derrick – I get what you are saying
Victoria – you never manipulated and lied.. never betrayed
Victoria says she's disgusted in Frankie when Derrick handed him the HOH he put her up.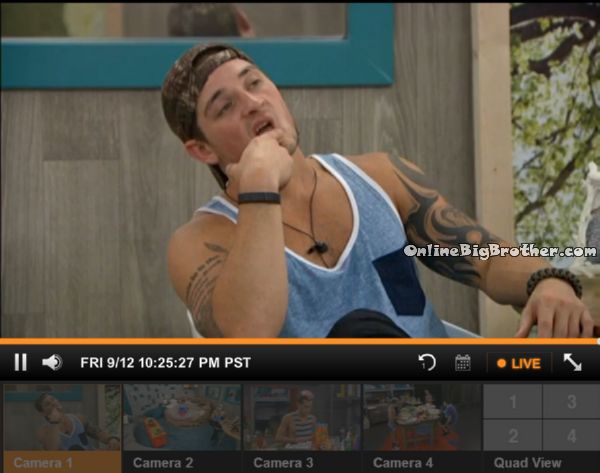 10:23pm Caleb and Victoria
Talking about votes if Caleb and Cody are in the final 2. Caleb thinks he's got most the jury votes. Victoria tells him he doesn't have Zach's but will have Hayden and Jocasta if he has Nicole. Caleb thinks Derrick will vote for him over Cody. Also thinks he has Donny's vote. Caleb thinks he has Christine's vote because Cody voted her out.
Caleb – it will be close but I'll bet him
Caleb says either way he will be happy.
Caleb – "If I make it to Final 3 and get cut I'm probably going to win Americas players.. maybe"
He's saying he could have won the POV today if he "Left the other 3 lights on"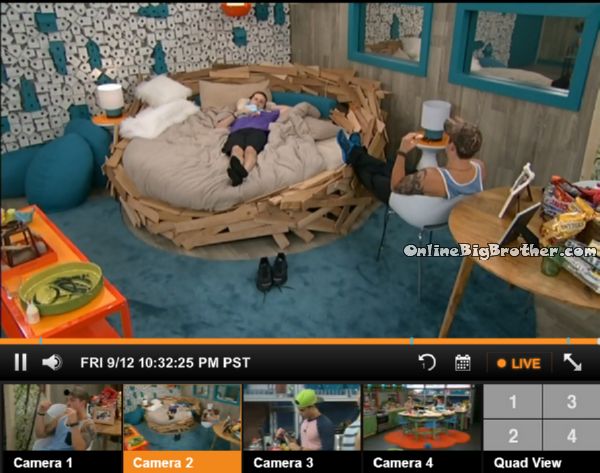 10:32pm HOH Caleb and Derrick
Caleb says he's feeling pretty good. Derrick point out if Cody hadn't won one of them would they were focused.
Caleb – I'm not pushing no buttons.. i'm not doing nothing.. ..
Derrick – in my heart the finale is Sunday not this Sunday next Sunday.. there's a double eviction Wednesday.. there is nothing left just play it out let it happen. if there was a Pandora's box there I don't know if I would you are screwing with your chances at ½ a million
Caleb – I won't open it"
Celeb – best thing you and me,., the middle HOh is rough the mental one.. (Final 3 part HOH)
Derrick says Cody is building his resume he's not where Caleb is at but he's getting their.
Caleb – We're 99.99 percent Final 3.. (Cody, Caleb and Derrick)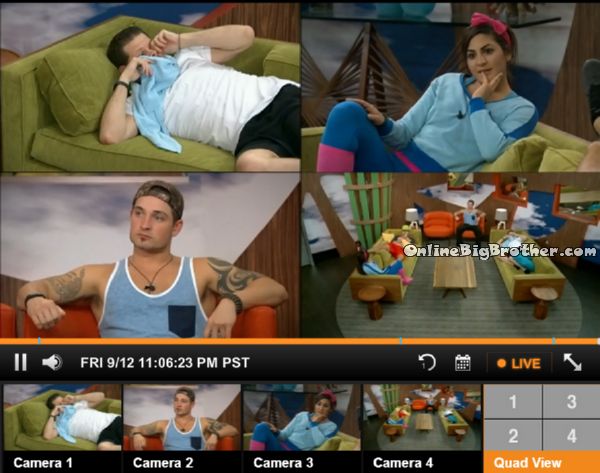 11:07pm
Caleb is drinking a energy drink.. they are waiting for their Diary room sessions.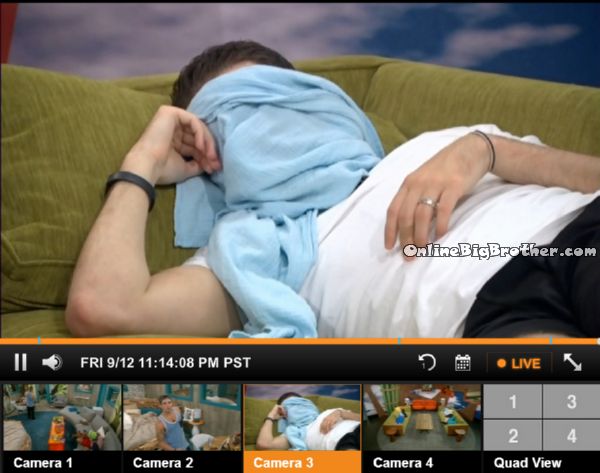 Derrick talking to Victoria through his baby blanket. He tells her he'll go up to the HOH use teh washroom then come down and meet her in teh main washroom.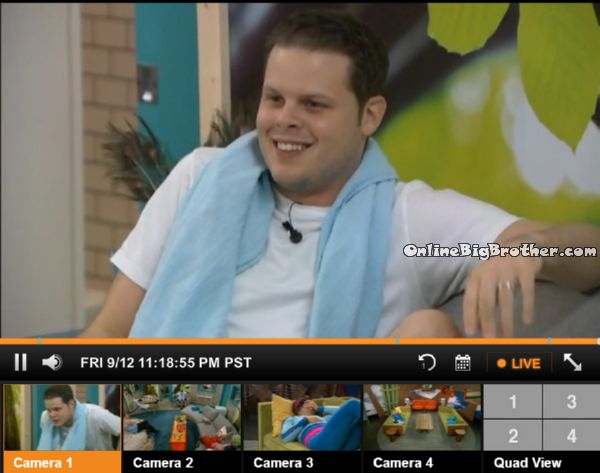 11:17pm HOH Derrick, Cody and Caleb
Teasing around about a new button and how Cody will press it. Caleb and Derrick will try to stop him. Derrick says he will restrain Cody. Caleb jokes that he'll knock him out.
They talk about going final 3
Derrick – watch her win HOH.. What the f**
Derrick – I wouldn't tell Frankie too early.. he'll cause havoc don't give him a week to stir the pot
Cody – he can find out the night before
Derrick – I don't think we should tell him after the veto meeting… it's a compliment
Cody – he played an amazing game.. just soften it.
They start talking over the Competition wins this season and where everyone's numbers are compared to other season.
Caleb says that maybe Frankie's last two competition wins won't count because of the rewind.
Cody says the only person that won Comps on their own merits is Donny. Cody points out that one of Caleb's wins he just sat there
Caleb – ya just one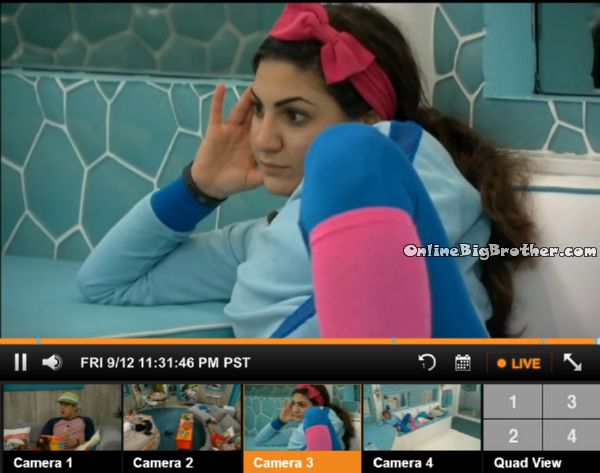 11:32pm Victoria is still waiting for Derrick .. Up in the HOH derrick is saying there is no chance she'll win the HOH. Cody is saying Caleb will finish higher than Victoria in the HOH and Caleb isn't even playing.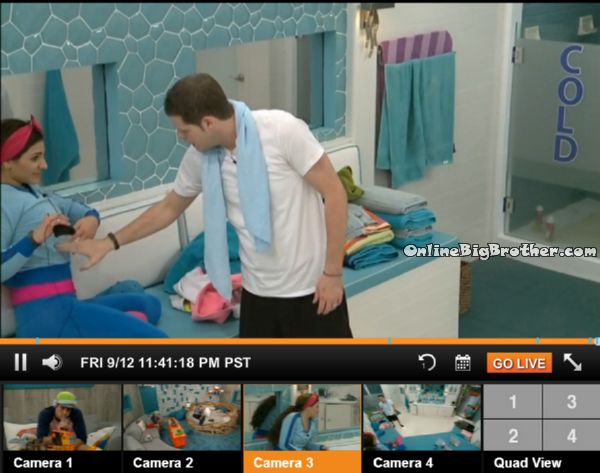 11:41pm Bathroom Derrick and Victoria
Victoria is sore below her left breast. Derrick thinks she pulled something says she should get it checked out it might be her appendix.
Victoria tells him about her talk with Caleb. He was talking to her about Final 2 and who he needs to take to get there.
Victoria – Do you have a final 2 with him
Derick – no
Victoria – You better get on that.. sounds like he's taking Cody.
Derrick – He's all over the place… maybe he's saying that because he thinks Cody will win the finale HOH
Victoria says Frankie was very nervous
Derrick – I was nervous couldn't you tell.. I think what happened COdy and Caleb were running faster than me.. Iw as jogging.
Victoria – you were slow if you would have turned on the lights you would have won..
Victoria tells him she told Caleb he has her vote over Cody and she meant it.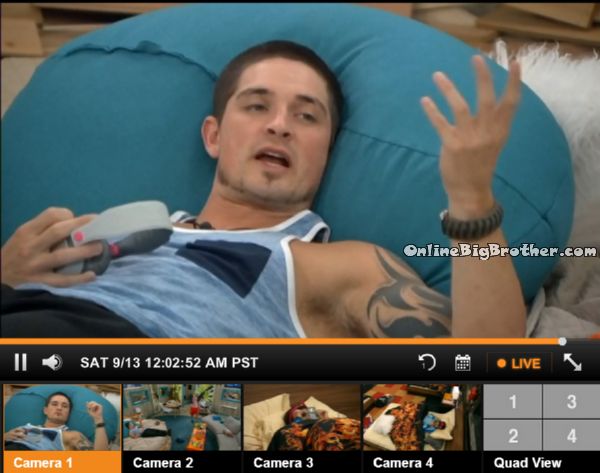 12:00AM HOH Cody, Caleb and Derrick
Derrick says Frankie crumbled under the pressure.
Caleb – he was freaking out boy.. he was done.. he's going home dude
Derrick thought the time to be was 4 or 5 minutes .. "when I saw 2:21 that is literally 20 seconds for each one.."
Caleb – Victoria done better than Frankie .. if I had one the veto he would have expected me to use it
Derrick – if you take a shot at a guy like that you can't miss
They start reassuring Cody the boos for Christine were not because of him they must have been from what she said about people in the Diary room.
Derrick says Frankie doesn't need the money he's got tons of cash at home. Derrick mentions that Frankie plans on giving the money to Charity "he doesn't need it. "
Caleb – his mom live in a mansion
Cody think Frankie will go out like a champ.
Derrick – contrary to popular belief I think he already knows
Cody hates the line Frankie is using that he kept Cody safe by putting Victoria on the block.
Caleb says he doesn't think the Jury likes Frankie like everyone thinks he does.
Frankie joins them "CRUSH IT"
They started talking about the final 3 part HOH.
If you found the 24/7 live feed coverage valuable please consider a donation.
Another way to support us is to make your Amazon purchases through the links below.
No extra cost to you. links are valid throughout the year.
Amazon.com Link
, Amazon.ca Link
[polldaddy poll=8244330]