POV Holder:
Frankie
Next POV
Sept 6th
POV Used
No
POV Ceremony
Sept 7th
HOH Winner
Frankie
Next HOH
Sept 10th
Nominations:
Cody and Victoria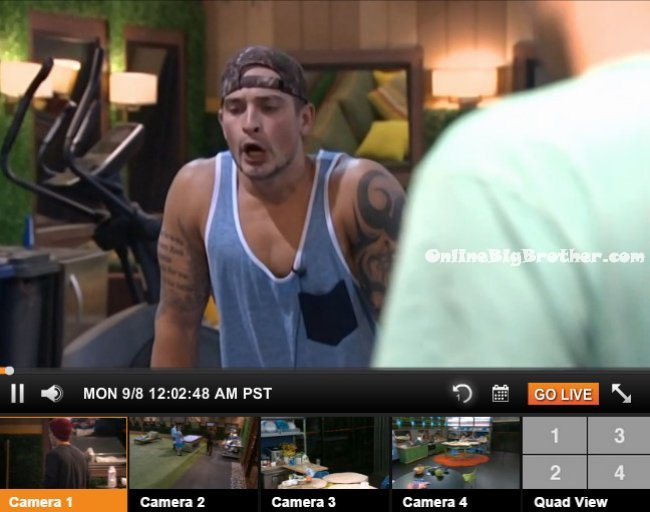 12am
Out in the backyard Cody and Derrick playing pool. Frankie wakes up. Cody and Caleb play next. Caleb says he can't wait to see Amber again. Cody says unless she wants to rip your head off. After they finish their game Caleb loses and so he has to jump in the pool. Derrick finishes his game and then sits by the hammock with Victoria. Derrick says it will be boring for the next couple days. Victoria says I can't believe everyone is gone. Derrick says for now, but you never know. Victoria says that in the diary room they were telling her not to give up. You've got to do something. And she said when you know, you know. Derrick says that makes sense when you know, you know. Derrick says if you go out Thursday I think I will go out next because they know you'll vote for me. Victoria says I just don't think they would put you up. Derrick says I hope but that might be why they do it. Everyone loves you, bye! Victoria says she thinks Frankie will be next. Derrick says if they can, he's a beast. Derrick says he is fine with anyone that is left winning if he doesn't. Christine was the last person I wasn't okay with her winning. I'm not a big fan of Frankie but he has played such a great game. Victoria says no he hasn't. Derrick says not a social game but for competitions. If he won because he won the next 3 competitions. If he did that I would have to be like lost to a guy that won 12 competitions. Victoria asks if you win HOH you would try to get out Frankie? Derrick says yes. Victoria asks not Cody? Derrick says if I am to lose to someone I would want it to be someone who hasn't stabbed be in the back. Not that Frankie has either but I know he's talked sh*t about me. I want someone that I respect to win. Victoria asks you respect Cody? Derrick says yes whether or not I will think the same thing when I get out or not that's a different thing. But I am going to try and win. Victoria tells Derrick she knows there's a lot more to him than he's exposing. Derrick says we'll talk when we get out of here. Victoria says I did cry a lot, that's the only think I regret.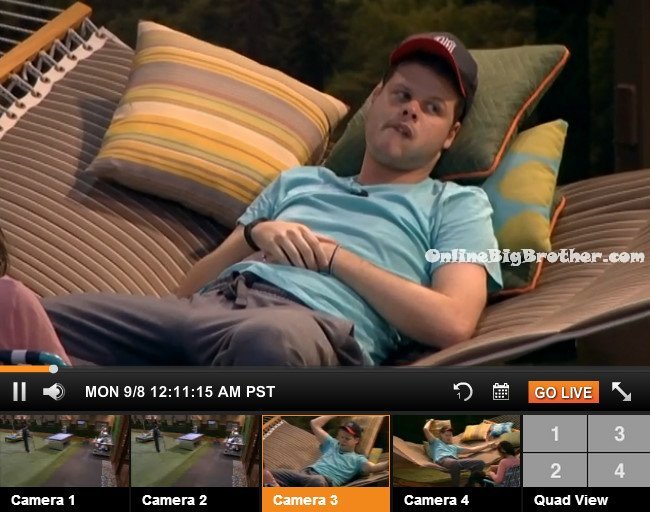 12:50am
Cody and Caleb and start working out. they finish working out and join Frankie by the hot tub while he eats.
1:35am – 2am Frankie, Cody, Caleb, Derrick and Victoria are all sitting around the hot tub. They talk about Christine getting boo'd. They wonder if a few started booing her and then if she did something like flip them off maybe that's why the rest boo'd her. Derrick says something happened. Cody wonders if Christine walked off the stage when the booing started. Derrick brings up how week two Zach called out Devin and went off. Frankie says that Zach was a lunatic. He was losing his mind like that ringing in his head was telling him to do things. For all of the sh*t that Zach said. All of the horrible, horrible, repulsive, offensive sh*t that he said he got a wonderful welcoming reception.. What the f**k did Christine do? They all head inside.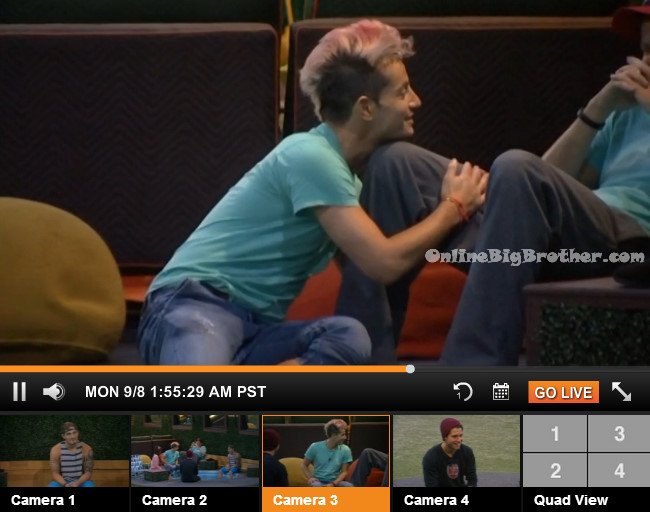 See what they can't show you on TV! -Try the Big Brother 16 live feeds for FREE!
2:25am Up in the HOH room – Derrick has a shower and after he talks with Frankie. They talk about their team america missions. Derrick says there were only 2 he isn't sure they won. Frankie says no we got that. Derrick says they've got 25K now. Frankie says we lost 3. Derrick says yes 3 out of 7 (not including the one they just did). Derrick thinks they'll get one more mission next week. Derrick says he thinks the twist won't be that bad. Frankie says as far as fans go they will love it. Like we will be like this is f**king awesome. Derrick asks what's your temperature in the house. Frankie says I think good. Do you talk to Cody about who he is nervous about. Derrick says I think all three of you like each other but you each see each other as a threat. I think he genuinely likes you. Frankie says but will he take me to the end of the game .. I don't know. Derrick says between you and Caleb I think Cody would choose you. I think Caleb is the person to beat this season. Derrick says if you're in that final spot and you take me that's great and if not that's okay too. Frankie says who know this week I might not even be HOH any more because of the twist. Frankie says if you and I are on the block then I know Cody would vote me out over you. Derrick says only because he could beat me. Frankie says no one is going to give me the money because I am giving it away. Derrick says right, people are going to vote for you based on competition wins. Frankie thinks Derrick would win America's Fave if he was in the jury. Derrick asks over Donny. Frankie says yes, I think so. You have a family, a daughter, and you've played a great game.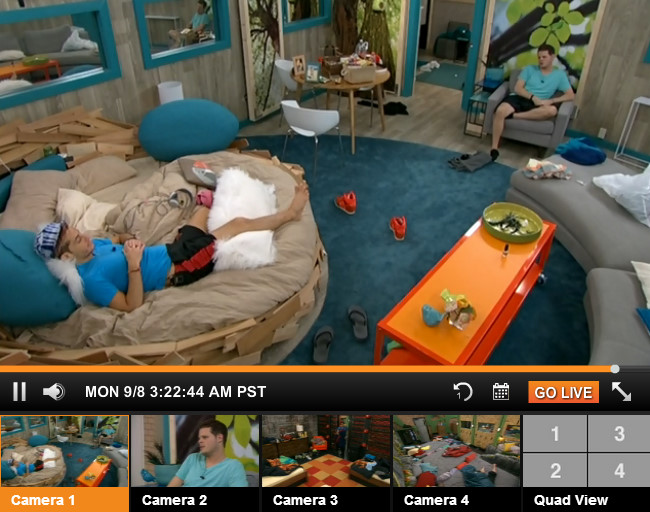 One way to support this site that doesn't cost you anything extra is making your
Amazon purchases through the links Below
For in Canada use the following link:
Amazon.ca
3am – 3:50am Out in the backyard – Cody and Christine talk about why she got boo'd. Cody says I don't think it has anything to do with me. I don't worry about myself. Victoria says but he (Tim) left her a video and everything. Like if he wasn't bashing her, who is America to judge. Cody says America gets to think what they want. I just know that her and I never did anything controversial that people would boo her over. But like what she has said that is what I don't know. Victoria says she was on depression medicine. She was an angry person. She said she was. Cody says she got depressed when it was sunny. Victoria says she was an angry person in here. Cody says he did talk a lot about how much she hated Donny. Cody heads to bed. Derrick joins her and they talk about life after big brother. Victoria tells Derrick he she thinks he will be financially stable after BB. Derrick says I've seen enough seasons to know you won't get rich off Big Brother. The only person that has made something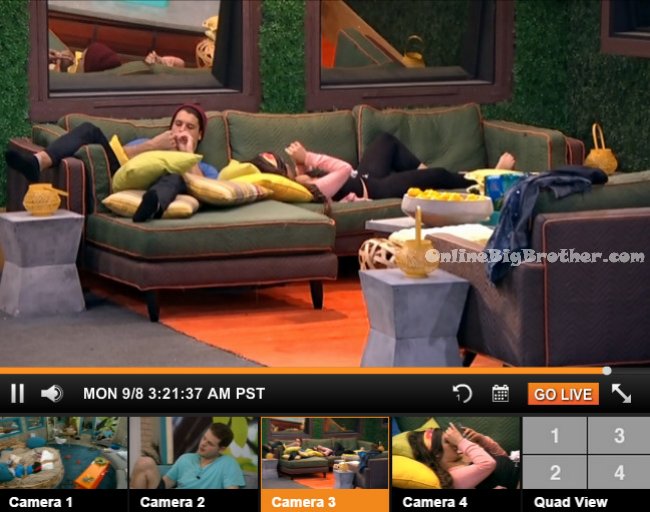 3:50am – 4am
Derrick tells Cody about his conversation with Frankie. He is definitely showing his cards. Long story short but he thinks his best chance to win is against me or Caleb. Cody says so he's not going to bring me or be b***hing to be there against me. Derrick says his wheels are definitely turning. Cody comments on how it annoys him that Frankie came in and laid with him and wanted to talk. Derrick says best thing is Frankie already has his nominations locked in. Derrick says we just need to see what happens on Wednesday and then win the next HOH. Derrick says if we win it we put up Caleb and Frankie. Derrick says Frankie knows he has to win the veto or he's going home. Cody agrees. Derrick leaves.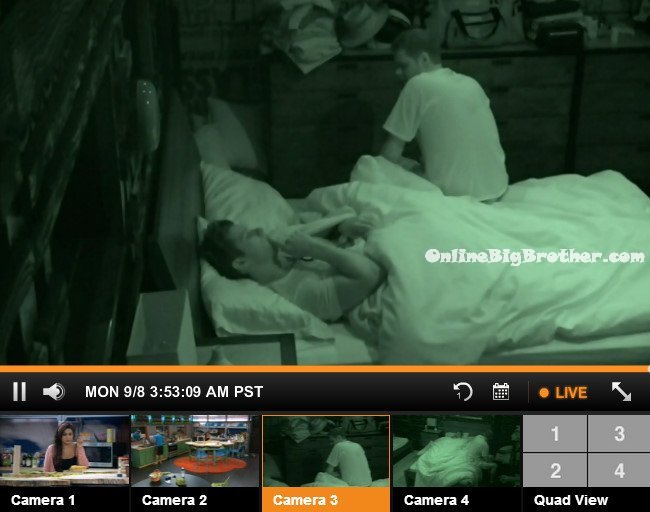 4am – 4:35am Derrick and Victoria eat cereal and chat about random things. Victoria comments that she dated a 33 year old. Derrick asks where do you find these guys. Maybe you haven't found the right guy because you're dating older guys. Victoria says I don't like children. Its very hard to find a guy in his twenties that serious and that's mature, and settled money wise. You know like that has found himself. Derrick talks about his family, daughter and dogs. They get ready for bed and check out their names on the bathroom stall door. When they're getting into bed Victoria gets called to the diary room. When she comes back she keeps trying to talk to Derrick but he tells her to go to bed. She says I love you, goodnight.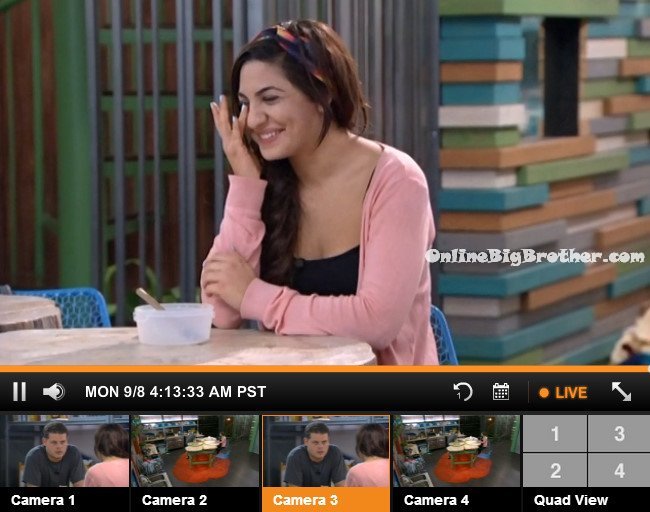 9:30am – 10am Big Brother blocks the live feeds to wake up the house guests. Cody gets up to go to the bathroom and when he comes back to the fire room he tells Derrick that they're locked out of the backyard. Derrick asks are you serious?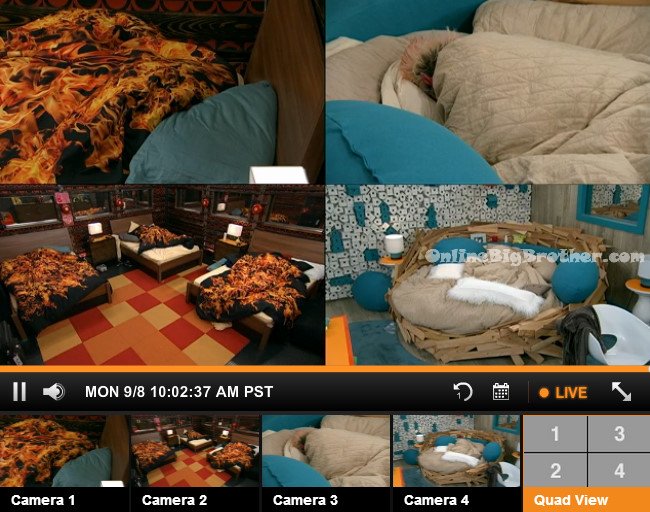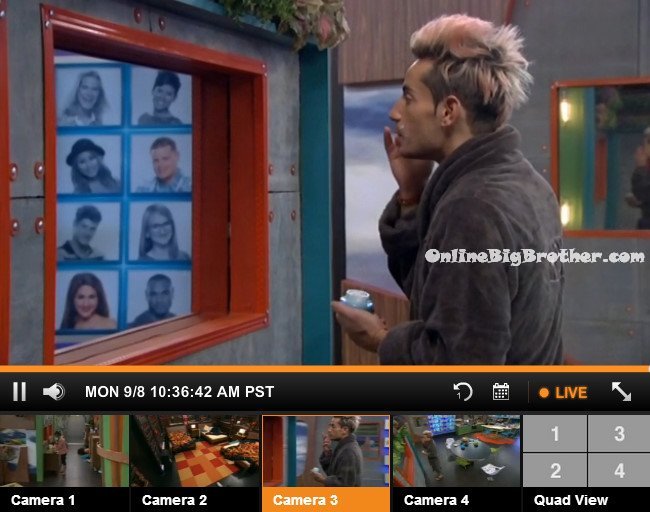 10:35am Frankie wakes up and heads down to the kitchen to eat breakfast and put on his makeup. He complains that they used to be able to sleeping in at least one day. He tells Victoria that they're doing an episode a day, what the hell!? Derrick gets called to the diary room 3 times. When Victoria comes out of the diary room she wakes up Derrick and tells him he needs to go to the diary room. Frankie comes out of the diary room and heads up to the HOH bathroom. He sits on the tub and talks to the fish.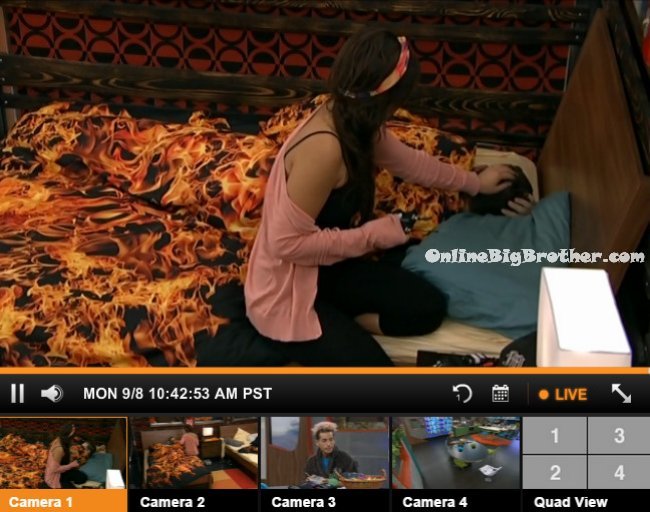 12:15pm Derrick is in the kitchen making/eating breakfast.

If you found value in our site, the work we do and the community we foster please consider leaving a donation using pay pal below.
[polldaddy poll=8285104]
[polldaddy poll=8290611]