POV Holder:
Frankie
Next POV
Sept 6th
POV Used
No
POV Ceremony
Sept 7th
HOH Winner
Frankie
Next HOH
Sept 10th
Nominations:
Cody and Victoria
12:25pm – 1:30pm Caleb joins Derrick in the kitchen. Caleb says he's got a headache for days! Caleb says tomorrow's the big day! Caleb asks if Derrick had a DR already? Derrick says yes. Caleb says I know who didn't. (Him) Derrick says tomorrow's Tuesday. Caleb says oh yeah I forgot. Derrick and Caleb head into the living room to sit. Derrick comments on how the centre post in the yard is gone. It could just be taken down for maintenance though. Caleb asks Caleb if he wants to play a game of pool. Derrick says I want to because I'm bored as sh*t but can't because I'm supposed to let my cut finger air out. Caleb and Derrick head outside to sit on the backyard couch. Caleb says ain't got much more time now. I'm ready for it to be over so I can go back to my normal life. I just know that one of my friends is going to win. One of the two friends I've worked hard to get here wins I'd be happy. As soon as I get out I am going to try and get on Survivor. Derrick and Caleb talk about meeting up after the season ends. Caleb says I don't dress up for Halloween. I dressed up as a cowboy before. I was a bull rider but I don't put glitter and sparkles on my face and act like some sparkly fairy. I don't stuff like that. Some say I'm too man. I'm too manly for that! I feel weird. I get weird out by it all. I think of the downfalls like the negative side of it. Like someone come up to you with a hockey mask and smoke you with a beer bottle or something like that. I would rather not be around all that. I go as me. Caleb says I don't think I've been portrayed as anything bad. Derrick says you just never know. Caleb says that he is a strong believer in god putting me in this position for a reason and it wasn't to ruin my life. I haven't bashed anyone. I think the world thinks I'm a funny country boy. I don't think even Christine bashed me. Nothing this huge has ever happened for me or my family. They head inside.
Big Brother 16 Live Feed FREE TRIAL – Use the FLASHBACK feature to watch everything you've missed!
2pm – 2:40pm Caleb, Frankie and Derrick are sitting on the backyard couches. Caleb's catching flies. Cody wake and joins them and gets ready to run. Frankie says that he'll join him running. Frankie goes up stairs to get ready and Cody gets annFoyed having to wait. They chat about random things and some of their pet peeves. Frankie comes out and he and Cody start running laps. Caleb comments on how Frankie looks goofy running. Caleb then imitated how Frankie runs. Frankie says he runs like a T-1000.
2:45pm – 3pm Cody strips down to his boxers briefs and gets into the pool. Derrick comments on how those are the boxers for getting in the pool. Frankie joins Cody in the pool. Derrick and Caleb start talking about bike helmets. Derrick says his friend got the predator helmet. Caleb says he wants the gladiator helmet. Derrick says he had a mow-hawk helmet.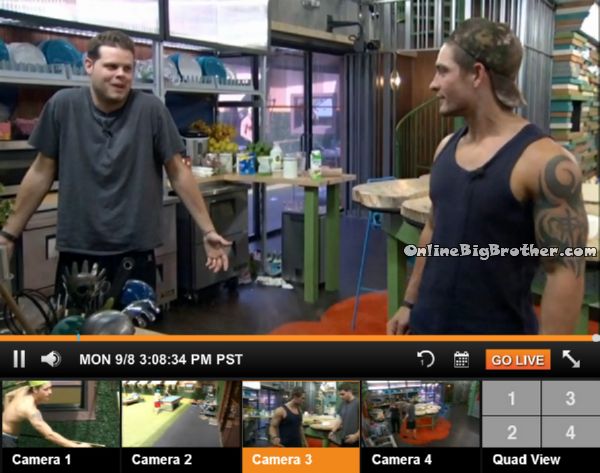 3:08pm Derrick and Caleb Kitchen
Derrick comes back from the Diary Room where he was asking about his cut finger. He hasn't seen a Doctor or paramedic yet and he wants to. The Diary room told him "they" said for him to put a bandaid on.
Derrick – Who.. Whos they.. who said put a bandaid on it (See image)
Derrick is fine with cleaning it out putting a bandaid on it with some neosporin but he's worried about the dirtiness of the house.
Derrick – If it's got something in it with this house being the way it is.. Staph infection in this f***g house..
Derrick – if there's a big comp this week will it make the difference no no..
Derrick – If a Doctor says it's good to go Sweet lets do it.
If you found value in our site, the work we do and the community we foster please consider leaving a donation using pay pal below.
[polldaddy poll=8285104]
[polldaddy poll=8290611]