POV Holder:
Paulie
POV Competition
July 1st?
POV Used
?
POV Ceremony
July 3rd?
HOH
Paulie
Next HOH
July 7th
Roadkill Competition Winner:
Victor
Original Nominations:
Paul, Bronte and Tiffany
After POV Nominations:
? and ?
Have Nots
Da'Vonne, Paul and Zakiyah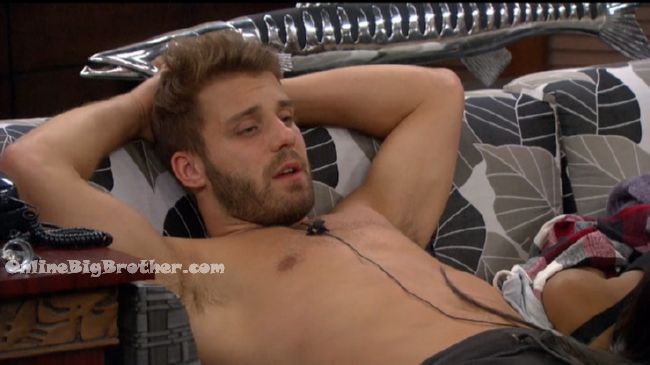 12:40am Paulie, Zakiyah and Frank
Mostly talking about the play to take out Jozea. Paulie and Frank saying they want nothing to do with Victor and Jozea.
Paulie is wondering if it'll be awkward at the wrap party. Frank thins it might be he's just going to avoid "Those 2 guys"
Paulie- Yo man i'm out side of the house please use your words carefully (Something tells me this threat doesn't hold a lot of weight)
Frank – it's a rude awaking for Vic.. man and Jozea..
Paulie – that f***g clique.. they think they are popular.. they are not the majority.
Frank says Vic told him he has a recurring dream that he's going to jail, "That aight right"
Zakiyah says maybe he feel that way because he's confined.
They laugh that Victor is trying to grab onto anybody because he knows he's f***d. Frank's amazed at how fast Victor turned on Paul and "the girls" (Bronte Natalie)
Frank – he's got to feel it about Paul.. they're not tight anymore.
Paulie – Paul was always expandable to him
Frank adds that Natalie and Bronte ignore Vic and Paul now.
Paulie – how easy was it to flip Paul.. too easy.. how easy to separate Natalie/Bronte from them… Too Easy
Frank says Paul is a young guy, Super naive, Super confident.. He's expecting a lot outta this.. I tried I tried so hard to give Him and Jozea the hard truth …
Frank and Paulie agree there's no substantial fame is coming out of this.
Paulie says Cody has Model looks and height if Victor walks into a modelling agency his build and Face won't be what they look for, "That's why not everybody makes it.. to thin that this will help with that to catapult is crazy"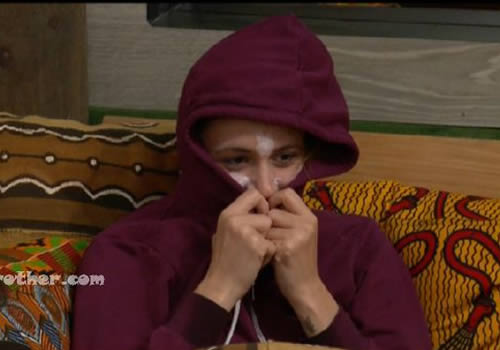 12:49am Tiffany and Bridgette
Tiffany first wants to make sure they have a cover story in case someone walks in.. they go over that first..
Bridgette says Bronte wants to shake things up.. If they don't shake things up with the guys they will pick them off one by one
Tiffany says she knows that's the case.
Bridgette – they express to me they want a woman to win.. I want to save them
Tiffany – ohh 100% I want to save them.. I've talked to da we need numbers.. We need girls that are willing to shake things up.. 1 of those 2 guys Frank and James has to go and that's Frank
Tiffany those two guys that are running the house frank and james those two need to go and the one that needs to go is Frank
Bridgette says they need to pull one girl from each team and take out Frank and James.
Bridget and JAmes agree Bronte would be a good pick to take out Frank.
Bridgette is concerned once Victor leaves the guys are going to take Paul and use him because he doesn't have a direction in this game.
Bridgette – Paul is the lowest in the totem pole of them.
Tiffany asks her what's her read on the house .
Bridgette – Frank-Corey, Frank-James, Paulie is with 4 girls … Da,Zakiyah, Michelle,Nicole I think
Tiffany asks where she fits in all of that.
Bridgette tells her she's on the edges of everything
You are close to Michelle and NIcole
Natalie joins them
Tiffany tells her everything coming from the guys is a lie she cannot trust a thing they tell her. Tiffany says she knows they were fooling all of them during Jozea's and Victor evictions.
Tiffany names not to trust trust james.
Tiffany – I know I can trust Paulie right now because I had his back last week.
Tiffany says they've come in so fresh, "Never trust anyone on the surface"
Natalie – I want the girls to know I have the girls back
Tiffany says there's a guys girl in the house not a girls girls
Natalie – Nicole? I thought Nicole is a girls girls
Tiffany – Nicole is a girl girl
Tiffany says it's Nicole.. says she secretly hates girls "I Don't want to reel here into this sorta thing.. she might be a vote"
Tiffany – Da is on board..
Natalie – why wouldn't you want a guy to win a guy has gotta win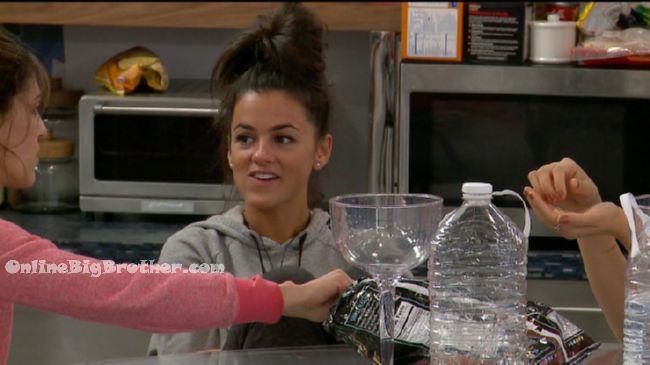 1:30am Kitchen Bridgette, Natalie and Bronte
Natalie – we can power through it we just need the girls on board..
Natalie says Zakiyah is wrapped around paulie's finger just like Amber was wrapped around Cody's finger.
They agree Zakiyah and Paulie are a showmance
Natalie – You know I love James… Obviously I love his personality.. So i'm going to try and work it but not in a bad way, I actually love him .. I like him..
Bridgette – he's not the top dog though.
Natalie – he works with the top dog.. He's one of the last on the hit list.
Bridgette – you take out the top dog everything gets screwed..
They agree Frank and Paulie are the 'Top Dogs"
Natalie pleads with Bridgette not to tell them anything
Natalie – don't let them bully you to..
Bronte – if frank gets taken down before Jury he might make it back into the game.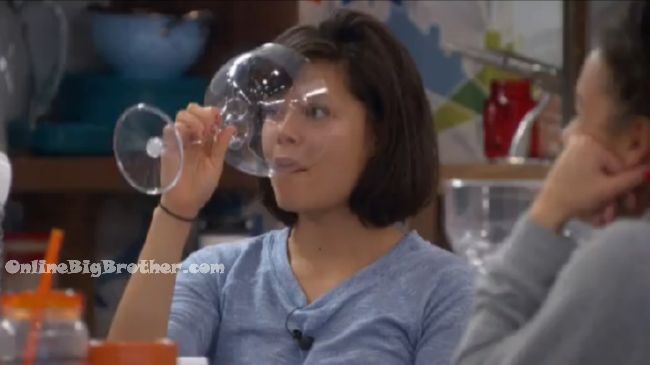 Brdigette is awesome.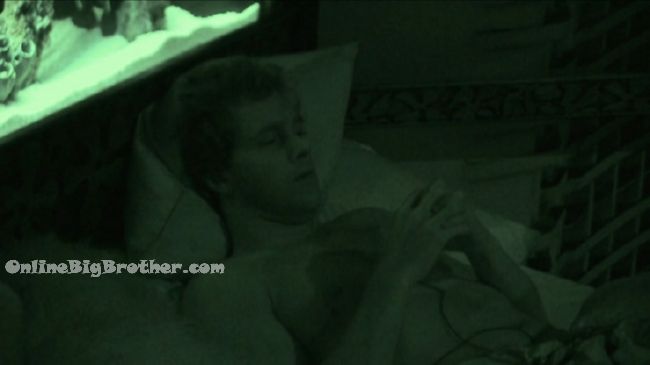 1:40am Frank and Paulie HOH
Paulie mentions Tiffany going before Bridgette, Paul and Natalie.
Frank – we can get into any three of their ears if they get HOH if I Tiffany gets HOH I'm up on the block
Paulie says his main plan is to protect Corey and Frank
Frank warns that Da'Vonne will be deadly in the mental comps. Frank says james is a trustworthy guy but they might have to cut him early on. Frank thinks Da is also trustworthy but again scared of her abilities in mental comps.
Paulie says him, Corey and Frank should be able to win something every week.
They agree they need a 4th person in their group. Paulie suggests Zakiyah, Frank doesn't voice any disagreement.
Frank says once Victor goes the paranoia in this game is going to go down
Paulie agrees says once Victor goes they focus on their social game.
Frank – even worst case scenario.. Nicole and the 4 of us..
Paulie says they will always be tight with Nicole because of his brother.
Frank thinks he's as close to Zakiyah as Da'Vonne, adds that is on more reason to get Da'Vonne out.
PAulie agrees says Da'Vonne is a wedge between him and 'Z'
Paulie – I got you.. I got you to that final point'
Frank – Final 3 me, you, Z and Nicole isn't a bad idea.. Corey would be happy with 5th place..
Paulie – Mentally and physically we would be set..
Paulie says the struggle right now is to stay low while the numbers aren't there , but later into the game when it gets down to 9 they can "LOCK in"
They agree they're preparing a little ahead. They comment there's 5 more people that have to leave before they can start thinking planning the final stretch.
Paulie says Michelle does not like Bridgette.
Frank – I think Bridgette is funny as hell
Paulie – there's something about her that is behind all that. I would party like crazy with her outside this house
Frank – I just love how she has this one side and this mouth like a sailor..
Frank says the way she likes to horse play you would think she has 9 brothers.
Paulie – dude she's actually really f****g strong…
Frank says he hates to think of the workers having to work through the night cleaning up the POV. They both agree that's a huge mess to clean up.
Chatting about Vanessa Paulie brings up she a math teacher but she also studied psychology.
Paulie brings up how cute Natalie is says he had no idea she was going to be so much fun to be around now knows why Cody had so much with with Nicole.
Paulie – I didn't realize she was that tiny.. I remember meeting her for the first time I Was holy sh1t you are tiny.. She's so dainty..
Frank says she has muscular legs, "She played Volleyball"
Paulie- she's f***g so cute
Frank and Paulie would love to see James wearing a koala bear outfit.
They both think James is a "Good kid… Good guy"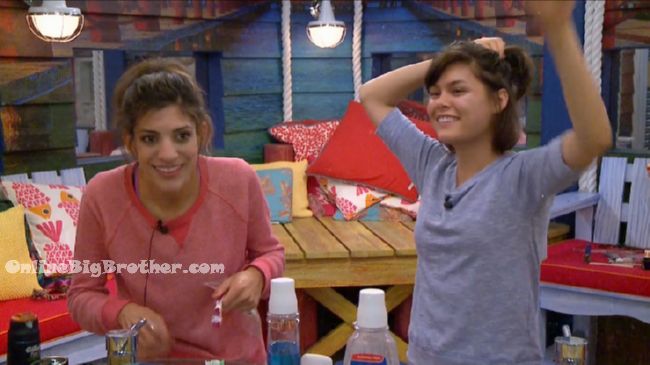 2:12am Bathroom Bronte and Bridgette
Bronte says if Frank even smells they are running their mouth they don't make it to Jury \
Brigette – we're done
Bridgette says they need to win HOH next week.
Bronte – I don't think JAmes will give it to me (HOH)
Bridgette – If would be ..
Bronte – I'm never going to try
Brigette – you have my full support
Bronte – that could be fun if we're upstairs for once.
3:21am Bridgette, Zakiyah, Frank and Paulie
Chit chat.. about kids movies Jumanji, night at the museum…
(up all night on the feeds.. it's a love hate season)
late night chit chat on the feeds have me .. #BB18 @DawgsBigBrother pic.twitter.com/K2cty8GWLv

— OnlineBigBrother.com (@bigbspoilers) July 3, 2016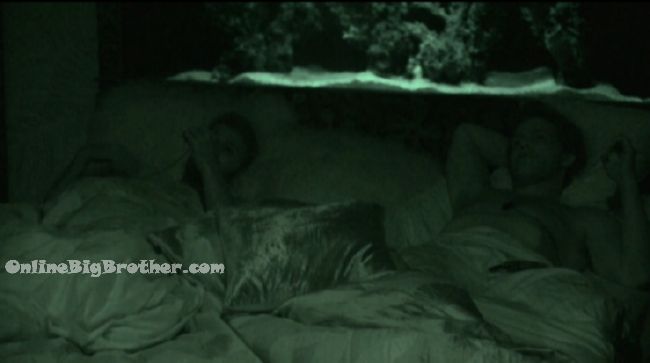 4:06am HOH Frank and Paulie
Frank about Victor – He's a finance major .. a f****g nerd..
Paulie says Tiffany is too worried about what teh live feeders might think
Frank says she gets caught up like sh'es got big shoes to fill.
Paulie says Cody told him his time on Biog brother felt like College where he's chilling with the girls.
They talk about how Tiffany would be shooting herself in the foot if she had won and used the veto.
Frank now saying after this week they acn play loose and fast.
Frank – we don't even have to talk game right now.
4:18am Frank and Paulie are now sleeping…
FLASHBACK and watch everything you missed: CBS All Access FREE Trial!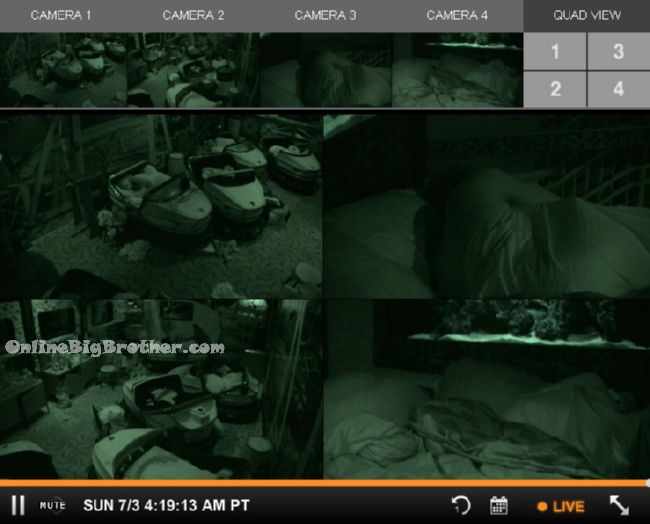 4:20am Everyone sleeping..
5:16am they're all still sleeping.. I'm still up
7:09am ZZZzzzzzzz
8:21am Still sleeping yo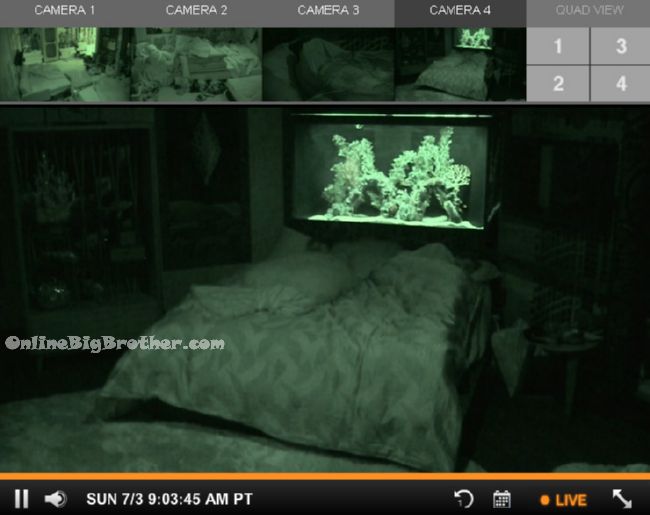 9:50am All sleeping…
10:50am They're all still sleeping..

[polldaddy poll=9459672]