POV Holder:
DAN
Next POV:
Sept 1 (Saturday)
POV Used
POV Ceremony
Sept 3 (Monday)
HOH Winner:
Ian
Next HOH:
Sept 6 (Thursday)
Original Nominations:
Jenn and Frank
Current Nominations:
Last Evicted Houseguest
Britney
Superpass Big Brother 14 Live Feeds: 3 Day FREE Trial!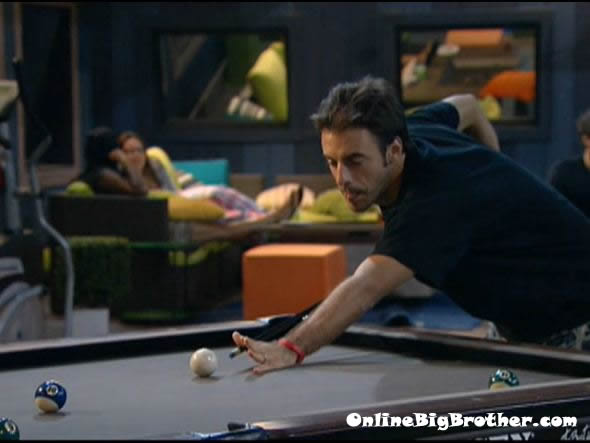 12:30am Frank is in the backyard shooting hoops with Joe and Shane. Ian and Dan are in the backyard playing pool, while Jenn and Danielle are sitting on the backyard couch. Danielle asks Jenn what she should do with the Shane situation. Jenn replies by saying we are always talking about Shane. Danielle tells Big Brother to give them something new to talk about and to give back their junk food. Danielle talks about the guys in the house and says that although they're various ages, they're all the same. Jenn agrees with her. Danielle tells Jenn that there is only 3 things you have to do to make men happy, feed them, screw them and let them have the remote control. Jenn adds and let them think they're smart every once in a while. Jenn and Danielle start talking about random things. Jenn tells Danielle that her guy friends thought for sure that Jenn would wrangle one of the lovely ladies in Big Brother house.
Watch it ALL on FlashBack: Big Brother 14 Live Feeds – FREE 3 Day Trial!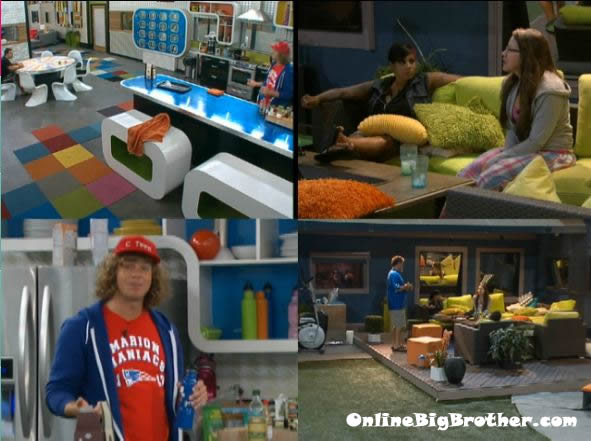 Frank heads inside and talks to Dan at the kitchen table. Frank asks Dan why doesn't he just use the veto on him? Frank says that they are making him nervous in the diary room. Dan asks why? Big Brother cuts the feeds. Frank asks Dan, you're positive we have Danielle's vote right? Dan says that he feels pretty good about it. Frank tells Dan that he needs to just use the veto on him because there are six people left so why not. Dan says that it exposes them and puts a big bull's eye on the both of them. Frank says that no one will beat us though. Frank heads out of the kitchen. Dan says to camera that you guys are messing with my game.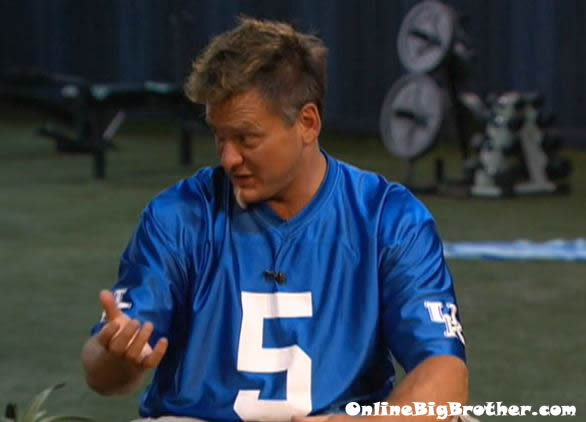 1:20am Shane, Frank and Joe are in the backyard talking about the veto ceremony. Joe says that it should be around 11am tomorrow. Shane says that he heard the veto won't be used. Frank asks Shane so you heard it's not going to be you as a replacement nominee? Shane says that's what I heard but I don't know what Dan is going to do. Frank says that Dan is so cryptic. Shane says that the only reason I think he may use it is because Jenn used it on him last week. Joe tells Frank and Shane that if the POV is used that Ian told him that he will be going up but that he isn't the target. Frank says that he thought it could be used on me so we can keep Joe safe but… Shane asks so you asked him if he would use it on you? Frank says that he has joked around about it but no. Shane says that they can pull Danielle but he isn't sure if Danielle will vote Dan's way or Shane's way. Shane says that Danielle told him that she will never ever work with Dan again. Joe says that the only thing he worries about is that Jenn feels too comfortable. Frank says that he doesn't think she is. They continue to talk about the veto competition.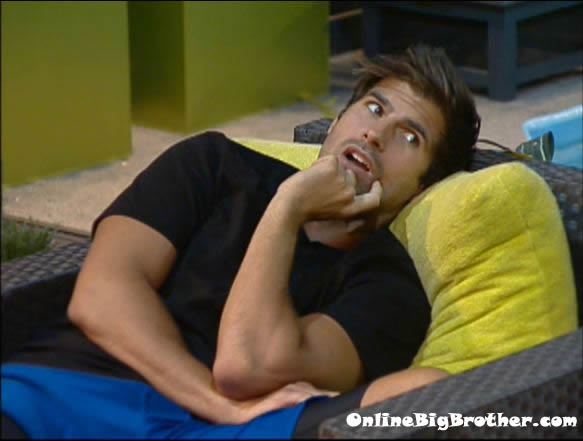 1:40am
Frank and Jenn are whispering. Frank tells Jenn that he thinks he (Dan) is going to use it. Jenn agrees. Frank and Jenn talk about how they hope that Dan really is working with them. Jenn says that she is worried about Dan backstabbing her like he did Danielle during his funeral. Frank says that he is worried that he is going to be voted out this week. Jenn says that she wants to get Ian out so bad she can taste it! She says that she just doesn't see anyone putting him up at this point. Frank tells her that Shane said that Ian said the Veto would not be used but Joe told him that Ian confirmed if the veto does get used Joe is going up. Frank says that we just have to trust the fact that Dan really wants to work with us which sucks. Frank says that they have to think about the fact that Dan was probably super nervous about whether or not Jenn would actually use the veto last week too. Frank says that he asked Dan about it and Dan said don't worry, no surprises. Frank says that he told Dan that if he doesn't use the veto then Dan still has Joe and Shane coming after him. Dan joins them. Frank asks him if he is confident about Danielle's vote? Dan asks have you talked to her? Frank says no. Dan says that Ian doesn't want him to use the veto. Frank says that Shane told him that Danielle will never work with Dan again. Dan says what's the worst case scenario with the vote, two to two? Frank says yeah. Dan says you think that's a done deal? Frank says yeah. Dan asks what their other options are. Frank says that Shane is really the only person they need to not win HOH next week. Dan says that they can talk tomorrow morning. Dan leaves. Frank says what worries him about Dan is that he may use the veto on Jenn and then act like he tried to get the votes for Frank but couldn't.
Big Brother Live Feeds FREE 3 Day TRIAL: Try them and see what's happening right now!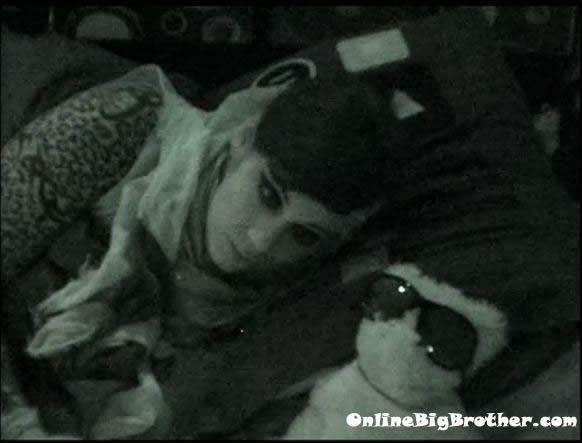 2am Ian, Shane and Danielle are talking up in the HOH room. Ian tells them what he will say to Dan during the veto ceremony when Dan uses the veto. He says that he will tell Dan that he doesn't understand why he always feels the need to stir the pot in the house. Ian says that then he will tell Joe to pop a squat. Ian says it will be comedy gold time. Ian asks if its Joe versus Jenn in the final two who do you vote for? Ian says that he would vote for Joe to win. Danielle says that there is no way that is going to happen. She says that would make her sick! Ian says that he wishes he would have gotten a Diamond Power of Veto in Pandora's box because he would vote out Jenn next week. Ian asks what if Frank has a coup d'état? Danielle says he doesn't because he wouldn't be acting so sick if he did. Dan joins them. Ian asks Dan if he is going to use the veto on Jenn? Dan says yeah, is everyone okay with that? They all say yes. Shane and Ian agree that Frank got a fair shot at the veto. Ian asks Dan if he found out who Jenn would nominate if she won HOH. Dan says no, she wouldn't say. Danielle and Shane say that they think Jenn would put up Joe and Ian. Ian asking Dan if it's a Jenn and Joe in the final two who would he vote for? Dan says that he would change his name and go into witness protection. Dan heads back down stairs. Shane also leaves soon after.
2:20am – 2:50am Dan heads into the kicks bedroom where Joe is laying in the dark. Joe says that Dan chased me in here as soon as I went to bed! Dan says this is Dan. Joe tries to cover what he just said. They are both quiet. Shane joins them. Dan says Joe that's who you wanted to talk to… Dan then tells Shane that Joe was talking to him, thinking I was you. Meanwhile in the bathroom, Frank asks Danielle if Dan uses this veto tomorrow, I still have your vote right? Danielle says probably. Frank says you had me there for a second, do you think I can get Shane's vote? Danielle says that she thinks so. Frank asks have you figured out whose back you have more, Dan or Shane? Danielle tells him no to ask her that. Frank tells Danielle that he has been nominated so much that he just worries that it will catch up with him one day. Frank tells Danielle that she needs to start thinking about who she would pick between Shane and Dan. Danielle says she knows. Frank tells Danielle if she throw it to Jenn, Dan or Shane then she doesn't have to worry about who to nominate. Danielle tells him not to worry about the votes. Frank and Danielle head to bed. Frank goes into the stereo room and tells Jenn that he talked to Danielle and she is good. He then tells her the rest of the conversation he had with Danielle.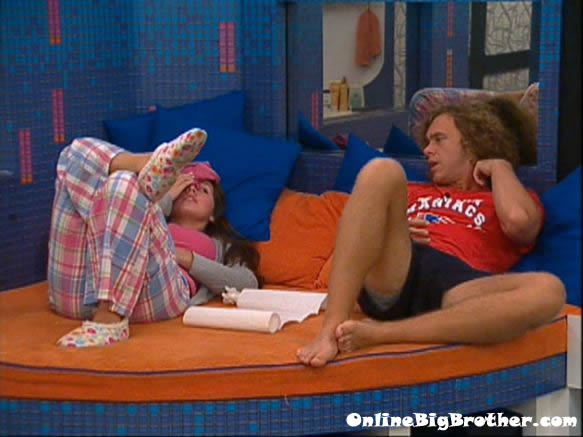 9:25am All the house guests are still sleeping..
Share it YO!!
Tweet