POV Holder:
Bridgette
POV Competition
July 9th
POV Used
NO
POV Ceremony
July 11th
HOH
Bridgette
Next HOH
July 14th
Roadkill Competition Winner:
Frank
Original Nominations:
Paul, Tiffany, Bronte
After POV Nominations:
Paul, Tiffany, Bronte
Have Nots
Nicole, Corey, TIffany
Bridgette did not use the Veto Nominations stay the same
Little has gone on so far this morning Live feed Updates will begin this afternoon. Any missed conversation will be added at that time.
CBS All Access: Live feeds are only $5.99 per month – Try it FREE for 1 WEEK!
Big Brother 18 Alliances Help Guide
12:20am – 12:55am Kitchen –
Zakiyah says I know a guy that's number is over 70. Natalie says I want a guy that's been with less than 10 girls. James says yes! Paul says he's been with 8. James asks Natalie how many guys she's been with? Natalie says 1 doesn't count .. I want to erase from my memory. Paul says it still counts. Natalie says he cheated on me so I don't want to count him. Natalie says it usually takes 6 months to a year before I have s*x with them. I've dated guys that I've never had s*x with. She says 4 of the 8 guys she dated she's had s*x with. Paul says 5 of mine were long term relationships. DaVonne says she's only slept with 1. Corey can't believe guys would wait 6 months to have s*x. Zakiyah asks him if he would wait 6 months? Corey says no! DaVonne asks if the girl was a v!rgin would he wait. Corey says yeah that's different. Feeders find me a virgin and I'll wife her up. James asks who's had a threesome? Natalie and everyone says no. James asks foursome?! Paul says I can barely satisfy 1 person.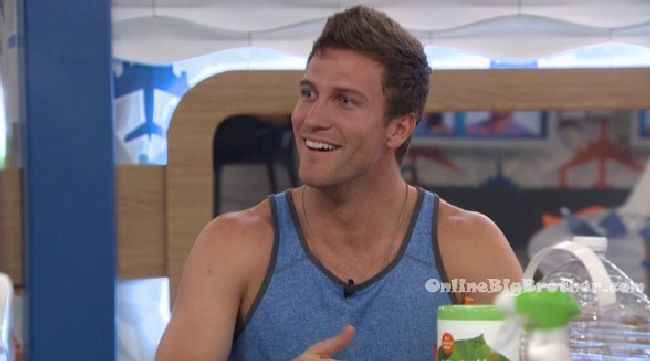 See what they can't show you on TV – CBS All Access: 1 WEEK FREE Trial!

12:15am – 1am In the bedroom – Big Meech and Nicole are drinking milk because they have stomach aches. Big Meech says well that was a fun day forgetting about game for a second. Forgetting about Frank plotting against me. Nicole says he's plotting against everyone. Big Meech the boss.. president of the BB house. Frank Eudy! Paulie says its going to be a good next week. Big Meech tells Paulie that Frank wants your or Corey out next week. Paulie says yeah that's his plan but if he can't get us .. he wants Day out. I'll f**king.. I would go up just to ensure I compete in the veto. Michelle says I would put him up with roadkill. Nicole says no, because then he competes in the veto. Paulie says or if he does and pulls himself down, then we just throw Bridgette up. Big Meech tells Paulie I wish you could hear the things he says to me. Like how he is going to send me home. Paulie says he's just trying to be like Mike Boogie and Dr. Will. Big Meech says I want him to be a failure and be the first vet to go home. Tiffany says I want to get 1 HOH and get Frank out. Tiffany says at least I'm glad Bridgette won't be able to compete in this next HOH because I think it will be a mental one. Corey joins them and Nicole asks him about what they were talking about. Corey tells them about their conversation. Corey says they were also saying that if a guy had s*x with more than 10 guys they wouldn't talk to them. Nicole says wait .. you mean 10 girls? Corey says yeah.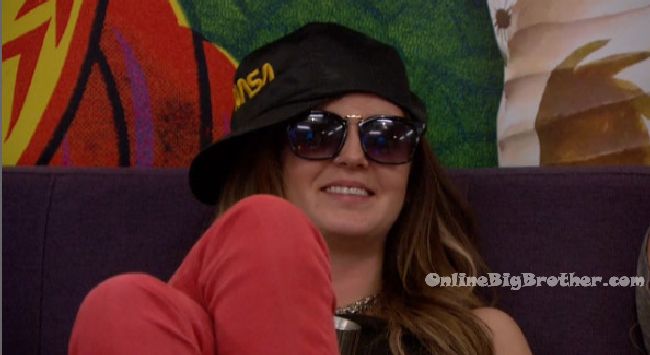 1:05am – 1:50am Big Brother opens up the backyard. Some of the house guests change into their bathing suits to get in the hot tub. They talk about random things like what are deal breakers for them in the people they're dating and other relationship topics.
Meanwhile in the bedroom – Natalie and James are having girl talk. Natalie says I can't believe Frank would put me up.. what a douche bag! What a tool! James asks you know who put Bridgette up week one? Natalie says Frank. James asks how do you know? She doesn't know. Natalie says I know and I'm not going to tell her.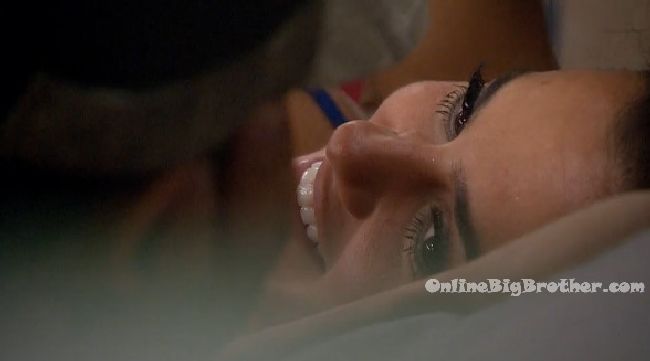 2am – 2:10am Bathroom – Natalie tells Bronte if you want me to go on the block with you, I will! I will do that for you. I'm a true friend. I've been putting in a good word for you. Natalie says James trusts you more because he trusts me. If you ever feel like Paul is telling your stuff that you can't tell me, I'll respect it. But if I'm in danger give me a little. Bronte says I would never not tell you. I might think something means nothing but if you've heard something the puzzle pieces might fit together, so we just need to tell each other everything.
In the storage room – Paul tells Bronte to be careful of the guys she is talking to. That's for you knowledge only. Don't tell anyone else.
Paul, DaVonne, Corey, Tiffany, Nicole, Zakiyah and Michelle are talking about how Frank has gone to all of them telling them different things.
FLASHBACK and watch everything you missed: Try it for FREE!
2:15am In the bathroom – Paul tells Bronte not to tell anyone what he's about to tell her. Don't tell Natalie, Don't tell Bridgette. The target next week is Frank. But you do not act different you do not talk different. The whole house is against him. The target this week is Tiffany, the target next week is Frank. There is going to come a time when I have to come to the three (Natalie, Bronte, Bridgette) of you and tell you that Frank is playing you. Frank is lying and manipulating the whole house. He's going to different people and telling them different targets. He won the first bb roadkill and the third roadkill. He put you up on the block. Frank is manipulating the entire house. SO if you shut up and lay low, he will be out next week and you will make it to jury. Okay?! Bronte says okay.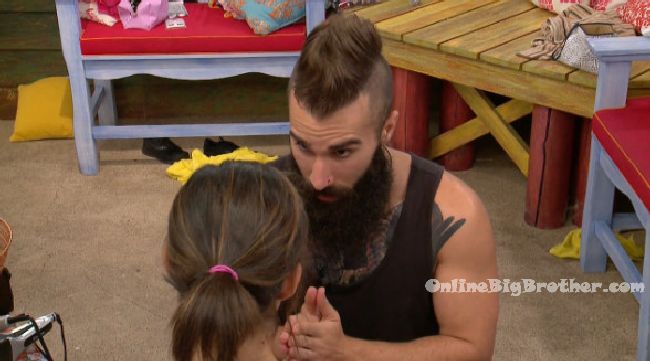 2:25am – 3:10amNicole says It might be to my benefit to keep Frank in this house. He's not throwing my name out, if he doesn't want to get me out, why would I want to get him out. He would be able to… I think if we got Bridgette out maybe he would be.. What would be best for my game would be for he and I to team up. I would be his number 1 and he would be my number 1. So that would mean we would need to get rid of Bridgette and Corey which I don't necessarily want to .. Big Brother switches the feeds to a different cam.


The feeds switch back with Corey talking to Nicole. Corey says I feel like I can go head to head with Frank in any comp. We can't have Z or Day as HOH because we don't want them in the POV comp. In a perfect world it would be me, Paul and Paulie competing in the POV. Frank would sh*t himself. Nicole says if you won the roadkill would you put up Day? Corey says yeah. Nicole says I just want Day to campaign against Frank. DO you think anyone is working for America. Because who was that vote the voted for Bronte .. I'm almost 100% sure it was Day or Michelle. Someone obviously is sketch because no one is claiming that. Nicole says I like that Frank hasn't been throwing my name out. Corey says he has, he did before. Nicole says I'm going to feel bad about Tiffany going .. but she has to go. Corey asks what do you think about Z and Paulie. Nicole says Z likes him a lot and she gets jealous. Nicole says I like Paulie he is really honest. I want you, me, Paulie and Zakiyah to be final 4. Would you ever really take me to the final 2? Corey says yeah I would of course. Corey asks would you take me? Nicole says yes. DaVonne comes out and says she cried in the shower. I think you're a really good girl, I'm glad our paths crossed and I hope we remain friends forever. DaVonne heads back inside. Nicole says I feel so bad now .. I said I feel like I can't trust her. Michelle joins them. They talk about how they tried to safe Tiff. Corey says she is really convinced she's staying. Tiff comes out and says I can't go in the havenot room I'm scared!! Corey says oh my god.
3:25am – 3:30am DaVonne and Tiffany talk about Frank and how the plan is to get him out next week. Davonne says what he hasn't factored in is that we're comparing notes and sticking together. TIffany asks did he think he had the numbers to get me out? DaVonne says yeah Bronte before she went on the block said she would and so did Paul. I guess others too but they're telling him what he wants to hear. Tiff says I'm going to get his a$$ first. Davonne says the plan is to throw me the HOH .. because he plans to put me up with the roadkill. We got the votes to get his a$$ up out of here! I want him to come campaign to me.. I dare him to come campaign to me.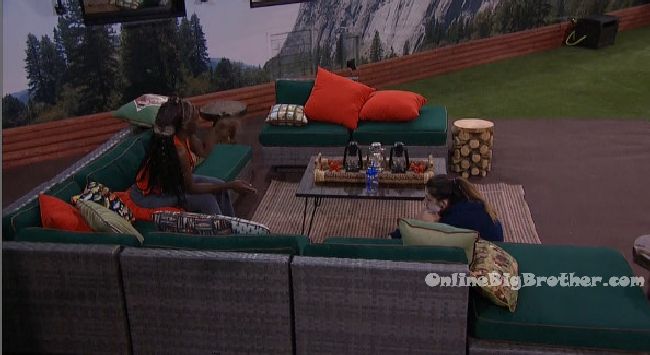 FLASHBACK and watch everything you missed: CBS All Access FREE Trial!

[polldaddy poll=9465176]
[polldaddy poll=9464369]