HOH: Kyland
HAVENOTS:
Nominations: Claire Britini and DerekF
Power of Veto Players: Kyland, Claire, DF, Alyssa, Azah, Brit
Power of Veto: Alyssa (OTEV winner), Kyland (High Roller winner)
Power of Veto Ceremony: Kyland used the veto on Claire. Britini nominated in her place.
Big Brother 23 Houseguest Rankings – – RANK THE HOUSEGUESTS –
View the previous day ranks on the – Ranking Grid
SPOILERS Britini is being evicted.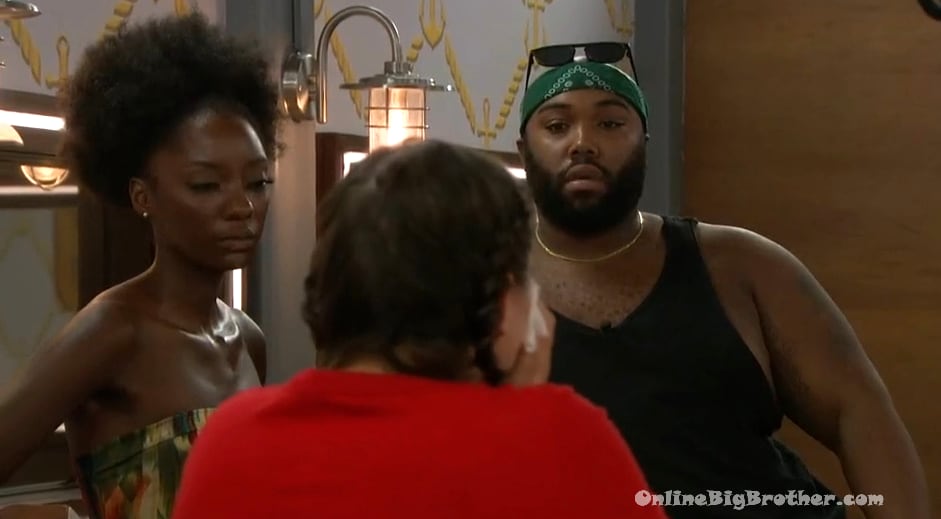 1:17 pm Brit, Azah and DF
Brit – we friggin made a deal we shook.. we shook on it..
Brit – you lied because you're afraid of me.. how many comps have I beat him in now.. what the FUDGE.. I'm so sick of being picked on in this house.
Brit – four out of six weeks no ones had to deal with that BUT ME. Four out of six there's been 2 weeks I've been safe. 4 out of 6 I don't understand.. what have I done to people
DF – he feels threatened by you he feels threatened by me because I told him to go f** himself. Alyssa's a little b1tch for not using the veto on me and being selfish I won't forget that trust me for that.. He's scared of you
Brit – what hell is going to happen now
BIGD – I refuse to kiss any of these motherf*ers a$$ they can kiss my a$$
Bri t -why am I the punching bag in this house. Every single one of the HOH's in this house has nominated me.. I'm sick of it I've fought too hard in my life to feel like that.
Brit – I'm proud of who I am
Brit – I can't catch a break, people
Brit – I don't know what's going on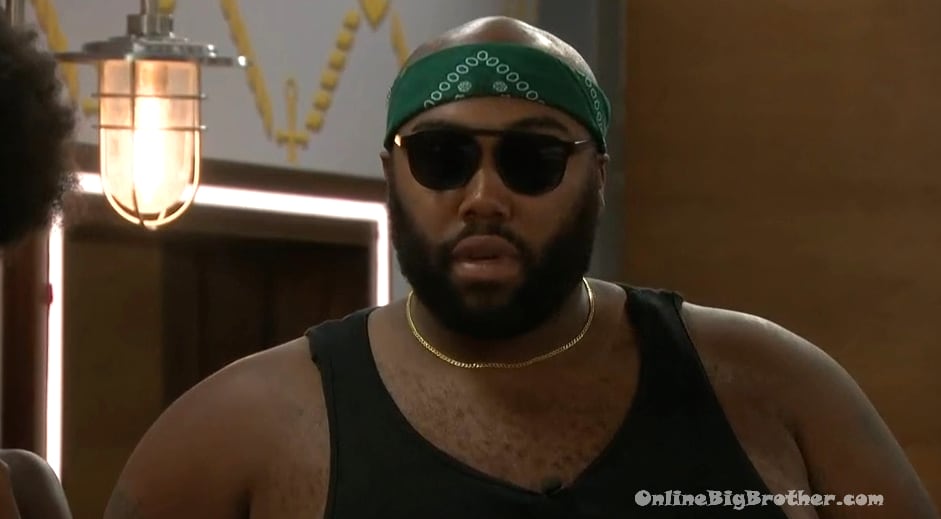 DF – he couldn't even give me a fair fight shows me how everybody really feels.. nobody is getting sh1t from me not a damn thing I refuse to campaign against anyone in my team
Brit points out both of Kylands weeks he's targeted Jokers
They agree Kyland's speech made no sense
Berit – Personal move
Azah – personal move this week was personal he has some personal insecurities against her everything is personal
Brit – this is my fourth f***Ing week. Fourth.. C'mon
Brit thinks people have been throwing her under the bus.
Azah and Df don't think that's the case. Azah says Kyland said in his speech he thinks he can figure the game out by patterns.
Azah – it doesn't matter what people said about you to him. He feels threatened by you
Brit – I can't believe of all people Sb was the one that warned me.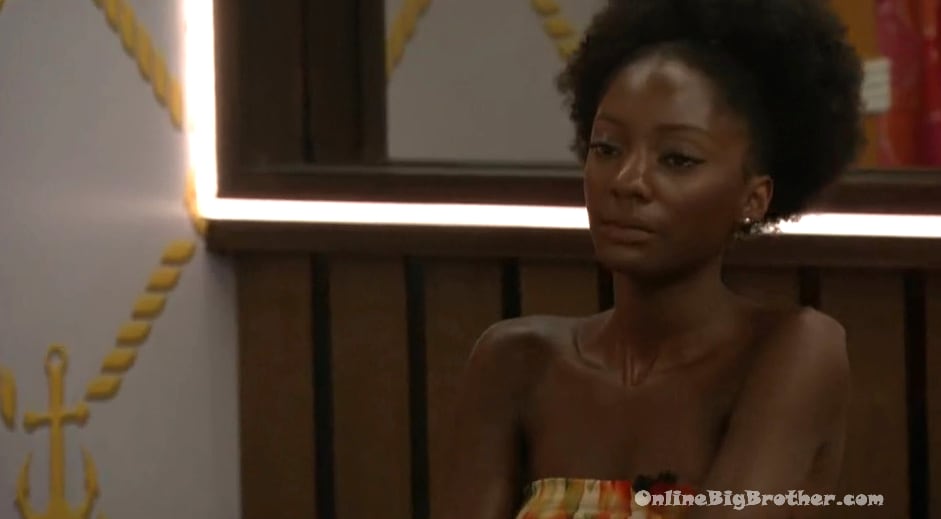 1:30 pm Azah and DF
DF – I think I might Sabotage myself
Azah – you can't do it, babe.. you can't do it.
Azah – he's [Ky] a f***er he knows what he's doing.
Azah – I'm going to vote for you I have to
DF – no
Azah – BIGD.. I can't go back on that
DF – no.. you can
Azah – I have to I can't do it
DF – you have to I'm okay I would rather get a pack of Cigarettes and go back home.. I can't the fact.. The one person I kept protected I had her back lookout for her made sure she was good.. the fact that she kept that chain around her neck and did not use it and didn't …
Azah – BIGD everyone is out for themselves..
Azah reminds him they voted out Christian last week she doesn't give a f** about them. (So he's mad at Alyssa?)
Azah – she's going to go soon. In this game, we can't get upset when people make decisions for themselves..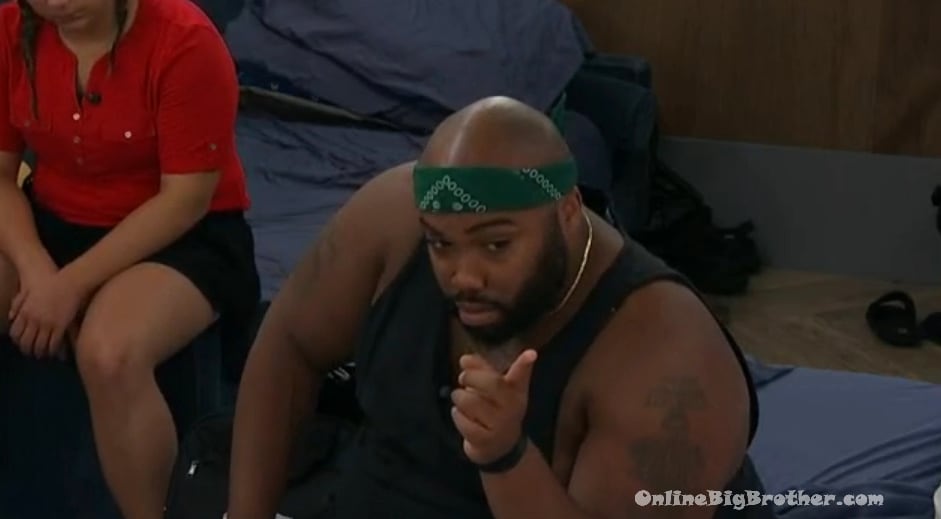 1:45 pm DF, Brit, Azah and DX
DF – his head is on a platter for me.. I'm going to take him out
They talk about Kyland's questions. brit thinks everyone other than the jokers must have thrown her under the bus.
Brit says Kyland is saying that her answers were so unpredictable if he asked anybody else what my answers would be nobody would know them
DF – just because you don't like me you put me on the block.. just say YO I don't like you.
DF – we're telling folk stories
Brit – thank you for throwing the fact I couldn't win the veto in my face I appreciate it (Kyu's speech)
DX – that was the worst part of his speech.
Brit – Jesus Christ I'm so pissed..
DF – everybody is going to be scattered and Hiding in their rooms like a bunch of F***ing cowards (LOL)
DF – because she [azah] said what she said when she got upset. I think he wanted to make sure he took a shot at me because I said whatever.. he knew putting you up would hurt her [Azah]"
DX – why not put you both up?
DF – everyone is out for themselves if I want to hit him who do you think I want to get.. (SB)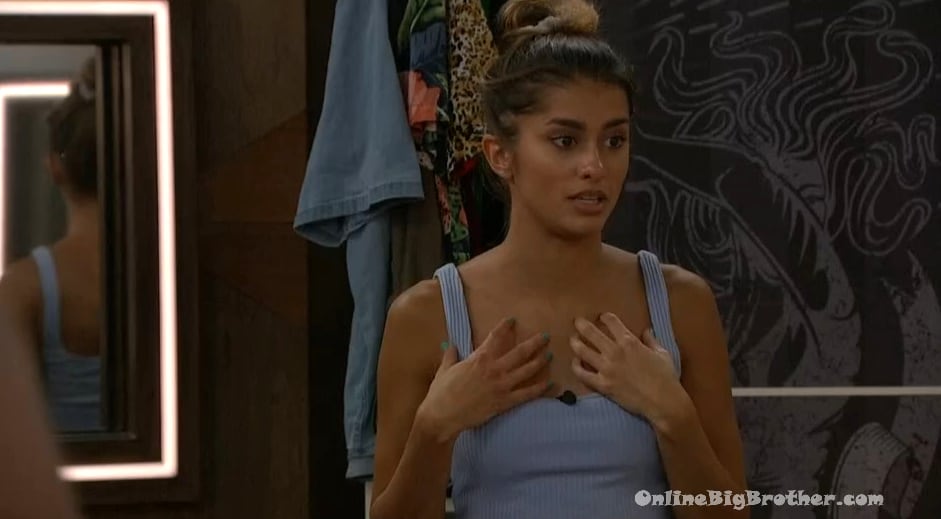 1:55 pm Alyssa and the jokers
DF says he's cool with her not using the veto but he was thinking "damn this b1tch can't use the veto on me"
Alyssa – I couldn't do that because if I did that he might get upset with me and put up someone
Azah – he could have put X up
Alyss a- my whole plan was to take Sb down last week and imagine if I had done that and Christian went up I have that fear right now.
Alyssa – after the votes last week I don't know where I stand with people. It people don't stand close to Christian than I feel they won't stand close to me
ALyssa – if Christian would have stayed I would have had more..
DF and Azah says she doesn't have to explain they understand.
X joins them.
DF – You and X I've always looked after you guys.. I get it. It was a game move I was a little bummed.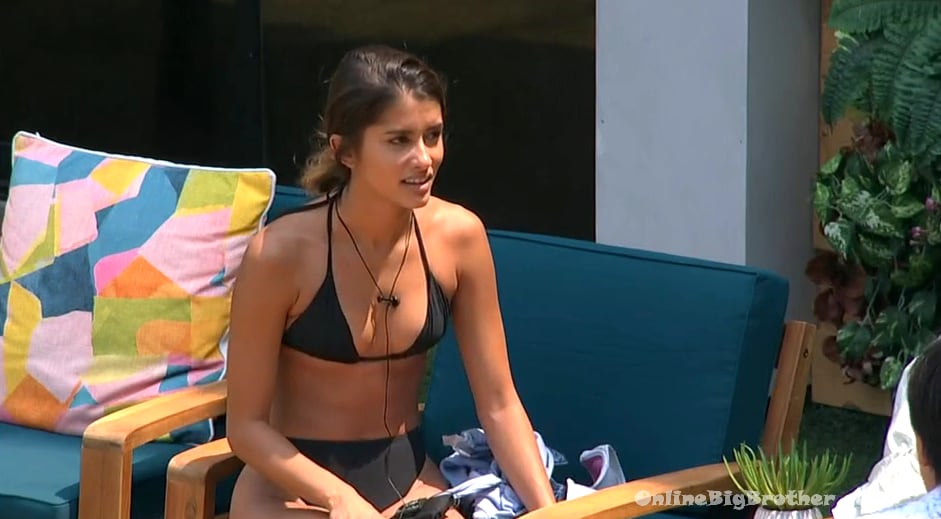 2:00 pm DX, Alyssa, Tiff and Hannah
Alyssa mentions how DF thought she would use the veto on him. "I said to them you three could have changed the vote and now you're the number one target because the number one target is gone why are you mad at me"
Alyssa – he's saying you could have taken me off had my back.. You didn't have my back last week None of you guys had my back last week so what are you talking about.
DX – he was saying I don't get it I had Alyssa's back since day one I'm the only reason she didn't go home first week I told Frenchie to keep her in this house
Alyssa – if you guys had my back you would have kept my number one ally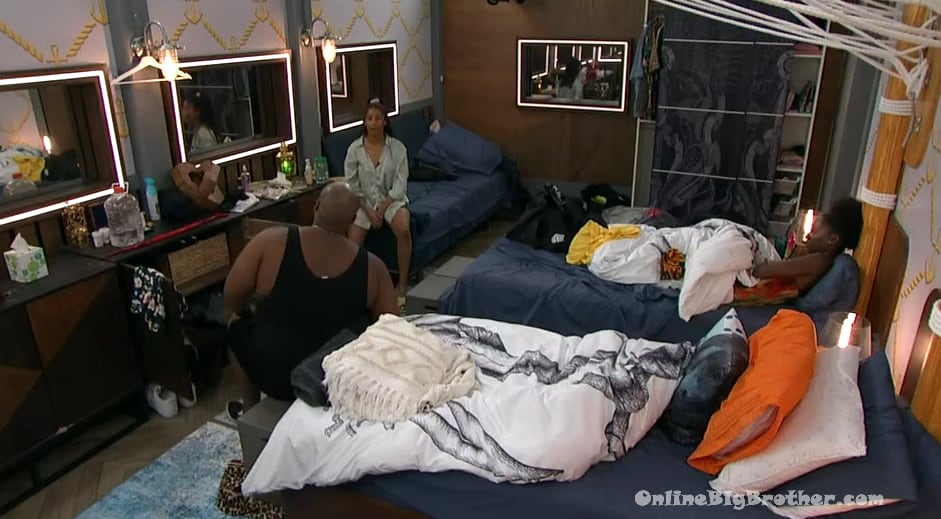 2:09 pm DF, Azah and HAnnah
Hannah says the only reason SB told Brit she was going up was so she can get into their good graces. They start talking about how long Ky's speech was.
Hannah says Ky is becoming the house target this week or next week and in order for them to protect him they will need to show their cards.
Hannah – it'll be hard for the Cookout to not be exposed
DF says he wants to win the HOH and put Ky/SB up but he's worried about the Roulette
Hannah – I have enough money to play
Azah pulls out candies to show them her plan with the roulette
Hannah says Ky thinks of them as fools.
Azah says if a cookout member wins HOH they put two cookout members on the block then a cookout member wins "this" (veto)
Sb joins them.
2:21 pm Jokers lair.
DF – you're going outside still?
Azah – yeah I'm going to change
DF – change into your swimsuit.. ok ok
DF – do you want me to give you some time Brit alone?
Brit – No I probably shouldn't be left alone right now my thoughts are going to go real dark
Df – Okay I don't want that.
Brit – let me grab my swimsuit
DF – yeah yeah let's go outside..
Please consider a donation to keep the madness going. BIG thanks to the people that have already chipped in.