HOH: Kyland
HAVENOTS:
Nominations: Claire Britini and DerekF
Power of Veto Players: Kyland, Claire, DF, Alyssa, Azah, Brit
Power of Veto: Alyssa (OTEV winner), Kyland (High Roller winner)
Power of Veto Ceremony: Kyland used the veto on Claire. Britini nominated in her place.
Big Brother 23 Houseguest Rankings – – RANK THE HOUSEGUESTS –
View the previous day ranks on the – Ranking Grid
SPOILERS Britini is being evicted as of right now. I don't see this changing.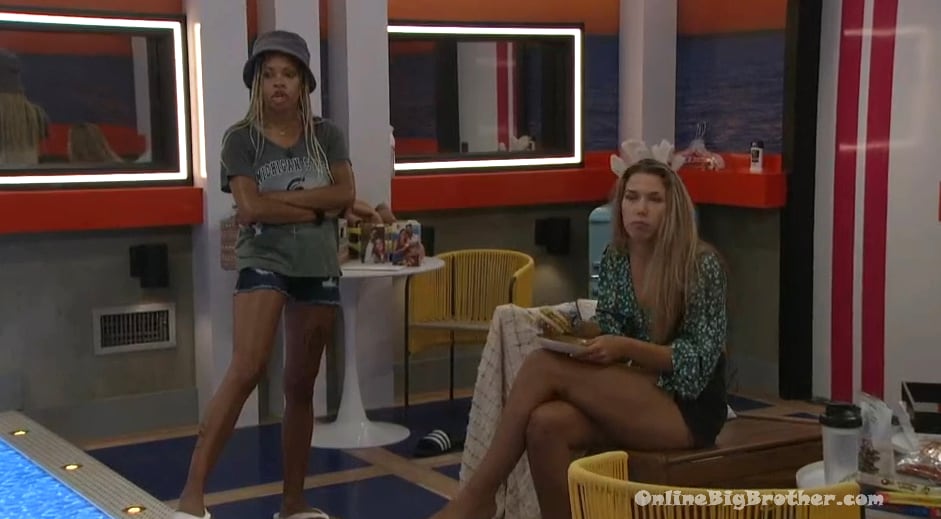 2:24 pm Tiff and Claire
Tiff – I want DX to fix me a sandwich
Claire – I just want us to ponder it. I feel like Hannah also wants to ponder it and I kinda think DX might be pondering it
Tiff – here's the thing we keep Britini Ky is against us
Claire- what if we can flip ky
Tiff – he seems to have this so umm.. planned out in his head.
Claire – true
Tiff – everything except for putting you on the block
Clarie – that was planned too
Sb joins them
Tiff – I guess we talk to him and see where his heads at if britini is the target
Sb says brit is the target.
Tiff – I never want to be on the wrong side of the HOH..
Sb essentially says if they vote out DF they lose Ky.
Feeds cut.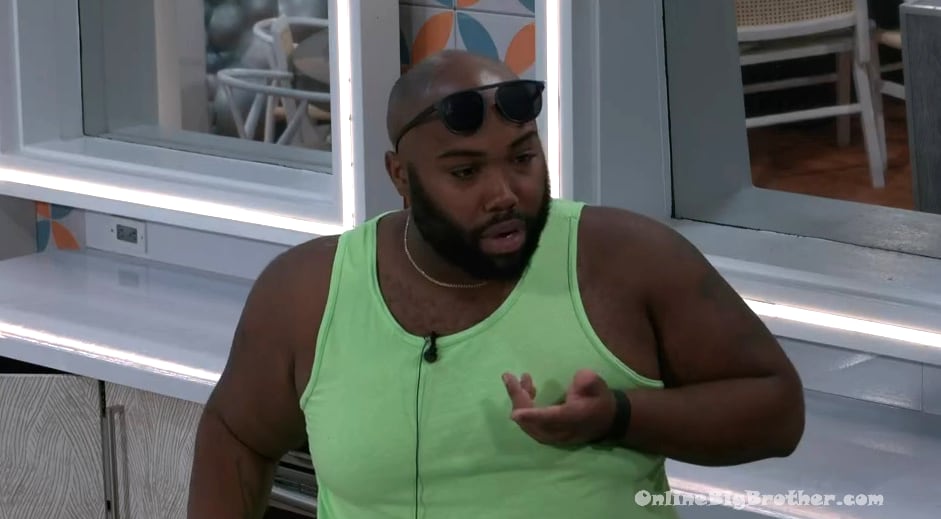 2:33 pm DF, Claire and Tiff
DF complaining about Brit going on the block and Alyssa not using the veto. The knife hit him when Brit when up. Says it makes no sense, "I feel like I'm still the target.. Britini doesn't do anything other than Jump around and have a good time"
DF – I feel like his HOH is over now that this is done he doesn't have a vote why do I talk to him (it is a tie vote week so unfortunately Kyland still has some power)
Tiff – there is a lot of time between now and Thursday.. take some time. The Day is nice outside
2:40 pm "The Day is nice outside"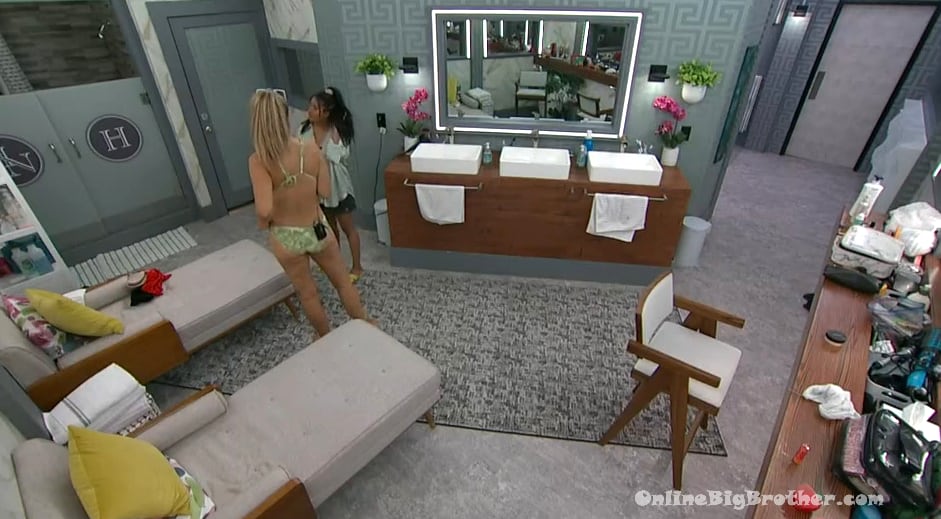 2:43 pm Hannah and Claire
Hannah explains the Deal Brit and Ky had this week. According to Brit He was going to keep Brit safe for the week and in turn, she will keep him safe for 2 weeks. She confronted him right before the ceremony he added "if everything worked out this week you won't see the block"
HannaH – he's so arrogant he doesn't see it
Claire – he said I'm set up fantastic Claire
Hannah brings up asking Ky what he thought the house was going to think of him when he threw the veto to Alyssa. He said "Something along the lines of.. If people had their doubts about me before they'll continue to have their doubts but.. I feel good with everyone that I need to feel good with.. What a cocky a$4hole"
Claire – he said I feel good with the kings and you guys
Hannah – I understand why he put up you and BIGD Kinda .. he could have gone with Azah..
Hannah adds Ky destroyed Claire's trust and had to rebuild it twice. She's not sure this was worth it
Claire – it's like, he threw me over the cliff then threw me a rope, then he cut the rope that was him throwing the veto then he was like here let me pull you up aren't you so happy I pulled you up
Hanna – he was the one that pushed you over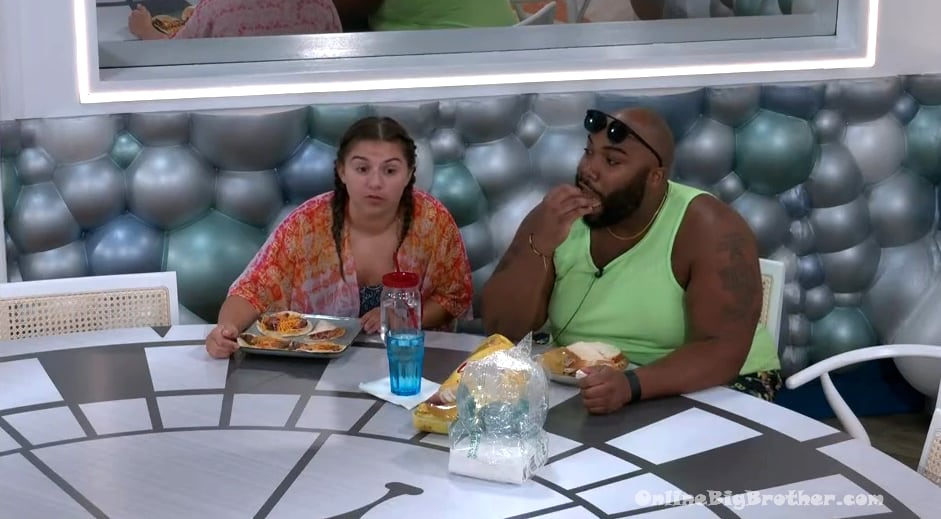 2:52 pm Brit and DF (I'm still waiting for the RIOT)
Brit asking America for a power "I'm sick of being picked on in this house"
Brit – four outta six America.. four outta six weeks I've been on the block can't catch a break..
brit – I'm so pissed..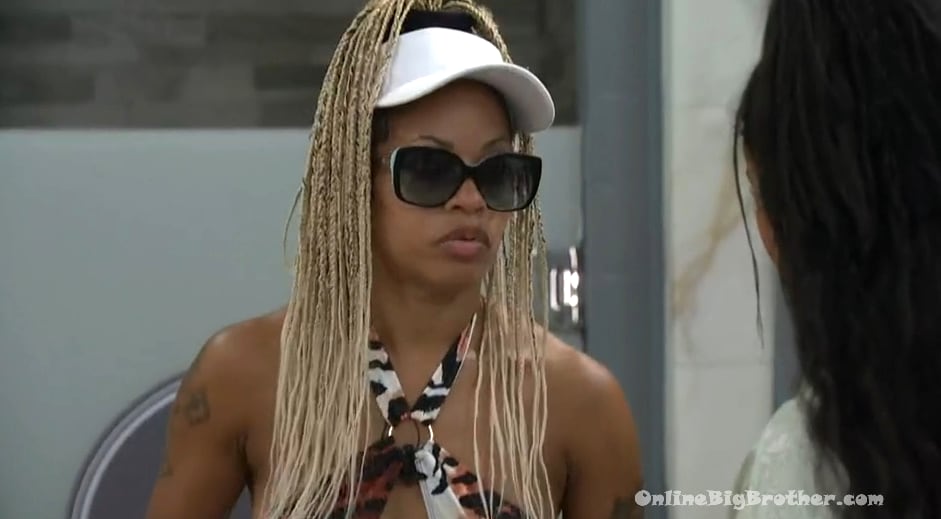 2:55 pm Tiffany and hannah
Tiffany brings up her conversation with Claire in the HOH. Claire has been asking questions about what they should do. SB walked in on them and said KY want Brit gone and if you take out DF you'll lose KY.
Tiff pointed out then they become Britini's jokers and Claire agreed it wasn't a good idea. "It all worked out"
Tiffany – Sb is on board and Claire knows we can't lose Ky for Britini because then we become on britini's side
Tiff – the only thing that can get her to change or reconsider it is if DX reconsiders it
Hannah – which he has..
Tiff – I'll somehow deflect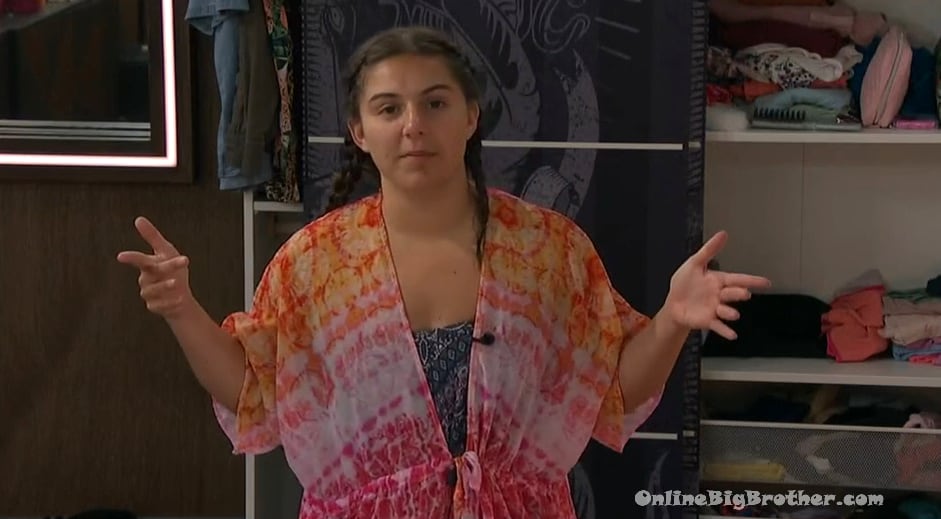 3:05 pm Brit to the cameras
Brit – I've been here before I know what to do. Y'all call me the block queen, for now, reason honey I'm going to earn that title now if the block's how I'm playing the game then the block is how I'm playing the game. I need to find a way to stay and I'm not going to stop until I do.. that's it.
Brit – his speech was very arrogant to me and it was disrespectful and it made him look very bad..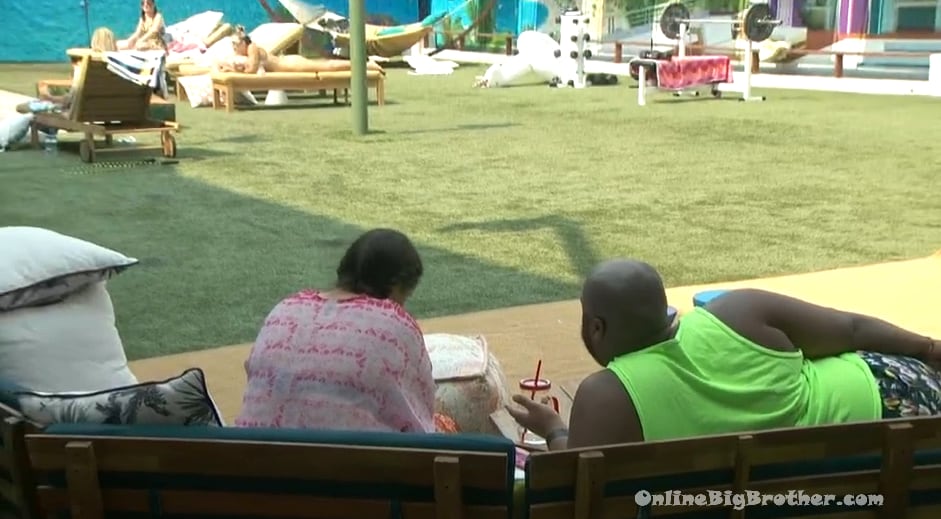 3:22 pm Brit and BIGD
DF says if he's still here next week he's taking out Alyssa.
Brit – I think he doesn't care which one of us goes as long as one of us goes.. that's my assumption the more I think about talking to him the more I feel like vomiting internally
3:41 pm Chit chat in the backyard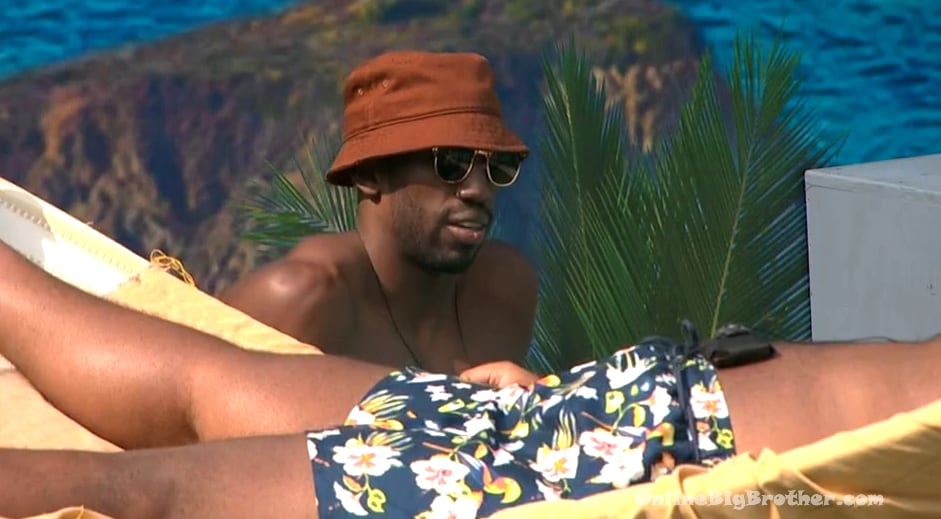 3:55 pm DF and X
Df says it's scary being on the block right now because they don't have the votes in the cookout
X – it's either going to be unanimous or she will get A vote
DF – I ned a f**** drink and a smoke
4:19 am DF and Azah
Azah says Kyland is definitely a target now outside of the cookout. Brit is letting everyone know about their deal.
Feeds have been cutting.. when we're back Brit is with them
Azah discovers Df has a "third nipple"
DF – it's a mole or a mark
Azah – are you certain
Df is adamant it's not a nipple because he doesn't feel anything.
DF – the jokers had a good run maybe one of us will win I hope.. so we can laugh.. they tried to get us out but guess what joker ended up winning.
Brit – I'm so emotionally exhausted
DF – I need a drink.. that's all I need is a drink
4:45 pm A beetle appears in the back yard and of course, a bunch of them freak out. X tries to catch/kill it.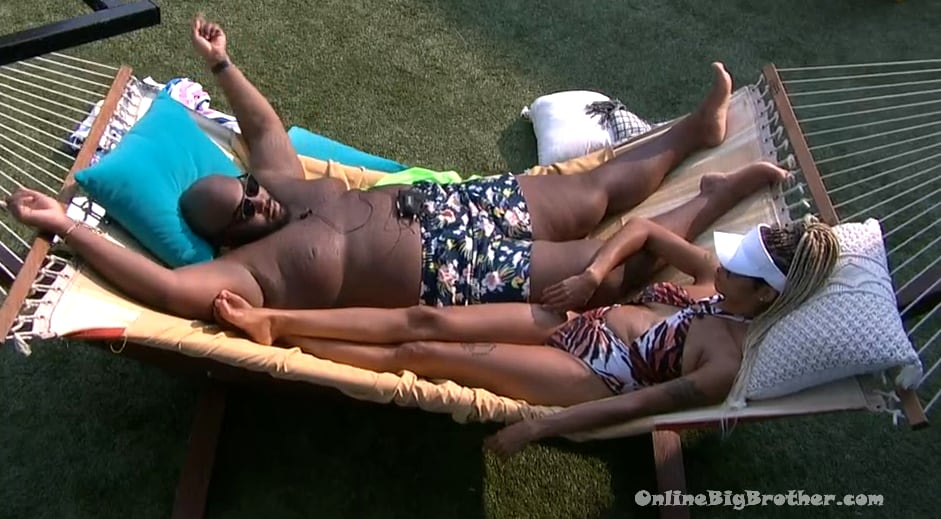 4:49 pm Df tells Tiff he thinks the next HOH is slip n slide and with that competition, he feels confident. Tiff thinks there are too many people in the house still for that competition
DF – everyone thinks me and you don't like each other I'm going to keep it that way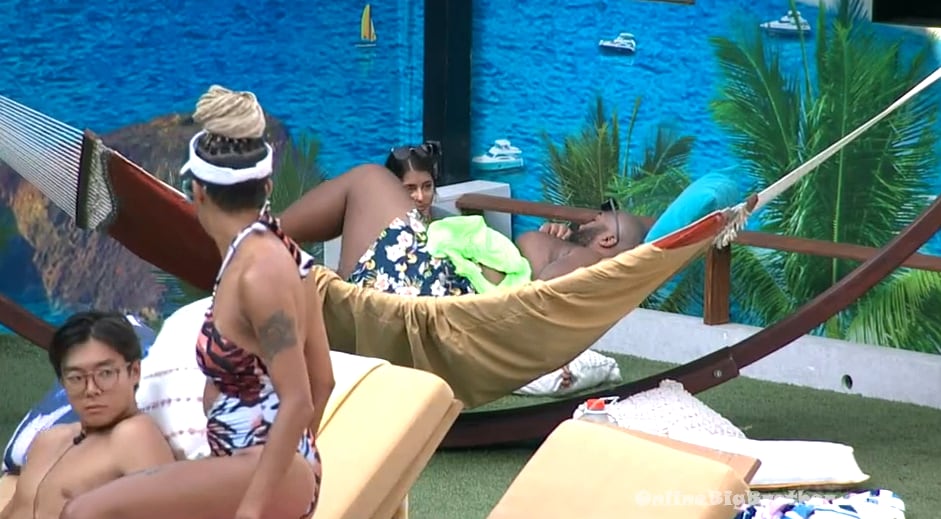 5:30 pm Alyssa and DF (Feeds seem to be cutting again)
Alyssa saying they sent the number one target home last week if they would have kept Christian on DF/Brit wouldn't have been put in this spot.
DF – I trusted the wrong person
When we're back from some feed blockage.
Alyssa – you said you guys don't get along?
DF – me and Tiff? NO
Alyssa – you guys didn't squash it?
DF – I mean like we're cordial she knows she can't act out it'll put a target on her back. I almost got her to act out and she did kinda..
DF – Claire and Dere were like wow she's really emotional.. is aid yeah that's the problem
DF "At the end of the day he knows if she gets the opportunity I'm out. I know it"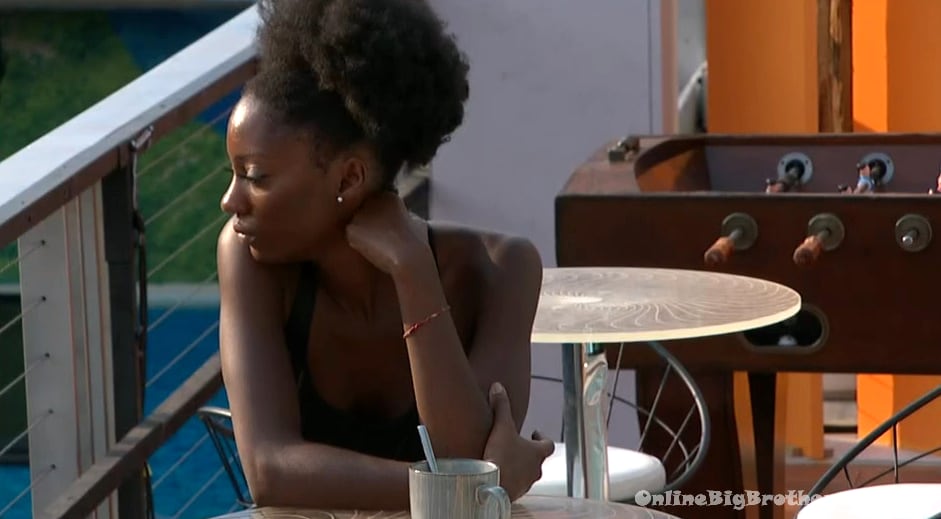 5:40 pm Tiff and Azah
Counting votes.
Tiff Counts: Hannah, X ,Claire, SB, Tiff, "That's five it leaves the opportunity for you and even DEREKX to vote brit to stay"
Tiff says Claire won't do anything she's not doing. "even if she were to consider keeping Briti she knows if she keeps Britini she loses Ky and probably loses me.. now she's with Britini she won't feel she has the power on that side to benefit her game"
Tiff – she would rather have Ky than Britini
Azah says she doesn't want to keep brit and there's a surprise.
Tiff – we just have to make sure by Thursday. Alyssa is not going to vote Britini to stay..
Azah – how do you feel about Alyssa?
Tiff – she's gotta go.. everybody not in the 6 gotta go
Azah – I mean timing wise and who she's viewing as targets. I know she's got to go
Tiff – DX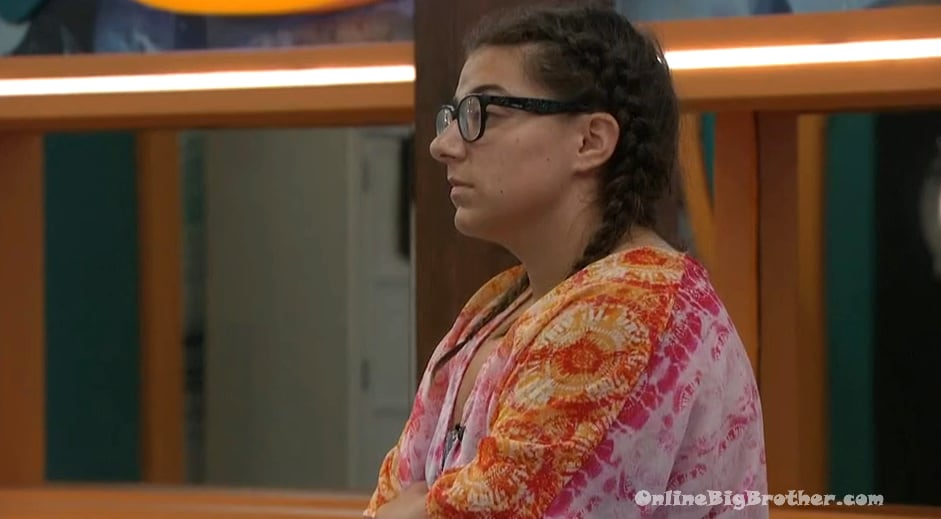 6:00 pm Ky and Brit
Ky – I would recommend maybe taking the day before saying things that you don't have more time to think on
Brit – I have been talking nothing today
ky no worries
Brit – I have a general question for you am I the target?
Ky – at this stage I was indifferent but then immediately having people come up things were being said.. I'm like Whoa. take the day there's a lot of high emotions and we can chat either tonight (5am) or in the morning (7am). I don't want to be in a situation of he said she said
Ky – does that sound fair?
Brit – I'm not going to campaign against BIGD I'm going to campaign as to why I should stay over BIGD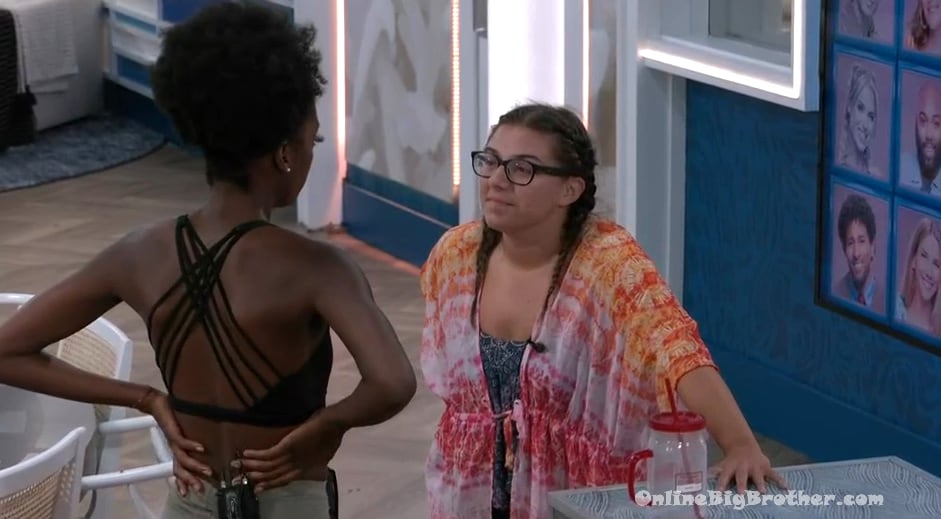 Brit – Kyland just apologized about the veto comment then told me that my campaign should not be against him
Azah – do whatever you want to do.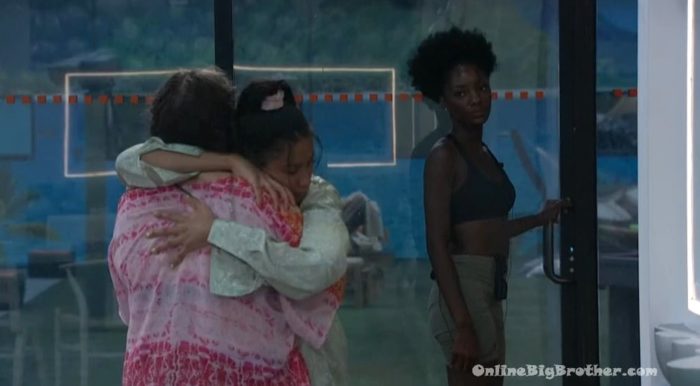 Hannah gives her a hug.
Brit – he's telling me to not campaign against him you are a liar and you lied and broke a deal you shook on three times..
Brit – me campaigning being here involves me campaigning against him
feeds cut.. When we're back Brit is walking into the toilet stall
Hannah to Alyssa – She needs to take a moment to herself and Curb those emotions. Most people are going to be put off by that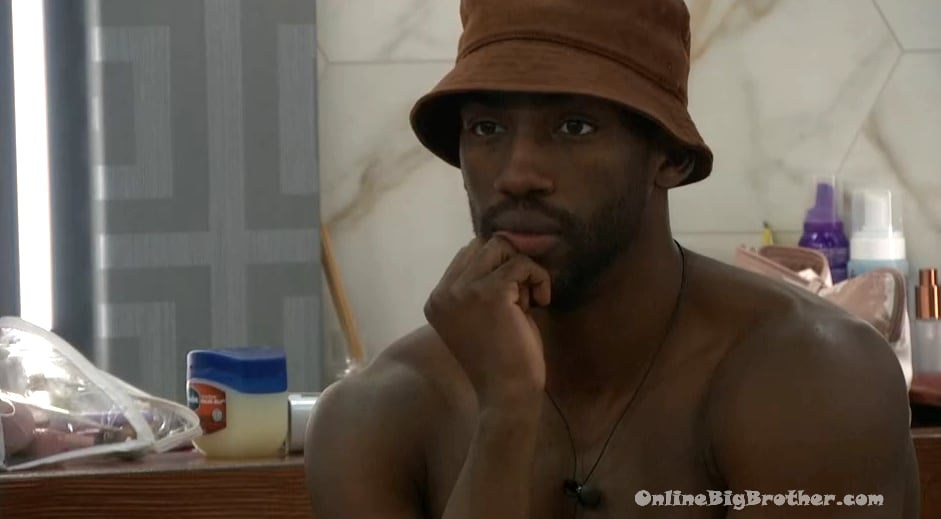 6:15 pm Brit and X
Brit tells him about Kyland's campaigning advice. Tells him about the deal they made for safety.
Brit – today he's claiming he said 'if everything goes accordingly this week' he's claiming those words came out of his mouth. I know that didn't happen you know how I know that didn't happen? Its now on tape?
X – what would things go accordingly mean this week he had all the power? (LOL good point)
X – I guess I'm confused
brit – there's nothing
X – if all things go accordingly then you would be safe.. he won HOH and the person he bet on so he won the second veto.
Brit – apparently I'm unpredictable. I gave him a list of people I trusted it was short. He cross-referenced them and came to the conclusion nobody knew who my targets were in this house.
Brit says it was Azah and BIGD and neither of them got questioned
Brit says Kyland is threatening her saying right now he's indifferent who goes home but if she starts campaigning agaisnt him
Brit – I've been crunching the numbers today.. I've been safe in this house 14 days, 27 days I've been on the block.. that's insane.. that's insane
6:34 pm Alyssa and Tiffany in the kitchen
Alyssa – she [Brit] was trying to tell me you know for your game we're the two girls that won Vetos I can be your shield and your weapons.
Alyssa – I'm thinking is not that the same f**ing thing we told you
Tiff – you got a good argument.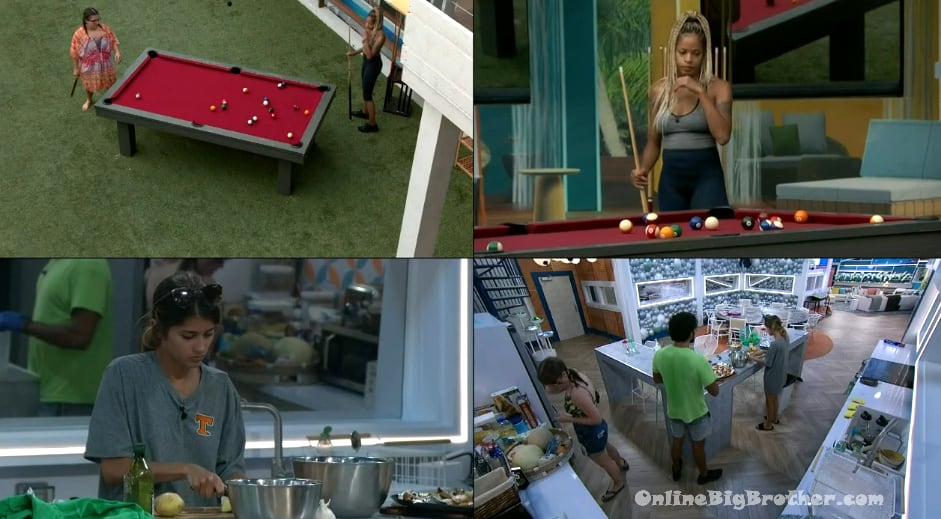 6:55 pm Things have cooled down a bit.
Please consider a donation to keep the madness going. BIG thanks to the people that have already chipped in.