Head of Household Winner – Nick
Nominations – Jessica and Cliff
Intentions – Nicole or Cliff
Power of Veto Players are Nick, Jackson, Jessica (picked Christie), Cliff, Kat
Power of Veto winner – ?
Powers in the game
Ovi – Nightmare (Dead unless he comes back?)
During the night, Ovi could secretly wake up the house and call a new Nomination Ceremony, with the Head of Household naming two new nominees. The original nominees would have immunity for the week. The power is able to be used for the first six Nominations.
Jack – Chaos
After chips have been drawn for a Veto player draw, Jack could force a re-draw for the players. This power could only be used once and is able to be used until there are six players left in the game.
Christie – Panic
At any of the next four Power of Veto Ceremonies, Christie can turn the Golden Power of Veto into the Diamond Power of Veto and allow the current veto holder pull someone off the nomination block, but instead of the Head of Household naming the replacement nominee, the veto holder names the replacement.
Grab your live feeds —->  BB21 Live Feeds Subscription Link
Rank your houseguests —->  Big Brother 21 Ranking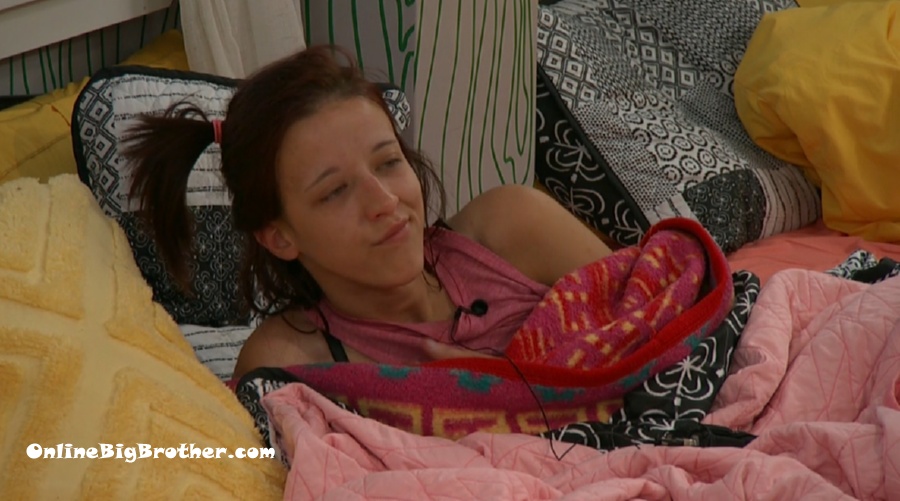 9:40 am Nicole and Kmei
Nicole – kudos to it like it's a great plan to get yourself to final 8 I can handle that. It's just disappointing you know (you're telling me)
Nicole – like I'm such an advocate for like the outsider and the little guy and the underdog you know and to see you know what I mean.
Nicole – Ovi get it and then you get it and then knowing that like me, Jess, Cliff, Kat, are next
Nicole – it's disappointing
Kemi says there's a way to have a conversation between adults without getting nasty, "It's a game it's not real life"
Kemi – like, it's like, it's not even disappointing it's f*ing sad
Nicole – oh I hear ya
Kemi leaves
Nicole – America that's the thing I can appreciate as a gamer like you know, but it still feels sh1ty.
kudos – Mom, Dad, Nicke if you are watching listening I'm sorry At least I'm aware of it
9:50 am chit chat…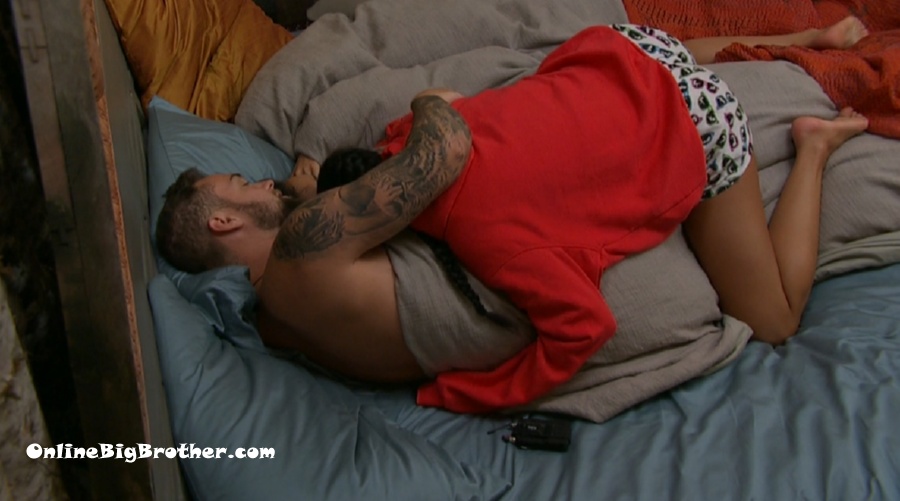 10:00 am HOH sis, Bella and Nick
Nick – how was the shower, warm?
Sis – it was good, where's sam
Nick – in the shower
Sis – how was your guy's shower
nick – good it was warm
Sam joins them
10:05 am
Nick – you still have you nippe pierced
Sis – mmmhmm
Nick – only one right
Sis – mmmhmmm
Sis – the left one
Sam – why not both
Sis – I thought one was just cool
Sam – did it hurt
Sis – oh so f*ing bad
SAm – so that's why you didn't do the other one
Sis – that's one of the reasons why I went into it just wanting one
Nick – you go the left one right
Sis – mmmmhmmmm
Sis – it just fell out. it just fell out
Sam – doesn't it have a thing on both ends a ball
Sis – that's whay IO'm confused that it fell
Nick – Loose nipples
Sam – sink ships
nick – she's all loose
Sis – me
Nick – mmmhmmm
Sis – definitely not
Nick – loose goose
Sis – ask Jack
Feeds flip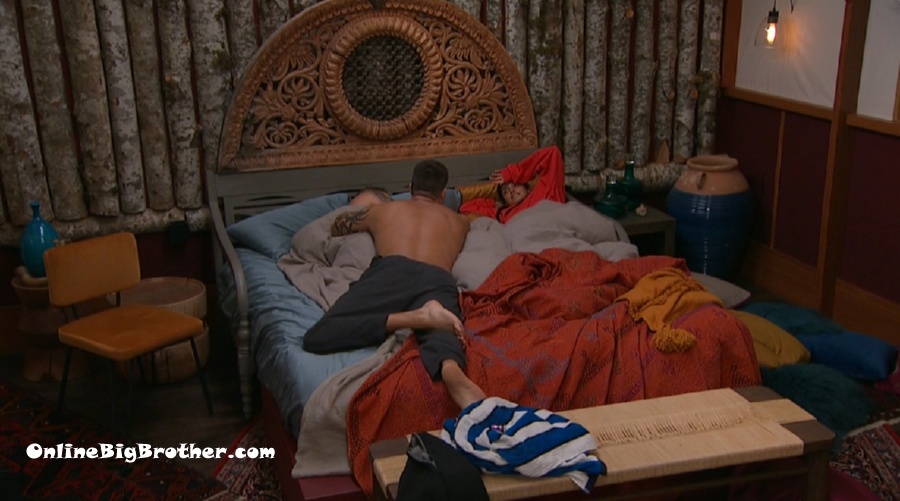 10:09 am Nick, Bella, Sis and Sam
Sis says Nicole wants to talk today
Nick – yeah because she probably wants to stay she's going to Vanessa Russo everyone one of you guys. You'll end up coming up here and like ahhh maybe we shouldn't put her up
Nick – you want Nicole out this week right?
Sis – UI want out whoever you want out but, personally I would love Cliff to go, He's a f*ing snake. all the things he talks about in his f*ing confessional, whatevers.
Sis – Like we'd be so dumb to let him stay another week and then him come back with Ovi (OMFG the power they would possess final 2 material right there)
Sis – what if Ovi does have a f*ing power.
Nick – what if Nicole came back with Ovi, even when Nicole just tried to flip all our games she will Vanessa Russo her way through this game
Nick – Bella said she laughed in her fans
Sis keeps making it clear she'll do whatever Nick wants
Nick says if Sis wins the Veto or Jack they take Cliff off and he puts Nicole up with Jess.
Sis again says she'll do whatever Nick wants her to do
Sis – I don't trust Cliff he scares me
Nick – you trust Nicole
Sis – I don't f*ing trust that b1tch either
Nick – she almost had us nominated back to back weeks
Sis – what a dumb b1tch I can't believe she did that (ZOMG)
Sam – she tried that was her strategy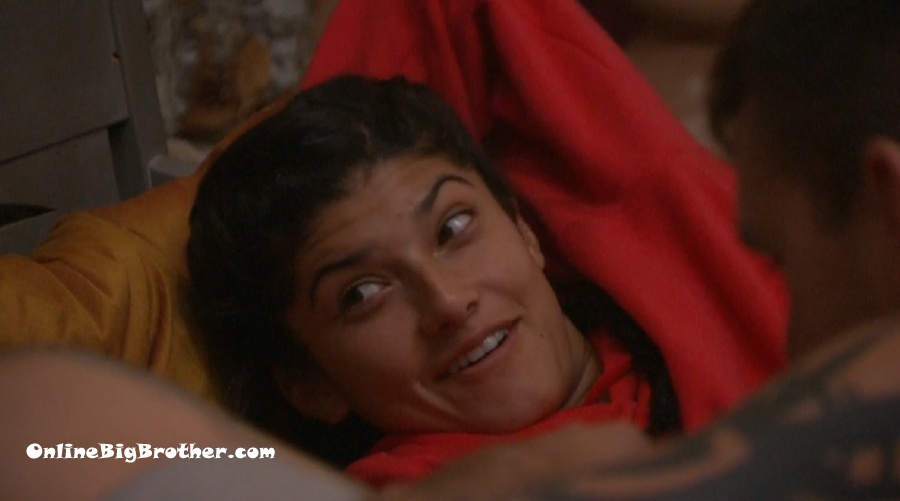 They talk about whether or not jack's Sis' ride or die. She says he's not they all assumed he was.
Nick – whose his ride or die, Christie?
Sis – yes Christie or Tommy
Sam – I thought Michie
Sis – or maybe f*ing Michie I don't know
Nick – whose your ride or do
Sis – I don't have one
Sam – I don't have a ride or die
sis offers a ride or die to him they joke and laugh…
Bella asks if when Jack was up in the HOH he never talked a lot of game to her.
Sis says they didn't it mostly was critiquing on her gameplay
Sis – careful he might come up
Sis – him and Christie talk WAY more game than me and him so what's the point of being associated as like a couple and we're really not we're just f*ing f* and Kiss sometimes and that's it (wow Sis is all peddle to the metal this morning)
Sam – F* a lot and kiss sometimes,
they laugh ..
Sis – I told him I get the sh1t end of the stick at the end of the day (wait you guys did that?)
Sis – I'm associated with you and me and you barely even talk game but you and Christie do all the time and I'm not throwing Christie under the bus at all I'm just stating facts (yes facts)
Sis – and he's like Okay well like let's talk more gameplay and then I felt dumb.
Sis – he's coming what should we talk about.. the shower … Sam your kids
Sam – is this white
Sis – it looks like an ingrown hair
Nick – it's an ingrown hair
Sam – I put makeup on it before my DR I felt cool (the best :) )
Jack walks in
Sam – they said good job with makeup.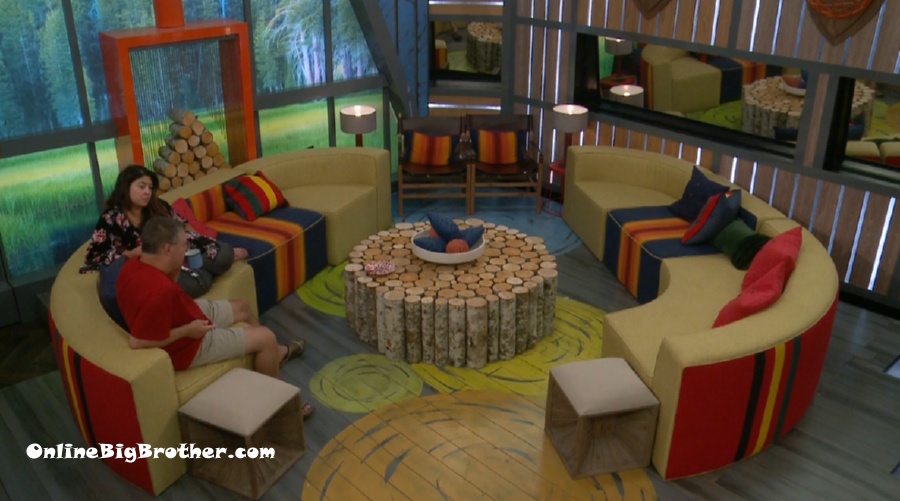 block party
10:35 am Nick, Christie, Bella, Jack, Sam, Tommy
Nick going on about Nicole laughing at Bella's face (when Bellas was talking sh1t to her)
Feeds cut
When we're back Christie is pushing for Cliff to go home this week.
Nick is pushing for Nicole to go home says she's more of a threat socially. Nick calls Nicole Vanessa Russo says she'll cry her way to the end. Goes on about how manipulative she is
Christie mentions if Ovi comes back and he has a power he can team up with Cliff and wreck the house (ohh dear my pearls)
Nick says whoever comes back they throw back up "isn't that true?"
Tommy – that's true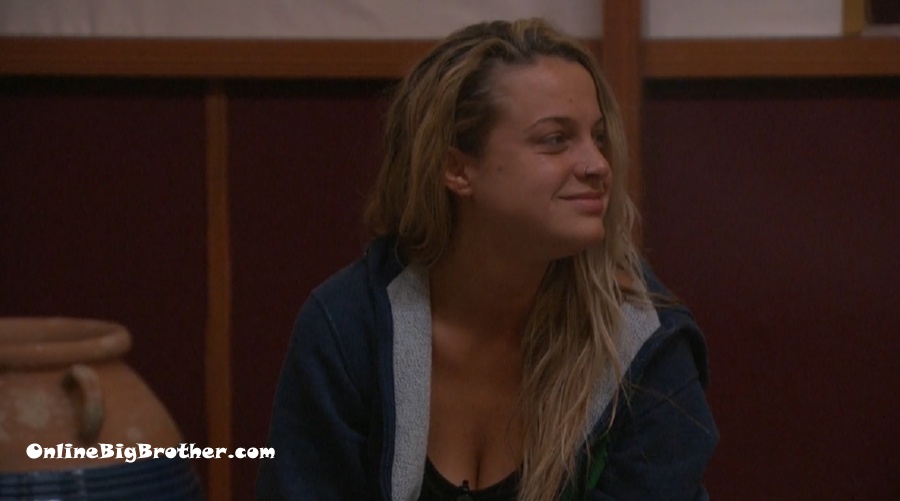 Christie – what if he can't go up because he has the power.. what if he chooses the nominations
Nick – that's so much power, Is that the power you got yesterday
Christie – yeah … similar
Sam – can you use that right now
Christie – I have to wait I'm not allowed to use it for a few weeks then it's good till the end of the game
Christie – it guarantees safety. it takes me off the block 2 back to back weeks immunity for 2 weeks
Nick – that's pretty sick
CHrsitie- yeah that's what I have
Nick – yeah well anyway
Christie – it's called the diamond protection eviction block
11:00 am Everyone getting ready Power of Veto Players will be picked soon.
11:30 am Nicole alone
Nicole – I got to keep moving a rolling stone gathers no moss and I am a rolling stone (Source of quote wow a Publilius qoute!)
Kemi joins her, "you and Bella spoke at all this morning"
Nicole shakes her head
Kemi – do you plan on
Nicole shakes her head
Kemi – I understand that
Nicole – don't worry about it you can't reason with crazy
Nicole – I spoke with Holly a little bit I spoke with sis I would like to talk to Nick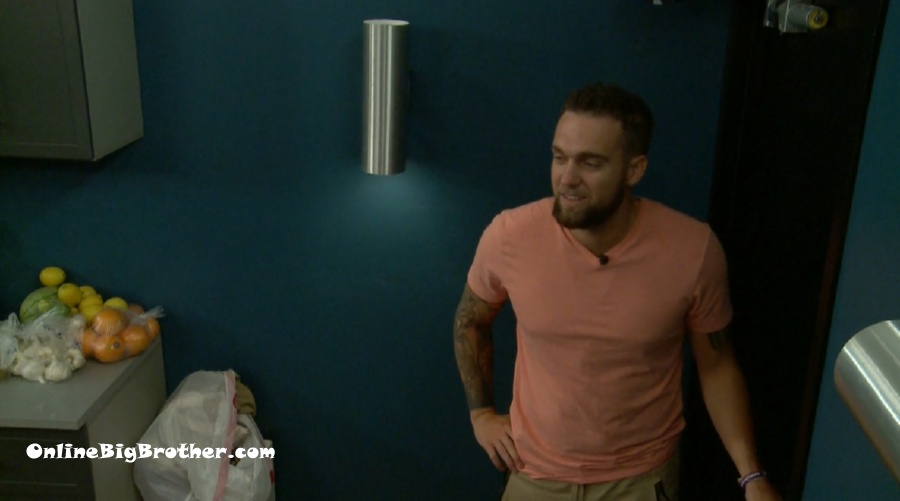 11:39 am Tommy and Nick
Nick saying that Nicole isn't going to stop now "it's going to be a long couple days"
Tommy – we are very lucky that you are in control in a time like this because you have a heart of gold and.. because I know what your job is I know you are the kinda person that is good to lead this house at this time. (pearls?)
Nick – I'm excited for the veto though
Tommy – love you
Nick – I hope you get picked to play . .
11:45 am Jack, Christie, and Tommy
(lotsa excitement over how well they are doing in the game random "jocking off" from Jack and Christie)
Jack – bro Nick is weak
Jack – namaste these nuts
They form a final 3 called LOL or Lotsa love
jack – that's what our final three should be called LOL for lotsa love
Jack – I love it
Christie – I lol it
Jack says Sis or Jackson don't know about his power, "I swear on something really important.. I swear to god he doesn't know"
Christie says her power is pretty major but it's only good for 4 POC (Ceremonies)
Christie – it's the diamond power of veto, if I win the veto or anyone that I trust to us it in my favour wins the veto the veto will get used but instead of the HOH deciding the replacement we choose it
Christie – it's an automatic backdoor (sure you guys need more power)
Christie – I'm saving it until I f*ing need it
jack – that's so powerful dude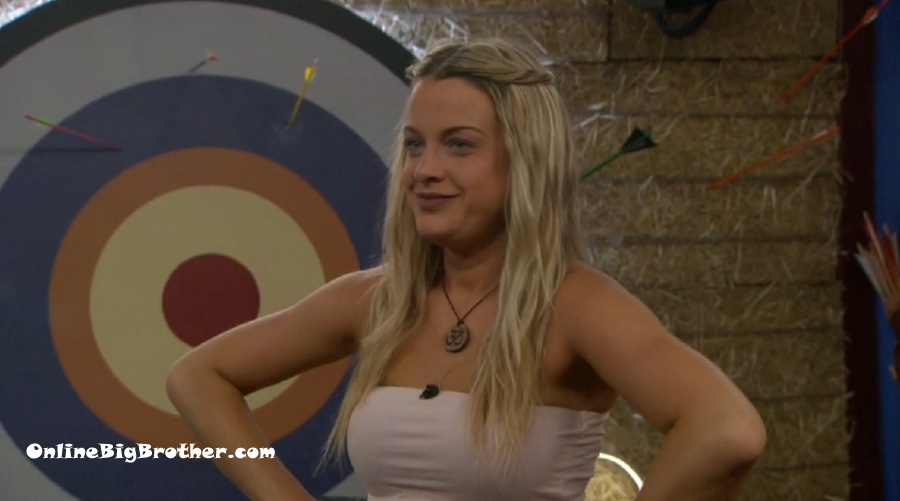 Christie – can I tell you something else. I literally did it in like 3 minutes
Jack seems convinced that Tommy will get voted (by the fans) to get something and at that point
Tommy – I want to do something
Jack says he trusts their three more than anything.
Christie – the fact I get to choose the replacement…
Christie says she's not going to lose anything else moving forward she's on fire
They talk about Getting Jackson out. Jack says there can't be two of them in the house (only 1 dBag allowed?)
They bring up the endurance comp Tommy has to win and take the first shot. Jack has Tommy's back 100%
Christie says Sis is winning the wall comp they meditated on is the other night
"namaste deez nuts" #BB21 pic.twitter.com/8eUZNWjZgy

— OnlineBigBrother.com (@bigbspoilers) July 13, 2019
Final three 'LOL' #BB21 pic.twitter.com/6UWEAnsGAE

— OnlineBigBrother.com (@bigbspoilers) July 13, 2019
12:33 pm Waiting for the Power of Veto players to be picked.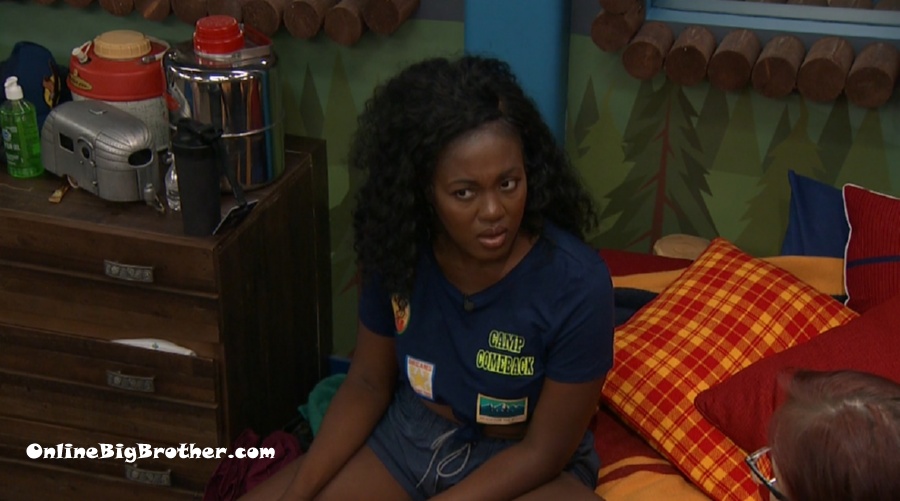 1:51 pm Kemi and Nicole
Kemi says the house feels weird agaih.. she stealth whispers so I have no idea what to type.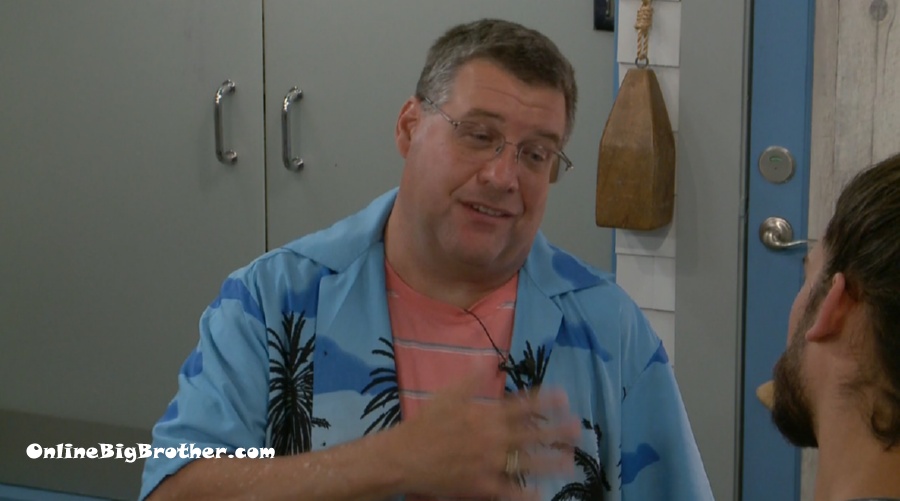 1:55 pm Cliff and Jack
Cliff – I've never said anything about targeting anyone ever
Jack – yeah
Cliff – so, I'm not going to ask where ti came from or anything I'm sure it was things that came up at some point
Jack – you're always going to hear stuff
Cliff – I know, Yes Ovi and I have been tight. Nicole was kinda looking for somewhere to land and I said man we'll help you out.. you know whatever. (The fact that this is even a remote threat to Jack and his canoes is f*ed… Kraken Kraken Kraken)
Cliff says he has nothing to do with what Nicole did yesterday says it's just a leftover with Kemi
Cliff – I have never told anyone in this house who I would target
Jack says he will defend Cliff in the POV, "if you prefer SIS I get it.. she wants to play I get it"
Cliff – I would prefer to pick you and I will but if you are not available I wanted to pick her ..
Jack – I wanted to win to get you off the block to earn your trust so if you won HOH you wouldn't do it.. I want to earn you back you want to earn me back.
2:00 pm Kemi and Nicole
Nicole says this is the season where everyone is 2 face
Kemi agrees says the only people that are not 2face are "Christie, Same and Tommy" (ohh wrong girl)
Nicole shakes her head
Kemi – you think Christie too
Nicole – and Tommy he'll tell you everything you want hear.. then … mmmmmmm. that's the nature of the game.
Nicole – I understand people are afraid for their own game
Ovi comes in asks her how she's doing
Nico9le – one day at a time
Ovi – that's good
Ovi leaves (earns his 18.50)
Kemi – Bella is closer to Jack and Jackson than I ever will be. I don't care about that but she's it talking a lota sh1t about them but like it will be ridiculous for me to go to them
Nicole says it's pretty much (the undeniable nine) vs the rest of them. (she doesn't know the name of course)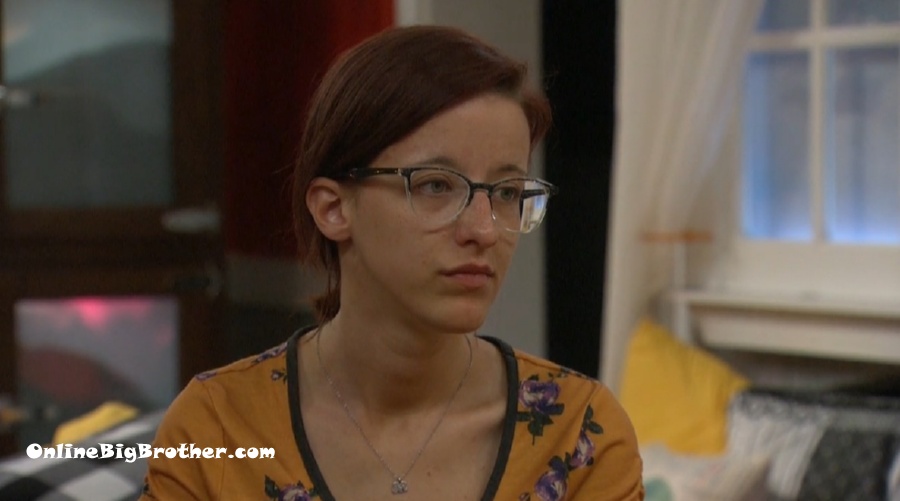 2:45 pm Nicole and Kat
Nicole – I'm shocked that Jess didn't pick me
Kat – Yeah
Nicole – me and her had a conversation
Kay – I dunno
Power of Veto Players are Nick, Jackson, Jessica (picked Christie), Cliff, Kat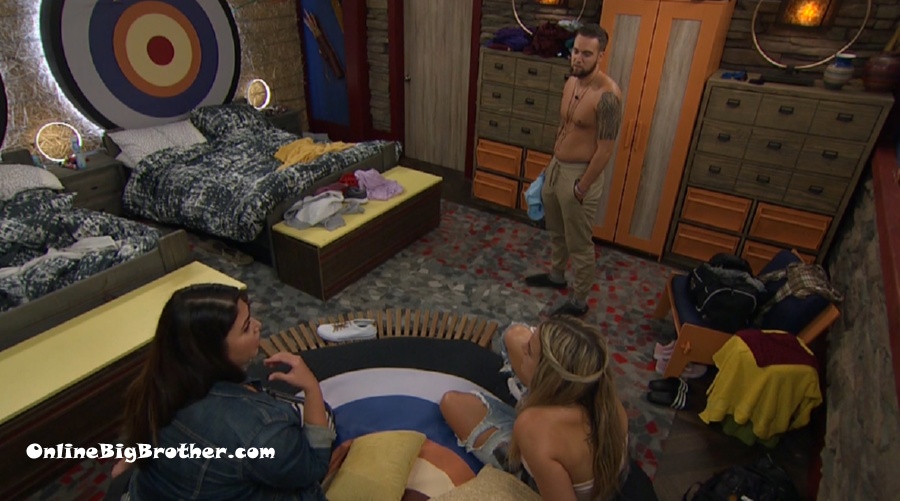 2:48 pm Chrisite, Nick and Jessica
Nick – Nicole's a snake she's going Home
Christie goes on how Nicole was manipulating everyone to put the target on Bella
Jessica – this is a mind f********
Jessica – she's so sweet
Jessica says there was someone last week going around saying that Nick and Bella weren't trying to campaign for Kemi
Jessica- never in a million years did I think it would be Nicole (self evict.)
Nick brings up Nicole trying to keep Kemi last week
Nick – I was just going along with it
Jessica – I'm so glad I went with my gut
Nick says Nicole lied on her dead grandmother (sigh)
Jessica says that Nicole was egging Kemi on last week
Nick – I think Nicole manipulated Kemi to turn against me and Bella (Zing Zomg Krakne)
Nick – I told Kemi the night before I said Kem you don't have the votes to stay I'm sorry I like Kemi on a personal level but I tried I couldn't get them..
Christie tells him it was Nicole trying to get them against each other.
3:45 pm Kat and Jess
Kat – I'm not trying to be this petty person but I really hate that Kemi is still here. I think she's so annoying.. Like whatever I'm not trying to be rude
Jessica – Vent baby I mean it is what it is (girl power)
Jessica – she just wants to be in the conversation
Kat – YES every time
Jessica – she just wants to talk shit
kat – All she talks about is shit.. all she talks about is how she looks or other people look
Kat – I'm like dude stop bringing me down
Kat – today I went to give Nicole a hug in the bathroom and she was like where's my hug
Kat – b1tch you don't get one, Sorry (I'll give Kemi a hug)
Kat – oh my god are you the person that asks for a hug because I can't deal with that
Kat – then I gave her a hug with my dirty bathroom hand.. I'm kidding no ..
Jessica – Kat, I'm so disappointed (in your self?)
Kat – with what
Jessica – in what I was talking to you about.. when Nicole was standing
kat – I have to tell you something
Kat says when she was on the block and all that information Jessica was getting from Nicole that was wrong.
kat – it was creating havoc
Kat – things like Nick and Bella are trying to flip the vote
Kat – there was a bunch of vote flipping that wasn't going on
Kat goes on how Nicole stirred a lot of paranoia
4:46 pm tree house Nicole and Jess
Nicole – I would have been fine this morning if we had all woken up and spoke to everybody and had breakfast together like… like I'm a big girl from a game standpoint
Nicole – you can say back door Nicole and I can eat lunch with you and laugh at you because that's who I am
Nicole says the difficult part is the social aspect with people not looking at her and not talking to her and leaving the room.
Nicole cries
Jess – it sucks I know
Nic – I'm just not cut out for this
Nicole cries …
Ovi hugs her
Nicole – I'm just not cut out for that
Nicole cries
Jess – it's Saturday you know what I'm saying. eviction is Thursday. there's so much that can happen within that time frame
Nicole whimpers says she' came here to play not compete "if that makes sense?"
Nicole hyperventilating "since I came to that realization I would rather you guys come forward and compete having learned that having you guys staying rather than going through this every day"
Jessica – you are meant to be here and go through these emotions and come out feeling better (Jessica go away)
5:03 pm Being fake…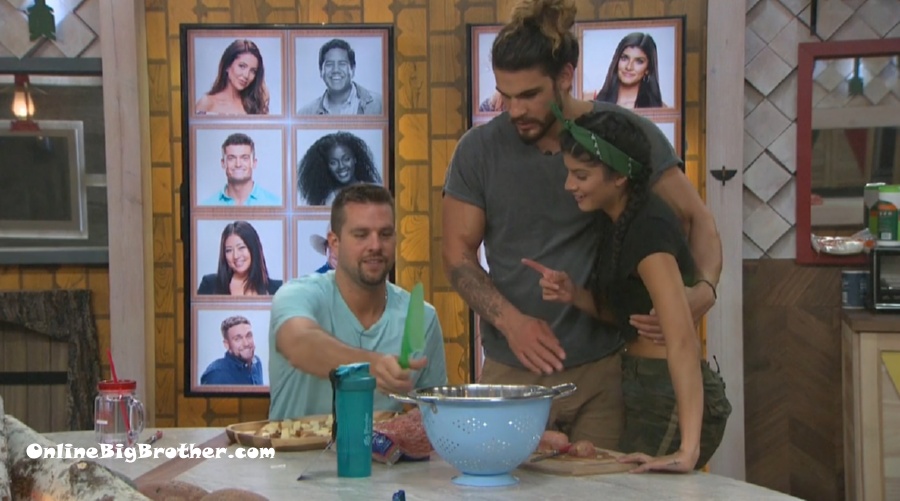 5:04pm BB21 hip hip hurray