HOH: Nick
NOMINATED: Cliff & Jess
WACK Power: Christie
New Alliance "Undeniable Nine" – Nick, Jack, Jackson, Analyse, Christie, Tommy, Sam, Holly, Bella
8:12pm Kitchen. Cliff – Can I make a non-controversial request. I don't know what just happened and I never believe in my family fighting at the dinner table so I am not asking anything about it. It's times like this that maybe gratitude circles may be more than everyone getting on perfectly. If it would be gospel for y'all I would happy to.. I would love to go around and do gratitude circle to remember what's really important. Christie – I'm in to that. They start going around the table saying what they're thankful for. Bella – I am going to skip it because I've had a hard week. David – you're not grateful for anything? Bella – I'm grateful for being here. Nick – Isabella, I got lucky that I found someone that I really care about and like and I get to spend my time with. I cherish that because it might not be the entire show. I really care for Isabella so I am happy I get to spend my time with her. Bella gets up and hugs and kisses Nick. 7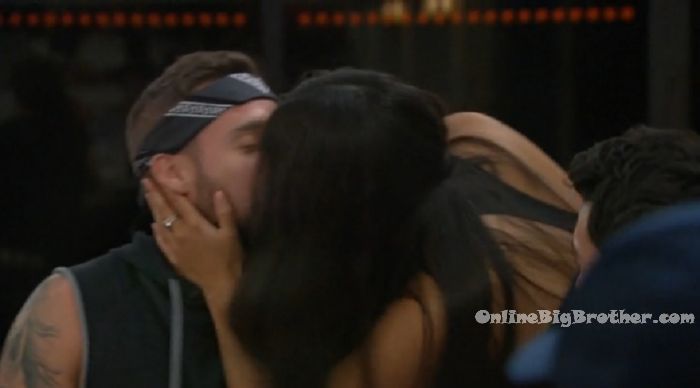 8:39pm Bathroom. Nick, Jack and Christie.
Nick – I assume that she is probably going to want to talk to me. I need either Holly, Sis or Jack there. Christie – take one guy and one girl. Nick goes to the washroom. Jack – wow! Christie – that was some sh*t but I am so glad that happened. Misconstruing it! It could have gone bad. Christie – what a day. Christie to Nick – I loved how undeniably grateful you are.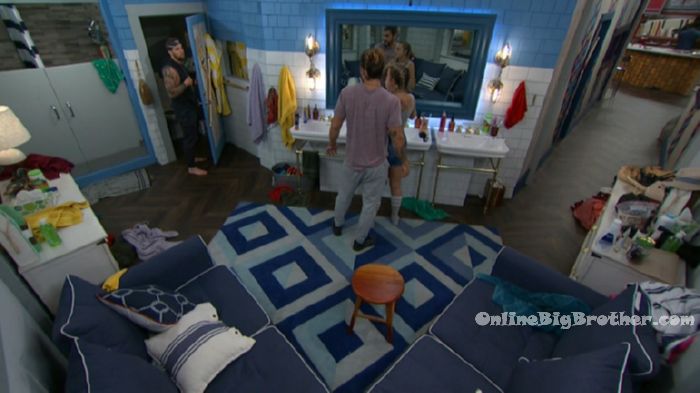 Storage room. David – second chance. Jackson – You're here for a reason. David – when I get back in the house, then I can really play the game. Jackson – would you say you would rather have strength or mental comp? I think whatever you're strongest at is what it will be. Because they (production) clearly want you back in here. They do. Go in there confident because it is there for the taking. It is yours to take. David – I am visualizing coming back into the game. Jackson – Think with your head. You know what you do? Fuel it. Let them burn from the inside out. Take their souls. Work them from the inside out. If you see people unraveling fuel their fire. Let them self implode. But keep a grasp on your sh*t. I don't give a f**k what you show on the outside. Do your thing. 23 out of 24 hours a day we can hate each other guts and we get 10 seconds in here.. what's up dude? Cool? Yeah? Done, we good.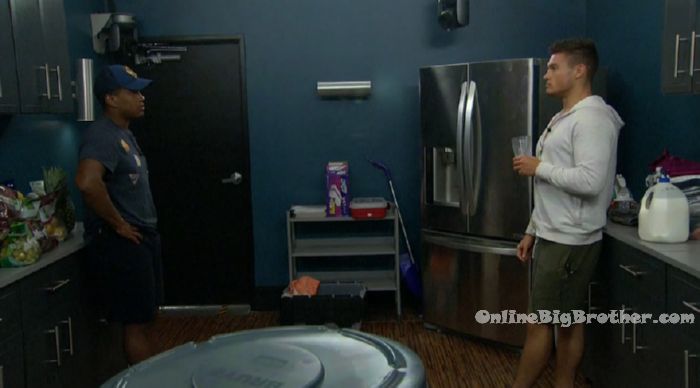 8:45pm Boat room. Christie and Tommy.
Christie – they all complained about how hard it was and I finished it in like 3 seconds. I was an animal! First of all its anonymous no one will ever know if it was used or not. I never have to stand up and say that I want to use it. I have to decide the morning of the veto meeting if I want to use it. If I win the veto or someone I really, really trust wins the veto… Say someone on the other side of the house wins and puts us up.. at the veto meeting after the veto has already been won I have the ability to activate .. it will come over the loud speaker.. Holly joins them and the conversation turns to talking about Nicole. Holly – I just feel bad. Christie – she did this to herself. Did she not think anyone was going to speak? Tommy – coming into this game, I knew I was the type of person that could get along with anyone and I knew ahead of time that I was going to have to come in here and pick a side. I actually feel like I am very similar to her (Nicole). I feel like she was kind of floating and caught in the middle. She was playing both sides and got caught. I knew coming into this game I could have easily done that because that's my personality. I said nope, pick a side. We're only on week 3, and she got caught.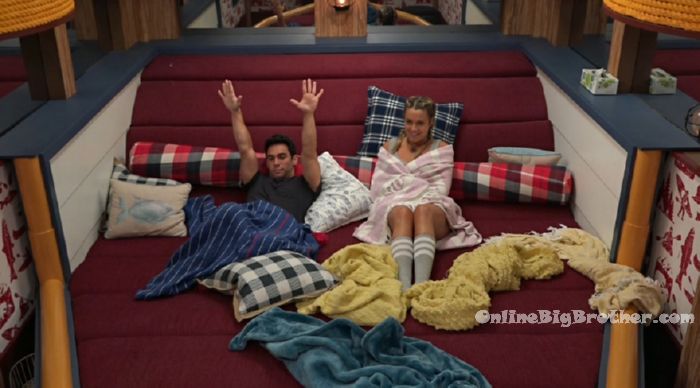 8:54pm HOH room. Nick, Sam, Jackson, Jack, Analyse and Bella.
Bella – I'm not worried about Kemi coming back at all now. Nick – If we take one down, who are we taking down? It shouldn't matter right? I would rather take down Jess. We're going to put up Nicole and vote her a$$ out. Sam – so you should pick me for house guest choice. Analyse – if Ovi comes back him and Cliff are going to .. Nick – are you worried about Cliff though? Analyse – yeah, I am. Nick – I think Nicole is a bigger threat and we have to get her out. She almost literally made us almost flip on each other. Bella – I think she was the mastermind behind it, not Cliff. Jack – Cliff is confessing his entire game plan every morning. Bella – I told her (Nicole) about it. Jack – so Cliff now knows that we know everything. Bella – yeah. Nick – I would rather take Jess off and .. Jack – I would rather have Nicole playing for battle back.





8:56pm – 9:27ppm 8Bedroom. Nicole, Kemi.
Nicole – everyone today hasn't been giving me eye contact so I've felt weird. Hasn't been looking at me or talking to me. I went to Nick and Bella .. and Nick left the room. She said I need to tell you.. do you trust me? I said I do trust you but there are people acting weird around me. Bella said that Jack and Michie (Jackson) were up here pushing for Nick to put you (Nicole) up. And Nick denounced it and said I am not putting Nicole up. I swore on my grandmothers grave that I didn't have the power. And that's something I would never do. And then she was like oh and they also think that you were the rogue vote. Bella was like yeah, we don't think you were. We think it was Michie (Jackson was the rogue vote). So we had a heart to heart. I said I trust her and because I trust her I said the people that you're close to Jack, Jackson, Holly and Sis… they want you out. The plan was for anyone else to win HOH and you two were going up. That's what was happening. She was like I knew it, I knew it. My thought process is, that Bella said something to them. Kemi – Bella cant keep her mouth shut. Nicole – so they're going to pick off me, Jess, Kat, Cliff, and then one of you guys from camp comeback.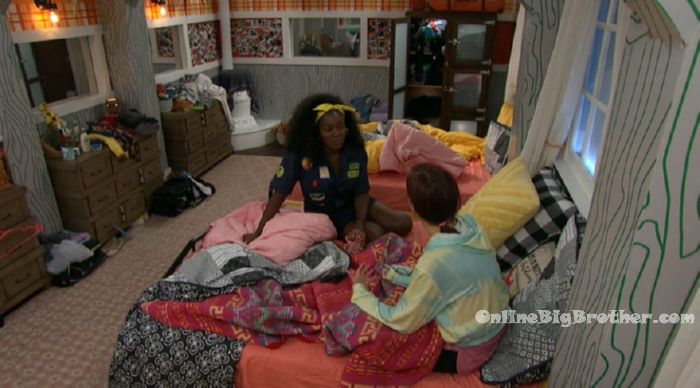 9:30pm – 10pm Bedroom. Christie, Analyse and Tommy. Anaylse it would be so stupid to not vote CLiliff out. Christie – I don't care if Nick disagrees… I am voting out Cliff either way. He is just too dangerous. Analyse – Nicole doesn't have anyone. We cannot be stupid and let him stay again. Analyse is worried about Ovi coming back and still having the power. Tommy – its good for 6 weeks. Christie – unfortunately Nicole was at tht center of all of this.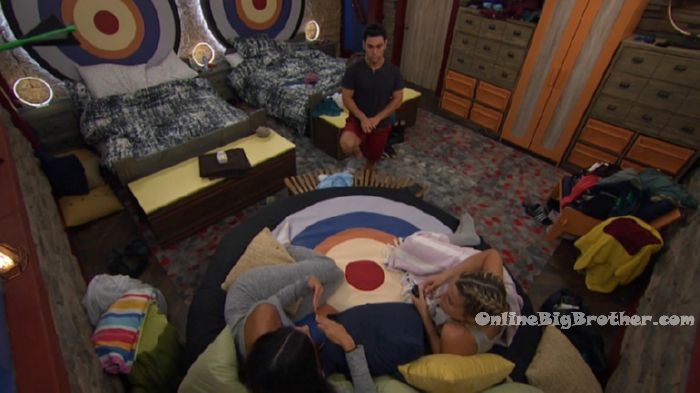 10pm Bedroom. Nicole and Kemi. Nicole – I'm in a weird spot right now like .. do I enter that room? Because I really don't know what that conversation was.. and if it was Bella telling them Nicole told me you guys want me out. Walking in there will be like unleash the wolves and if its not that and I'm sitting there looking guilty .. that's no bueno either. The fact that noms just happened .. Bella went upstairs and then Sis and Holly went up right after. David joins them. David – the players with the most pressure perform. And once you win you can be like bow down b***hes.
10:30pm HOH room. Christie, Nick, Jack. Tommy, Analyse and Bella. Jack – Cliff had no idea what she was doing. Not a f**king clue! Nick – I feel bad for Cliff. Jack – me too because he was being honest about what he said. He never talked behind backs. He's always been truthful although he did say he wanted to put me and Sis up on the block. Big ol'f**k off to that. It was an honest game play.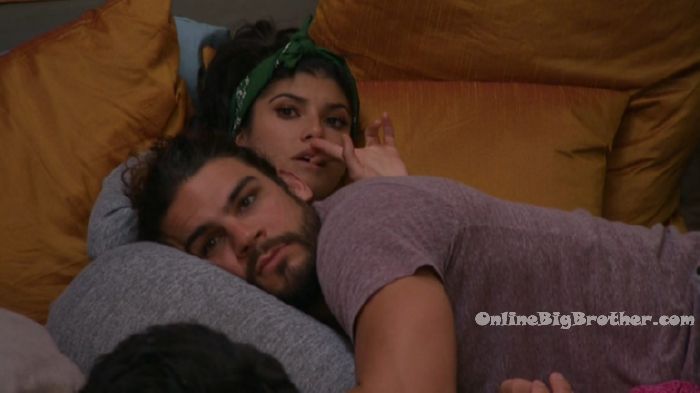 Kemi – I need to be real PC for these cameras. She cares a lot about being in the spot light and all eyes being on her. Even if it will screw her game in the long run. Jess joins them and the conversation ends. Nicole tells Jess if you get house guest choice, pick me and if I win it I will use it to take you down and then we'll both be safe.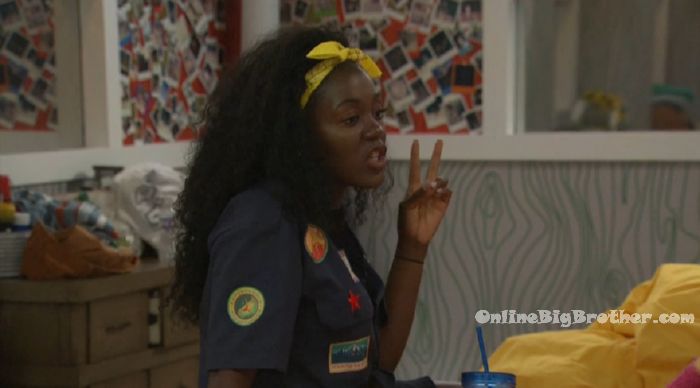 10:50pm Kitchen. Nick, Cliff and Bella. Nick – who would you pick if you got house guest choice. Cliff – I wouldn't say anything I had a chance to talk to you first but I would pick someone strong like Sam. Nick – you can pick whoever you want, just make sure the will take you off if they win it. Nick – I'm going to pick Sis and if she is already picked. I'm going to pick Jack because I really want to compete against Jack. I think that will motivate me.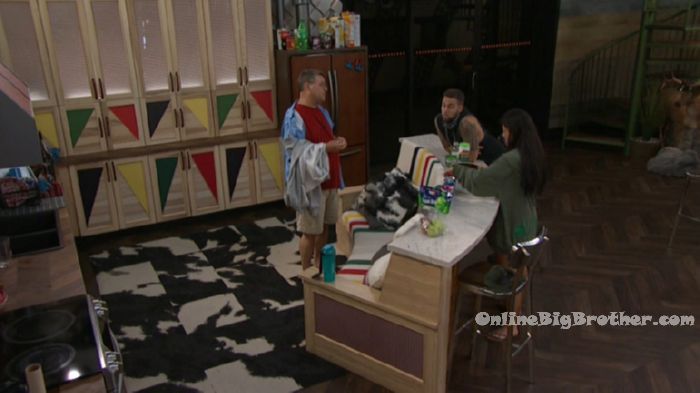 10:37pm Living room. Cliff and Ovi. Cliff – everyone in there started comparing stories and they realized that things she was saying or said that weren't said because there were multiple people in rooms to confirm that it wasn't said. They're basically upset with her because they know the three of us work together. And it drags me along too so I said look guys I wasn't involved in any of that. And I sure hope you don't take this person. Just please don't freeze me out. Now maybe it might be me because I'm associated with her.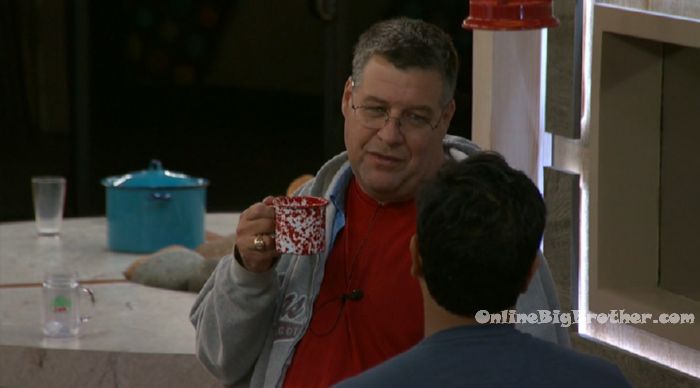 11pm – 110:30pm Christie – there was a lot that was said. And I'm sure some of it was misconstrued. Nicole – I wanted to talk to you because I feel like you're the only one to shoot it straight. Christie – so basically how this all kicked off was you approached Bella right after the eviction about the rogue vote thinking you would take the heat for it. Nicole – right before noms yeah. Christie – everyone took that rogue vote with a grain of salt and wasn't really thinking that much about it. You really weren't a target this week but I don't know exactly what you said to Bella in that moment. But what she said was that basically a lot of conversations that we had had been flipped. That we cornered you and were bullying you. And that you felt really bullied by us. And that we were the ones that pulled you aside saying that Bella was bullying you. I never witnessed her bully you. From the conversations that we had I thought that you felt bullied by them (Nick and Bella). I at no point insinuated that Bella was a bully to you. I don't want my name brought into something that never happened. Nicole – no, yeah absolutely. Tommy joins them and asks if he can stay. Christie – I would like you to stay just so nothing gets misconstrued. Tommy and Christie talk about how the meeting got heated in the HOH roo.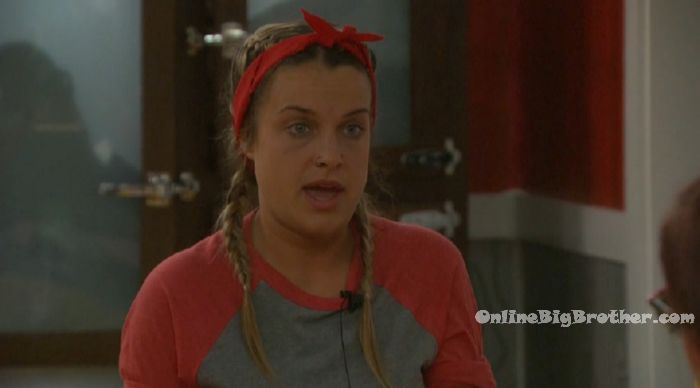 11:59pm Kitchen. Jackson explains how he didn't mean anything by closing the HOH door on her. Nicole is crying. I just want to talk to anyone that will talk with me. Jackson hugs her.