POV Holder:
?
Next POV
?
POV Used
?
POV Ceremony
March 24
HOH Winner:
Racehlle
Next HOH:
March 27
Original Nominations:
?
Current Nominations:
?
Last Evicted Houseguest
Paul, Kyle, Anick
Have Nots
Adel, Sabrina, Heather, Arlie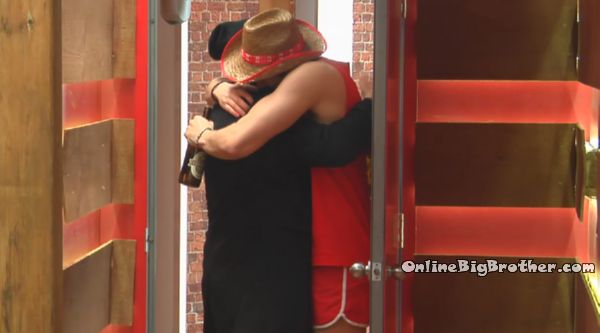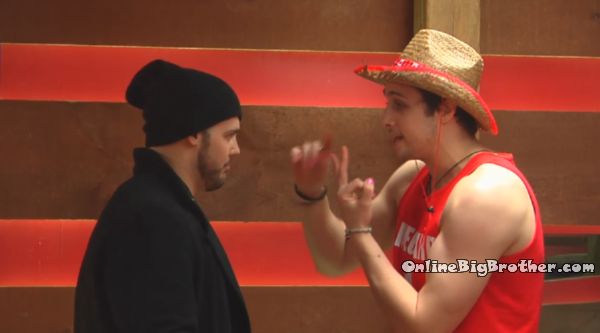 10:30pm Hot Tub Jon Andrew
Both are drunk slurring their words. Jon going over the top saying he would not turn on Andrew at all. Andrew mentions how Jon was saying he didn't like him. Jon says that was day one but since then he's gotten to really like Andrew. Jon says Final 3 and they hug it out..
JOn adds when they get to Final 4 they'll f** Arlie big time and go Final three with Kenny. They both "bro . out"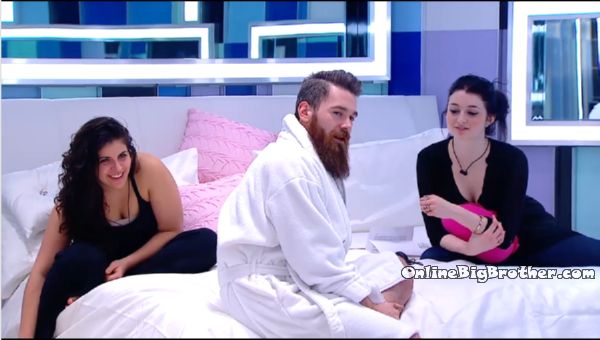 10:30pm Rachelle Kenny and Sabrina
Rachelle tells him that Jon and IKA came up to her and told her that everyone wants Andrew out.
Sabrina says 100% Jon said that , "I am sober right now"
Rachelle – "I'm not putting him up.. JOn told us he's (Andrew) is working with IKA and Adel"
They tell him next week they are going to take out Heather.
Kenny – "Jon what teh f***"
Sabrina says that Jon said even Kenny wanted Andrew up.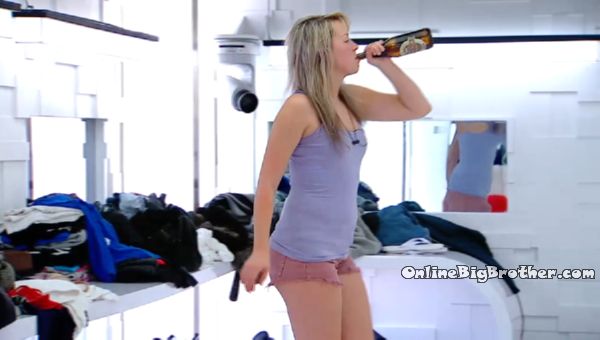 10:46pm IKA, Sarah and Allison
Truth hour IKA and Sarah asking Allison about her showmance with Andrew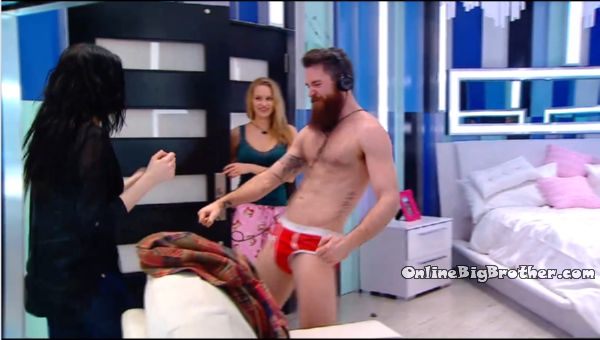 10:50pm HOH Kenny and Racehlle dancing up a storm
11:20 bathroom Andrew and Allison
Allison say how nauseous her stomach is feeling. Andrew moves over the toilet loks like he's almost pukling.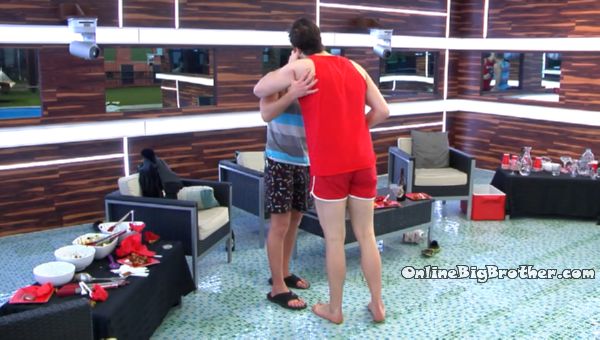 11:20PM
Arlie and Jon and Final 2 kiss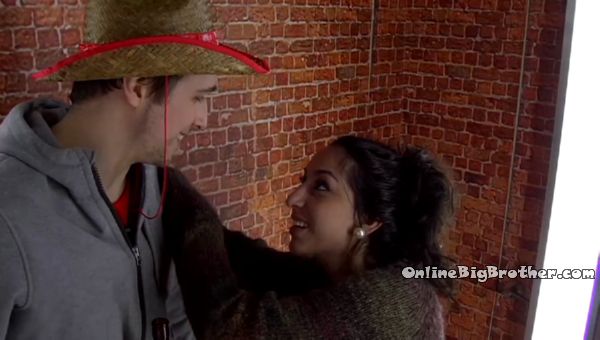 11:25pm Hot tub Jon and Neda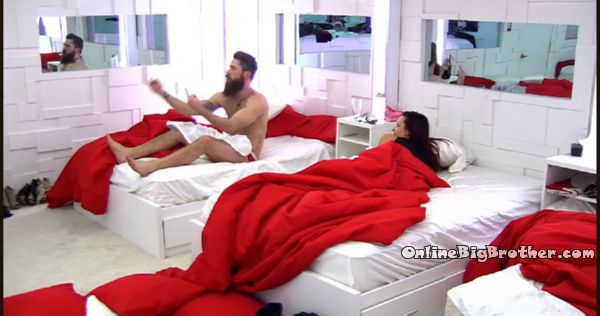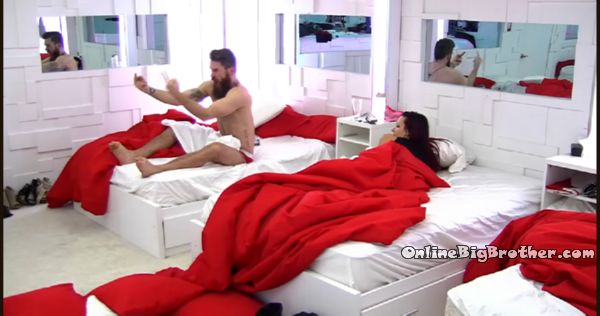 11:36pm Kenny Fingering
Says "I F**** hate her" He was fingering IKA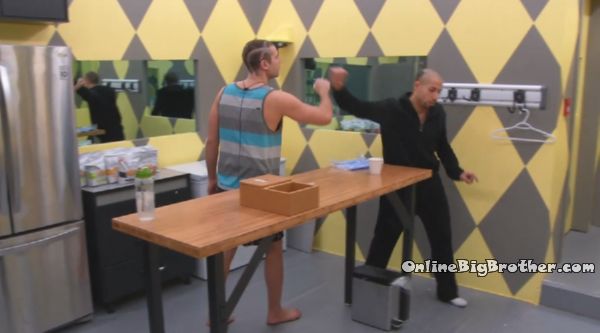 11:40pm Storage room Adel and Arlie
Adel says he's going to "F***" with IKA, Big Jon is going to "f***" with Neda.
Arlie – "I'll f*** with Heather bro"
Adel says it's best to get Allison out this week.
11:50pm Have nots Arlie and Heather
12:00AM Neda, Jon and Racehlle
Have one last "Party Dart" before bed. Notice Jon is wearing his underwear.. lol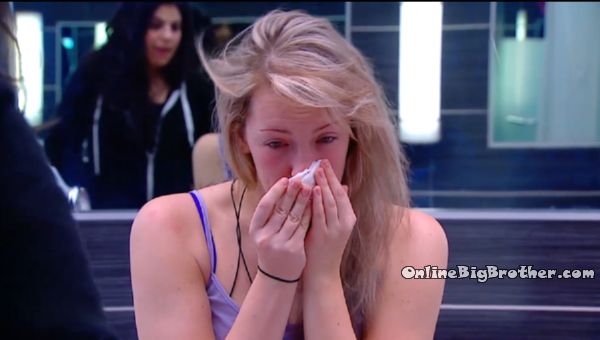 12:14AM Allison crying.
Allison says she's drunk..
(not sure but I think Allison, Jon, Kenny and Sarah had to compete in a challenge if they won they got the alcohol and the food for a party)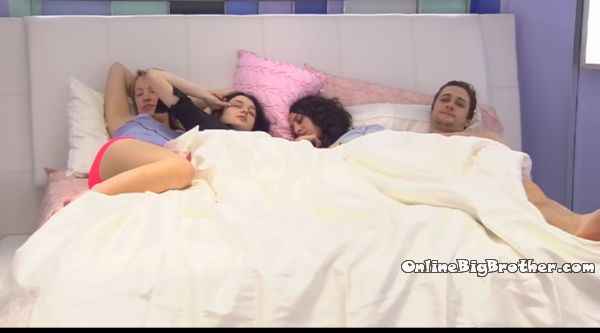 12:38AM crammed in the HOH room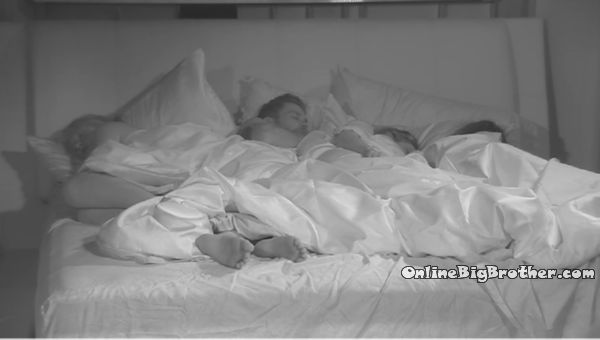 1:00AM Bedtime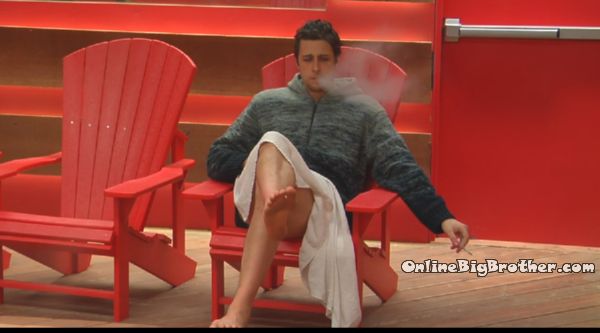 1:11am one last party dart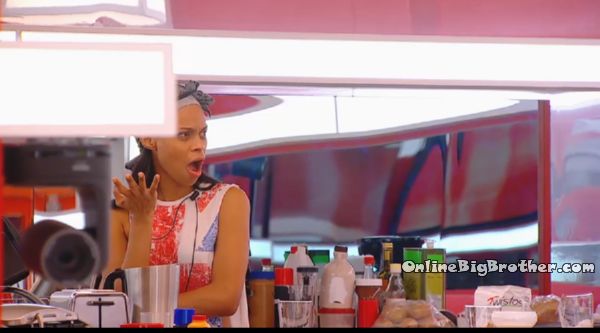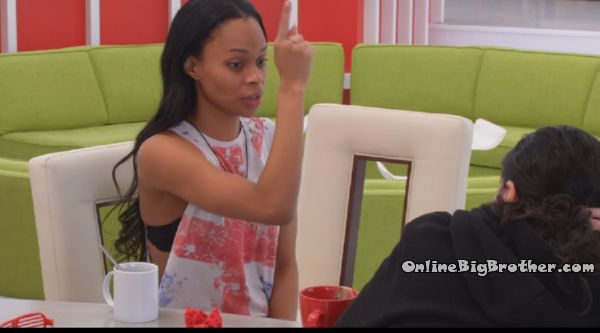 2:00AM Sabrina and IKA
IKA is thinking that Jon stole the cigarettes.
Sabrina says heather is going home this week there is no game for them to talk.
IKA thinks that the boys knew about Sarah's vote the day before. Ika says the "New Girl" and Andrew are really close.
Sabrina asks if Jon wants Andrew gone so he can be with Kenny. IKA doesn't know. IKA adds that Jon, Sarah and Arlie are with Kenny and Andrew. Sabrina asks who Jon would put up. Ika says he's coming after the girls probably IKA and Sabrina.
Sabrina – "Wouldn't he want the guys gone"
IKA doesn't think so.
Sabrina asks who IKA would take out.
IKA – "Kenny"
IKA thinks Rachelle is in love with Kenny.
IKA says she's embarrassed about their Alliance calls it the dumbest alliance in big brother history. IKA goes back to trying to rally the girls alliance saying the boys are coming after them they have to get rid of them, "We have to attack them first".
IKA says her 7 year old could beat Heather in a competition that is why she wanted Paul in the house. IKA points out Heather is coming after them, "She hates you, she hates Rachelle and she hates me"
IKA says Rachelle is being selfish by not going after the boys.
IKA says Heather can't "Walk or talk" asks why does Rachelle want to evict her.
IKA thinks if the boys won HOH it would be Sabrina and IKA "Shitting" their pants because they would be nominated.
IKA thinks the only girls left in the game are Sabrina, Heather, her and Rachelle. She says Allison and Sarah are best to be thought of as boys.
IKA thinks that after this week they should disband the girls alliance, "There's no girls alliance.. Sabrina you think there is a girls alliance.. we're pretty much the floaters to like Sarah and Heather.. "
IKA thinks the girls alliance is over "The moment Sarah f** us it shattered"
IKA says NEDA is closer to JOn than them. IKA says the only way they will survive is if they get rid of Jon, Andrew and Kenny. That way all the girls will stick together.
IKA really wants Kenny out of the game, she lists off a bunch of reasons. Sabrina says IKA should go tell Racehlle her before she starts nominating people. Ika isn't going to do it, "I want her to do want she wants to do.. it's her HOH"
Sabrina wants Ika to say what she is saying to Rachelle because , "It's starting to make sense"
Sabrina asks if Jon wants Andrew out of the game. IKA doesn't think so she thinks JON and Andrew and very close.
[polldaddy poll=7898587]