| | | | |
| --- | --- | --- | --- |
| POV: | Tyler | Next POV: | Aug 11th |
| POV Used | ? | POV Ceremony | Aug 13th |
| HOH: | Haleigh | Next HOH: | Aug 16th |
| Noms: | Kaycee Rockstar and Angela | Have Nots | |
Big Brother Spoilers I don't see Tyler using the veto on rocks he's using it on Angela. Kaycee will probably be the the replacement nominations. At that point it's a battle for which side can capture Sam's and JC's vote.
A real easy way to support the site if you are an amazon shopper is to make your purchases through our link. You pay the exact same thing but we get a small % commission. It doesn't cost you anything and helps us out.
Amazon Canada
Amazon USA
7:18pm Backyard. Kaycee and Sam. Kaycee – tomorrow will be interesting. Sam – tell me what the ideal situation is? Kaycee – Hopefully she doesn't put me up. For her game though that would probably be the easiest because she already put me up. Or the less blood on her hands. You know because she already put me up. When she put me up she said I wasn't the target but if she puts me up then I am pretty much the target. Of course she put me up .. why wouldn't she put me up again. We'll see tomorrow. Sam – but Tyler is still good? Kaycee – of course. Sam – as much as I love angielala.. I do. I had the doubt creeping in that I would be put up and I would go home. Kaycee – We'll see tomorrow .. as much as I love this game its just so much stress! Sam – I feel like your confidence and strength is being robbed from you. I want to help you but I don't know how to.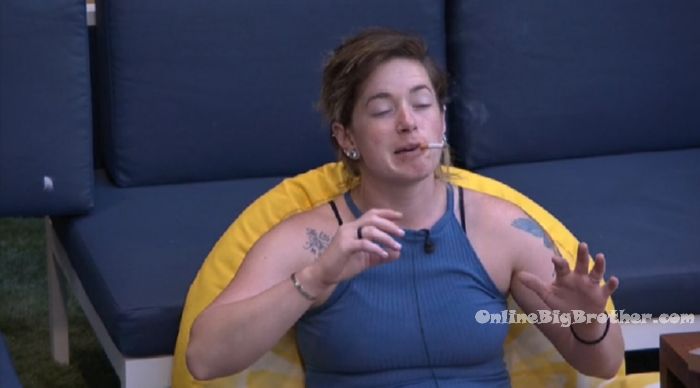 7:45pm Brett and JC. Brett – I think that regardless of what happens tomorrow. Rockstar is the one going home on Thursday.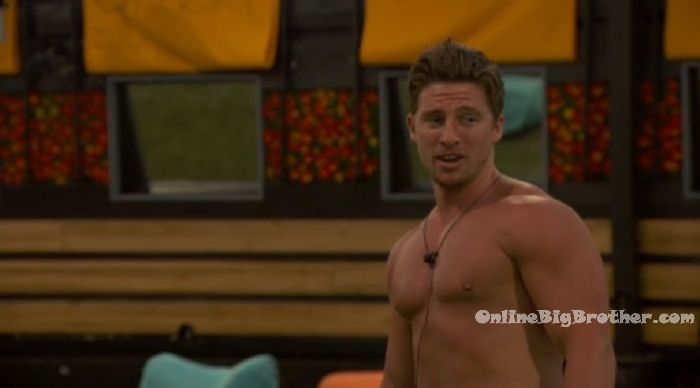 7:55pm Backyard. Haleigh and Brett. Haleigh – his (Tyler) head is in a good spot right now. I think he just needs a little reassurance. Reassurance from everyone. He's asked me a couple different times where your head is at and I said I didn't know. I can't speak for Brett. I said you're risking two people (Kaycee and Angela) being mad at you versus four or five people. I said I'm not going to be mad at you, I'm just going to be annoyed because you'll be putting me in a really hard position. Brett – in reality if he does use it on Angela you just put Kaycee next to Rockstar. Honestly it would be better than Angela next to Rockstar because Kaycee is actually a competitor. Haleigh – and that's assuming she doesn't have a power. Ideally they're sitting next to each other and it doesn't matter. We shall see.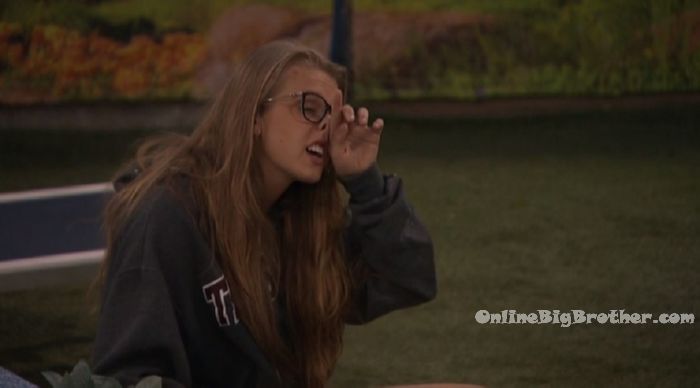 8:15pm Haleigh gets the HOH camera glasses.
8:20pm HOH room. Fes and Haleigh. Fes kisses Haleigh. She says she's going to cover her face so no one can see. He says he's not going to do it no more.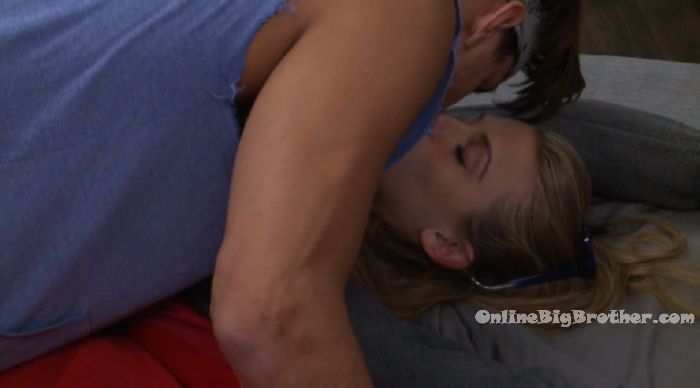 See what they can't show you on TV Try the live feeds for FREE!

8:56pm Kitchen. Haleigh and Rockstar. Haleigh – I'm ready to get this week over with. I am ready to get tomorrow done. What do you want, do you not want Angela up there? Brett – I don't think it matters either way but my prediction of what will happen regardless of what I want to happen is that he will take her (Angela) down because she took him down. Haleigh – Yeah, I agree. He could be blowing smoke up my a$$. I mean I'm not an idiot. I'm not naive to think that's not a possibility. He is definitely considering it. Or acting like he is. Brett – you've got to weigh your options and figure out what your going to do. But in reality he isn't going to use it on Rockstar. The best case is that he takes Angela down and you put someone like Kaycee up. Haleigh – we don't have the votes to get rid of her. I don't know what JC would do. haleigh – what if she has a power? Brett – you have to play as if she doesn't have one. You have to play the odds. Lets say she does have one.. it could not even be applicable. Haleigh – true.
9:20pm – 9:30pm HOH room. Haleigh and Rockstar. Rockstar – she (Sam) said I talked to Tyler and that thing you think I'm going to do, I'll do it. (Keep Tyler safe for 3 weeks if he takes Rockstar off the block.) And he said Okay. And that was our conversation. Sam talking game is a wonderful thing. Haleigh – good. I hope he does it Rock! What a f**king move if he does. Rockstar – he would be stupid not to…like literally stupid because we could work out.. Haleigh – are you being serious about protecting him.. because I am telling you right now if I get the chance I am backdooring him. Rockstar – well that's your f**ked up.. Rockstar spells it all out on the spy cam tv looking at the memory wall. Haleigh – I did not come here to keep any promises. Except for with you and Fessie. All I have to do is sit and look pretty on Thursday. I don't have to vote or compete. Rockstar – we just have to hope the other b***h doesn't win.
9:45pm Tyler – I might as well be celibate for the rest of my life because its going to be wham bam thank you ma'am.
10:10pm – 10:54pm HOH room. Haleigh and Brett. Haleigh – I really want to talk to Tyler one last time tonight. Last night I felt good about it but he's been with Angela all day. Brett lays down on the HOH bed and gives Haleigh a head massage. Haleigh – I feel like your week is next week. Brett – I just want to show you guys photos. I hope my letter is from my brother .. he is way funnier than I am. He is f**king quick and when he as time to prepare he is so funny. It pisses me off. Haleigh – tomorrow when I put Kaycee up and she reveals her power I want you to apologize to me within the hour. Brett – if that really does happen we are locking ourselves in here and I'm giving you a two hour back massage. Haleigh – deal. I don't even know I would put up if she does that. I could only put up you, Fes, Scottie, JC and Sam. That's why its such a big deal and why I need him to do what I want him to do.
12am Hammock. JC and Tyler. Tyler – you know how you always act confused every Thursday? This has got to be the time when we stop that sh*t. JC – the want it to be unanimous? Tyler – no, no. Like we have to jump on to keep it even. I will tell you later. JC – what else did they tell you. Tyler – I will tell you late. JC – the only think I pitched to Haliegh was to put Sam up. Tyler – bad idea. JC – I will wait until tomorrow after she nominates and then I will tell Fes that I am cool with him and the others will be gone soon. Tyler – Kaycee has to stay. I am just saying for you .. you can't f**K around any more. Its going to be Kaycee. Kaycee cannot go home. JC – I would never vote Angela out. Tyler – yes I know but Sam will. Tyler – Angela used it on me, I am going to use it on her. JC – I was talking to Brett and they want F out. Tyler – if they do that, then they do that. JC – I talk about if I don't win, I would want you to win. Tyler – I know I talk about that too. JC – you have my loyalty.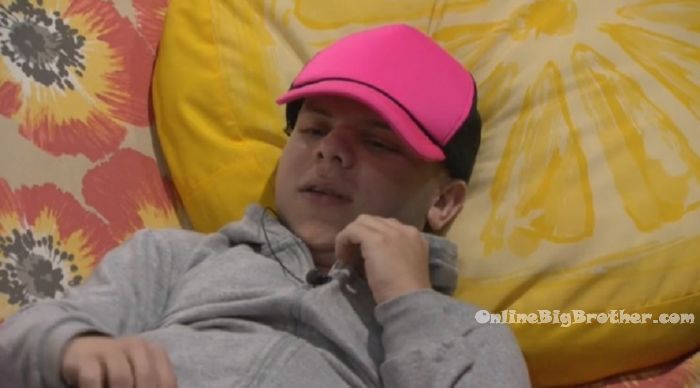 12:45am Angela and Kaycee. Kaycee – another shocking week because she thinks its going to go down a certain way. Her best friend is going to go on her HOH. Perfect! Angela – if she was the hacker, Karam's a b***h. I really don't think she was because now she has to take the blame for backdooring Tyler. Its so funny if we go up because of Scottie. As long as he doesn't know we know .. we have that in our back pocket. Angela – I woke up the night before we got nominated .. Fes and her had the same pitch to me. Kaycee – he (Scottie) is one of those kids that tries so hard to fit in. Its as annoying as F**k. F**k you! Its so funny that we were both put up and we're turning this around. Angela – congratulations Haleigh on your first HOH. Kaycee – I can't wait until all this stress is over. If I win HOH I'm thinking of putting up Haleigh and Fes. Angela – just say its because of the showmance. Kaycee – JC said it was official. They really think they have Brett. Angela – there is nothing that makes me more happy.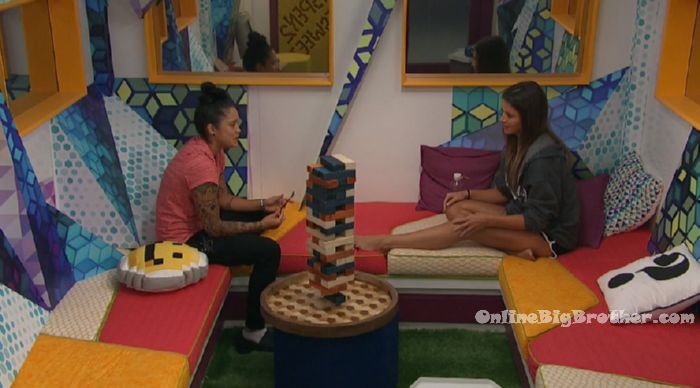 12:50am JC and Rockstar. Rockstar – The only thing that Angela has over him is that she took him down last week. Its like an IOU. Well great, are you going to let a IOU take you through this game. Its still about the HOH right now. Angela won one HOH and I almost won that one too. I am offering him safety along with several other people. IF its me and Kaycee on the block and Kaycee goes home…. I am gunning for Tyler and Angela. If he takes me off I am not gunning for him. And I have several other people that will offer him safety. The only thing she is offering him is I know you'll do the right thing. JC – he has a good relationship with Scottie. Rockstar – and I have a good relationship with Scottie. JC – maybe he can talk to him.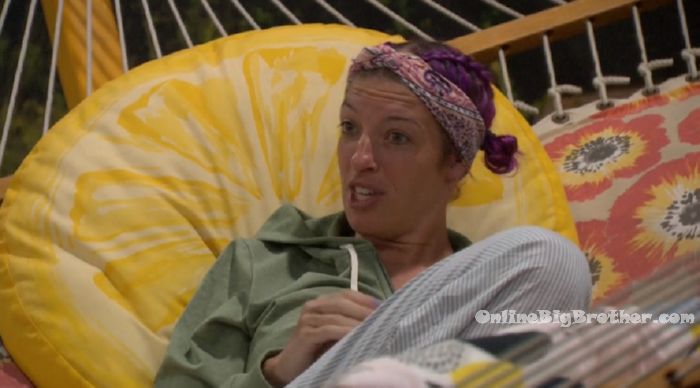 12:52am HOH room. Haleigh – Rock is working over time to pledge safety to you. Tyler – no one has come up to me?! Except Sam. Haleigh – Fes said it to me and he didn't know if he should come up to you or not. In the end I think it would benefit you more to do this. Its totally up to you. I know Angela is your friend. At the end of the day I want you to do what you want to do. I would just like to know what I am going into. Tyler – I am just using tonight to gauge people. I dont have a decision made but I am pissing people off either way. At the end of the day I am saving myself. Haleigh – the pros are 5 people keeping you safe.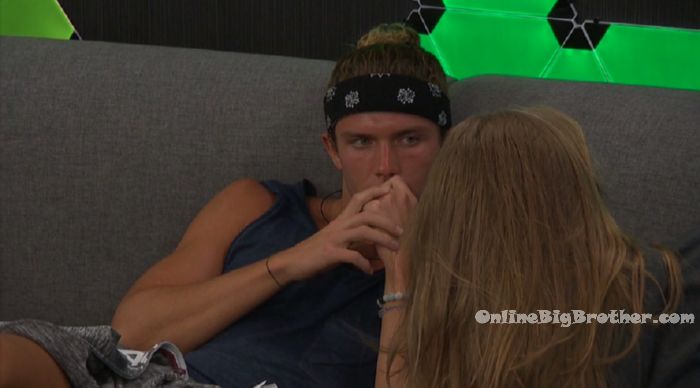 HOH room. Haleigh and Rockstar. Rockstar – how did your final talk go. Haleigh – not great. He said he doesn't know where his head is at. Which basically means he already has made up his mind and its not in our favor. That's what I hear. Rockstar – well that's pretty stupid of him. I just talked to him. He said he talked to Haleigh again. I asked if he talked to Sam and he said yeah. I said well Sam told me this morning to trust that you're as smart as I think you are. So I am going to trust that you would make the smartest game move for yourself. Which I think would be a whole lot of protection. And he said oh I know. Haleigh – he keeps bring up the fact that I put him up and I'm like Tyler can we just get over it. Rockstar – it had nothing to do with me.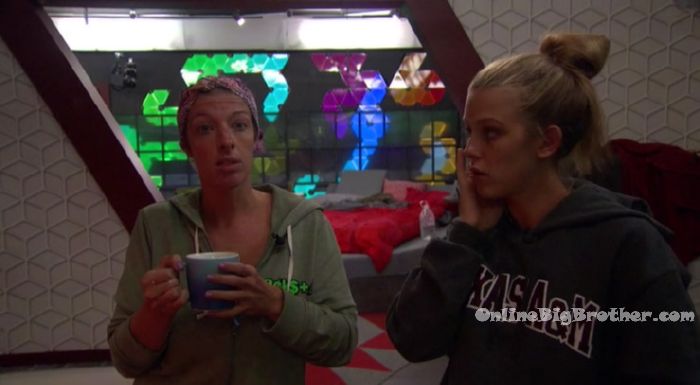 1:23am HOH Fes, Haleigh and Rockstar. Haleigh – I wanted to see which side Scottie was pitching and its ours .. which is good. JC is getting too sneaky for me. 100%! Tyler – even brought it up that no one ever knows where JC is at. Scottie is also worried about JC. Fes – JC is also worried about Scottie. They both just sit there and call each other shaddy.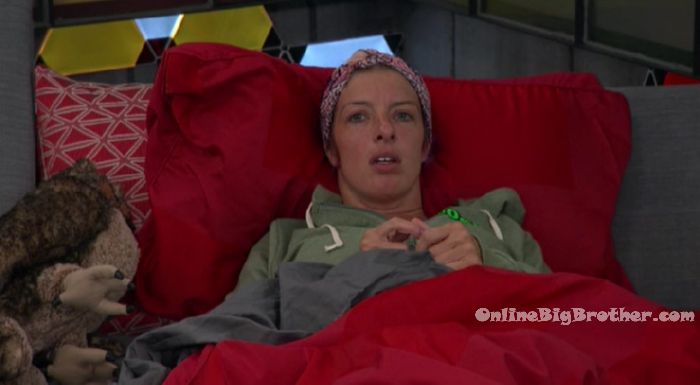 1:50am Fes and Tyler. Fes – its about what would be best for your game going forward. Its a numbers game. Tyler – I know. Fes – What are you going to do this week to set yourself up for success next week. We're top 9 and shots are going to be fired from all angles. You need to secure safety from everywhere. Rockstar no one votes her out. If you use it on Rockstar or whoever .. then its Kaycee and Angela. One of them goes and the other will be the only one left that will be the target next week. Whatever you do won't affect you and me. It might other people in the house. Don't feel obligated to do something because of something in the past, this game is all about moving forward. I am not telling you which way to vote. You have a track record of doing what the HOH wants.

2:10am Rockstar, Haleigh, Scottie and Fes. Haleigh – this has to work. Rockstar – he would be really dumb. Unless he is going to wife up Angela after his.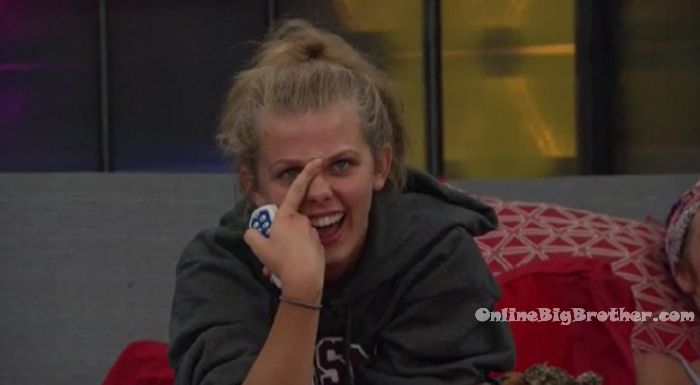 3:30am HOH Room. Haleigh and Rockstar. Haliegh – I hope this works. Rockstar – me too. Haleigh – I just think we are giving her too much credit. I haven't heard her say anything intelligent. Everything happens for a reason. Maybe this is better so that we can know he can be trusted. Rockstar – he said he won't be fooled again like he was with Kaitlyn.. so maybe he won't be..
3:35am All the house guests are sleeping..
Donations Really do help keep this site keep running round the clock. If you like our content please consider supporting us
Rank the houseguests!
Easiest way to Rank the house guests use link below