| | | | |
| --- | --- | --- | --- |
| POV: | ? | Next POV: | Aug 25th |
| POV Used | ? | POV Ceremony | Aug 27th |
| HOH: | ANGELA | Next HOH: | Aug 30th |
| Noms: | ? & ? | Have Not | ? |
Big Brother Spoilers Haleigh/fes are going up and Fes has no idea he's the target. These weekend feeds should be good.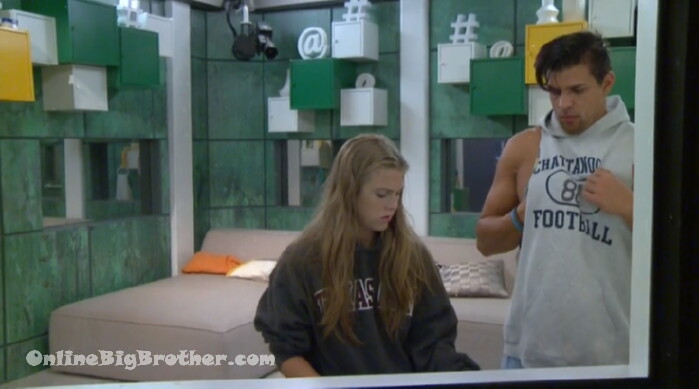 10:48am Fes and Haleigh
Fes – you ok
H – Yeah why?
H – why would I not be..
Fes – I was just saying.. how are you doing this morning is that a better question
Haleigh – I'm fine..
Fes – what
H – that's a weird question
Haleigh says she's talked to Angela but not game.
H – I do want to talk to her before nominations
fes – should I talk to her beforehand..
H – if you want to fes.. it's totally up to you .. whatever you think.
H – I think it would be a good idea to get all four of us into a room.. she and I need to speak ..
FEs – she needs to know how Brett was to you when you won HOH
H – unless they are working together Fes
FEs – if they are working together when you are HOH to completely jump ship that's not working together.. that's playing both sides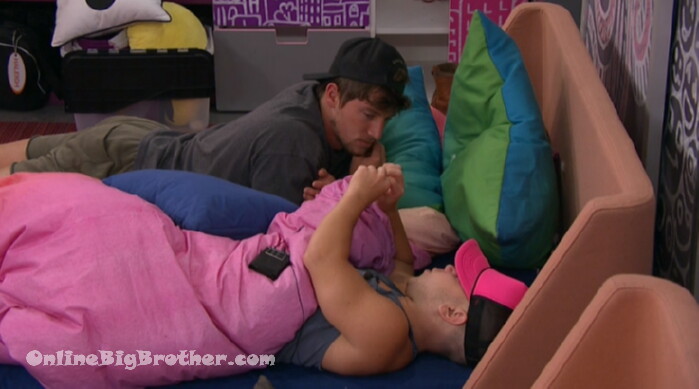 11:20am JC and Brett
JC tells him that as the numbers go down Brett's ability to flirt with the girls will be an advantage..
JC – I know for a fact that Angela likes you not like going on a date.. she thinks you are funny
JC – show her how charming you are .. she loves when you flirt with her
B – are you just speculating or are these things she said
JC – I'm speculating.. but I'm not blind.. so I see.. I know when a girl feels comfortable.. you can tell
JC – after the nominations today it'll be a shit show.. I don't even want to be out there today..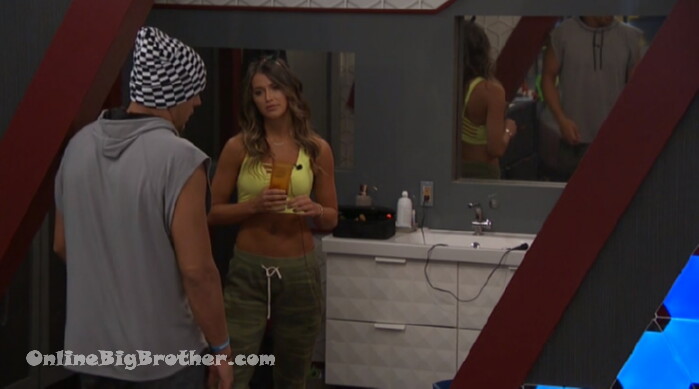 11:42am FEs and Angela HOH
Fes – what are you thinking about doing
Angela – Halegih's a pawn.. I'm leaning that way but I'm still going to have a few conversations I didn't talk to anyone last night really
Fes – if she takes herself down
A – I will cross that bridge when it comes
Fes – if Brett wins will Brett take Sam down
A – I figure I could threaten Brett to do whatever I want him to do
FEs – if Sam and HAleihg sit next to each other do you think Sam goes home
A – totally.. Yeah
A – if I don't put Haleigh up people will be like WHY .. it won't make any sense.. people will be suspicious of me
FEs – what is Sam thinking
A – does Sam even have thoughts anymore..
A – if Sam was HOH this week she would put me up with HAleigh
A – getting down.. to the.. nobody left it's just going to get harder.
Fes – I respect any decision you make I know like you said Sam is your real target which would make it easy for the house
Fes – Scottie left.. Thought it would be easy house decision the next house decision will be Sam and that's kinda why I left Sam off the block..
FEs – it would have been easier to justify putting SAm up I didn't want to take a chance of maybe Sam going home and Scottie staying in the game.
A – if you are putting someone up to someone that is a huge target they are pretty much guaranteed the huge target will leave
Fes wonders if BRett wins the Veto if he would take Sam off. Angela doesn't think he will. "he won't go to bat for Sam against what I want"
Angela says it's not good for her game or on a personal level to not put Haleigh on the block just so she feels good.
A – that just makes someone else pissed at me..
Fes – alright lets do it
A – it'll be later today
A – I can't say who I'm putting up because it's against the rules but I can say right now it's not looking good for HAILS
Fes – anyone stays over Sam
A – I have an idea who goes up.. but that person would definitely not go home against Sam
Fes – I understand your justification for putting haleigh up.. it just sucks
A – if she hadn't put me up .. that's all I have to go off of
Angela says she felt like Haleigh just put her on the block and it was unnecessary. Points out that things like that end up biting you in the a$$.
A – I can't risk my game doing that to someone else when there's not a reason to (make an enemy by putting someone fresh on the block)
Fes – there are people wanting us to attack each other so they step one step closer to top three.. not seeing the block and not winning
Fes – your word is only good if you prove it. All these people that have come up to you that haven't won anything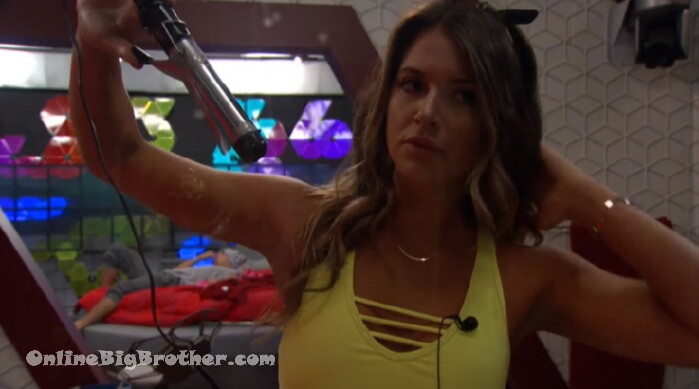 Fes – I'm for real.. that's the only way for some of these people to make top three is for me, you, Tyler and Haleigh going after each others necks..
Fes says when Haleigh was HOH Scottie and BRett were always in the HOH jumping ship.
Fes – if we stay strong as four.. there's no way we don't make it to top 4
Fes – we're the best 4 competition players in this game
Fes – I know Haleigh put you up.. I know Sam is your real target..
FEs says if Sam is on the block the plan will go smooth like his HOH went smooth
Fes – the floaters in the middle they're not winning anything and they don't see the block as a pawn..
Angela agrees with him says there's people that have nothing to worry about- me, KAycee and Tyler see the block as replacement..
Fes – they don't have to be the target.. it's like cruise control..
Haleigh comes in ..
Fes – if we execute this plan and Sam leaves.. the next 2 weeks will be smooth
H – we can win the next comp for sure..
H – we have all three of us can compete.. the only comps anyone else has beat us in is the tree on that Tyler could have won..
Fes – this four that's more than half the house… I know you trust Tyler I trust her
Fes going on about how the four of them can rocket to final 4 if they stick together "that's the least amount of moving parts"
Haleigh points out how Sam is a completely different person today
H – I think the four we have right now is solid.. I know it's knew but I think we're solid I really do
H – WE do have complete trust with the circle
Fes – that's the best way to get to four… top four.. next 2 weeks.. 3 including this one can go smooth
Haleigh and Fes go on about how smooth FEs' HOH went..
H – you accomplished a goal
Fes – I think mine was the smoothest all year..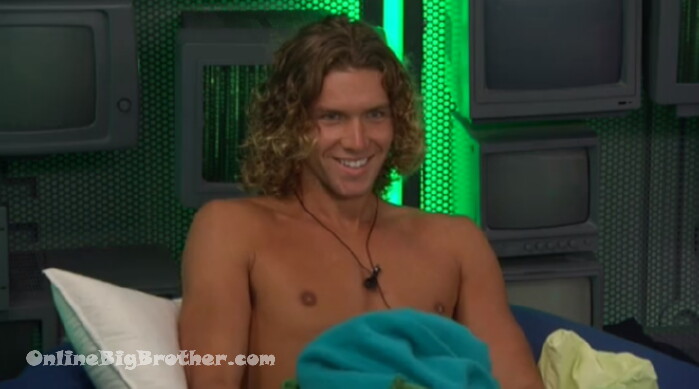 12:04pm Tyler and Kaycee
They talk about what Angela will say when she puts up Fes.
Tyler – Guilty by association..
Tyler says they have not idea Fes is going up
Kaycee – Angela's smart she knows..
T – she's just worried.
Tyler says Fes and Haleigh came to them day 60 with the deal and their level 6 has been solid since the beginning.
Kaycee – they said double eviction or moving forward
T – they want it long term now of course..
Tyler shakes his head
kaycee – cute
T – they're like us four are the only ones that have won competitions
T – I'm like Exactly.. (LOLLOL)
K – nice
Tyler mentions the deal that Fes tried to make when Fes was the HOH and hadn't dropped the nominations yet… "Keep me safe next week.. he's like I'm HOH and I'm pitching to you.. I'm, like I know that's why I can't say no you'll put my a$$ up"
T – at least we had something in place just in case.. you did to
T – Haleigh said something seeing us four celebrate.. I was like yeah I was real confused why BRett was
T – Brett and JC are getting tight.. that's good
K – you think
Tyler is trying to figure out who is initiating the talking between JC and BRett
K – Brett enjoys his company..
T – he was feeling a little but left out naturally because he had to play that part.. I'm glad it's back to normal.. just rack up those HOH's
T – we're half the house right now.. so three votes. WE decide what happens.
T – even if JC and Sam try to do something they'll need one of us to flip
T – JC was trying to make sure Angela wasn't scared.. he was saying next week whoever stays H or F they would go after SAm
T – I think they will come after Angela and I
T – If Angela and I had an argument maybe they would put up her and someone else..
Tyler would rather Fes leave this week, "That's what Brett wants"
T – Haleigh's not close to Sam so you know Sam will go after Haleigh
Tyler adds that JC jis close to fes a bit to so best for fes to leave and have Haleigh alone. (so when Scottie comes back next week Fes' brain will explode)
Tyler says H and F are scrambling because they saw Brett celebrating.. Before that they were going to push for Sam and Brett to go up.
Tyler – we al know what to do and execute it
Tyler can't wait to tell the house about L6, how it was formed Day 2.
They laugh how when FEs asked the house who voted out the rocks. Scottie put his had up right away a minute later Brett did prefixed with a "F* it"
Tyler – I really didn't think Fes was that dumb.. (putting Scottie up)
Kaycee he (scottie) was kinda on their side
T – he was ..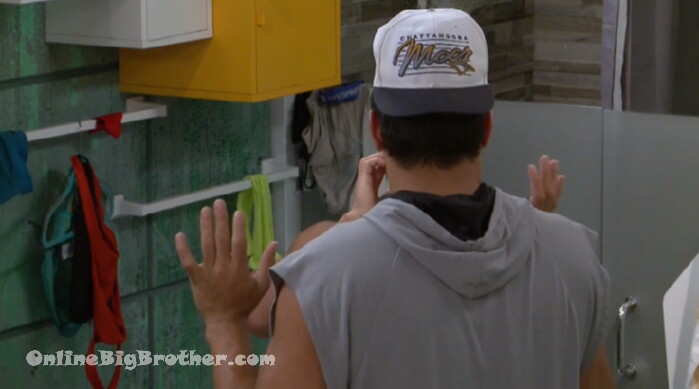 12:49pm Fes and BRett
Fes says what Sam is doing is strategy "get to top 2.. my strategy was I didn't have a strategy you let that sneak to the end they win unanimously
Fes – she's fooled us for 67 days..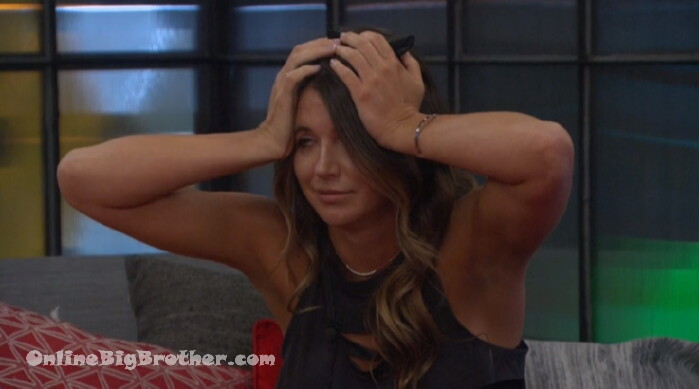 1:26pm Angela and Kaycee
Laughing at how Haleigh and Fes are scrambling and being super clingy with Angela.
Angela brings up Haleigh being up in the HOH with her moments earlier. Angela was just running through her nominations speech in her head. Haleigh leaned over and said "I want you to know you can trust me"
A – get the f* outta here..
Angela – they really honestly think we are going to work together now..
Angela – you're guilty by association you are stuck in the cross fire.. you are haleigh's number one..
Angela – after putting me on the block how can you think day 60 to start working with me
Kaycee – they are just too much
Angela says last night she was loving everyone but now she's getting annoyed, "GEt off my d1ck"
Tyler comes in feeds cut to reruns.. Nomination ceremony
2:37pm Feeds have been down
A real easy way to support the site if you are an amazon shopper is to make your purchases through our link. You pay the exact same thing but we get a small % commission. It doesn't cost you anything and helps us out.
Amazon Canada
Amazon USA