Head of Household Winner – ENZO YO!
Have nots – Dani, Tyler, Da'Vonne
Nominations – Kaysar & Kevin
Power of Veto Players are – Enzo, Kevin, Kaysar, Tyler, Bay, David
POV Host: Memphis
Power of Veto holder – Kevin
Power of Veto Ceremony – Kevin used the veto on himself. Enzo nominates Christmas in his place.
Live feeds —-> Grab your Live feeds here. Try it free.
Rank the houseguests —-> Big Brother 22 Ranking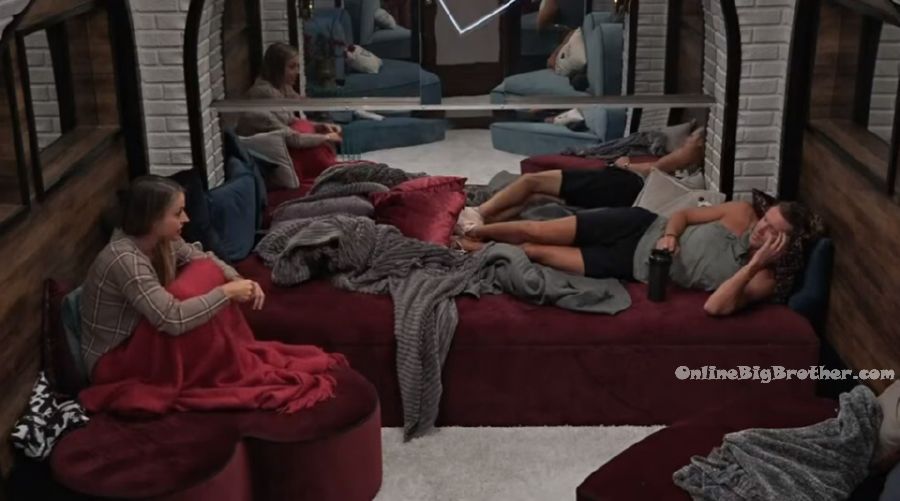 7pm Lounge room. Christmas and Tyler.
Christmas – Dani is spinning out a little bit. And Bay asked me last night who my untouchable is. Tyler – that's like asking who your final 2 is. Christmas – right!? I didn't answer. Tyler – good. Christmas – she wanted to connect too just in case it was a double. Tyler – there are so many people doing too much. Enzo and Cody love you! Like they boarder line want to make an alliance. Enzo does but I don't think Cody does because of the comity. He doesn't want to double dip. Christmas – yeah Enzo was like yeah girl I got you to the end .. he said it. Which is good because Enzo is straight forward and super loyal to the end. And he doesn't like what Day is doing. He doesn't like what Dani is doing. He is not sure about Nicole. And he doesn't like what Bay is doing either. Me and Enzo totally connected this week. Tyler – he said the same thing to me and said that he likes you, Cody and Christmas and that is it. Christmas – he wanted to pull in Kevin. And I told him hey why don't you get Kevin to pull me in so then Kevin doesn't feel like he is the outsider. Enzo did exactly what I told him to do.. and I am like this dude is listening to me. Bay is getting too comfortable and a little too sassy. Tyler – if you put her up though you have to be prepared for her wrath. Ian and Nicole join them. They start playing 20 questions.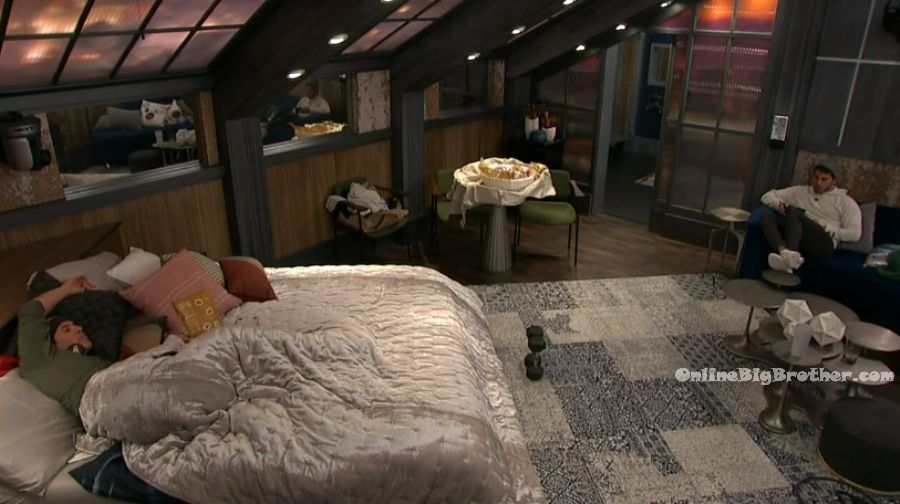 7:46pm -8:45pm HOH room. Enzo, Cody and Tyler.
Enzo – what are we going to call ourselves. Cody – I want to be The bandits. Tyler – I'm already the bantit. Enzo – what about the elite three. No?! Is that too f**king cheesy. Tyler – you've got to come up with it whatever it is .. but that ain't it. Cody – just start spit balling. Say anything that comes to your head. Enzo – the sneaky three, the elite three.. Why can't we be the Bandits?! Because he is a bandit!?Got to be something.. got to name it something. You were the hitmen, we were the brigade, you (Tyler) were what? Tyler – Level Six. Cody – we were the bomb squad .. then the detonators plus Caleb. Enzo – the brigade is the best name .. we all know that. The Henchmen? Cody – Triple Threat? Enzo – I like that. Cody – you're the shun dance kid, he is the bandit and I'm Zuko. Alright so Triple Threat. I love it. Enzo – if Dani wins HOH .. David is definitely going up. Tyler – I want Christmas to win this sh*t. Cody – I am Zuko with an S.. Suko. Tyler – you know when the type it out on twitter they're going to call you sucko. Cody – I love triple threat .. and I love that we all have nicknames. Tyler – and every there is an E in it you put a 3. (Tripl3 Thr3at) Cody then says Triple spelt normal and then Thr3at. Tyler – pay attention to the bill board in the backyard. I think that is going to be something. Dani joins them.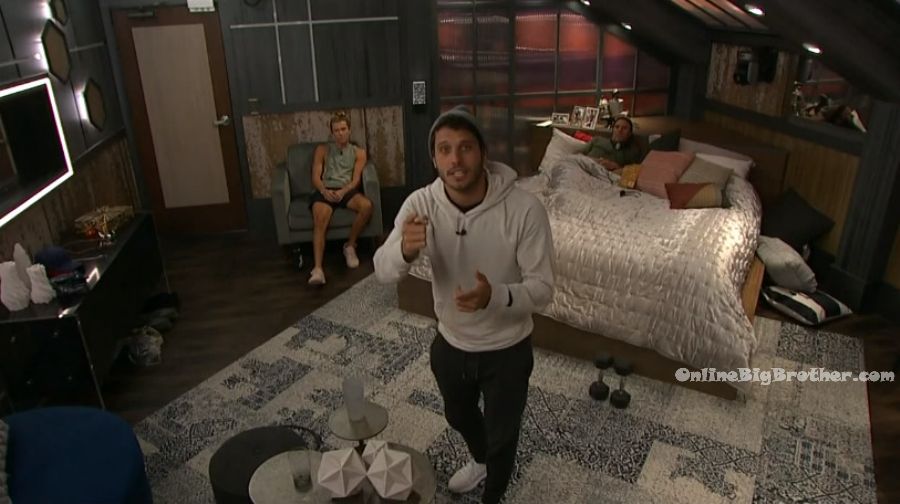 10:15pm HOH room. Nicole and Dani chatting. Meanwhile the others are in the kithcn making dinner
10:20pm HOH room. Dani and Nicole.
Dani – you need to start getting a little closer to Tyler. Nicole – I just go off my vibes. My vibes with him are not.. Dani – but that's the thing you need to start talking to him about random stuff. You have to Nicole. Nicole – why what did he say? Dani – he doesn't fully trust you. He keeps making comments about.. Nicole – I don't trust him either. Dani – but he only doesn't trust you because he doesn't talk to you. But we're always putting in good words for you. I said look, you need to start trusting Nicole more. And he was like why? Because she really likes you. She never said a bad thing about you. She likes all of us and we get some information out of her. That is what I said. Because I was not saying anything about Christmas and I was trying to say how I think those two are going to flip and throw us under the bus without saying it .. when you're saying it ..is kind of like where is this coming from and I was like .. he made a comment ..Maybe Nicole told Day that you are not close with Bay at all but she is close to Day. And he goes maybe she told Day about the comity. And Cody was like no.. he just doesn't know because he is not close to you. Nicole – I will put his a$$ up, I don't care! Dani – Nicole! Listen to me. He is not going after you ..I am saying that he doesn't fully trust you because he doesn't talk to you.. that's all. Nicole – I don't want to talk to him. I would be honest I thought I could .. He is a nice dude but he goes to haywire for me. Dani – what do you mean? Nicole – he does not stay on the railroad tracks. He does this and this.. Dani – he doesn't listen very much. It is very frustrating for me. I really like him though. Nicole – nothing against him personally .. he is just really hard to play this game with. Dani – I think what Cody was saying is somewhat true. Like last time he (Tyler) freakin ran the game. So he is just trying to find his place where he can win this game but also he doesn't want to run it .. but he wants to .. does that kind of make sense. Nicole – one thing I don't like is he always thinks I am scheming. Dani – why? He says that? Nicole – always thinks I'm scheming. Yes everything I do he thinks is strategy. Is he hiding in here? Dani – you are way too paranoid! Nicole – I don't trust him. Dani – you are not on his radar because you don't talk to him. If you don't talk to someone of course he doesn't trust you. Nicole I don't give him information that's why he doesn't trust me. Dani – yeah because you don't talk to him. Nicole – but I already told him I'm not the type to run around and give people information to try and get trust.. Trust me until I wrong you .. and once I wrong you don't trust me anymore. Straight up I told him. Dani – yeah but you can't trust people who don't talk to you in this house. Nicole – yeah you can. I don't talk to Enzo that much. I wouldn't be surprised if he put me up. Dani – he is not .. stop being paranoid DaVonne. Dani – he has a dry sense of humor where he pokes a lot. Nicole – I like him and want to work with him but it is frustrating that he doesn't trust me I guess. I'm not upset about it.. because I've given him no reason not to trust me. Dani – its not that he thinks you're some liar .. he just doesn't talk to you enough. And he thinks that you and Day are really close. And you have to remember he does not trust her at all.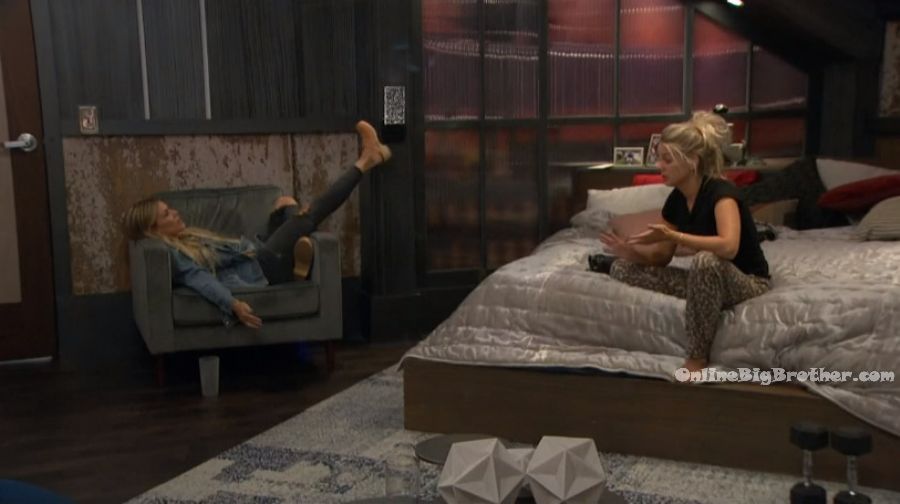 10:30pm Havenot room. Tyler and Nicole.
Nicole – Its hard to get you alone. Do you trust me? Tyler – I trust you Nicole. I just feel like a dumba$$ for the other day because of this one. Nicole – people are saying that you don't trust me. Tyler – I never said that .. who said that?! Nicole – do you trust me? Tyler – I swear on everything I do and I always have. I just feel like a dumba$$ for trying to freakin lie to you. Nicole – I would have done the same thing. Tyler – I was trying to cover her and whoever else. Nicole – I don't at all care about that. I am past that .. its fine. If I need to talk to you more to make you trust me. Tyler – you dont have to .. we're solid .. we're good. I don't think I talked to Brett for four weeks once on my season. Nicole – its not that I don't want to talk to you. Navigating this game I don't want to be sitting there talking to the people I trust the most. Tyler – you don't have to feel like you have to maintain me. Nicole – okay. I just thought we were cool so I wanted to double check. Tyler – I trust you. Nicole – If I win I want you to feel like you can freaking chill. Tyler – I got out your biggest freaking target. We're in the same boat .. we're on the same team. Nicole – this season is weird because people are telling me who I can and can't talk to. Tyler – we're good. Nicole leaves.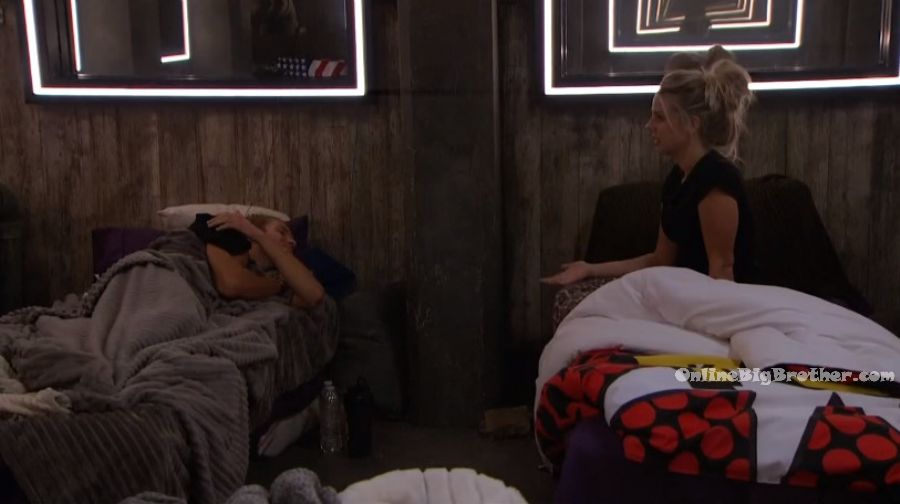 11pm – 1am The house guests are cooking a big meal and eating..

12:33am Lounge room. Kaysar and Bay.
Kaysar – there is not one alliance .. there are two. That is the reason why when I went to Enzo he didn't want to put up David because he is an alliance with David. Bay – so the boys thing. Enzo – the boys have an alliance. And then Cody, Nicole and Dani have an alliance. And then Nicole and Cody are controlling both sides. They're sitting in the middle of both of them. That's now they're able to get the votes right away because they work in between. Bay – I wanted to win HOH anyway.. Kaysar – I am going to try and blow up .. If I don't set fire to the whole thing tomorrow.. you need to .. blow up their alliance and make them decide who to save. Basically Cody is sitting between both. What you could do is put Tyler and Dani up. Tyler will most likely get himself of the block and then you backdoor Cody. But that is not the most important part you need to get both alliances to fight each other. The way you do that is obviously Dani and Nicole have a thing .. so if Dani is on the block she is going to expect that someone is going to save her. Tyler is on the block and he is expecting Cody to save him. The problem is Dani will also expect him to save her. And you know how sassy she is. She will blow the whole thing up. Bay – yeah she will. Kaysar – so Cody will have a decision to make and be stuck between two choices. It would cause complete chaos.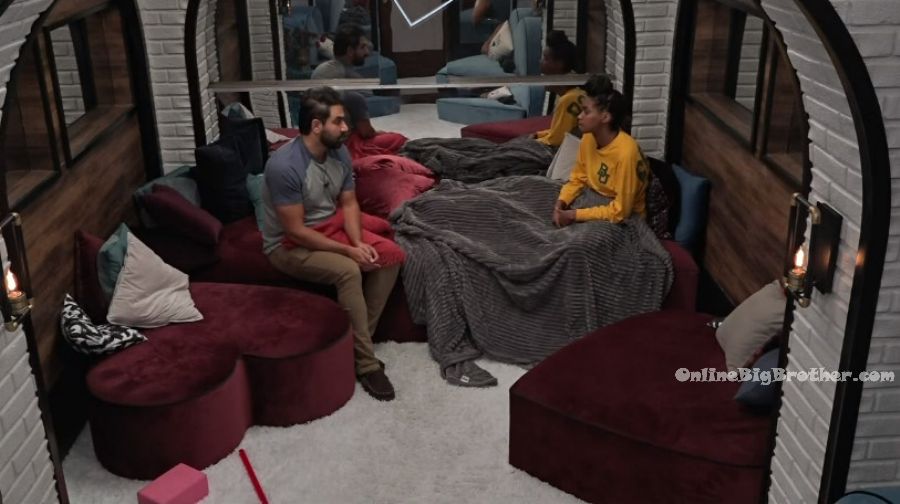 1am HOH room. Enzo and Bay.
Bay – what is the deal with the all boys thing? Enzo – what all boys thing? Bay – you know the rumor of the all buys thing? Enzo – yeah.. the all boys alliance is what we're in. The three guys. Me, Tyler and Cody.. Bay – David wasn't included? Enzo – no. I have a good relationship with David. I like David because he's the rookie. Bay – I like David too. Day joins them. Bay – do you want to tell him or me? Day – they got to go. Bay – Dani and Nicole.. Day – they got to go! Bay – Now that Tyler didn't respond to Nicole taking us out .. now they've told Ian. Ian has said they want you guys out. Enzo – Ian said he want's me out? Day and Bay – no. Day – they're trying to get Ian to put us up. Enzo – who said that Ian wants you guys? From Nicole or Dani. Day – this is apparently from Nicole Bay – Nicole is going to Ian. Dani is going to Tyler. And they're both going to David. Enzo – I am f**king with … The head of the snake for me is f**king Dani. Bay – how do we do it without Dani completely blowing everyones game up? Enzo – I don't think she will. Day and Bay – I think she will. Enzo – you think if she is on the block she will? Day and Bay – HHHhmmmHhmmm! Enzo – then she is f**king done! That's it! If she doesn't go on the block this week and we don't get her out .. then she is the main target for next week. That is it! Day – my preference .. Dani has to go prejury.. Nicole can go to the jury house. Enzo – if people won't go after Ian and Nicole.. then why are you in this f**king house?! They won their sh*t .. they're not winning this season. You don't think I thought of that.. but I had to get Kaysar out first. I don't trust him. To me Dani in my HOH showed me a lot of disrespect. Dani joins them. Dani – should we all talk? Dani opens the door and yells for Tyler to join.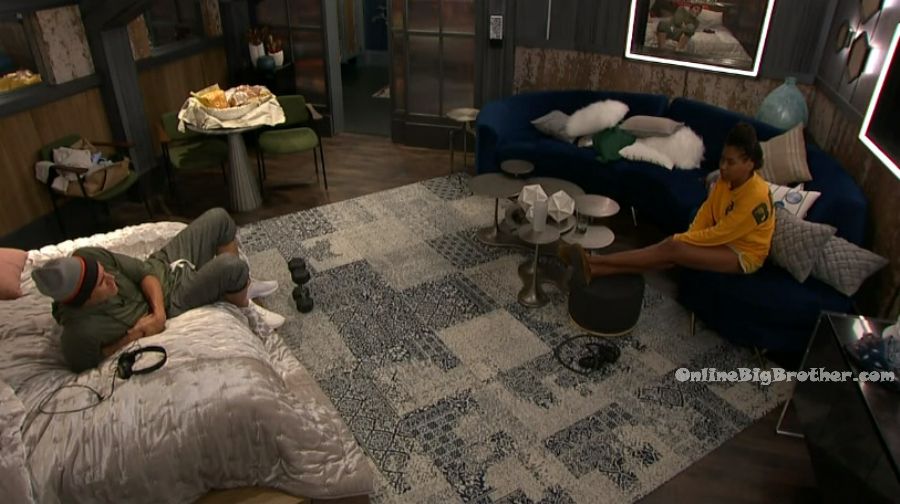 1:12am HOH room. Tyler, Enzo, Bay, Day
Bay tells Tyler that since it didn't work on him Dani has got directly to Ian to tell him to put us up. Kaysar came to talk to me and now it makes complete sense. Ian told me this first. Tyler – oh so Dani and Nicole are trying to get Ian to come after you. And Ian told you guys that? Bay – Ian told me that there were people trying to ..that would rather have us go against each other. Tyler – and what did Kaysar have to do with it? Day – Kaysar put the name on it. Dani and Cody join them. Bay – because Memphis is now hurt is his name off the table? Day – I don't want to make him a havenot. Bay – because he has to crawl. So if we don't make him a havenot then we can feel free to nominate him. Cody – I feel like that is fair. Tyler – and that is smartest because you want to get him at his weakest.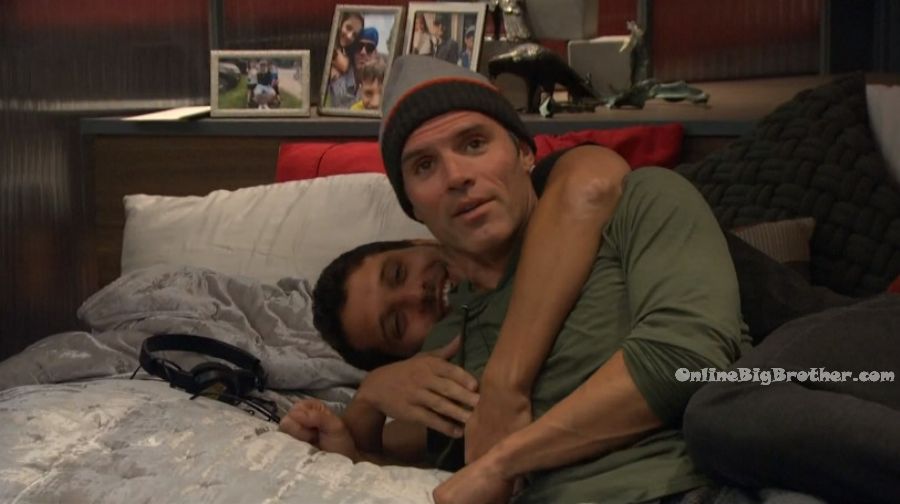 2:15am HOH room. Enzo, Tyler and Bay.
Bay – when it does happen it is going to be explosive. Tyler – we just blame it on Kaysar .. if we do it the wrong way she (Dani) will out the whole alliance. Enzo – once Kaysar is out of this house we can blame him. Bay – exactly. Enzo – he told me this.. that is it. Tyler – that's how we get out of it. Enzo – she is very messy yo! She f**ked with me on my HOH. That is f**ked up. Tyler – the rest of the alliance might have to keep her at bay too. If you (Bay) win HOH.. you backdoor her.. She will probably come to me or us and be like what the f**k is she doing .. why is Bay going rogue.. and we might have to be like we're keeping you .. to keep her from blowing up. Bay -I just want it to be as quiet and smooth as possible. Enzo – If she wins HOH ..what the f**k is going to happen?! Bay – That's why I would prefer I win HOH because if Day wins HOH she is blowing sh*t up too. Like not in a bad way but she is not playing that. Tyler – that's how we play it and then we're good and then we're able to stay solid and stick together and nobody knows. Enzo – yeah I am wit it. I hope you win this HOH! Tyler – if it comes down to me and you I will throw it to you. Bay leaves.
Tyler and Enzo talk. Enzo – it sucks because she (Dani) is Evil Dicks daughter and I love him. But YO! She is playing too messy. She knows too much ..she knows too much about my game. She is calling out other people right in front of us. I really wanted to work with her but from what I've seen ..I'm done Yo! Tyler – it doesn't even matter honestly because all that matters now is that we know for a fact that Dani is coming after Day and Bay .. and Day and Bay are coming after Dani. We know that they're not going to f**k with us! Enzo – that's it. If she wins the HOH she is going to be like I am coming after you! Right after the HOH comp. If Christmas, Day or Bay win .. Dani is out YO! I think if Ian wins we will be good .. he will go after them. Tyler – but why is Ian telling them this!? Enzo – what the f**k.. I don't understand. Christmas scares me too. I just feel like she is easily manipulated. Tyler – we're good, she likes us. You showed her that you were keeping her safe.
3:40am Havenot room. Dani and Tyler.
They talk about their past seasons. Dani – Bay within the last week and a half .. her personality has changed so much. You can tell that she is over people and over stuff. She is just so transparent. Tyler – watch if Bay wins HOH. Then you'll see. Dani – what do you think she will do? Tyler – I don't know .. she's changed not but when she won HOH on my season .. it was power trip city! Dani – I could see that. I can tell you one thing if I win HOH she is not allowed in my HOH basket! She ate ALL the snacks like they were hers.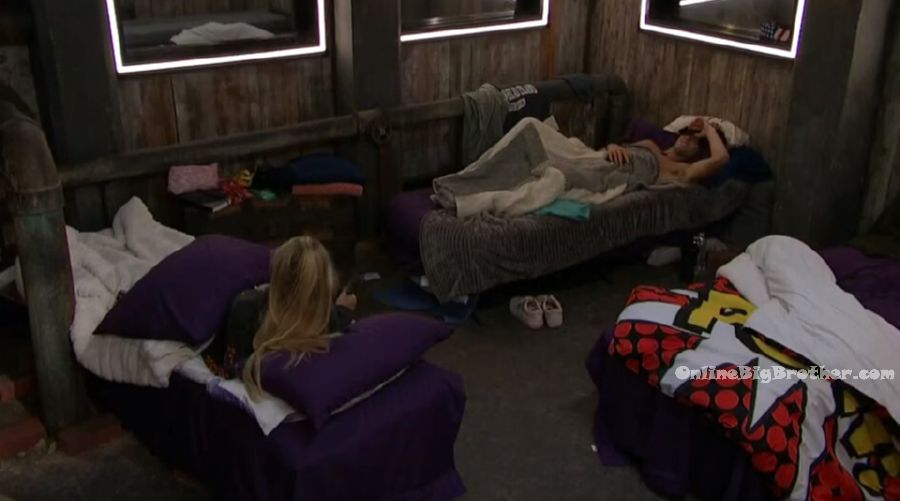 3:50am All the house guests are going to bed.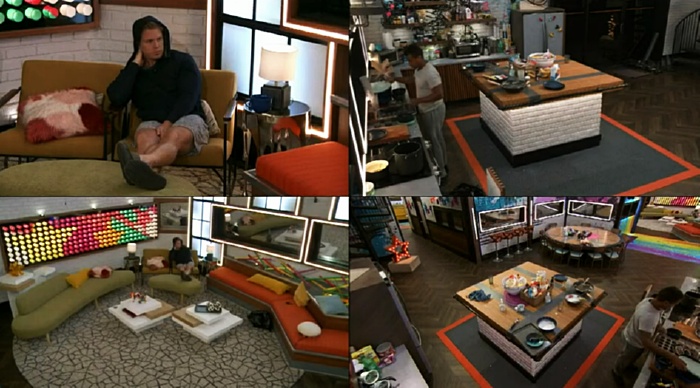 8:44 am Early start in the Big Brother house.
Gramps and David are up.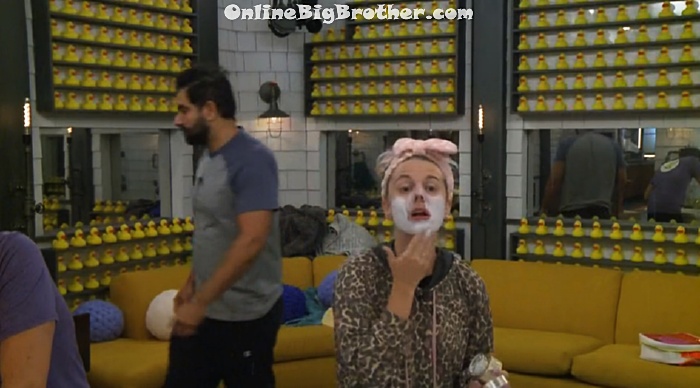 12:23 pm Feeds return with the house guests getting ready for the big show.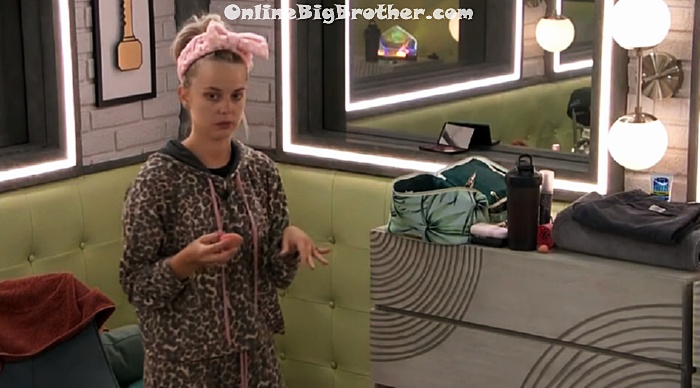 2:10 pm Cody and Nicole
Cody saying Ian is playing both sides.
They're agreeing that Ian has jumped ahead of everyone as a target.
Cody – I've been saying he's gotta go.
Nicole – what weirded me out is how bad he wants me to throw the HOH. what is he planning on doing with that.
Cody – yeah I know, I don't know what the part of that is
Nicole says Tyler has turned on them "He's not with us anymore"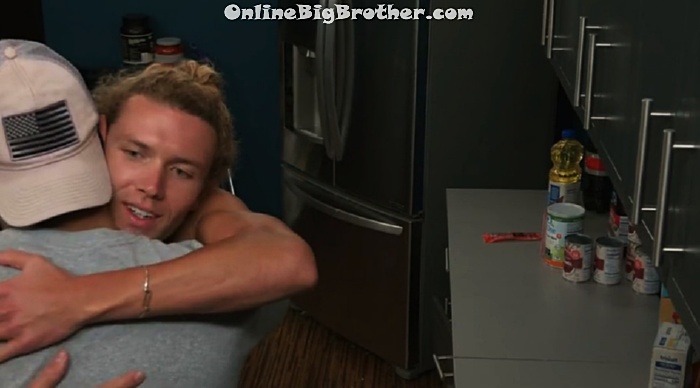 2:13 pm Kaysar and Tyler
Tyler tells him he's keeping Christmas today
Kaysar – on a personal level. you know how I feel about you. under other circumstances you and I could have played together
Kaysar – you played a good game.
Tyler says it never stopped him throwing his name out there.
Kaysar – I have all the alliance mapped out I'm not stupid you know..
Tyler- alright blow it up in your speech
Kaysar – I might
Kaysar – you're a comp beast and a good guy..
Tyler – it's been great getting to know you..
they hung.
Show your support by making a donation.
If you're enjoying our live feed updates this season, please consider donating.
Any amount is greatly appreciated! Your donations go directly to paying the fees required to run this site.