Head of Household Winner – Christmas
Have nots – No havenots this week
Nominations – Bay & DaVonne
Power of Veto Players are – Christmas, Bayleigh, Da'Vonne, Nicole, Ian and Dani.
POV Host: – David
Power of Veto holder – Christmas
Power of Veto Ceremony – Veto not used.
Powers – Christmas, Dani, David
Live feeds —-> Grab your Live feeds here. Try it free.
Rank the houseguests —-> Big Brother 22 Ranking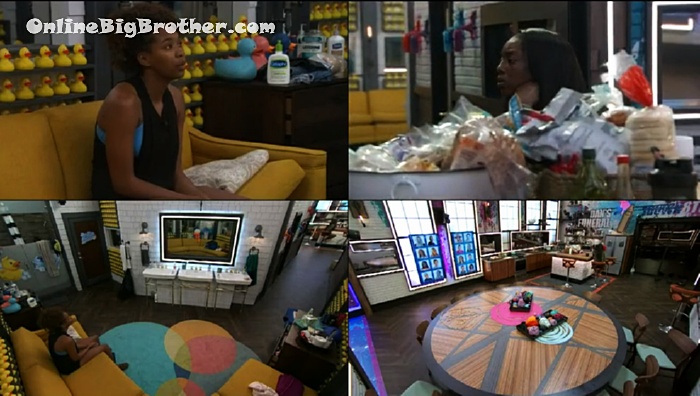 8:50 am Da'Vonne and Christmas
Christmas – I'm upholding my promise to you. I don't want you to think that Changes. So if you still want to be here you have the votes.
Day – okay thank you for that there's a lot of game left to play. Thank you for keeping your work
Christmas – yes maam.
Christmas apologies for not "Shutting down" their conversation earlier
Christmas – I allowed myself to elevate. I'm sorry that I raised my voice at you and that's it.. I wanted to apologize and own it
Da'Vonne – I apologize that I raised my voice to .. and Alcohol was involved a little bit there..
They leave.. no hug.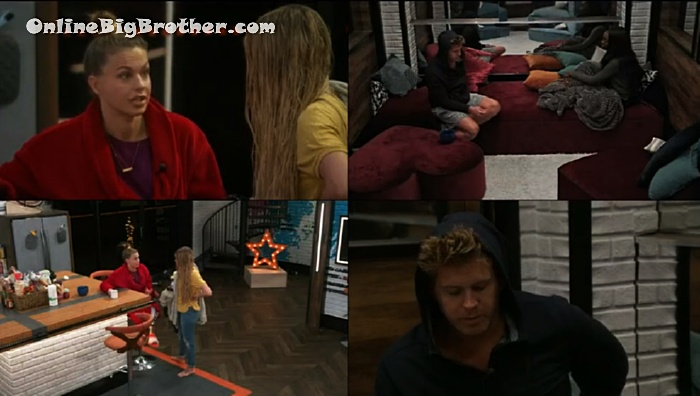 9:16 am Christmas and Dani
Christmas talking about Da'Vonne "Personally I would like to see her get to top 8 or top7" (how nice)
Christmas – if one of our guys gets shot out I would like her to not be in the committee but be top 6
Christmas – if it's a bad game move we can change that
Dani – lets play it by ear.
Dani says they can't keep taking out girls.
Christmas says she didn't want to put two girls up "you were going to go home this week.. and Tyler and Cody"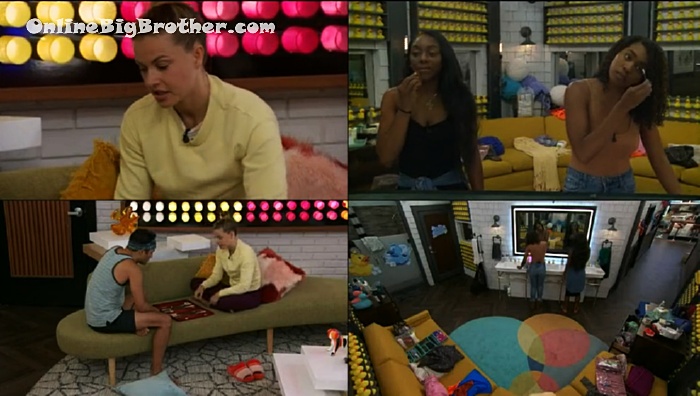 10:46 am Bathroom Da'Vonne and Bayleigh
They talk about missing the first HOH.
Da'Vonne – that's where all the power is the first one.
Da'Vonne – or don't win the first HOH but stay in the first HOH room because that is where the alliance will form.
Da'Vonne – I ain't got anybody's number so I couldn't make no phone call..
Bay – I know that was happening because when Derrick called us he was just like 'Yeah I'm not going you know but somebody I'm close with might go so I'm just trying to check around'
Feeds flip.. (more proof Derrick pregamed the sh1t of this season)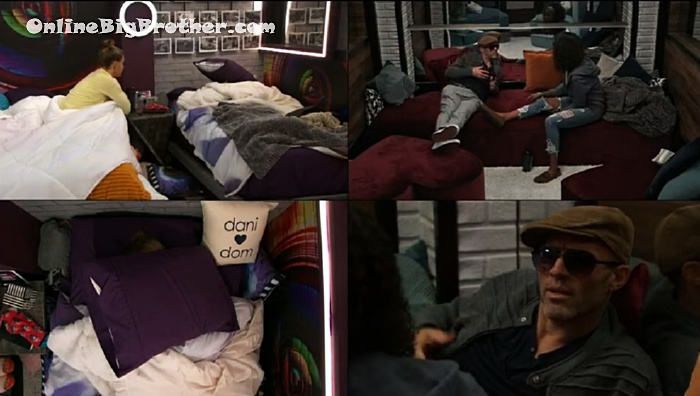 12:07 pm Enzo and Bayleigh
Bay says she's done her vote counting "at this point I know Da'Vonne has four votes and the 5th one.. DAvid wants me go beg Tyler for the 5th vote and I can't do it"
Bay – Tyler has set me up so much in this game he'll tell to my face he'll vote to keep me and he'll vote me out.
Bay – the four votes Da'Vonne has do not include Kevin
Bay says she doesn't want their little squads to get split up because of the votes tomorrow.
Dab says Ian, Nicole, Dani are all saying htey will vote for Day
Bay – Memphis says he knows where people are leaning and his vote won't make or break.
Bay says if Cody sticks with his girls and Kevin sticks with Day "it's already a majority"
Bay – I don't want you or David.. you know what i'm saying"
Enzo says he talked to David looks like it's just us to voting for you to stay.
Bay – David has been ride or die with me in this game to the point it's upset Da'Vonne (HUH)
Enzo says he talked to Christmas and she wants Bay gone. Bay understand says that Christmas is terrified of her
Enzo – you against Da'Vonne you are the better competitor.
Bayleigh – real talk I'm going to win some sh1t and I'm throwing her a$$ up she has a right to be scared.
Enzo – I've been telling Da'Vonne if you stay you have to win sh1t
Enzo says other than Cody she's the person he's "F***ed with the most" not only game just chilling.
Enzo – I want you to stay I do..
Enzo names Dani and Nicole as having side alliances with all sides of the house.
Enzo says Dani has been dropping names since he was HOH.
Enzo – Dani don't play cute now.. she's on my radar now..
Bay says thats too girls that sucks ..
Enzo doesn't think Nicole or Dani have a power.
Bay says she thinks Christmas has a power. She felt that Dani had one to.
Enzo talks about winning HOH and putting up "these two" (dani/Nicole)
Bayleigh's noms will be Christmas and Tyler
Enzo's noms will be Nicole and Dani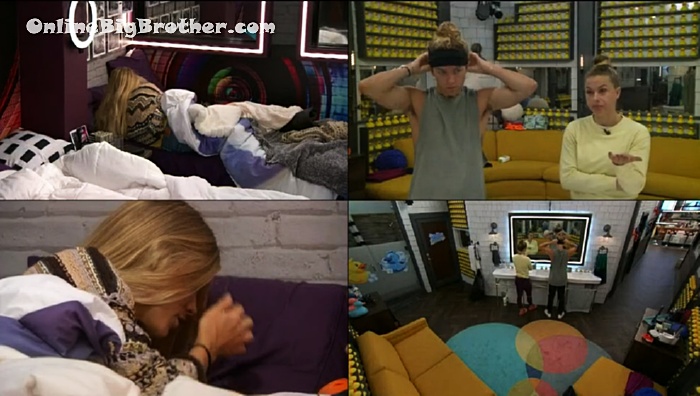 12:50 pm Christmas and Tyler
Christmas says everyone is leaning for Da'Vonne to stay.
Tyler – yeah that's cool with me that's who I prefer anyways
Christmas wonders if he was going to give bay a courtesy vote. Tyler says no.
Christmas thinks the votes will be unanimous to evict Bayleigh.
Christmas brings up her and Da'Vonne apologizing to each other.
Christmas calls Bayleigh a "forwardly emotional player"
Tyler says they need to keep it under wraps that bayleigh is leaving he doesn't want anymore blow ups.
Christmas says nobody is telling Day yes.
Christmas talks about the final 2 they have.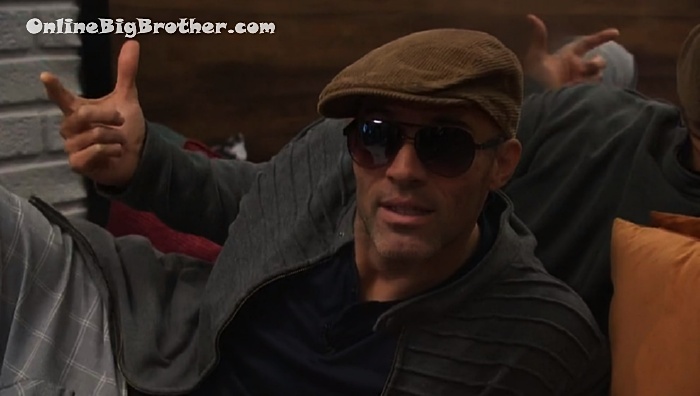 1:08 pm Enzo, Bay and Da'Vonne
Enzo is pushing hard that Dani and Nicole are not their allies.
Da'Vonne says Cody has got to go she points at Enzo and tells him he's not taking Enzo he's taking Nicole
Enzo – they came pre-alliance
Da'Vonne – not only that nobody is going to make her a two time winner so he'll automatically win. Plus you'll beat him flat.
Bayleigh points out that everyone in the jury will have seen through Dani's sh1t
Da'Vonne says if it's Dani and Cody together.. those people are not going to give Cody the money "Nobody likes the way he's playing this game.. he's made an alliance with every single person.. he's going to take Nicole"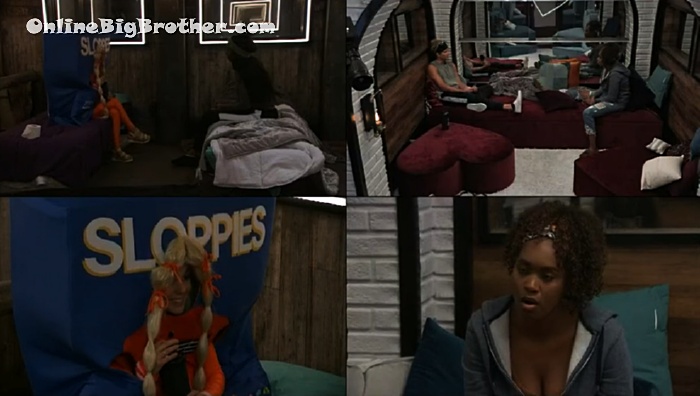 2:46 pm Campaigning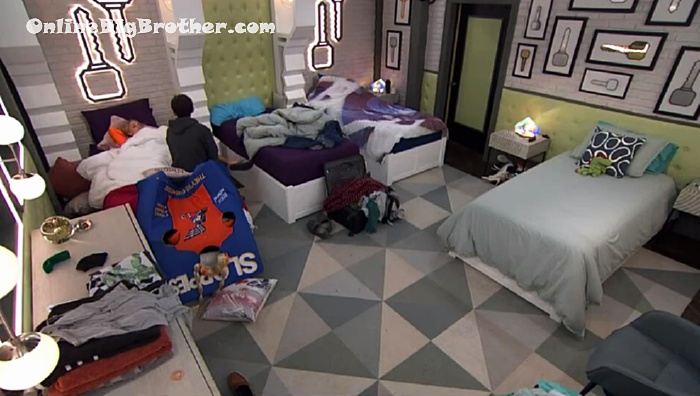 3:45 pm Ian and Nicole
Ian tells Nicole how bad he wants to win the HOH tomorrow asks her for help.
They talk about Bayleigh blowing up games on her way out.
Nicole – I guarantee your name is going to come up tomorrow for eviction..
Ian – why
Nicole says it has been floating around with Christmas. She's going to say Ian's Christmas' untouchable.
Ian – I think we both have a good relationship with Da'Vonne. I've been cultivating things with Kevin.
Ian mentions the bullhorn had Kevin spooked.
Nicole – I'm way closer to you than I am with Cody and I'm way closer to Dani than Cody that's the weird thing
Ian says it's crazy that people think Christmas is his untouchable because of teh safety suite.
Ian says Christmas is kicking a$$ in this game if they get to fianl 3 with her and she's won 7 competition they'll have trouble winning.
Nicole agrees says she really close to Christmas right now so she's not thinking of that.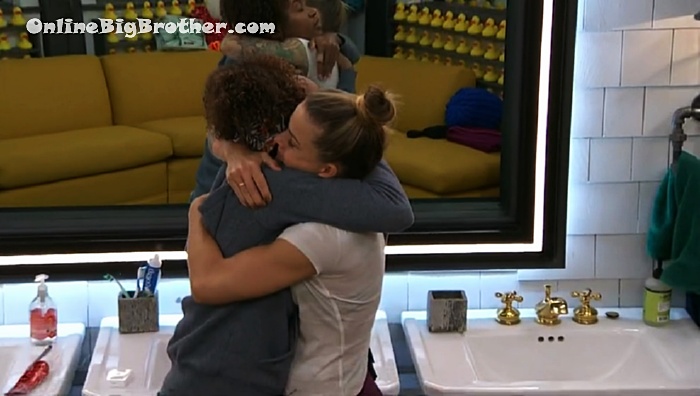 4:09 pm Bayleigh and the sh!tmas (Audio is on the conversation with ian and Coin slit)
Bayleigh – I just want to have a good last day here and enjoy the experience. it's been 10 times better than the one I had before. I just want to hold my head up high and finish strong
sh!tmas – yes MAAM
they hug ..
Bay – I appreciate the apology
sh!tmas says she didn't want to come to Bay too soon "I wanted to respect your space"
sh!tmas – I do love yo u
Bay – I know you do
sh!tmas – I want to give you that blanket for Velvet if you want to take it
Bay thanks her she'll take it.
sh!tmas – I'm going to squeeze it and give it all my love .. you are one of the most beautiful people I've never met your soul shine so bright.
Bay says they won't drag this beef to the "Twitter space"
Bay – I told you I forgave you three days ago I just needed my flesh to catch up .
They hug some more..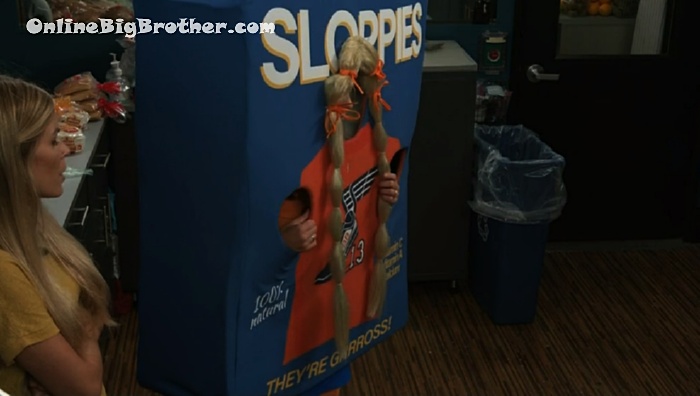 4:15 pm Nicole and Dani
Nicole says she thinks Bayleigh will blow up her, Dani, Ian and Cody during her eviction tomorrow.
Dani doesn't think so bayleigh will relize it's not in Da'Vonne's best interest.
Dani – they like Ian I don't think they'll do that.. I think Ian will do that if he's going home
Nicole – Oh for sure
Dani – she might drag Christmas and maybe Tyler.. I'm worried tomorrow might be freighting
Dani – I dont think Cody wants to win if it's endurance I dont think he will anyways
Nicole asks who Cody will target
dani – Kevin maybe a backdoor Ian.. he does want Kevin gone
Dani – we know who the four-ish targets.. it doesn't really matter.. Ideally we would want to break up the David, Kevin and Da'vonne (Of course the last POC)
Nicole agrees.
Dani says she will do anything to prevent Tyler from winning that HOH, Tyler, David, Kevin and do you trust Ian?
Nicole – yeah
Dani – you would let him have it kinda trust
Nicole – no, But I wouldn't be crapping my pants..
Nicole says they are all he has
Nicole – I haven't been in the DR for like 4 days (Good)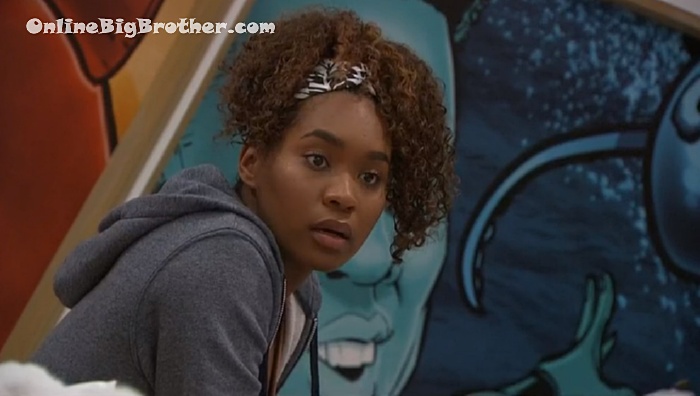 4:33 pm Bayleigh and Kevin
Bayleigh says she doesn't have the votes to stay
Kevin asks if she can pull out a stunt to stay.
Bayleigh doesn't think so. "I just want the people that are left here to go after it"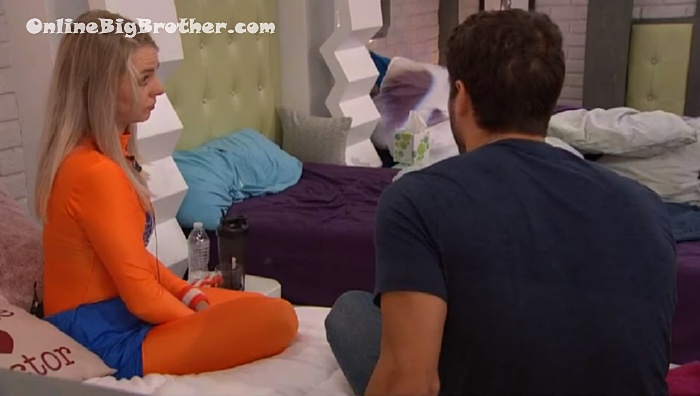 4:52 pm Nicole and Cody
Nicole says for their game it might not be best for them to win the HOH
Cody knows but he's worried about Kevin, David or Ian winning it.
Nicole – whoever wins this HOH can't play in teh double
Cody – I know that's bad
Nicole – that was me on 16
Nicole warns him that the girls are trying to make an alliance now.
Nicole – I want Day to go after Christmas..
Nicole – are you still fine with me being your final 2.. it's going to be hard when it's me you and Dani.. I will take you I don't know if you take me.
Cody says he'll take Nicole.
(Can you imagine final 3 Cody, Nicole and Dani)
Nicole – by the way Christmas will not let anyone touch Tyler I don't know
Feeds flip.. (OMG) when we're back..
Cody – Christmas is playing clueless..
They talk about how everyone leaving the house will try to blow up Cody's name. Kaysar and now Bayleigh
Nicole says
Cody calls Kaysar nervous during his Eviction speech he could tell by the acting classes he's taken.
Cody – I'm so irritated by him.. what the f** ever
Nicole – I don't think I need to win this week but I will if you want me to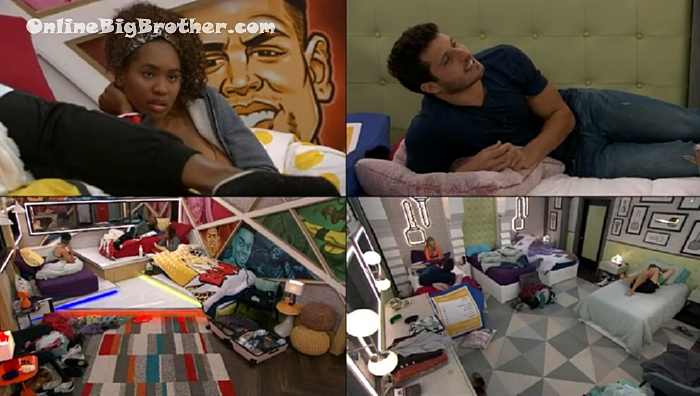 5:30 pm Chit chat about babes in the comic room. In the other room DCanoe talking about people coming up to him after BB16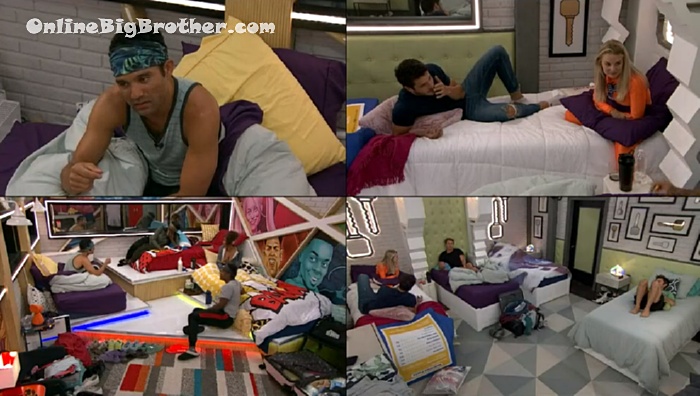 6:09 pm live feeds updates
Cam 1-2 the targets for the next 3 weeks chit chatting.
Cam 3-4 Memphis telling them a story about making t shirts in high school and selling them.

6:45 pm Cam 3-4 talking about birds. Cam 1-2 talking about past season.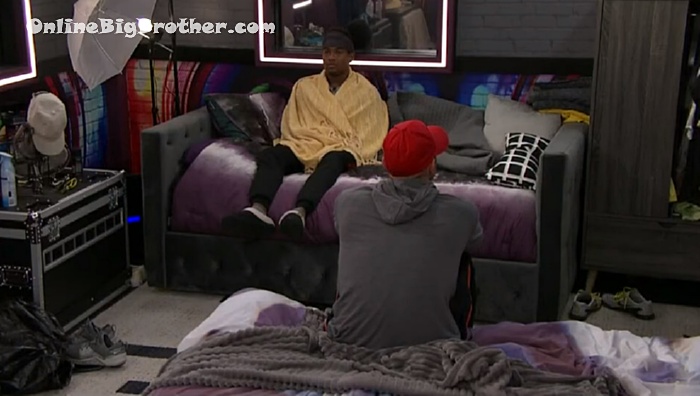 6:55 pm David and Enzo
David says Ian told him because theirs powers in play there won't be a double eviction tomorrow.
Enzo asks where Dani is. David says upstairs in the HOH. Enzo points out how those two are close now.
David says he's catching Dani and Christmas "All over the house" whispering.
Enzo – this season yo is a bunch of scared mother f***ers YO..
Enzo – they're playing f***ing scared.. they're friends here their friends there.. this allstars season weak YO .. Weak YO (if only you had won HOH)
Enzo – that shows me a lot of people in this house are feeling safe..
David – a lot of people had pre-gammed alliances.. like their family knows your family.. (pregame on BB22 never heard of it)
Enzo going on about how he's going to flip it if he wins HOH
There's been some light campaigning. Bayleigh will be evicted right now I don't really see the house flipping the power alliance won't allow it.