POV Holder:
?
Next POV
April 20th
POV Used
?
POV Ceremony
April 22nd
HOH Winner:
Emmett
Next HOH:
April 25th
Original Nominations:
?
Current Nominations:
?
Last Evicted Houseguest
Peter
Have Nots
Talla and Andrew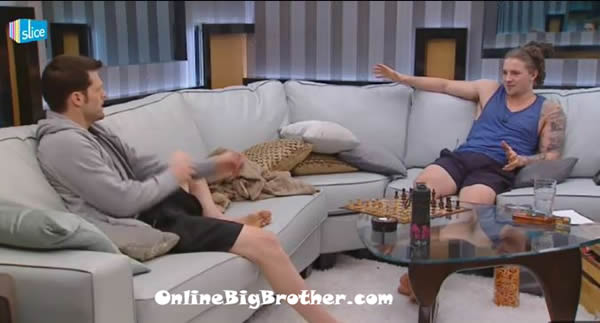 12:40pm Andrew and Emmett are still playing their chess game. Andrew says that he is like Alec waiting for him impending doom. Emmett wins the game.
Emmett tells Andrew that he wants to put him up on the block.
Andrew says you're a PRICK .. I think that's sh*t!
Emmett says that he just can risk Jillian going up and having to sit back and watch it happen.
Andrew says I thought this week because of Gary coming back .. Andrew says I just hate that Talla gets what she wants.. I am only with Talla because there is no one else to be with.. trust me I hate it! Andrew says that's fine put me up .. just let me be cranky about it.
Emmett tells Andrew to just win the veto. Andrew says I don't really care if I win it .. I just don't want Gary to win it. Emmett tells Andrew I just can't put Talla up because if you win it and take Talla off .. then I would have to put up Jillian. I can't risk that. Jillian did that for me last week and I want to do the same for her. Emmett reassures Andrew of their final 3. Andrew says that he hates how Talla gets what she wants and her dancing around. Andrew says I understand what you are doing .. I am just going to win that fu*king veto. Emmett says its not like I don't trust you.. I don't trust anyone 100% not even Jillian. Andrew says it's okay I understand… my blood is just boiling that's all. Emmett asks so you wouldn't have put me up today? Andrew says no, I said yesterday as soon as he walked in I was going to put up Gary and Talla. Emmett says they certainly won't know that we're working together. Andrew shakes Emmett's hand and says seriously its okay! They then both head down stairs.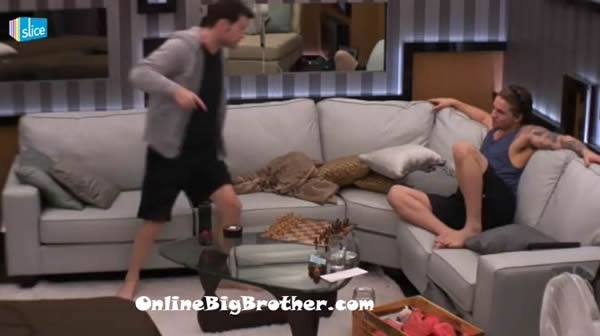 1pm – 1:25pm Jillian and Emmett are up in the HOH room talking. Jillian tells Emmett how she told Talla that 100% you are not going up on the block. Jillian says she said oh Emmett loves me. Emmett says I don't love her! Emmett says maybe I should get Talla up here and make a deal. Talla is on her way up. Emmett says I don't want to talk to her right now. Talla tells them that Andrew is huffing and puffing around down there .. what's wrong. Emmett tells her he will talk to her later, just leave him alone. Talla heads back downstairs. Emmett says she doesn't deserve to be here. Emmett then tells Jillian how he told Andrew he was going up on the block. He talks about how Andrew is annoyed about a lot of things .. how Gary is back and how he's going up on the block. Emmett tells Jillian that he couldn't risk Andrew winning the veto and saving Talla so that you would have to go up. Emmett says you will need to talk to Andrew .. it will be hard for him to trust us any more. Emmett says watch Big Brother de-thrown me now.. Jillian says they wouldn't do that after you talked game. Jillian starts wondering if maybe they should get Talla out instead.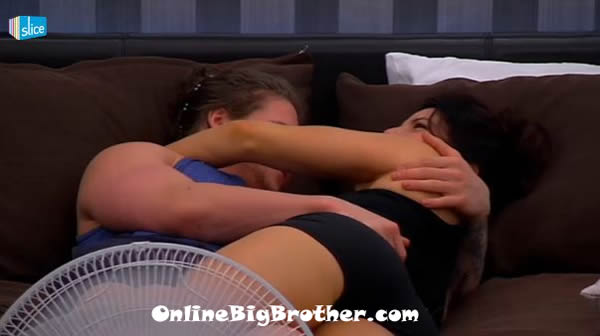 1:35pm – 2:05pm Jillian asks Emmett .. are we going to hate each other in 11 days? Emmett says I don't think. Jillian says you don't think?! Emmett and Jillian lay in silence. Meanwhile out in the hot tub room. Talla is talking to herself. She says my strategy for winning this thing is.. … She then says my strategy for winning comps sucks! Talla heads back inside because it starts raining again. Talla sits at the counter and watches Gary cook. Andrew walks through the kitchen. Talla asks him what he is doing. Andrew says wondering around. (He's in a bad mood.) He heads out to the hot tub room and then back to the hammock.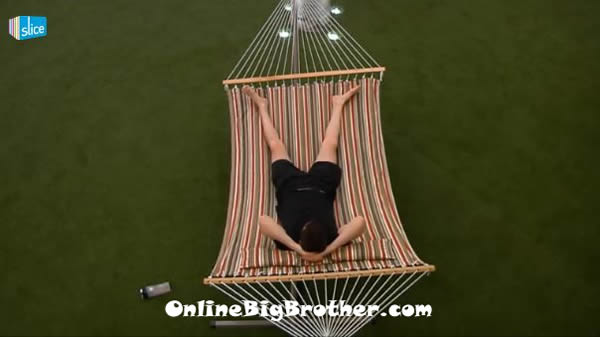 2:10pm – 2:30pm Talla talks to Jillian out in the backyard. Talla says that Andrew is pretty upset. Talla brings up how Andrew keeps talking about wanting to self evict and wants this to be over. Talla says you shouldn't wish for things like that .. it might just happen. I am very superstitious. Talla says that we just need to wait until the POV competition and then we will see what happens. Jillian heads inside. Talla starts talking to herself and says that one of us had to go up on the block .. we knew it was going to happen. Talla says that she knows he is worried about Gary winning the POV. Talla then heads out to talk to Andrew. Andrew and Talla talk about Gary being back in the game. Andrew says for game play this is ridiculous. The conversation turns to talking about camping.
2:30pm Emmett and Jillian are up in the HOH room talking. Jillian says yeah it will be better to get a strong player out this week. The conversation turns to talking about how messy Gary is being in the kitchen. Jillian says that she isn't going to say anything to him because he will get mad at her. Emmett says that he will go down and tell him he needs to clean up after himself. Jillian heads down to the kitchen and Talla joins her. Talla tells Jillian her conversation with Andrew. The cameras switch to Gary visiting Andrew out in the hot tub room. Andrew asks Gary if there is a workout room in the jury house? Gary says that he can't talk about it… I got a very strong warning. Andrew asks so how does it feel. Gary says it feels good .. I feel like I have been resurrected from the dead.
2:45pm – 2:50pm Big Brother switches the live feeds to the hush hush screen.
Thanks to OBB's Nadia who caught this before the feeds cut out:
Marsha the moose gave talla a task! She has to host a one hour talk show " talking with talla" and interview all the house guests and find out something new about each one ,and say " I did not know that ' after , each time , and she must start off her show with a 2 minute monologue.
It was pretty funny! Talla literally jumped up and down she was beyond excited! Marsha had to explain what a monologue was to her and then she asked him if they could be friends forever lol, and she started screaming and Marsha had to tell her hush and to remember that it's a secret lol! Marsha then told her to go into the diary room and pull out the rules from underneath the chair and to be careful not to fall of the chair lol! Talla went into the diary room and you could still here Talla yelling where are the rules!? I can't find the rules can someone help me find the rules!? Lol talla , too bad they cut the feeds ..
Here is the video of Talla getting her TASK courtesy of BigBrotherBuzz. Click here to Watch the VIDEO of Talla's Secret Mission.
I am betting the reward for her completing the task will be that they get to be haves for the week and if they fail they will be havenots.
4:30pm The live feeds are still showing the Hush Hush screen..
While we wait for the live feeds to come back: Take a look at Talla's previous "Talking with Talla" Talk Show.
Please consider donating. Simon and I work 24/7 all season long to bring you all the live feed updates and spoilers. ANY amount is greatly appreciated, your donations go directly to paying the server and bandwidth fees needed to run this site.
OnlineBigBrother.com
Stay connected and interact with other Big Brother Fans on our Facebook page.
And Follow: @BigBspoilers and @Dawgsbigbrother on Twitter for the most up to date spoilers.