POV Holder:
?
Next POV
April 20th
POV Used
?
POV Ceremony
April 22nd
HOH Winner:
Emmett
Next HOH:
April 25th
Original Nominations:
?
Current Nominations:
?
Last Evicted Houseguest
Peter
Have Nots
No Have Nots this Week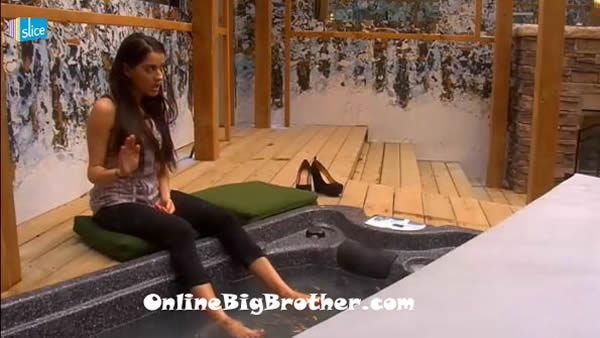 5:30pm When the live feeds return from blocking us from seeing Talla try to complete her "Talking With Talla" Talk Show task, we learn that Talla completed her task.
Andrew, Emmett and Jillian are working out in the backyard. Andrew mentions wanting to go down to Florida when he gets out of the house to relax with his brothers. Emmett says that he has a lot to do before the fall. Talla is out in the hot tub room she says YES!! We are all going to get dressed up and have a great time! We are going to get trashed! A voice talks to Talla telling there is card for her to read. She tells them that she won't get trashed like last time. Talla comments on tricking Andrew and telling him that she had the option of choosing alcohol or slop … She says he is going to freak! Andrew comes out and tells Talla that they are locked out of the house. He asks her if they told her for how long. Talla says she didn't know they were lock outside. Andrew heads back to workout. The voice them tells Talla okay come on in! She bolts to the door. She looks inside and starts clapping. She says House Guests was given a task and I completed it come on inside.
5:40pm – 5:55pm Talla tells them that she completed the task and they will enjoy a festive night of Talla-tini's. Talla jokes and says I had the option of completing a task or another 72 hours of slop! Talla says just kidding! Jillian says that was a good joke Talla. She tells them they are all haves for the week. Andrew asks if they are preparing a meal for them too. Talla says no we do that. Jillian, Emmett and Andrew say they are going to go finish working out. Andrew tells Talla and Gary not to drink all the alcohol before the rest can get some. Talla tells him she won't do that, we are going to have a good night. Andrew comments that he thought this was going to be another one like the cheer that she got them to do which didn't turn out to be a task. Talla and Gary head to the storage room to get food. Talla is super excited about being able to eat. Talla quickly makes something to eat because she is starving.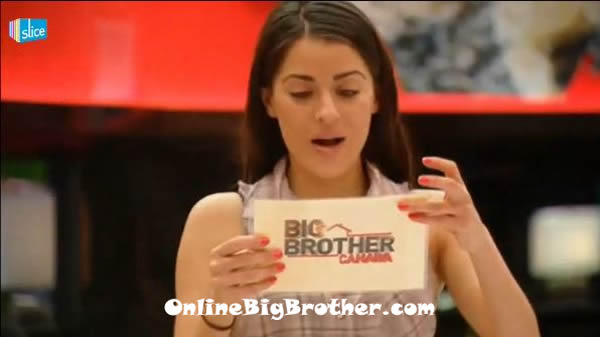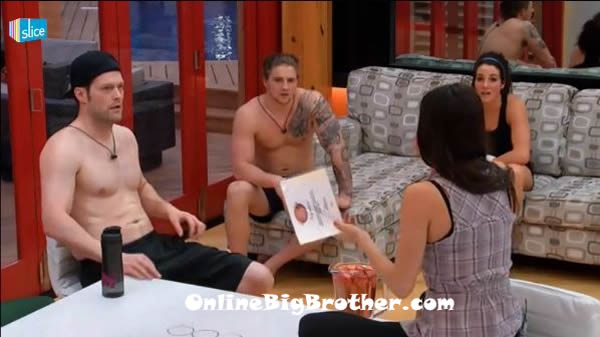 5:55pm – 6:10pm Alone out in the backyard Emmett tells Jillian like I said next weeks HOH doesn't really matter that much we just have to beat them in the veto. Even if Gary wins it. Jillian says that's what I was saying about this week. Emmett says that Talla will just jump around to wherever is safest. Jillian says that she doesn't think she should take Talla to the final three because I think she would win that. Especially if it is a hanging thing ..she would win that. Emmett says I don't understand this there is no way they would put Gary back in the game this late. This is bullsh!t! Emmett asks what did he say it was a Chevrolet Powershift. Jillian says he doesn't even know how he got back in! Emmett wonders if Gary is just here for a week. Jillian wonders if he is just here to help someone. Emmett says if you, me or Andrew win the veto we are guaranteed to be in the final 3. Emmett says if he got to talk to evicted house guests that's not fair. That's a huge advantage.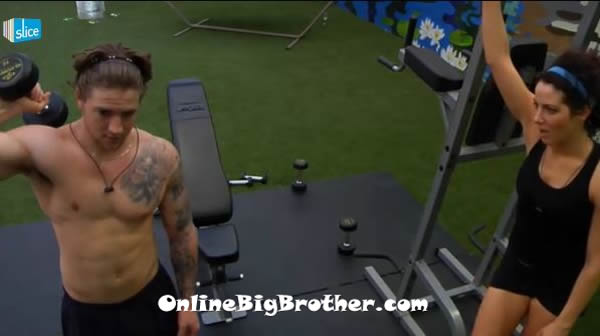 6:10pm – 6:25pm Talla comes out to talk to Emmett and Jillian. Talla asks Emmett if he is going to tell her if she is going up on the block. Emmett tells her that he hasn't lied to her. Emmett tells her that people are scared of you because they think you jump around to whoever is in power. Talla says she wouldn't do that. Emmett tells her that he knows she wouldn't .. because if I thought you were going to do that I would send your a$$ out. Emmett tells her to remember that we did this for you. Talla says that she won't forget. Talla asks but what if Andrew wins the POV and he comes off .. then she says nothing would change right. Talla tells him that she would shake on it but that would be too obvious. Jillian tells her to give him the finger. Talla then blows Emmett a kiss. Talla looks at Jillian and says sorry, sorry! Jillian jokingly tells her to never do that again!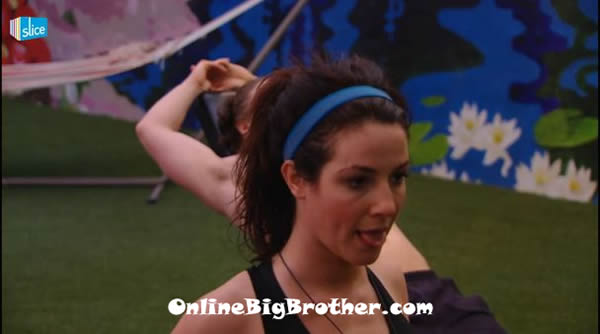 6:35pm – 7:15pm Jillian and Emmett continue to workout. Meanwhile, Andrew is in the kitchen eating a burger and drinking his talla-tini. He tells Gary about the task Peter got where he had to make them think Tom was coming back into the house. Andrew tells Gary that one thing he loved about him was that he won sh!t and never threw a challenge. Andrew says that is why I wanted to get you out because you were a threat. Gary sits down at the table to do his nails. Andrew tells Talla that they don't need to sleep in the room any more "the nightmare is over!" Meanwhile Emmett has a bubble bath up in the HOH room. Emmett then invites Jillian to join him. Jillian starts asking Emmett about his friends.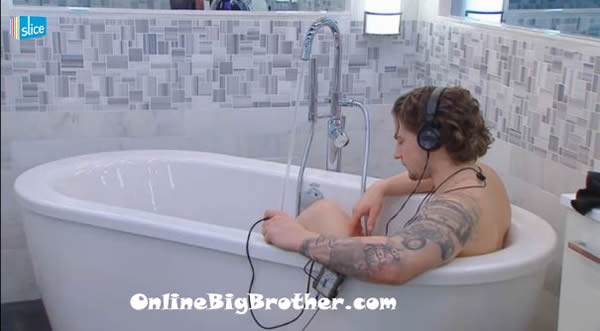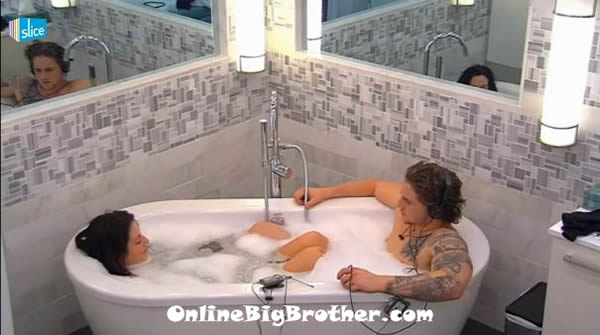 OnlineBigBrother.com
Stay connected and interact with other Big Brother Fans on our Facebook page.
And Follow: @BigBspoilers and @Dawgsbigbrother on Twitter for the most up to date spoilers.