POV Holder:
?
Next POV
April 20th
POV Used
?
POV Ceremony
April 22nd
HOH Winner:
Emmett
Next HOH:
April 25th
Original Nominations:
?
Current Nominations:
?
Last Evicted Houseguest
Peter
Have Nots
Talla and Andrew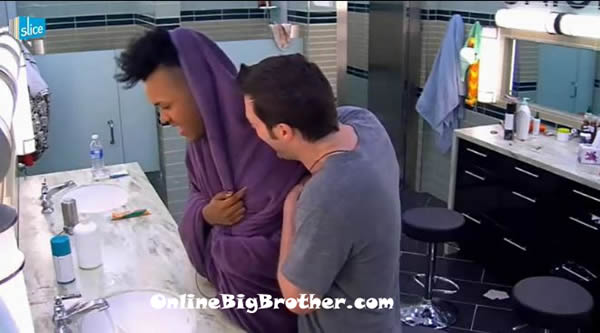 9am Big Brother wakes up the house guests. In the bathroom Andrew asks Gary how the wake alarm was? Gary says that it wasn't so bad. The luxury item the haves received today is a massage chair that is set up in the backyard. Andrew tells Jillian in the storage room. Andrew says I can't believe it is us against Talla and Gary. Andrew says that knowing my luck I will be a havenot with Gary. Andrew says you know what it doesn't matter we will get Gary out this week. He says you, me or Emmett will kill the POV and make sure he goes. Meanwhile Emmett tells Talla that in his letter his friend said grab Talla a beer because she is pure entertainment. Talla says oh my god! Can you believe that.. well I guess its good.. that I am entertaining. Emmett tells Gary how they got a massage chair. Gary says you mother fu*kers. Emmett says yeah but we only have it for the day. Gary says you better utilize it. Andrew, Emmett and Jillian head out to check out the massage chair. Andrew asks what Gary was up talking about last night. Emmett says that he was saying before he left it wasn't him. Andrew and Jillian are in the kitchen. He tells Jillian hopefully it's us two against those two in the have/havenot competition.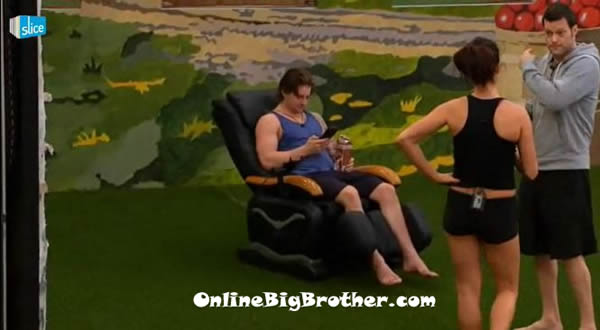 9:55am – 10:10am Talla comes into the kitchen and tells Jillian about her conversation with Gary. Gary joins them in the kitchen. Jillian says that she is gaining weight like a meat packer. Gary starts talking about how he feels blessed to be back inside the house. He says that obviously Canada liked my game play and think that I got duped. He says that they wanted me back be because they think I am entertaining. Talla walks though the kitchen. Gary tells Jillian I want her gone so bad! She is going next! Gary tells Jillian that Andrew and Talla are freaking out. Gary starts talking about how Andrew and Talla are call the three stooges with Aj. Gary and Jillian head out to where Emmett is at the massage chair. Gary says there are two stooges left.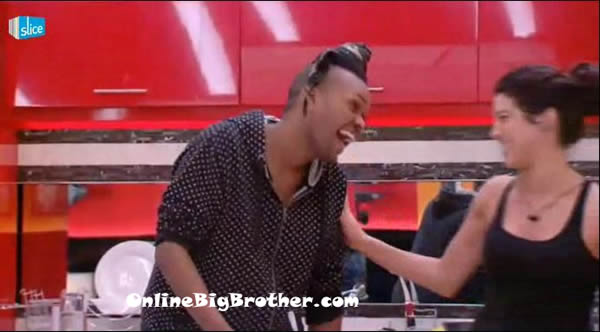 10:10am – 10:40am Jillian, Andrew and Talla are by the pool talking. Jillian says that Gary said he wanted to come into the house and start fresh. Talla says you can't come back in here and expect to start fresh.. we are busy! Jillian tells Andrew and Talla that Emmett is going to be putting Gary up with one of you two. Andrew says if it was me coming back in and I didn't win the HOH .. I would be like oh well I better back my bags now. He says and after the veto I might as well leave now. Andrew says watch the veto is going to be a make up and fashion show. Emmett joins them. Talla tells Emmett that Gary is trying to find out if we are working together. Emmett and Jillian head inside. Talla says that there is curse of being on the block 3 times and going home and I don't want to fall victim to that curse. Andrew tells Talla if Gary doesn't win the veto he is gone.
10:40am Emmett is teaching Jillian how to play chess. Jillian says maybe you can play some stupid moves so that we can see if I know what I am doing. Andrew comes up and tells them. I want to give you some shocking news. He says Talla just told me she is scared to go up on the block again and asked if he would. Jillian says that's like if I asked Emmett to go up on the block. Andrew says we are nothing like you guys. Andrew says that its not his decision any way I am not the HOH. Andrew says tells Jillian that he is okay going up. He says that its funny that she has no idea we are in an alliance of three. Andrew says he wants to tell her to go block herself. Jillian comments that Talla wants to be carried to the end. Andrew leaves. Emmett says Andrew has to go up on the block. Jillian says yeah he knows.

11:15am Andrew and Talla are out in the hot tub room talking about Peter. Andrew talks about how Peter had an alter ego in the house to get out of his shell. Talla says that she wants an alter ego.. cute! But do I want an alter ego? Hmm.. too much work! Talla starts talking about wanting to go camping.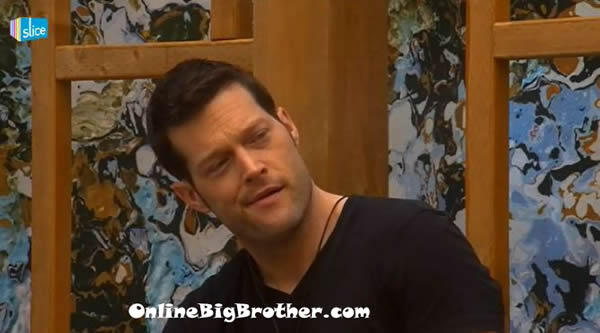 11:40am Andrew and Talla head back inside. Andrew goes up to the HOH room. He tells them that he has breaking news … Talla wants to go camping! How many times is she going to tell me that! Talla joins them. Andrew and Talla watch the chess game. Talla asks what's diagonal?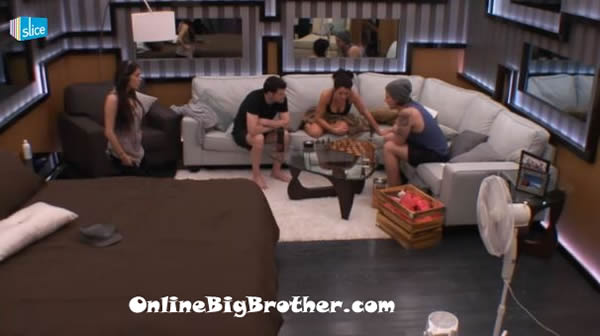 11:50am – 12:15pm Gary and Jillian are in the backyard talking. Gary mentions how worried Andrew and Talla are because they felt like they were so close to the end. Gary says that Talla doesn't deserve to be here. Gary says that he won't ever reveal that we are working together either. They continue to talk about past events of the house. Gary gets called to the diary room. Jillian and Gary head inside the house.
12:15pm – 12:35pm In the kitchen: Talla tells Jillian that Peter told her that Andrew has the best shot at winning this. Jillian says yeah that's what Gary said everyone in the jury house is talking about too. Talla says we just need to get Gary out first. Talla says that she is happy inside. Talla brings up how Emmett looked her straight in her eyes yesterday and told her she is safe. Jillian says that Emmett can't lie. The conversation turns to whether or not they will have a havenot competition and when it will be. Jillian heads to the storage room. Talla says I would just like you to ask yourself who you want to move forward with in the game. ..Who says that!? Well I do! Talla heads out to the hot tub room. She starts talking to herself. Okay so if I, Emmett or Jillian win POV .. it keeps the noms the same. Otherwise I go up.
Please consider donating. Simon and I work 24/7 all season long to bring you all the live feed updates and spoilers. ANY amount is greatly appreciated, your donations go directly to paying the server and bandwidth fees needed to run this site.
OnlineBigBrother.com
Stay connected and interact with other Big Brother Fans on our Facebook page.
And Follow: @BigBspoilers and @Dawgsbigbrother on Twitter for the most up to date spoilers.