POV Holder:
Emmett
Next POV
April 27
POV Used
?
POV Ceremony
April ?
HOH Winner:
Jilian
Next HOH:
April ?
Original Nominations:
GARY & TALLA
Current Nominations:
?
Last Evicted Houseguest
Andrew
Have Nots
Gary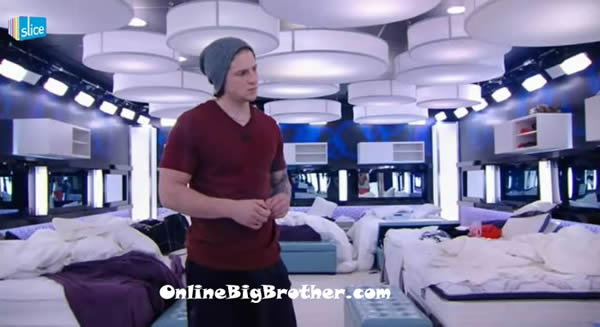 12:15pm – 12:30pm Emmett heads up to the HOH room. Emmett talks about how he doesn't know what's going on and wants the POV ceremony to happen already. Jillian says maybe its this evening. Jillian tells him not to worry you are fine! Emmett heads back down to sit on the kitchen couch. Emmett comes into the main bedroom and tells Gary that they (big brother) is building something in the backyard. I hear banging. Emmett asks Gary what normally happens with final four. Gary says final four is normal. So something special is happening. Emmett leaves to go up to the HOH room. Emmett says my luck they DQ'd me again and its another POV! Jillian sasy then we would just win it again and piss them off. Emmett says how do we know they aren't going to take it away from me. Jillian says then it would just go to the next person which is me. Jillian asks Big Brother to reassure Emmett so that he doesn't have a heart attack. Emmett thinks he will just go ask them straight up. Emmett says that he still needs to talk to Talla to make sure she doesn't hate me when she goes to the jury house. Jillian says maybe its a luxury competition. Big Brother then asks Jillian and Emmett to come down to the diary room so that they can talk to them.. I just need one..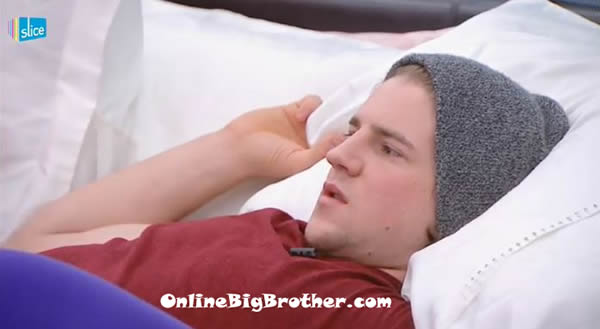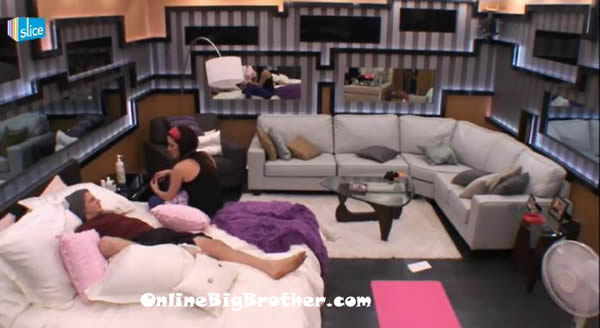 12:40pm – 1:05pm Gary is in the bathroom putting his make-up on. Meanwhile, Emmett and Talla start a game of puck ball. Emmett and Talla speculate on what they are building out in the backyard… Competition, Awards thing.. Talla says but they are not keeping it closed all day. Talla beats Emmett at puck ball and then she freaks out jumping and screaming all over the place. Emmett finishes cooking his lunch. Talla starts making her chilli again. She goes to the storage room and says to herself remember to watch for cross contamination! Yup talking to myself! Talla heads back to the kitchen to make her chilli.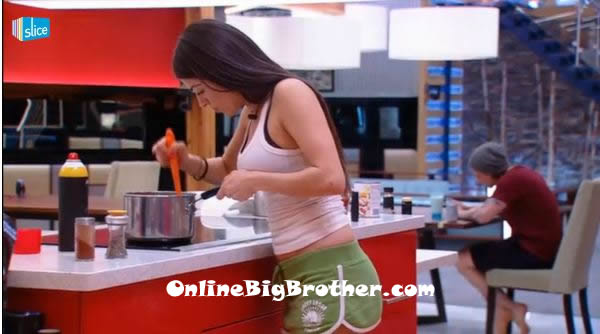 1:05pm – 1:15pm Emmett sits on the living room couch. Jillian can be heard screaming HELLO.. I'M LOCKED IN THE STORAGE ROOM! HELLO!! Emmett doesn't move from the couch or say anything. Talla comes running over. Emmett tells her there is nothing she can do, they have to unlock it. Jillian screams again and Big Brother unlocks it. Jillian comes out and looks at Emmett on the couch and says oh I didn't know you were there…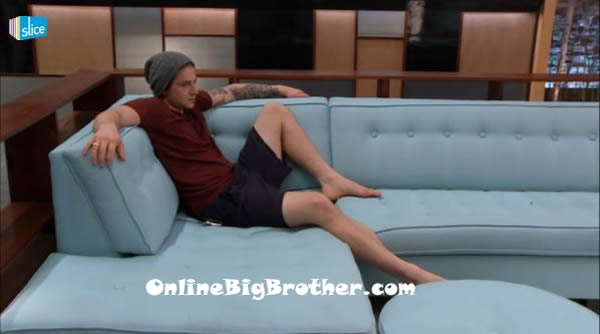 1:25pm Jillian is giving Talla pointers on how to cook her chilli, she tells her to add cumin but pronounces it wrong. Meanwhile Gary is still in the bedroom doing his make-up. He says Canada expects me to look good!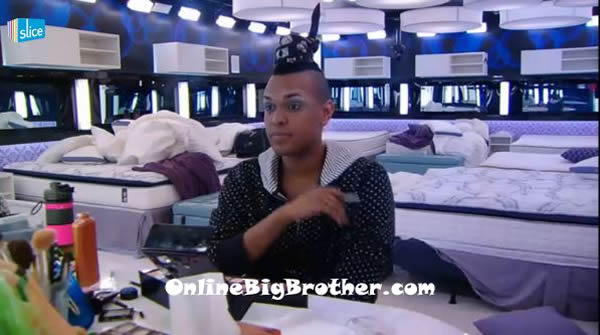 1:30pm – 1:40pm Talla goes into the storage room and finds that Big Brother put a flat of 24 pepsi in there for her. She says AWE Big Brother I love you! All I wanted was a 6pk and you guys gave me more. She says that she has a life time supply now. Talla say Pepsi we are officially back together! But never leave me again! PEPSI PARTY!! AH ..I love Pepsi! She then loads 18 into the fridge. Talla heads back to making her chilli.
Talla says "It's OFFICIAL Pepsi we are back together! Don't EVER leave me again!" goo.gl/tlK9i #BBCAN twitter.com/DawgsBigBrothe…

— Dawg (@DawgsBigBrother) April 28, 2013
1:55pm Talla goes to the main bedroom. She tells Gary he looks pretty. She says that she is going to do her make-up later. Talla asks Gary to join her to talk when he's done. Talla goes back to the kitchen eat her lunch.
2pm – 2:15pm Emmett comes out of the diary room and heads up to the HOH room to find Jillian. She has been hiding behind the pillows on the bed. Emmett goes into the bathroom and then comes back and she jumps up and screams! She scares him. He tells her she is going to get it now. She keeps laughing saying that she was down there for an hour. Emmett asks her don't you have anything better to do? They head downstairs.
Jillian SCARES Emmett! Watch the VIDEO here: goo.gl/tlK9i @bigbspoilers #bbcan #bbca twitter.com/DawgsBigBrothe…

— Dawg (@DawgsBigBrother) April 28, 2013
Emmett goes to the bedroom and tells Gary that he looks somewhat straight. Emmett and Jillian head into the storage room. Jillian tells Emmett that she scared him.. Don't scare me though my ticker can't take it! Emmett says that he just wants her to pass out.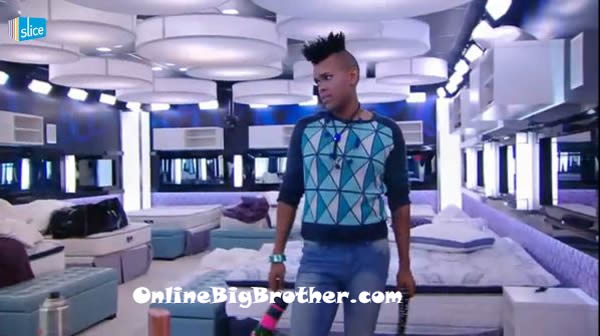 2:25pm Jillian asks Emmett how are we going to scare Gary? Emmett says that he will just ask him where's Jill? And then he will just come up. Jillian heads back up to the HOH room and gets behind the pillows to wait for Gary to come up. She watches the spy screen for him to come up the stairs. Emmett joins her and tells Jillian that they are building something big out there… It could be a luxury competition. Jillian asks an egg scrambler? A roller coaster? Emmett says that would be cool. Jillian and Emmett are about to scare GARY when Big Brother turns off the live feeds for the season…
Last few minutes of the BBCA live feeds:

2:30pm Big Brother Canada turns off the live feeds for the season.. Don't worry though Simon and I will keep an eye out for any LEAKS 😉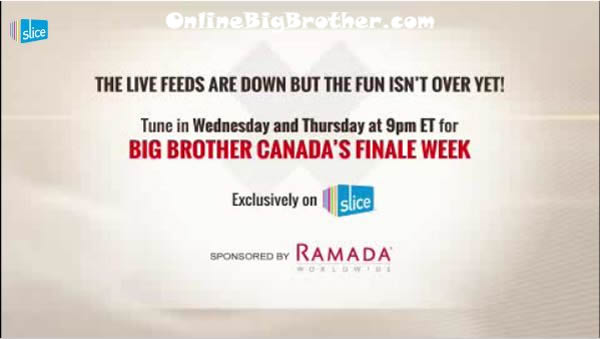 Here is Andrew's Bitter GOODBYE:

****
I personally want to thank all of the amazing OBB fans that have once again helped make this another great season. We are sad to see the end of the Big Brother Canada Live Feeds but can't wait for the remaining TV episodes to reveal the final days in the BB house and the winner of Season 1. Due to the popularity of this first season, I have no doubt there will be a second season early in 2014.
Although, it's sad to see the end of BBCA drawing near we are EXCITED that it means the Big Brother 15 is that much closer to premièring (June 26, 2013).
Simon and I will be covering the live feeds for Big Brother 15 so make sure you bookmark us! 😉
****
Please consider donating. Simon and I work 24/7 all season long to bring you all the live feed updates and spoilers. ANY amount is greatly appreciated, your donations go directly to paying the server and bandwidth fees needed to run this site.
OnlineBigBrother.com
Stay connected and interact with other Big Brother Fans on our Facebook page.
And Follow: @BigBspoilers and @Dawgsbigbrother on Twitter for the most up to date spoilers.