POV Holder:
Emmett
Next POV
April 27
POV Used
?
POV Ceremony
April ?
HOH Winner:
Jilian
Next HOH:
April ?
Original Nominations:
GARY & TALLA
Current Nominations:
?
Last Evicted Houseguest
Andrew
Have Nots
Gary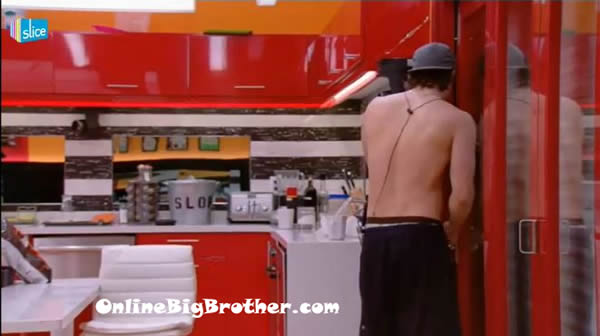 8am – 8:50am Big Brother wakes up the house guests by turning on the lights. Emmett and Jillian immediately wake up and start moving around the house. Emmett heads downstairs and notices that they are on an indoor lock down. He heads over to the back door and tries to listen to see if he can hear anything going on. He sits on the kitchen couch.
Jillian comes out to the HOH room balcony and asks Emmett why they are on lock down .. is it for Part 1 of 3 HOH? Emmett says no. Jillian gets told to put on her mic and so she goes back into the HOH room.
Emmett sees Talla come out of the diary room and asks her how long she was in there for. Talla says awhile, before you guys got up. Talla says she is going back to sleep.
Gary then heads into the diary room. Emmett goes to the bathroom. Gary comes back and joins him and says that he has to do a diary room session. Jillian joins them.
They wonder what's happening and think that maybe the Power Of Veto Ceremony is happening today but they don't understand why the backyard is closed. Emmett comments to Gary that Talla was up before them and seemed happy too. Gary says yeah some things going on. Emmett says maybe the POV ceremony isn't today. Emmett heads back to the HOH room with Jillian. Emmett asks why was Talla up .. she is never up before us. She was all happy too. Something is going on. Jillian asks a good thing? Emmett says I don't know… maybe no one goes home today. I don't know. Jillian asks maybe what? Big Brother then asks Emmett to come to the diary room to do a couple, few short lines with him and ask him to bring his black v-neck t-shirt, burgundy shirt and his toque. Emmett goes looking for his burgundy shirt. Jillian makes the HOH room bed. Meanwhile Gary is in the bathroom putting on his make up and Talla is back in the main bedroom sleeping.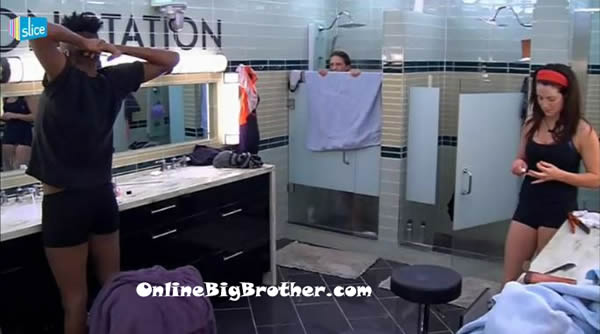 8:55am – 9:10am Jillian goes into the main bedroom and Big Brother scares her by turning on the alarm to wake up Talla. Jillian asks Talla are you hiding from them you little rat? Jillian jumps on Talla. Talla says I love you! Jillian says I love you too. Talla gets up and heads to the bathroom. Big Brother switches the live feeds to the hush hush screen.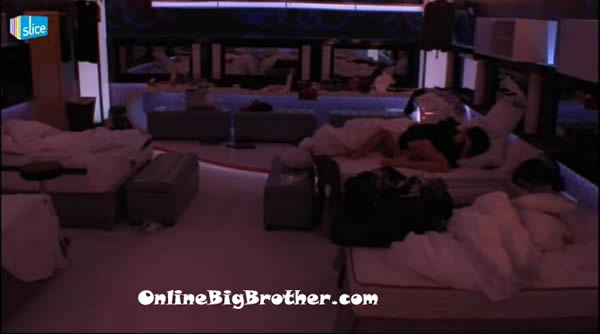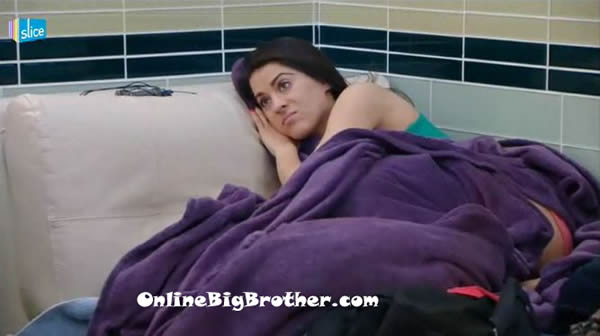 9:10am When the live feeds come back, Emmett and Jillian are out in the hot tub room. Jillian is talking about the POV competition yesterday. Emmett tells Jillian that she was the whiniest person .. her life is stress free you're guaranteed to be in the final three and you were complaining about wearing grey in the diary room. Emmett asks what did you call Talla this morning. Jillian says a little rat weasel. They agree that she is a little rat. Emmett says he wonders what the house was thinking keeping us both in the house. Jillian says she thinks they kept us to work with us originally. Emmett says I wasn't going to go to the jury house and hang out with those losers. Jillian says you could use that in your speech. Talla joins them. They ask her what time she got up. Talla says like an hour before they got up because I had to … Big Brother cuts the feeds. When the feeds come back. Talla is leaving and Emmett and Jillian decide to head back inside too.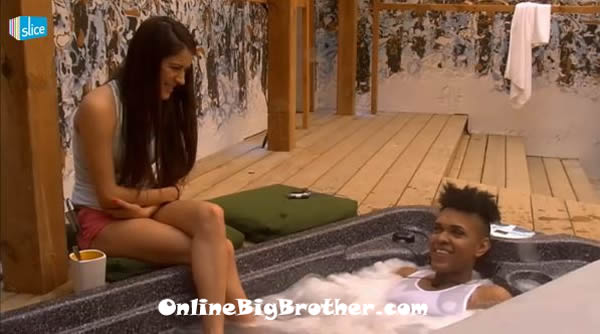 9:40am – 9:55am Talla and Gary are in the hot tub room. Talking about random things. Talla asks Gary don't you want to know about my morning? I got woken up to like the sweetest sound ever! Gary asks what was it? Talla says all these others.. no that doesn't even phase me.. Gary asks what was it? Like music? Talla says her name and then says ohhhh… Gary says Talla, Talla wake up.. Talla says I was like am I dreaming ..what's about to happen to me? Big Brother cuts the feeds. When the feeds come back they are no longer talking about her morning. Gary heads inside. Talla asks Big Brother if she should unpack because she hasn't yet or should she just leave it.
(If only BB had woken Talla up this way the last 60+ days, maybe she would have been in a better mood and won a competition or two.. )

10am Big Brother switches the live feeds to the hush hush screen.
10:25am – 10:45am The live feeds get turn back on. Talla and Emmett are trying to figure out hot to reach all of the carpet with the vacuum. Talla continues vacuuming the house. She flips out when she see how messy the bathroom and swears up and down that she will not clean it. Emmett brings towels to the bathroom. Talla asks who the fu*k puts q-tips in the FU*KING toilet? (Gary) Emmett says not myself, I don't even know where to find q-tips. Talla says that Gary can clean it, it's filthy, so disgusting! Talla says that she is so fu*king annoyed right now! (Well her good mood didn't last long.) Big Brother cuts the feeds again..

11am The Big Brother Canada live feeds get turned back on for the last hour before they'll be turned off for good. Emmett and Talla are out in the hot tub room talking. Talla is talking about Emmett and how he put a nib in her salad… Give me them nibs! Give me them nibs! She talks about her and Andrew having to watch the Jillian/Emmett make out video. Emmett talks about how he knew Andrew wasn't going to take him to the final two. It was just down to who was going to take out who first. Talla says awe I feel like a prize. Emmett says in the last two weeks I sent Peter home over you, and Andrew home over you .. my two best friends. Talla says awe I want to hug you! They hug. Emmett says that he respects Andrews game but once we got to here we had to break off and think about ourselves. Emmett comments on how they all get to be in the final episodes which means we are in every single episode. They head inside. Talla goes up to the HOH room and talks to Jillian and Emmett for a minute then comes downstairs and says I want a cocktail!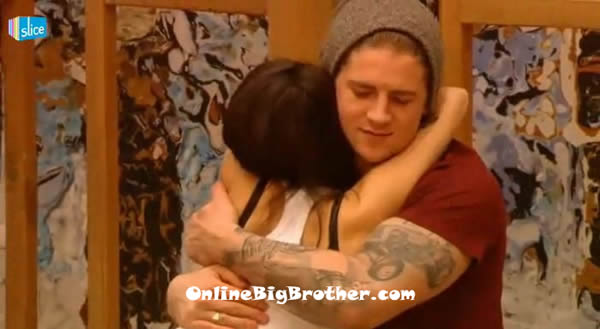 11:20am – 11:50am Emmett and Jillian talk in the HOH room. Jillian says that she feels like a horrible person lying to everyone. Jillian says that Talla thinks she is so safe right now .. she thinks she is guaranteed at least $20,000. Jillian says that Talla doesn't even ask me about final two. Jillian says she thinks I am taking her to the final two and thinks you will take her too. Emmett says Gary thinks we're taking him too. Jillian says Gary and I talked and said we would talk about a final two deal once we got to final 3. Jillian tells Emmett that Gary was talking about throwing you under the bus if he won the POV but he didn't want to mention it until after the POV. Emmett says these people must think we are crazy ..we just played everyone in the house. Emmett says that he wants the POV Ceremony to just be over so he can start scheming again on what to tell Talla. Jillian and Emmett head downstairs. Jillian asks Emmett if he thinks right after the POV ceremony the two nominees will have to pack their bags. Emmett heads back out to the hot tub room where Talla is sitting. Talla talks about today being the best day of her life waking up in the BB house. Talla says ewww.. ewww.. is it bad I just ate food in my teeth? It's okay its just pineapple. Talla starts talking about her relationships. Talla asks do you think you will talk to your ex when you get out? Emmett says yeah.. but not to talk talk. Talla asks when was the last time you talked to her? Emmett says the day before coming out here. Jillian joins them. Talla says she wants someone to make a life 101 course for her. She also wants to take a vocabulary course so that she can complete sentences. Big Brother annouces house guests this is your 15 minute warning.. Big Brother cuts the feeds. When the feeds come back Talla is talking about her Dad.

12pm The house guests are put on an indoor lock down. They head inside. Emmett and Talla talk about playing a game of puck ball. Gary is sleeping in the havenot room. Big Brother wakes him up. Emmett joins him. Emmett wonders why they are locked inside. He says that he doesn't think its for a luxury competition. He says he thought it was for the POV ceremony but doesn't know. He says he wishes he had watched more season to see how the final week plays out. Gary wonders if its because they are doing a special live eviction. Gary tells Emmett to start talking to Talla.. do you know what you are going to say? Emmett leaves.
Please consider donating. Simon and I work 24/7 all season long to bring you all the live feed updates and spoilers. ANY amount is greatly appreciated, your donations go directly to paying the server and bandwidth fees needed to run this site.
OnlineBigBrother.com
Stay connected and interact with other Big Brother Fans on our Facebook page.
And Follow: @BigBspoilers and @Dawgsbigbrother on Twitter for the most up to date spoilers.