POV Holder:
>?
Next POV
April 13th
POV Used
?
POV Ceremony
April 15th
HOH Winner:
JILLIAN
Next HOH:
April 11th
Original Nominations:
?
Current Nominations:
?
Last Evicted Houseguest
ALEC & TOPAZ
Have Nots
No havenots this week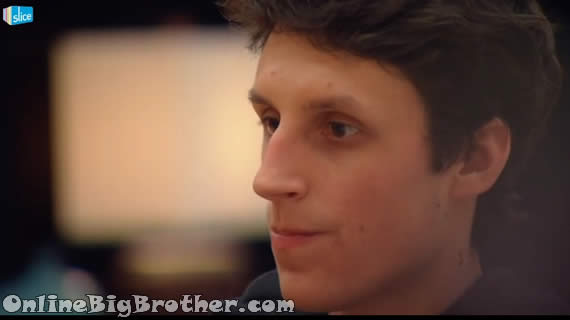 11:50PM last of the shield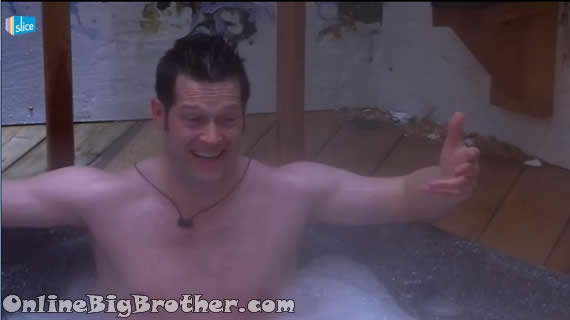 11:50PM Hot Tub Beast Coast
Andrew says that right now as it stands he would be more inclined to take Emmett to the final 2 based solely on the fact that she's won more competitions. Andrew says it's only based comp wins. Andrew breaks it down that the first part is a endurance the second is physical and the third is mental. Andrew is pretty sure he won't be able to win the final HOH
Emmett: "With 100K is on the line all I know is i have to win the final competition"
Andrew: "We'll you know then you get the choice of this girl you'll never see again or the guy that's probably going to be you new best friend"
Emmett says he's going to be friends with Andrew outside the house. Andrew: "That all depends.. all depends on you"
They both laugh. They agree they share a bond.
Andrew doesn't believe that Peter and Alec will be friends out of the house they are such different people.
Andrew wants them to set aside one day a month to hang out. Emmett wants them to work out together starts some types of program. (here we go another showmance)
Emmett brings up the major gyms around where they live he says one in particular is really good, "There are so many chicks there"
Andrew will introduce myself, "Hi i'm Andrew from Big Brother"
Emmett: "It's like taking a red bull.. seeing hot chicks" (at the gym)
Andrew explains to Emmett if he wins the next HOH he's guaranteed final 3 and if Peter goes it's going to be Andrew, Emmett and Talla.
Emmett: "Holy Smoke"
They decide there's no real need to talk a lot of game this week. Emmett says something about hoping they are not on the same team something that is coming up. Andrew tells him not to talk about it. Big Brother tells them not to talk about production. (Hmm.. )
12:00AM Hot Tub Andrew, Peter and Emmett
Talking about North Korea. Emmett wonders if you can take a flight there. Andrew is pretty sure you cannot. (only china has flights to NK)
Andrew and Peter continue to answer Emmett questions about North Korea…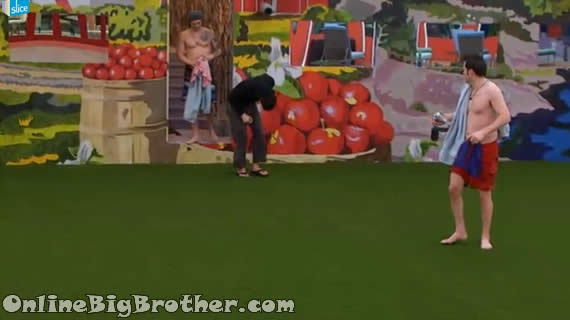 12:10AM
On their way back from the Hot Tub Peter says he hurt his ankle and starts limping.. says he's not fully recovered from the apple challenge. The other 2 don't seems to concerned. Peter is quick to recover once he goes into the house as the other two guys hop into the pool.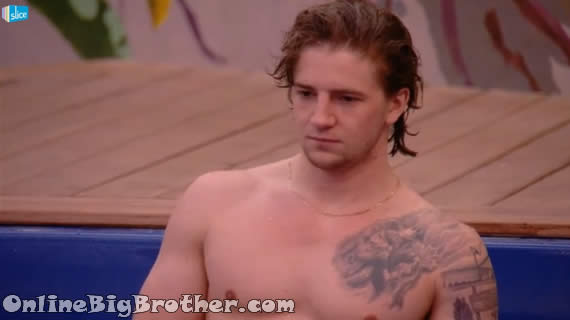 12:15AM Pool Emmett and Andrew
Emmett saying if Jillian wasn't in the house he wouldn't get into a showmance. Emmett says Jillian has a lot of things he is looking for in a girlfriend but he's also just 25. (hard to hear them splashing around in the pool)
Andrew makes a joke about them being introduced, "Remember Nova Scotia's premiere couple Emmett, Jillian and oh there he is Andrew.. " (He makes some caveman face.. really funny it's in the video) They head in the bathroom to shower.. (Really hard to hear them)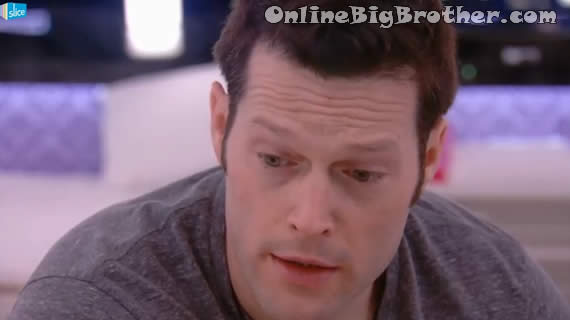 12:30AM Bedroom Andrew and Talla
Andrew asks her if she's alright because she gave him a funny look.
Talla says she's fine just getting tired.
Andrew starts to explain to her why it doesn't matter who goes up as the pawn. The target is Peter if he wins HOH andrew and Talla will be up if Peter doesn't win HOH then Peter goes home.
Talla: "I know I don't want to go up because I feel like you have a better chance to win POV and if I go up second I'm OK with that"
Andrew: "OK thats fine… It's the same though.. it's fine.. do you understand if it's me and Peter you and Emmett save me but if it's you and Peter me and Emmett save you"
Talla understands..
Andrew says he doesn't understand why Emmett put Talla up as a replacement nominee, "He said something about a vote against Topaz" (Emmett is telling Talla she was the replacement nominee because he was worried she would vote for Topaz)
Talla says she's over it. Talla feels crappy because she's not doing good at any of the competitions. She would like to win at least one time, If I wasn't on the block I would less stressed out in the Power of Veto.
Talla asks him who would he have put up if he won HOH instead of Emmett. Andrew says Peter and Topaz, he reminds her that they are all in an alliance and Andrew is closer to Talla than he is with Emmett. Andrew: "I wouldn't put you up NO.. those guys are together (E/J) and we're together"
Talla: "OK"
Andrew: "We've just have to make sure Peter doesn't win the POV.. because if he does.. you or I are going home"
12:55pm Feeds have been off for the last 15 minutes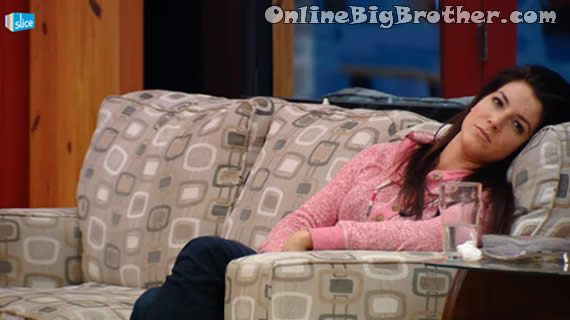 1:00AM Kitchen Peter and Andrew
Peter to be perfectly honest today was emotionally draining for me and He took Alec's eviction hard. Peter knew Alec was going home and there was nothing he could do about it.
Andrew brings up how Alec left was pretty douchie, "it was typical Alec but I wish he was a littler sweeter to you".
Peter isn't bothered by what alec said he knew there was going to shift it at the end of his speech. Andrew: "Still you have only one chance to do it and you do it like that.. i'm just saying"
Jillian joins them and they chit chat for the next 30 minutes..
Andrew: "If you are not here to make the money you are wasting your time.." Andrew adds that Suzette, Gary, Danielle were all hoping to get famous by being on the show. Andrew thinks being on Big Brother will help Peter out but it won't help him.
Andrew jokes that Talla works for Csis (Canadian Security Intelligence Service) They really don't know what Talla does for a living. Jillian hints that Talla'a family is wealthy (They cut the feeds)
Peter says he will hang out with Alec when the show is over. Right now he lives 40 minutes away but he's planning on moving to West Vancouver this summer. Andrew thought Alec and Peter were going to be roommates. Peter: "I dunno I really like living alone"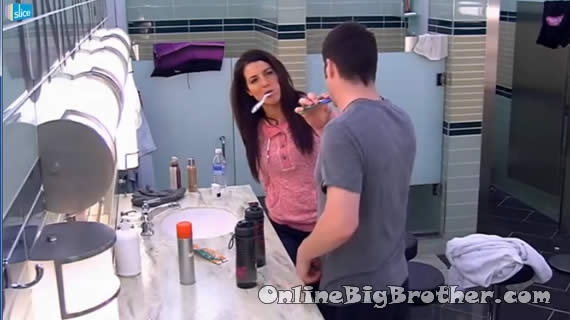 1:40am Bathroom Andrew and Jillian
Jillian is so happy that Alec and Topaz are not both gone. Andrew agrees. Andrew: "We're doing great! .. we've had some good luck Eh"
Andrew mentions to her that she has won 2 really good HOH's they were endurance it makes her a threat in the final because the first part is a endurance.
Jillian: "scary"
Andrew: "no no it's not scary.. it's good"
Andrew points out to Jillian she can't play in the next HOH so it's up to Andrew and Emmett. Andrew adds that after this week if Peter goes and Talla wins the POV one of the beast coasters are gone.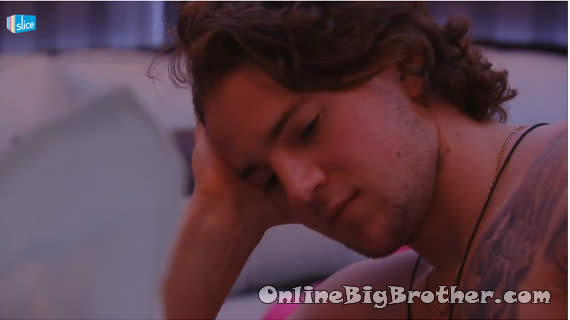 2:02AM HOh Emmett and Jillian
Emmett lists off the 3 reasons why Talla is pissed.
1) She's lost her friends in the house (Topaz)
2) She's like tits on a bull
3) She's mad at me for putting her on the block
Emmett explains what he said to Peter to get him to not use the veto. He told him that he wanted Topaz gone and it's his HOH , "There's too many girls in this house I want Topaz out.. and he listened"
Jillian: "What are we going to do?"
Emmett: "there is only three people to pick from"
Jillian: "Put up Talla and peter and if they win POV…. "
Jillian: "Andrew is scared that you are playing your own little game with Peter"
Emmett thinks the entire house is on their side, "If they were smart they would band against us"
Jillian: "It's kinda crazy nobody has come after us"
Emmett is thinking about putting Andrew or Talla up and if they win POV they'll put Peter up and vote him out.
Emmett explains how his plan will let them safe face with Peter. Jillian calls this plan genius
If they put Talla and Peter and Peter wins POV, Andrew goes up and Talla goes home
If they put Talla and Andrew up Peter wins POV, Talla goes home. If anyone else other than Peter wins POV they use it on a nominee and Peter goes home (unless peter uses the POV on Talla or Andrew in which case Emmett could go home..)
By nominating Andrew and Talla there is the same percentage chance that Peter goes home and the benefit of keeping Peter in their back pocket.
Emmett: 'It would be smart to for us to get rid of Andrew before Talla.. it would be us against Talla in the end"
Jillian is now saying she trust Peter and iw worried that she's losing Andrew's and Talla's trust. She thinks Alec told Peter on his way out to team up with Andrew.
Emmett: "NO.. As soon as he won the POV he said I want Andrew out" (Peter)
Now Emmett is saying Pete should probably go this week, Emmett explains that it really doesn't matter because whoever survives this week will team up against Jillian and Emmett.
Emmett: "Whose more dangerous Andrew and Peter or Andrew and Talla.. or Talla and Peter"
Emmett says if Andrew has won HOH he would have put up Topaz and Peter and topaz would have gone home but who would he have put up against Topaz Jillian or Talla. Jillian: 'Good question" Emmett had thought about throwing the HOH comp but decided it wasn't worth it he doesn't trust the people in the house.
(Video uploading… it's long)
[polldaddy poll=7031963]
*** Message to Fans of OBB ***
If you enjoy the content on this site please consider a donation to help keep the spoilers rolling.