POV Holder:
?
Next POV
April 13th
POV Used
?
POV Ceremony
April 15th
HOH Winner:
JILLIAN
Next HOH:
April 18th
Original Nominations:
?
Current Nominations:
?
Last Evicted Houseguest
ALEC & TOPAZ
Have Nots
No havenots this week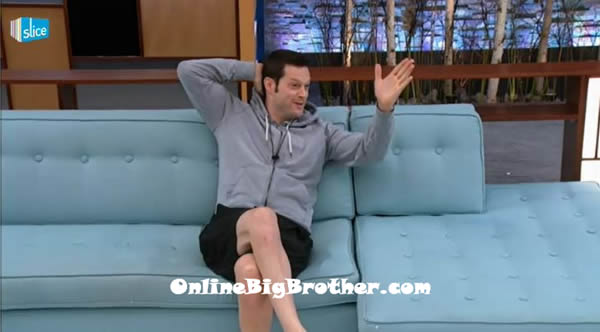 9am Big Brother wakes up the house guests. Andrew, Talla and Peter head into the bathroom to get ready for the day. Andrew and Talla complain about how they heard a tick, tick, ticking noise all night. Jillian and Talla head to the kitchen. Jillian's eye's are burning. Andrew and Jillian go to the living room. Andrew tells Jillian that she was in his dreams again ..treating me poorly again. Emmett comes down from the HOH room wearing Jillian's HOH robe. ANdrew says look everyone it's Hugh Hefner, he's wearing your robe.. he knows he barely won an HOH but you know. Emmett tells Andrew that there are two robes up there. Talla joins them with some toast. Andrew finds something on the floor and asks what's this. It fell out of your bum. Talla says that's not mine. Andrew says yeah the only thing that comes out of your butt is dirty wind. Big Brother blocks the feeds.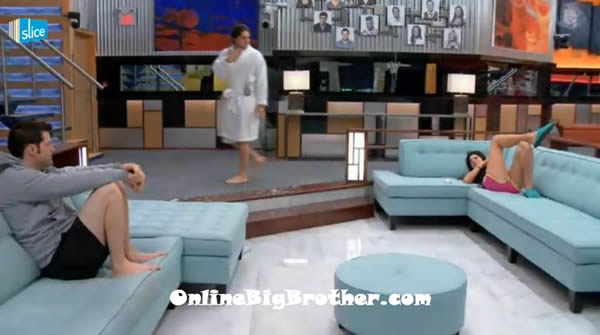 9:40am – 10am When the live feeds come back: Andrew and Talla are out in the backyard talking. Talla says but I am still here so I don't care. The conversation turns to talking about the beginning of the game and about Tom. They talk about how Talla was put up on the block. Andrew brings up how Peter is going up on the block and either you or I are going up but Peter is going home. Talla says it would be better if you went up because then you have me and Emmett voting to keep you. Andrew says I would rather not go on the block, I have won 3 competitions .. and that means I am a threat and you might decide to get me out. Andrew says that Peter could have made a big move, he could have used the POV and he almost won the HOH .. but now he is going up on the block and going home. Talla says no matter what I am not turning my back on you ..no matter what and I hope you don't either. Emmett join them. Andrew brings up how he never was in an alliance with Aj ..I might have said we would go to the final two together but I would have had to drag him like a sack of bricks. Andrew comments how much do you bet Alec is regretting not sending me out. Emmett says yeah same as Topaz she is regretting not putting Jillian and I up. The conversation turns to talking about past competitions. Talla says as we know my math skills aren't the greatest. Emmett asks Talla what's 3 times 60? Talla says 18000, 1800, 3600?? Emmett asks what are 3 – 60's? Talla says 180 .. oh fu*k! Andrew says yeah but you just said 18000 how did you get to that number?!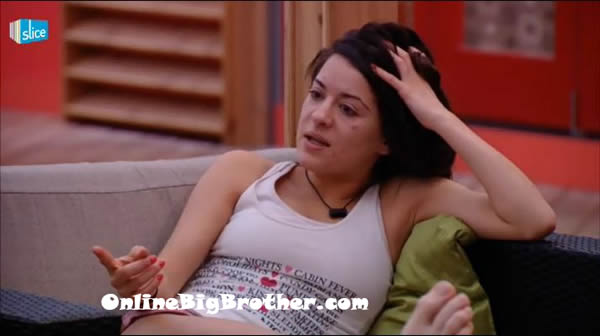 10am – 10:25am Big Brother switches the live feeds to the hush, hush screen. When the live feeds come back: Emmett and Andrew are in the hot tub talking in the hot tub. Andrew says that we are in a great position. Emmett comments how does Talla not think she should go on the block .. she hasn't won anything. Emmett says as much as it makes sense to take Talla to the finals .. she doesn't deserve it. Andrew brings up how on Peter's microphone he has Alec's name on it. Andrew talks about how Alec was all upset wanting to win… get out of my face, it's not like you're trapped in a well! They talk about different scenarios. They head inside.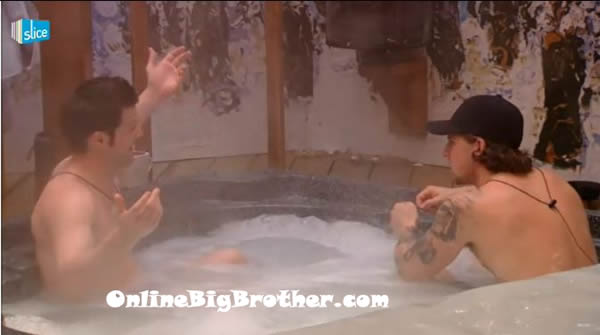 10:30pm Emmett heads up to the HOH room. Emmett tells Peter we need to talk because nominations are tonight or tomorrow. Peter says the way I see it, it is you, Jillian and I in the final 3. Peter says if you put Andrew in a position to win, he will win. If he is in the final two, he will win! Doesn't matter who he's against he will win. Peter says all of us can win against Talla. I know she doesn't deserve to be here but she won't win over any of us. Emmett says that he can't stand how Talla is still upset about being put on the block. You were up on the block for like an hour! Peter and Emmett end their conversation.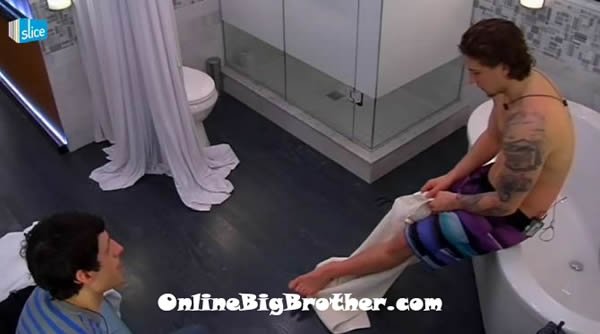 10:45am – 10:55am Andrew, Emmett, Talla and Peter are in the kitchen talking about past events of the house and how they think there will be a havenot competition today. Over on the kitchen couch Andrew and Talla give each other foot rubs. Andrew gets called to the diary room.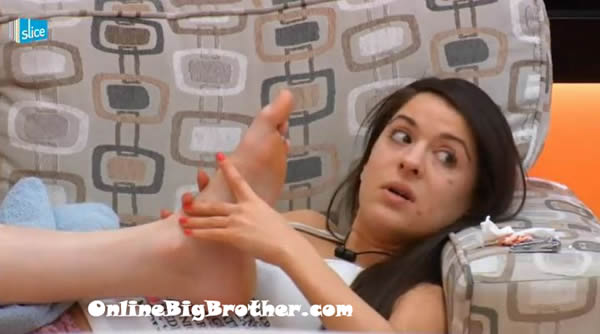 11am – 11:25am Jillian says awe Talla you and I are the only girls left. Jillian asks Emmett, look up at the memory wall and tell me if you could choose two girls to be in the final 5 with, who would it be. Emmett says Suzette and Liza. They laugh. Big Brother switches the live feeds to the hush, hush screen.
11:25pm – 11:50am The live feeds come back: Emmett and Jillian are on the kitchen couch. Emmett comments that she didn't even come see him. Jillian says I am busy. Talla says I like that answer. Jillian tells Emmett that she is trying to distance her self from him so that when they go home he is used to spending so much time together. Emmett comments on how whenever there has been a double eviction only the people that are packed an on the block have gone home. Emmett & Jillian decide to try and use the slow cooker. Peter and Emmett sit down to a game of puck ball on the kitchen table.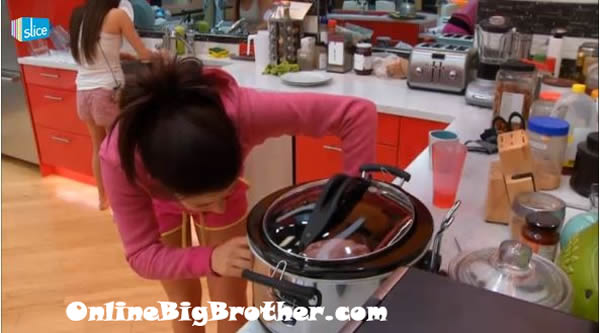 11:55am – 12:20pm Andrew finally comes out of the diary room after being in there for awhile. Andrew goes up to the HOH room. He comments on how Talla has been quite today. Andrew says I don't know how much Emmett trusts Peter. I don't get why he didn't try to get me out, I don't get it ..he just doesn't have the balls. Andrew says you could put Emmett & I up or me and Talla up.. and then if anyone wins the POV you put Peter up. Then he says well no because then if he wins it one of us goes home. Andrew and Jillian wonder if its a havenot or possibly a luxury competition this morning.


Please consider donating. Simon and I work 24/7 all season long to bring you all the live feed updates and spoilers. ANY amount is greatly appreciated, your donations go directly to paying the server and bandwidth fees needed to run this site. Donation Link
OnlineBigBrother.com
Stay connected and interact with other Big Brother Fans on our Facebook page.
And Follow: @BigBspoilers and @Dawgsbigbrother on Twitter for the most up to date spoilers.