POV Holder:
?
Next POV
April 13th
POV Used
?
POV Ceremony
April 15th
HOH Winner:
JILLIAN
Next HOH:
April 18th
Original Nominations:
?
Current Nominations:
?
Last Evicted Houseguest
ALEC & TOPAZ
Have Nots
No havenots this week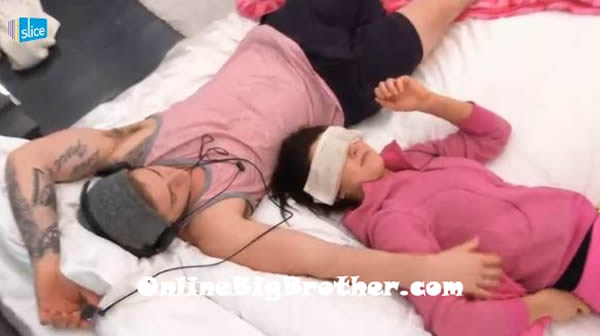 12:20pm Emmett and Jillian head up to the HOH room. Jillian's eyes are still bothering her. Emmett tells Jillian .. do you know what Andrew told me out in the hot tub? He said you wont believe how lucky I am and you will see later when you watch. Emmett says that he didn't make a point about it but I wonder what he meant. Jillian says that he can't believe Peter didn't try and get him out. She says that Andrew told her she has all the power. She thinks Andrew is trying to feel us out to see if we want to save Peter. Jillian says she really likes Andrew and doesn't want to break a bond with him .. but I think my dad is at home saying I am an idiot for taking the two strongest guys to the final 3. Emmett says well maybe we should think about getting Andrew out this week. Both Emmett and Jillian don't think Andrew believes that we would take him to the finals. They talk about how taking Talla or Peter to the finals is a better shot to win. Jillian asks do you think we can trust Andrew. Emmett says no. That's why I did what I did yesterday and kept Peter safe. I have to think about us and what will keep us safe. Jillian wonders maybe we should up Peter and Talla and if one of us wins we put Andrew up. Emmett says one of us is guaranteed to be in the final three. Jillian says I was thinking this .. why the hell would one of us want to win HOH next week.. Because its the person that gets to vote decides who goes home. Jillian says Andrew already said he didn't want to win HOH next week because he didn't want to be the one to get Talla out.. but maybe he is thinking this too. Jillian says the person that wins HOH only gets to decide who goes up, unless they also win the POV. Jillian says the best case scenario is Andrew wins HOH so then we get to decide who goes home. Jillian asks if they can talk about this later when her eyes aren't hurting so that she doesn't have to be on tv like this..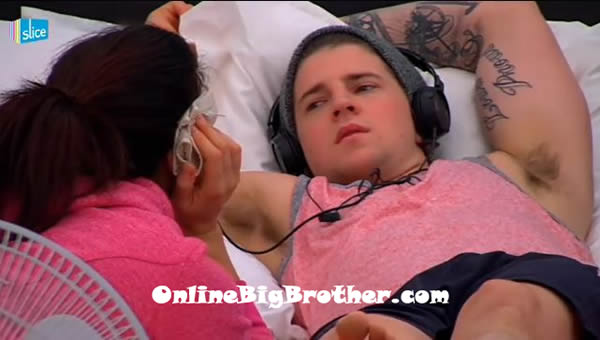 12:45pm Andrew comes up to the HOH room and starts talking about how Talla is being all nervous. Andrew and Emmett talk about how she needs to just relax. Andrew says Peter will be going up and going home unless he wins the veto .. then one of us is going home. Andrew says that Peter has got to be feeling pretty alone right now. They wonder what the competition will be today. Andrew says that he will be on slop.. I don't care. Andrew says that when he heard about the double eviction he thought great send two of them home.. and perfect no twist to save Alec. They comment on how the messiest people have been sent to the jury house. Andrew says that by the end Aj will have been in the jury house for 35 days .. that's insane! Andrews comments on how this is a game and we all are alone .. and last night it worked out for the best. Jillian gets called to the diary room. Andrew comments on how nervous Talla is. Emmett asks why. Andrew says because of what you did last night. Andrew says that she is fine, if Peter wins the veto then she is going home. Jillian comes back up. Andrew comments on how maybe they put you in here to have a showmance with me. Andrew hopes that Talla gets put on slop this week so that she blows up and it will make it that much easier to get rid of her next week after Peter. They finish up their conversation and Andrew heads downstairs.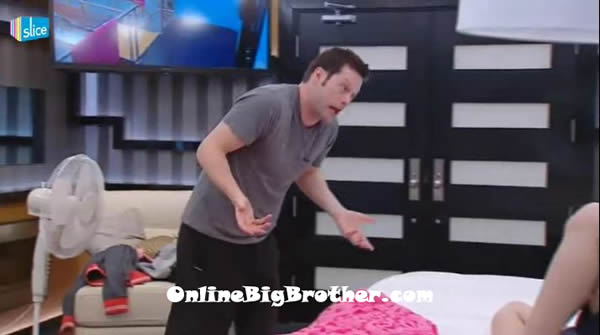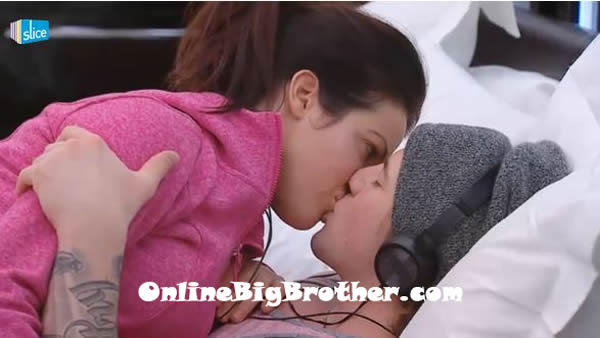 1:20pm – 1:35pm Jillian and Emmett start joking around and making out. Jillian bring up again that not getting Andrew out would be a mistake but that she doesn't want to look like a evil villain to the world. Jillian says I am not scared of Peter .. I feel like he is a girl I am competing against. Emmett says that Andrew would get over it. Emmett says no one wants us in the final three. Emmett says imagine it was me you and Lalla in the finals. We would win every comp and no one would give it to her because she has nothing this entire game. Jillian says maybe we should get Andrew out this week. They talk about putting Peter and Talla up on the block and if either of them (Emmett or Jillian) win they will take Peter off the block. Emmett says will will tell Peter he is going on the block with Talla but tell him only because we don't want Andrew fighting as hard for the veto. They figure they will talk about it more later. Emmett heads downstairs. Jillian stays up and talks to herself a bit about voting out Andrew or keeping him. She then heads downstairs.
Video is uploading:

2:05pm – 2:30pm Andrew and Talla are sitting on the couch. Andrew is running his hands through her hair. They then go back to playing another game of puck ball. Jillian and Emmett are cleaning up in the kitchen. During the puck ball game Andrew fingers Talla. When he wins he gets up and does a dance towards her and then rubs his butt on her. She then runs to the bathroom stall and he grabs all the dirty towels and puts them on the stall door.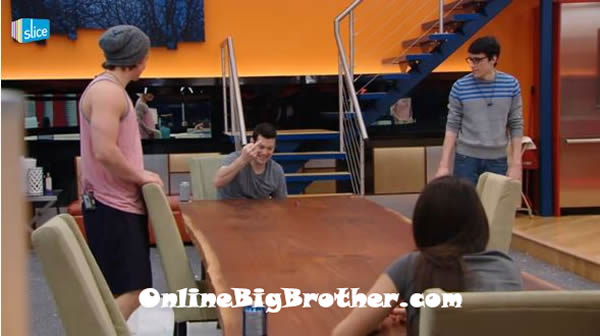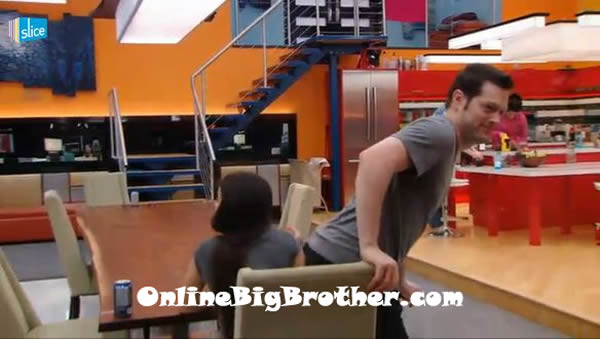 2:35pm Big Brother switches the live feeds to the hush hush screen..
3:40pm Hush, Hush continues .. most likely for a have/havenot competition..
4:55pm Hush, Hush continues ..
Please consider donating. Simon and I work 24/7 all season long to bring you all the live feed updates and spoilers. ANY amount is greatly appreciated, your donations go directly to paying the server and bandwidth fees needed to run this site. Donation Link
[polldaddy poll=7031963]
OnlineBigBrother.com
Stay connected and interact with other Big Brother Fans on our Facebook page.
And Follow: @BigBspoilers and @Dawgsbigbrother on Twitter for the most up to date spoilers.