POV Holder:
Elissa
Next POV
Aug 24th
POV Used
Yes
POV Ceremony
Aug 19th
HOH Winner:
Aaryn
Next HOH:
Aug 22nd
Original Nominations:
Elissa and Helen
Current Nominations:
Helen and Spencer
Last Evicted Houseguest
David, Nick, Jeremy, Kaitlin, Howard, Candice, JUDD, Jessie
Have Nots (head cheese and habaneros)
GM, Amanda, Helen and Elissa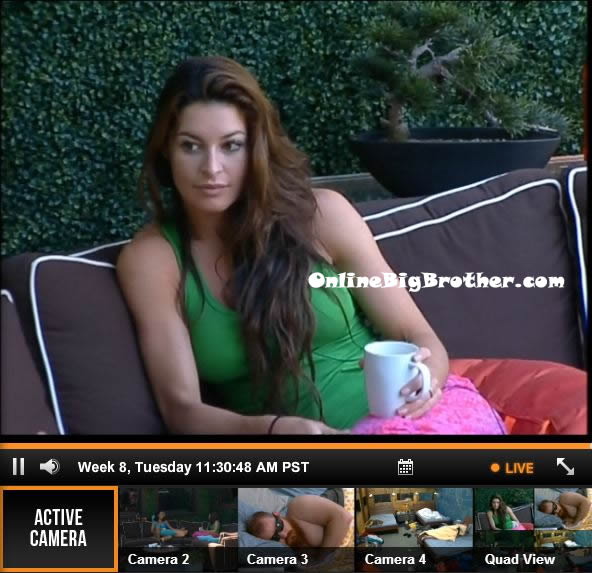 11:30am – 11:50am Helen and Elissa head out to the backyard couch. Helen comments that she feels a lot better after having a good nights sleep. Elissa says its exhausting being nominated isn't it. Helen says I think I have Aaryn, you and Ginamarie. If I stay I will have to work with Aaryn, I can't work with Amanda and McCrae. I don't know what it is and why Andy is more drawn to Amanda and McCrae. I don't know if he is brainwashed or what. I feel like he is my son and I am just disappointed that he has strayed. Elissa says if this was real life Amanda and McCrae are not people you could depend on. Helen says I love Amanda, if I was watching this game I would love her. I would rather got out by her than Spencer. When it comes to the game I don't have her any more. Aaryn and Ginamarie have themselves. I need Aaryn to give Ginamarie the green light to vote for me. Elissa says I just don't trust her, she will tell you whatever you want to here and then she will go and tell Amanda everything. Helen says I know she could do that, I just have to trust her. I know the night she was talking about back dooring Amanda it was real. Aaryn was really upset that night. Helen says I think Aaryn is concerned about how she is viewed by America. Elissa says she doesn't think Aaryn gives an F. She is viewed as a horrible, despicable person. Helen says siding with the mom's would help her. Elissa says I know you like her but nothing will ever change the way I think about her. She is not a solid person. She doesn't have good character. Helen says there has to be something that affected her in her life. Helen says that Aaryn could be around bad people like in the beginning and it brings out the bad in her or she could be around me and you and it brings out the good in her. Elissa says that is what I think about Ginamarie. If she hangs out with you she could be successful, if she hangs out with Aaryn she will just bring her down. Elissa says that Aaryn just wants to be famous. Aaryn doesn't care about anyone but herself. She will stab you in the back every single time. Even in real life you could be her friend for 10 years and she would steal your husband.
Big Brother 15 Live Feeds: FREE 2 DAY TRIAL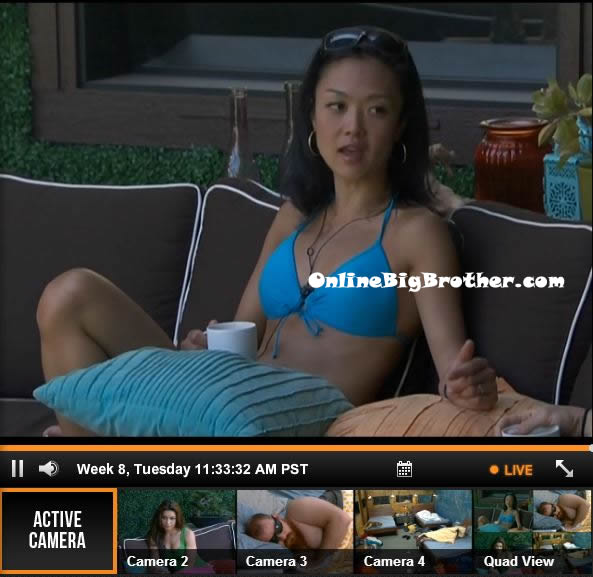 11:50am – 12pm Big Brother cuts the feeds and when the come back Helen is inside the house removing the pot of milk Elissa had put on the stove to make ice cream. (They forgot about it while it was boiling and big brother warned them about it.) Helen says it was on fire. Elissa asks was it?! Helen says well it was steaming. Elissa says I can't believe I forgot about it, that's what slop does to you. Elissa says I can't believe no one smelled that, you could smell it all the way to the diary room. Elissa cleans the pot and they start making it again. Elissa says I cannot leave the kitchen again.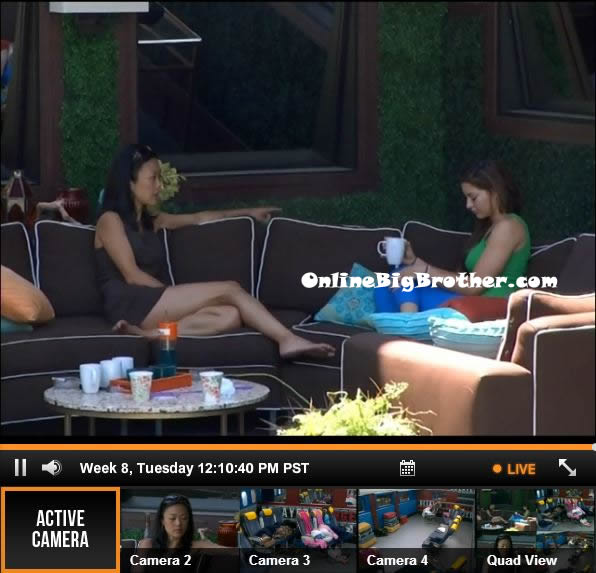 12:20pm Helen says I wonder what the Brenchel Army would think of me. Elissa says they would love you. Helen says Brenchel Army pray for me this week! Helen and Elissa head back outside with the new batch of ice cream on the stove. (WTF?) Helen we'll come back inside in 4 minutes. Helen says if I leave what will you do, how will you win this game. Elissa say I will die if you leave. I have nothing in common with them. Helen says I have nothing in common with them either. Elissa says if Spencer wins this game I will die. Helen says if he is in the final two and has been a pawn 9 times that is amazing. He is going to start winning competitions. Elissa says you need to start telling people Spencer is going to win this game. He has played a master game. Helen tells Elissa she should tell Amanda that. Elissa says that she will tell everyone that they will vote for Spencer if he is in the final two. Elissa says but really I would never vote for Spencer, I would rather vote for Aaryn. She then says well maybe not. Helen says that McCrae needs to start winning things or I would not vote for him. I would love to see someone who loves this game to win. Elissa says that Ginamarie does not love this game. Big Brother blocks the feeds again and tells Helen and Elissa to go back inside for the ice cream again. They check the ice cream and comment on how its starting to smell bad again.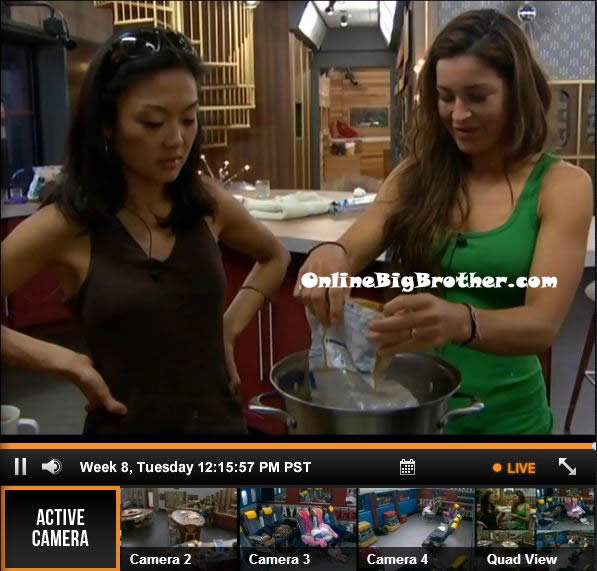 12:35pm – 1:50pm In the kitchen Elissa cleans the pot that had burnt milk in it while Helen is in the diary room. Helen and Elissa head out to the backyard and talk about the game up until now and other random things. Helen tells Elissa that she would love for her to make it to the end so that she could vote for her. Helen wonders what Jeremy's life story is really all about and what he got cast for. Helen says that she wants to talk to everyone outside the game. Elissa says that she will never ever want to talk to Aaryn again outside the house. Elissa talks about how Candice is a much better person than Aaryn. You wish you had the things that Candice has. Instead you surround yourself with less successful people to build yourself up. Helen talks about how she is more driven to be successful than she was when she was younger. She says that her husband tells her not to be frumpy. Ive always been the nerd and my husband has been the only person to tell me that I'm beautiful. Helen starts crying and says I don't even know how I got cast on this show. I have always been okay not being the pretty girl. Elissa says I want to work really hard to not being around people like Aaryn ever again. Helen says that she really wants to start a workout clothes business with Elissa.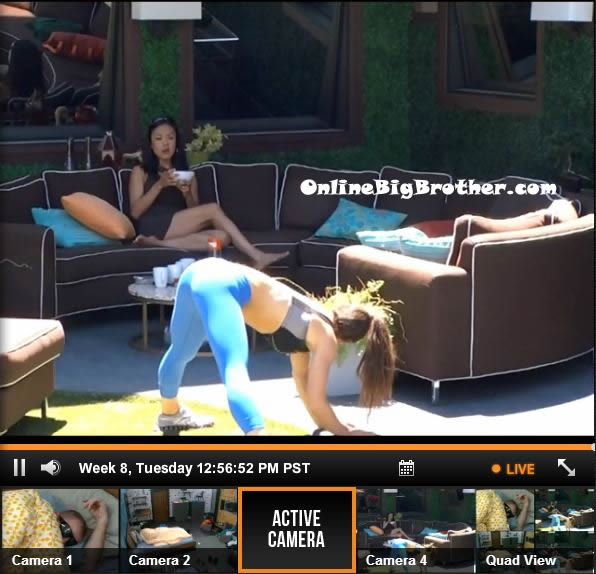 Use the Big Brother Live Feeds to FLASHBACK to SEE what they can't show you on TV:
BB15 N!p Sl!ps / N*des
[polldaddy poll=7329443]