POV Holder:
?
Next POV
?
POV Used
?
POV Ceremony
April 14
HOH Winner:
Jon
Next HOH:
?
Original Nominations:
?
Current Nominations:
?
Have Nots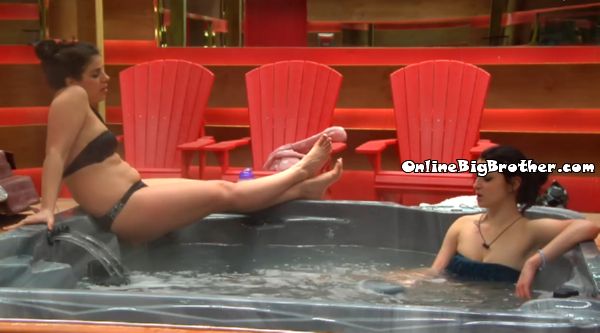 11:49pm Hot Tub Sabrina and Rachelle
Rachelle says if she knew Adel still had his power she would have flushed it out during her HOH. Sabrina hopes that tomorrow is a luxury competition instead of a Have Nots competitions.
Rachelle – "I noticed Kenny had really good fashion I wish my boyfriend had really good fashion"
Rachelle pleads with the people on the feeds telling them to save the gremlins to make the show exciting.
They start going over what they are going to say to Jon, They are going to swear allegiance to Jon and tell him they will vote with JON till the end. They will also push the angle that Arlie and Allison will turn on Jon because he's their only threat.
Sabrina is going to highlight that Arlie has already flipped on an alliance once before who says he wouldn't do it again.
Rachelle wonders if Jon is going to backd**r them or put them straight up. Sabrina is certain they are both going to be nominated.
Rachelle – "We made it farther than Tom and Liza and they are really strong players"
Sabrina thinks she is the one going home this week and uses that to try and make Rachelle feel bad for her.
Rachelle doesn't think they will take Sabrian out "They" (Slopies) told her they don't think of Sabrina as a threat in the game.
Sabrina admits she doesn't have a social game anymore.
Sabrina continues to coach Rachelle in what to say to Jon. She told her to repeat her plan twice now.
Jon comes by drunk as f***.
Rachelle – "Are you drunk"
Jon – "Ohh ya"
Rachelle uses this opportunity to talk to Jon about his nominees.
She says there's "People" in this house that fear him and will nominate him.
Sabrina – "Jon Pardy can be three votes not one"
Jon says it's not completely outside the realm of possibility for things to change drastically.
Jon says it's been him and Arlie since day 5, he's not going to lie to them he's going to be talking about this HOH with Arlie.
Rachelle and Sabrina start pushing for him to put up Allison.
They start throwing Kenny's name through the mud saying they were fed lies from Kenny. That is why things were the way they were with Kenny.
They offer everything but the kitchen sink to JOn. Rachelle says he'll have their vote plus she'll put up whoever he wants .
Jon tells them tonight they can talk to him up in the HOH and have a full conversation and they can tell him who they want to put up.
Jon Leaves and the gremlins start to giggle. (OMG they are some much like gremlins.. ) They start scheming about who to tell Jon to put up. Sabrina – "Heather and Allison"
Rachelle – "Do you think he's going to go for it"
Sabrina's not sure it's the only thing they got.
Sabrina instructs her to not to talk game to anybody and to stay positive, She stresses that anything is possible in this game "Look at Adell"
They continue to scheme and decide to push Allison and Adel up
Rachelle thinks Jon wants the final 4 to be Sabrian, Rachelle and Neda. She says JOn putting up Adel and Allison makes total sense.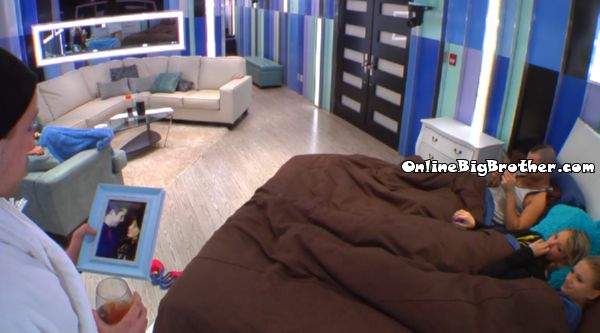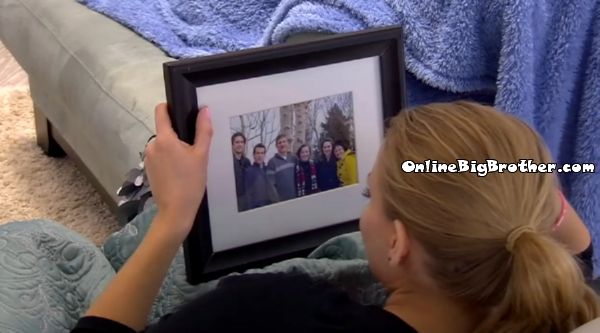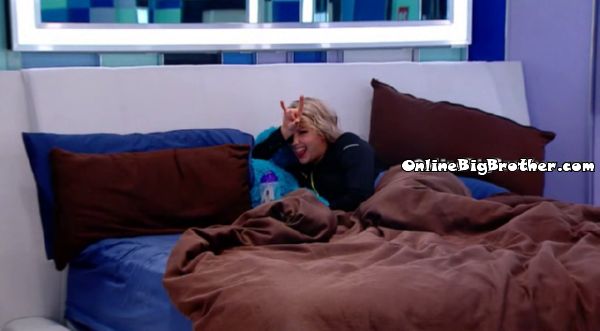 12:15AM HOH Arlie, Allison and JON
Jon says he's so drunk right now.. Arlie wants to go make a drink just something to sip on. Jon doesn't want him to make a strong one.
Jon slurring – "I want one more strong one"
Jon says he's so glad Allison is still in the game, "I'm so glad right now it's all newf born and bred.. Ally don;'t f*** turn on me because of what Gordo said"
Allison – "Why would I ever do that"
Jon says he could have something Epic planned.
Allison – "Would you go against Neds"
Jon – "Huh what about her"
Allison – Are you actually going to go against her
Jon- "when it comes down to it 1 hundo"
Allison – Really
Jon -Yes Allison.. do not let that get back to her.. don't say that to Heather.. No one.
Allison – it stays between me and you
12:30am Gremlins being optimistic about their chances to get Jon to flip the house.
Sabrina – "Gremlins are back.. WAKE UP CANADA Gremlins"
12:55AM Jon gets his Ipod with Brooks n Dunn, Third eyed blind, Oasis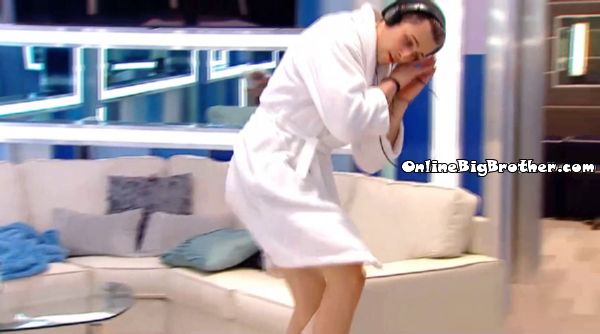 1:40AM Bathroom Neda and JOn Neda is annoyed at Jon because he told Arlie she did the "Syrup" thing. She's Also pissed that Jon told it to a group of people. Neda says it was obvious she was mad when he told Arlie so why would he say it to a group of people. She says it's s trust thing and she is annoyed at him.
1:52AM Bedroom Adel , Heather and NEda
Adel, Neda and Heather. Adel is telling them he really hopes they stick to the plan get the gremlins out followed by Allison. IF they can do that they have a 1 in 5 chance to win $100 000. Adel says unless something crazy happens in their lives they will never get that close to that much money again.
Adel really plays up that Rachelle and Sabrina will never vote for him in the end.
Adel – I really want Allison ou to I don't care what other people say
Neda – UGH WHY is she (Allison) sleeping in that f*** room
Heather – Why is she in there by herself
Adel points out that everyone is going to offer the HOH alliances and stupid sh1t like that.
2:10AM Storage room Arlie and Jon
Talking about how awesome the position they're in is. Areli tells him the beauty of their alliance is he's target number one and Jon is target number two.
(Jon drank a 26oz bottle of whiskey. He gave a few drinks to the houseguests but for the most part it was all him)
2:40AM Jon and Neda HOH
jon tells them about what the Rachelle was telling him. She offered Him and NEda two votes if they kept him safe she swore on her brother.
Neda asks him if that is a possibility . Jon says anything is possible.
Jon says he's more interested in getting rid of Sabrina this week and keeping Rachelle. Neda asks how they are going to convince the alliance to do that because everyone is set on getting out Rachelle.
Jon says they are going to have to have a conversation with Arlie.
Neda – "He pisses me off so much.. I get really pissed off when people tell me what to do"
Jon knows 100% tells her to ride with the tide right now
Neda explains why she is so mad at him for telling everyone about her condiment pranks. Jon apologises says he was wrong 100%.
Neda wants Rachelle over Sabrina gone.
Jon hints that maybe they should keep both, "Maybe keeping both is a possibility if we can saw enough of the alliance to do it".
Neda says Adel and Heather want Allison gone there not saying it but she can tell.
Jon doesn't think Arlie will take him any further than 6.
Neda says it was a bad move for Jon not sharing his alcohol.
Jon says he offered it to her multiple times and she said no.
3:20AM HOH Arlie and Jon
Arlie is suggesting they take Allison in and form a side final 3 with her.
Jon says hundo reel her in.
[polldaddy poll=7958558]