POV Holder:
Frankie
Next POV
Aug 23rd
POV Used
Yes
POV Ceremony
Aug 25th
HOH Winner 1:
FRANKIE
HOH Winner 2:
Derrick
Battle of the Block Winner
Donny & Christine
Next HOH
Aug 21st
Original Nominations:
Derrick's Noms (Donny & Christine) Frankie's Noms (Caleb & Cody)
Final Nominations:
Zach & Cody
Have Nots
Christine & Victoria
POV Players
Cody, Caleb, Frankie, Victoria, Donny, Christine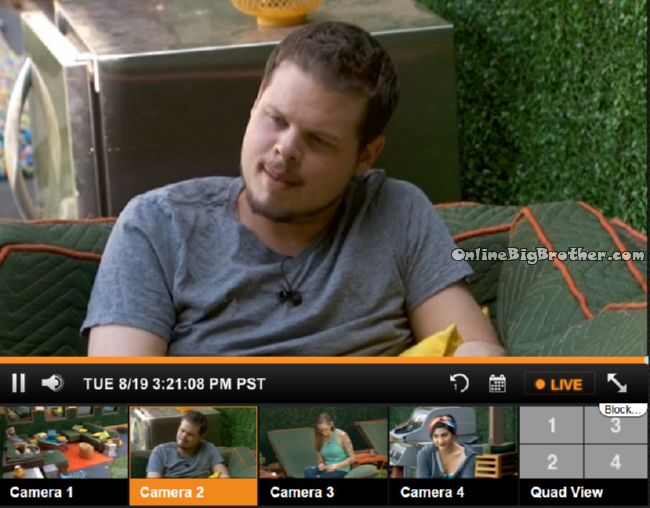 3:16pm Backyard Derrick and Donny
Derrick saying if there's another battle of the block they are going up for sure.. He really hopes they end that twist.
Donny says there will be 6 people playing in the HOH THey agree if it's endurance they are not going to win it. Donny says Frankie is good at everything it helps them if he can compete with him.
Derrick – He's a HOH beast
Donny -there's nothing he's not good at.. there's always someone with him.. I don't know how he gathers his thoughts..
Derick It's his social game
Donny says Derrick has one person following him around Frankie has 3
Derrick says he's been pushing Victoria away lately and she's getting the message.
Derrick says it was good in a way that Christine and COdy got called out by Zing Bot because they really dialed it back a lot lately.
Derrick says if it's single HOH Donny would be safe next week, "Unless we're missing something I don't see you going up there"
Donny – Everyone is thinking it's them.. it's the nature of the game
Derrick – you have my word if I win and it's a single HOH you are not going up.. I plan on winning and you have my word… he's a beast I Don't want to put him up there.. Is all I have to say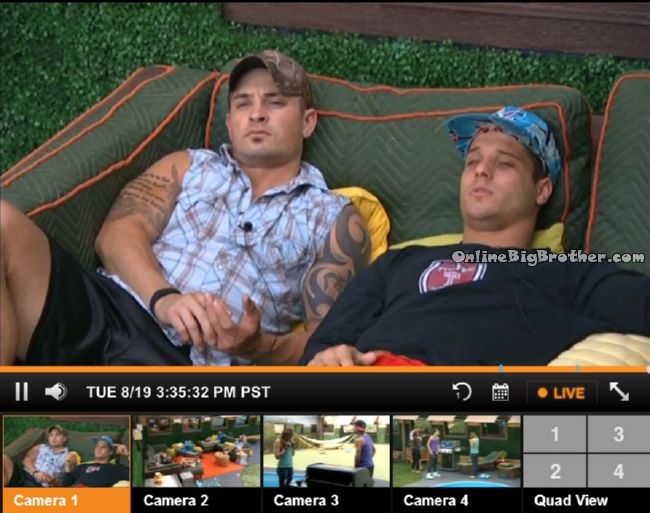 3:35pm outside lockdown
CHit chat..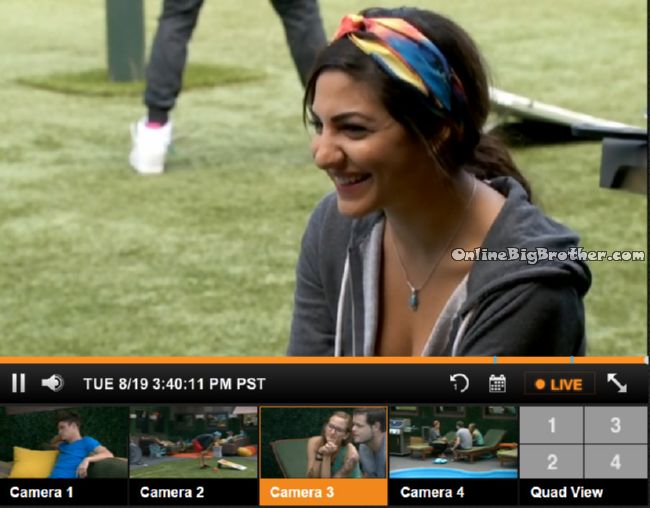 3:39pm Victoria, Derrick and Christine
Victoria about Zach – Just don't f** with me..
Victoria saying he can do whatever he wants to her game wise but he crosses the line with the personal attacks all day long.
Victoria says she's going to give Zach a piece of the hat. Derrick laughs says give in a piece when he walks out the door.
Victoria wonders if there will be a buyback if there is she's screwed. Derrick tells her there will definitely be a buyback this week.. either way if Zach comes back into the game he's goign to be putting Victoria up. Derrick doesn't think Zach will beat Hayden he's assuming there will be a buyback competition like BB13/15 but here also could be a america's vote
Christine is really worried if Zach or Hayden comes back she will most likely be their target if they win, "it's so skerry dangit "
Derrick tells her he's got her back he'll protect her. (Gives her a hug)
Donny joins them they start chatting about past competitions. Derrick mentions in one he told DEvin "Hey dude whats that on your neck" Devin ran to the glass to see the reflection. Derrick – "And he still beat me.. that dude was a beast and intelligent we learnt that the hard way"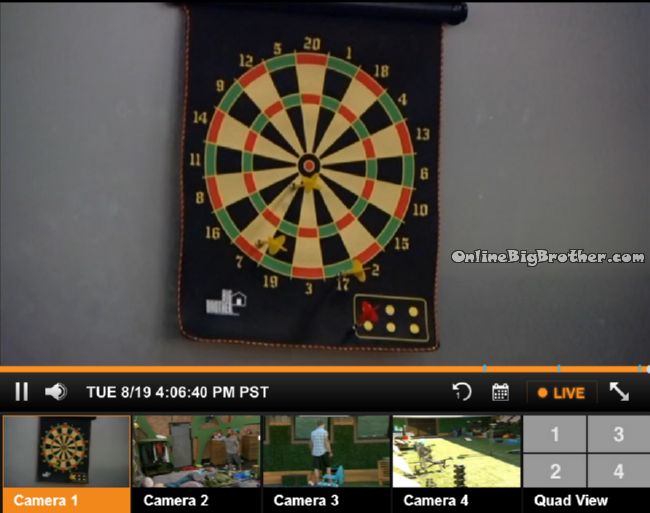 3:50pm
Donny reads out about the dartboard – "Houseguests This dart set is yours for the next 24 hours. At the end of the 24 hours you will need to return the darts to the storage room each week you will receive the darts for a new 24 hour period the dart board will remain in place for the rest of the season and must remain in it's spot"
Donny points out "it's just merchandising like everything else we've gotten"
RAndom games of Darts begins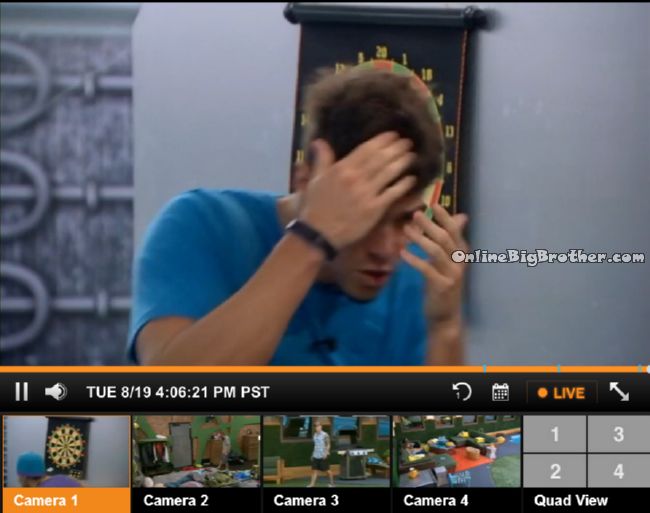 4:06pm Zach getting in the way of a dart game

4:16pm Caleb and Derrick
Talking about last night shouters. Caleb says he thinks Zach was right last night the person shouted you're the man beastmode, Zach we love you Frankie you're the best. (Actually what was said was more like we hate you beast mode cowboy, Zach we love you Frankie you're disgusting )
Caleb says regardless what was said he's going to go home get 30 or 40 thousand fans and take his biggest fan on a hunting trip. Derrick says they have to think positive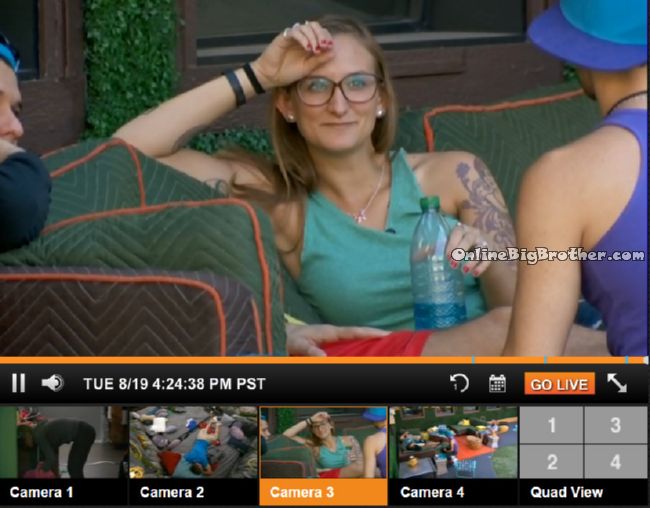 4:22pm Backyard Christine, Cody, Frankie
CHristine is saying her mom has problem been in a trillion fights with "Feedsters" already
Christine – You know the one good thing about the zingbot…. a lot of people are going to start following Tim @timstinks
Frankie – @timstinks
Cody Tim you rock
Christine @timstinks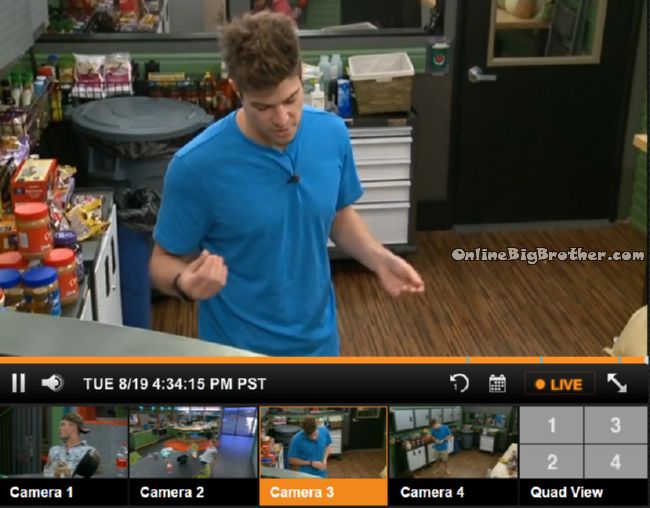 4:34pm Storage room Zach and Victoria
Zach – You're still thinking about it..
Victoria – ya
Zach – what's there to think about.. you know you are not going to wear it again.. it's all dirty it's all nasty i've worn it all summer
Victoria – I can wash it
Zach – why wouldn't you just give it back to me .. if you are not going to wear it
Zach – You're not going to give it back to me are you
Victoria – Zach
Zach – whaT
Victoria – If you are going to torture me I dunno .. If you are going to keep pressuring me obviously not"
Zach – So you're not giving it back to me
Victoria – I said if you keep pressuring
Zach – so I can f*** your sh1t up
Victoria – Zach how old are you
Zach what
Victoria seriously
Victoria – how old are you
Zach wants to know if
The Live Feeds are archived. You can go back and watch everything that happens
Try It Free! Subscribe now to the official BB16 Live Feeds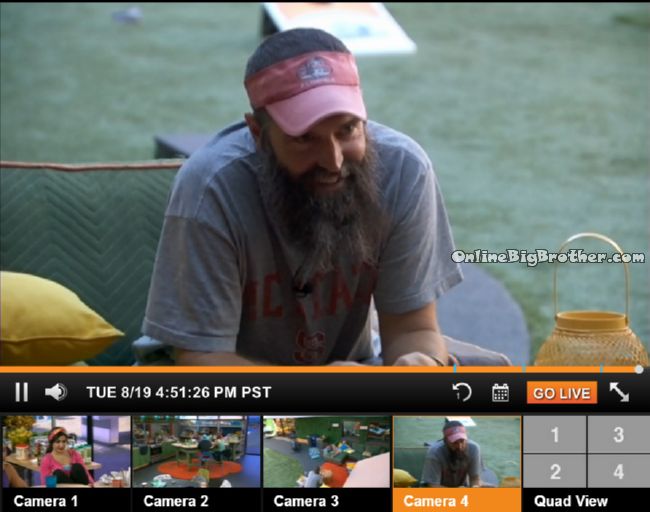 4:44pm Zach and Donny
DONNY – "it would be wonderful if they busted up before I was gone.. so I could watch it"
Zach says once he goes it's 5 vs 2, Beast Mode, Frankie, Christine, Cody, Derrick vs Donny and Victoria.
Donny – they won't put up Victoria
Donny – you know how they stack up when they get to five
Zach – Cody and Derick are together
Zach – Frankie and Caleb are together
Zach – Christine will go with whatever makes sense
Donny – that's dangerous for Frankie because Derrick has Victoria
Zach if you survive next week.. and you can pull Derrick and Cody on your side you're golden.. And I think they would they don't want to compete against Caleb and Frankie
Donny – cause they have proven themselves beasts in HOH
Zach – you need your luck to come it will come at the right time.. You just got to believe Donny .. your luck will come at the right time
Donny – Lord I hope your right zach
Donny –  i'll believe.. it's a little overwhelming.. there in there having a great time
Zach – they don't even know Donny is in the house
Donny – they come out here and they sit on that couch if I'm sitting on this one
Donny – When they take pictures they want me to take their pictures.. Sad aint it we're not in high school we're grown ups I'm a grown man..
DOnny says his only chance is if the 5 cracks before they get him out.
Donny – who is the biggest target
Zach – Frankie
Donny – who will protect him when you and I are gone.. nobody.. that might be a chance for you Zach.. He's ought to think about that.. I would..
Zach – you mean flip the votes
Donny – Don't mention flipping the votes.. don't mention keeping yourself.. .. just paint him as the biggest target.. What are you all going to do when Victoria is gone, Zach is gone.. donny is gone..
Donny – Frankie is the biggest target you can even lie and say you've heard them say they are going to get rid of Frankie.. Do it in the most sincere manipulative way you can he's already paranoid.. I know if I was in his shows I would be nervous.. no one can sit beside him.
He's played the game flawless..  social, physical game wise they he's also put on a good show.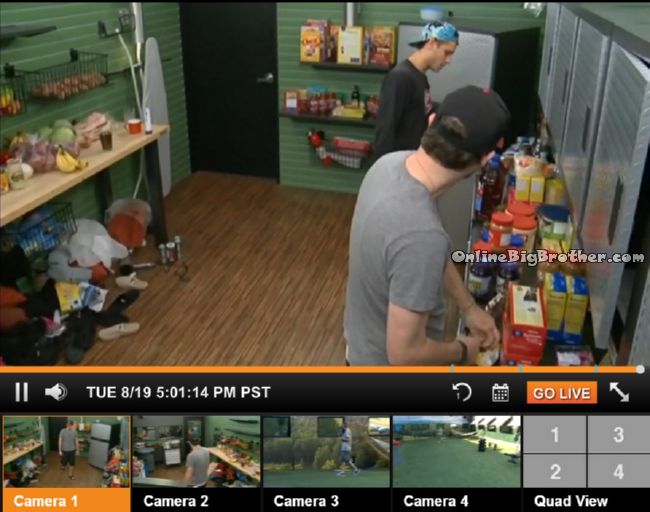 5:01pm Storage room Cody and Derrick
Cody- I got to talk to you about a conversation Donny and I had all morning
Derrick – bad or good
Cody — Ahhh you'll decide
Alliances
"The HITMEN" – Cody & Derrick
Team America = Donny, Derrick, Frankie
More polls here https://www.onlinebigbrother.com/big-brother-compendium/big-brother-16-polls/
[polldaddy poll=8255055]