POV Holder:
Frankie
Next POV
Aug 16th
POV Used
?
POV Ceremony
Aug 18th
HOH Winner 1:
FRANKIE
HOH Winner 2:
Derrick
Battle of the Block Winner
Donny & Christine
Next HOH
Aug 21st
Original Nominations:
Derrick's Noms (Donny & Christine) Frankie's Noms (Caleb & Cody)
Final Nominations:
?
Have Nots
Christine & Victoria
POV Players
Cody, Caleb, Frankie, Victoria, Donny, Christine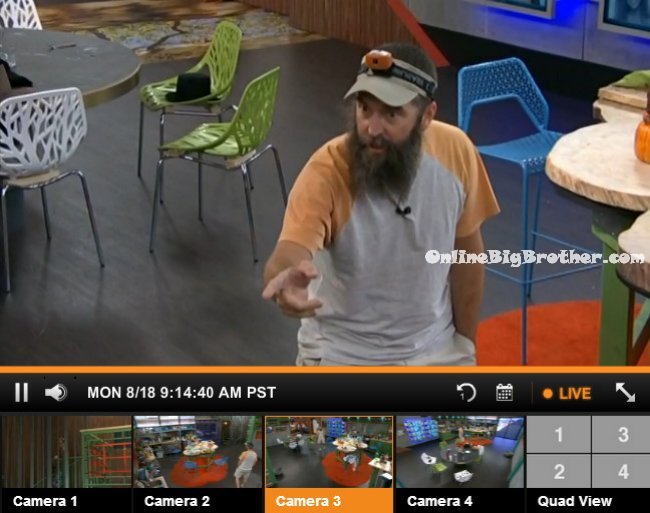 Big Brother 16 Live Feed FREE TRIAL – Use the FLASHBACK feature to watch everything you've missed!
9am – 10:10am Big Brother blocks the live feeds to wake up the house guests. Frankie comes down from the HOH room. Donny says HALT Who Goes There?! Frankie hugs Donny. Donny says he's been up patrolling since 5:30am. Donny asks if Victoria was up there with him. Frankie says no. Donny asks well how did she get by me and go into the bathroom? Donny and Frankie go into the bathroom and ask Victoria if she saw Donny when she came by. Victoria says she walked by him when he was staring out the backyard door. Donny says oh I guess I wasn't doing such a great job then. Frankie says you can't win em all! Donny says she could have cut my throat and I would have never known! Christine joins Victoria in the bathroom. Victoria says she feels nauseous, felt like throwing up and had to see the doctor each time. Christine says that's awful. In the kitchen – Frankie tells Donny I think you'll enjoy my speech today. Donny asks you have a speech prepared? Frankie says I have to for the person I'm putting up.
Frankie raps:
"Alright Zach-Attacks I'm going to do it better because your sh*t was kind of wack! I love you so much and it would be fun for you to stay but if I didn't put you up I would have to be crazy! Because I'm not quite sure if you're the saboteur but what I know for sure is you better walk out that door so Zach Rance please have a seat! Its time for you and Julie Chen to finally meet!!"
See what they can't show you on TV! -Try the Big Brother 16 live feeds for FREE!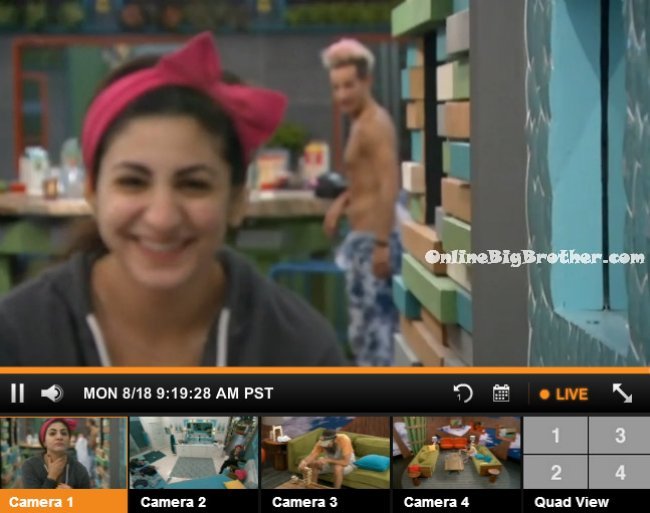 10:20am – 10:30am Frankie tries to comfort Zach in bed. Frankie asks what do I do? How do I fix everything with everyone else? Zach whispers but doesn't have his mic on. Frankie says you don't think everyone would be coming for me hardcore? Zach put on his mic and says you've got to do what you've got to do. Frankie asks are you the saboteur? Zach say no. I wish I was! Put up Victoria! Frankie asks how Victoria would react to being up. Zach says most people would be understanding. Caleb and Derrick wouldn't care. I don't know about Derrick or Christine. I don't think Cody would care either. Do what you gotta do. But please put Victoria up I can benefit you more than she can! Frankie says okay I'll think about it! Frankie leaves and talks to Christine in the bathroom. Frankie says that Zach just begged me not to put him up. Christine says how awkward! Frankie says I told him I would think about it. I mean I had to. They laugh. Christine says he's going to be a terror. Frankie thinks maybe he shouldn't do the rap.

Donny asks Cody in the kitchen – How did they decide that Caleb comes off and you stay on the block? Cody says that's a good question. Donny says Nicole wasn't wrong when she said that they want you out before Caleb. I don't think you're going out but I think it shows you the pecking order. Don't say anything, they're already after me.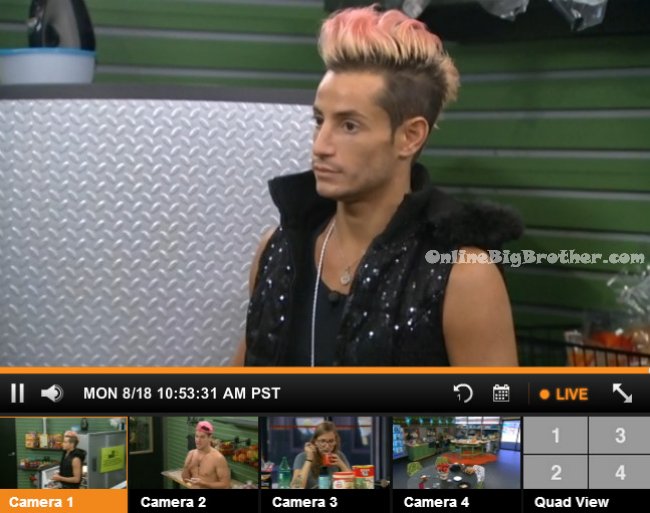 In the storage room –
Zach talks to Frankie. Zach says I know I said it before voting out Victoria is a waste but I can help your game more than she can. I promise I will never put you up and never vote you out. If I go to jury later I will vote for you to win. Frankie says literally everyone will be coming for me. Zach says okay you feel that way. Its fine! Zach leaves. In the bathroom – Zach talks to Frankie again. Frankie says it would take a lot of good behaviour for you to stay. I don't think its impossible. Zach says I've had your back since day 1! And I still do. Frankie says seriously?! I just feel like its been irreparably damaged. Zach says fine do whatever you want. Go with your gut.
Zach lays in the hammock alone. He says well big brother my big brother life is about to be over. The veto meeting is in about 10 minutes and I'm about to go up. Frankie of all people is about to put me on the block next to Cody of all people. What are you going to do. Nothing, I already pleaded my case. I told him I would never put you up and never vote you out. Just please put up Victoria!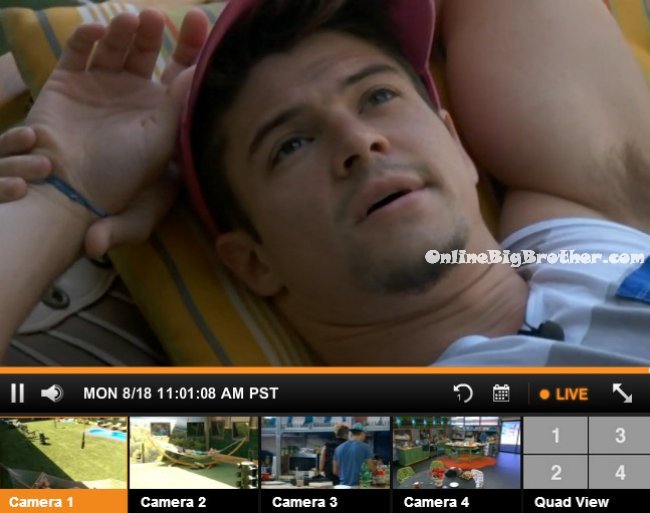 11am Big Brother blocks the live feeds…
Alliances
"The HITMEN" – Cody & Derrick
Team America = Donny, Derrick, Frankie
More polls here https://www.onlinebigbrother.com/big-brother-compendium/big-brother-16-polls/
[polldaddy poll=8244330]
[polldaddy poll=8248683]