POV Holder:
Zach
Next POV
Aug 16th
POV Used
Yes
POV Ceremony
Aug 18th
HOH Winner 1:
Nicole
HOH Winner 2:
Christine
Battle of the Block Winner
 Frankie/Caleb
Next HOH
Aug 15th
Original Nominations:
Nicole's Noms (Caleb & Frankie) Christine's Noms (Zach & Donny)
Final Nominations:
Donny & Nicole
Have Nots
Donny and Zach
POV Players
Christine, Zach, Donny, Nicole, Caleb, Derrick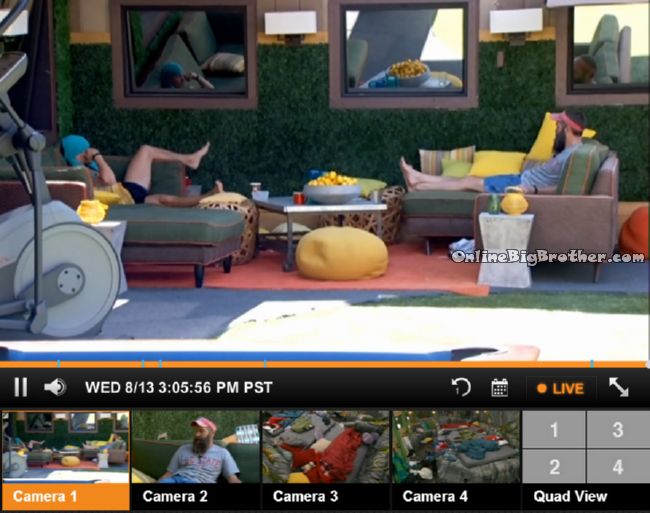 3:06pm Donny and Caleb
Talking about church.. lots of silence.. the occasional plane flies overhead..
Donny asks him what the NOTW tattoo on his body means
Caleb – Not of THis World.. Christian clothing line .. before it got big I got that tattoo like when it was just in christian book stores but now it's sold everywhere.
Caleb goes inside says h'll make some coffee for them.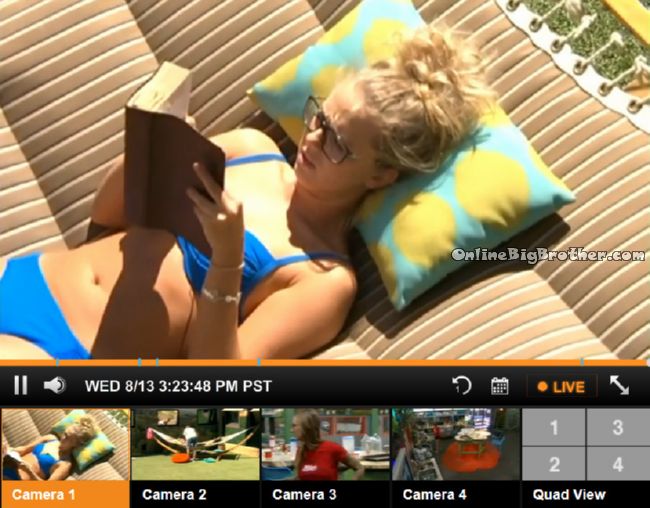 3:22pm Hammock Nicole
Nicole – Donny you're so sweet
Donny finds a passage in the bible that is a[[licable to the situation they are in .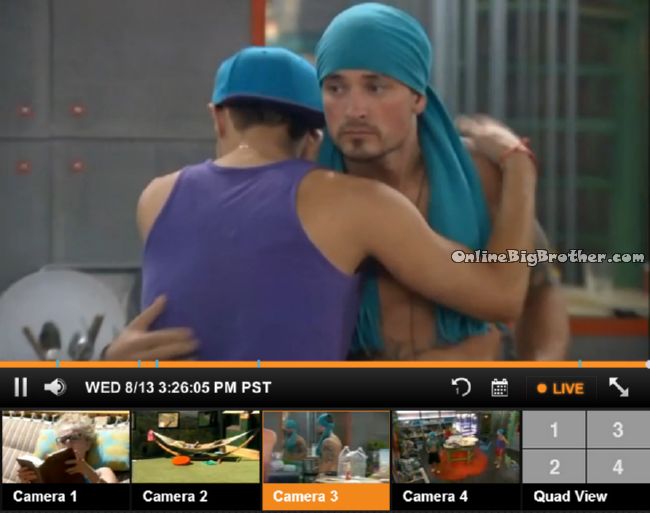 3:25pm Kitchen Caleb, Frankie and Christine
Christine tells him that Nicole is spreading a rumour that Christine said Cody wanted Zach out.
Caleb doesn't understand why lie about something that doesn't impact the game. Caleb says if you lie lie so it matters.
Caleb – why make a rumour about zach he's not on the block anymore..
Caleb – Beast mode is king of this place
Frankie – I'm you're queen
Caleb – She knows that's why she's not talking to me


3:32pm Frankie and Caleb
Frankie thinks he got his sinus infection from doing laps in the pool.
Caleb hopes they can get to final 2
Frankie says they can do it they can get to final 2.
Caleb says final 4 him, Frankie, Derrick and cody "Us four studs"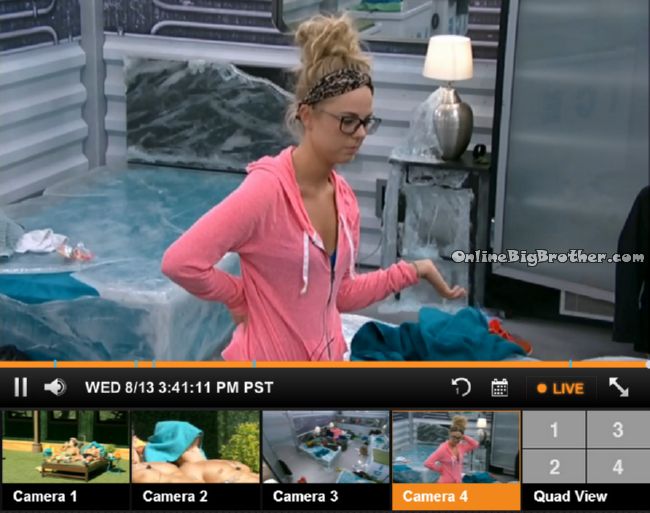 3:40pm Have Nots Zach and Nicole
Nicole wants to know if Anything was said last night.. "Did they respond at all to keeping me"
Zach says they never gave an answer "I dunno they just… I dunno"
Nicole now knows that they don't want to keep her (Cody/Derrick) "If they don't want to that's fine.. I stated my case.. I have nothing else to say.. it's so frustrating"
Zach says everyone is talking in circles..
Nicole – not definite yes or no.
Zach – no definites.
Nicole – Have you talked to Christine
(Didn't hear his answer)
Nicole – Shoot.. Should I talk to Derrick/.. NO..
Zach – you tried yesterday
Nicole – Fine at least I know .. spend my last day.. It's OK thanks Zach..
Nicole walks out "SUCKS.. why are they so weird they want me out bad.. "
Nicole heads to the hammock.. "I felt Zach didn't wanna hurt my feelings.. that's a first time.. "
Nicole – I probably shouldn't even try to stay
Nicole on the hammock continues to talk to herself. Says it now makes sense there a group of six it includes Christine.
Nicole – I hope the endurance comp is a buy back
The Live Feeds are archived. You can go back and watch everything that happens
Try It Free! Subscribe now to the official BB16 Live Feeds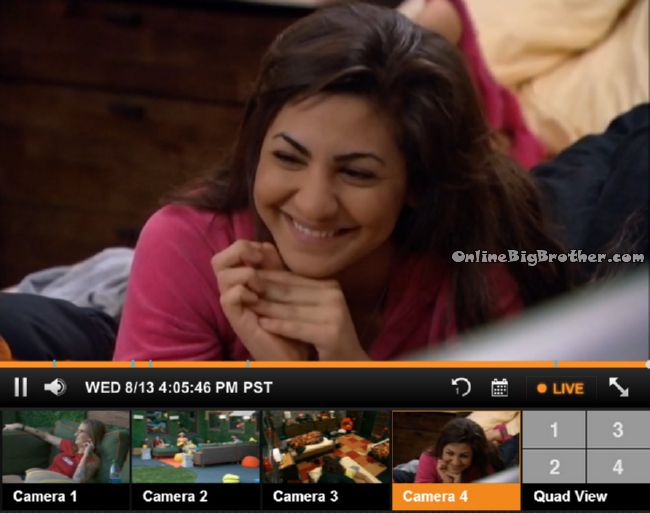 4:02pm FIREROOM Victoria and Derrick
Derrick pissed at Zach for pulling him to the side with Nicole. Christine and Cody saw so it looked like he was scheming with them.
Victoria says Nicole told her week three derrick formed an alliance with Nicole and it had a name it was legit. Nicole also told Victoria there was a five person alliance and it had a name
Derrick – this is why she's going home she's starting all those rumours
Derrick – I'm F***g done with her dude.. she's the biggest liar in the house
Derrick starts making fun of Nicole's attempts of staying in the game. Victoria giggles..
Victoria thinks Christine and Nicole had a final 2 deal more reason for her to send Nicole home.
Derrick – she's going home 100%
Victoria – Nicole and Zach are working together.. Zach really wants her to stay I guess because he doesn't have anyone.
Derrick says Nicole wanted to have an alliance with him she had made up some stupid name. All the alliance was more a simple HOH agreement to not backdoor each other.
Derrick – THursday night Caleb, Frankie, Me and you are voting Nicole to go home that;s 4 people.. she's not staying.. NICOLE IS GOING HOME"
Victoria wants to know why Zach is claiming Nicole going up was his doing.
Derrick says it had something to do with Zach have all the information and going to CHristine. HE only had it because they knew he would spill it so they told him.
Derrick – Zach is a puppet… he's a f***g puppet
Victoria – He changes his mind every 2 seconds its' scary
Derick – HE's a f****g puppet"
Victoria – were you in an alliance with Cody, Hayden, and Nicole .. she said it was an alliance and had a name
Derrick – Wow she had another alliance with another name..
Derrick goes on and on discrediting Nicole telling Victoria about The detonators and The rationales. Victoria just giggles
Derrick says he told her Nicole he's not voting for her to stay. The only reason Nicole is working on Victoria and Zach is she thinks they are gullible.
Derrick – Now that she needs your vote she's your best friend.. Cmon man please.. am I just smarter than everyone
Victoria – I get it I just like to play along
Derrick – next she's going to come to me and say you and her made a final 2 deal.. this is why I wanted everyone to tell her she's going home so she wouldn't do that.
Derrick goes on and on about Nicole being a liar the biggest one in the game. Derrick – Donny's her f***g boy he's going next week if I have my way"
Victoria – You do know Christine i s liar right
Derrick – yes and Frankie
Victoria – She just needs to be told the truth.. I'm done playing these games with her.
Victoria – Cody is up Christine's a$$ 24/7 I don't get it
Derick – She doesn't have any more power..
Victoria – Why is he up her a$$
Derrick – She a girl
Victoria – She's married and still they cuddle and do all these things
Derrick – that's her choice..
Victoria – her and Cody are a twist.. like cousins..
Derrick – they wouldn't be cuddling..
Victoria – Zach is going to do whatever he can to keep Nicole
Derrick – No hes not
Derrick – doesn't matter Frankie will never vote to keep her and I'm not and you're not that's three.. And Cody isn't keeping her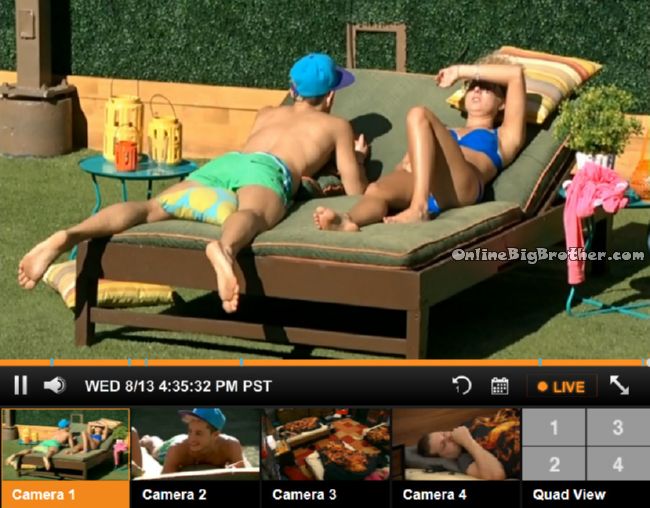 4:38pm A Social media mogul and Christine
Social Media mogul is talking about Social Media and his followers.
4:43pm Victoria and Nicole
Nicole says she talked to Zach, he said the guys are talking in circles no definites. He didn't think Nicole talking to Derrick again will help.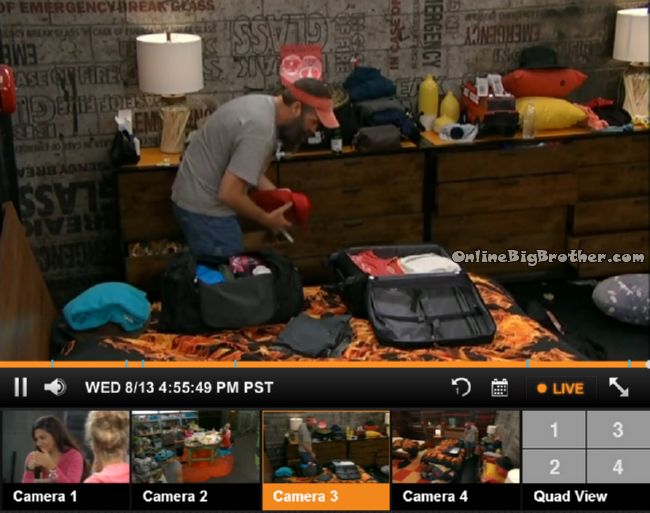 4:57pm indoor lockdown called Donny packs
Where the vote stands.. Nicole is going to jury
Alliances
The new bomb squad – Caleb, Zach, Derrick, Frankie, Cody, Christine
"The HITMEN" – Cody & Derrick
Team America = Donny, Derrick, Frankie
More polls here https://www.onlinebigbrother.com/big-brother-compendium/big-brother-16-polls/
[polldaddy poll=8233586]
[polldaddy poll=8244330]