POV Holder:
Frankie
Next POV
Aug 16th
POV Used
Yes
POV Ceremony
Aug 18th
HOH Winner 1:
FRANKIE
HOH Winner 2:
Derrick
Battle of the Block Winner
Donny & Christine
Next HOH
Aug 21st
Original Nominations:
Derrick's Noms (Donny & Christine) Frankie's Noms (Caleb & Cody)
Final Nominations:
Zach & Cody
Have Nots
Christine & Victoria
POV Players
Cody, Caleb, Frankie, Victoria, Donny, Christine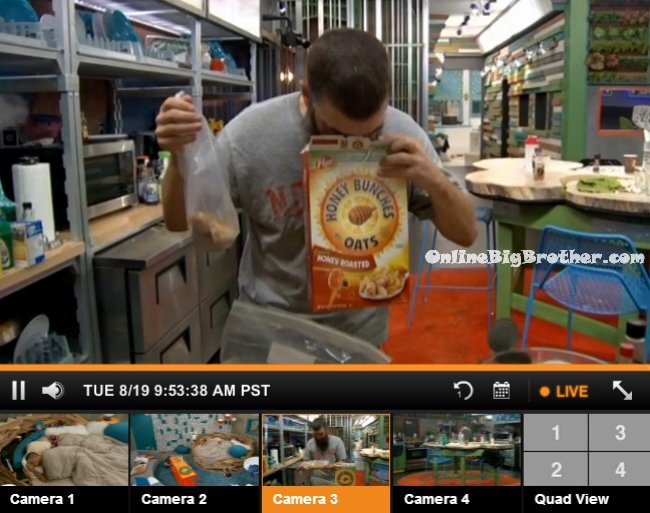 9:30am Big Brother blocks the live feeds to wake up the house guests. When the live feeds return – Donny is in the kitchen pouring a bowl of cereal. He heads out into the backyard and starts eating it but finds ants in his cereal so he goes back inside. He looks inside the cereal boxes and then takes the box and his cereal to the storage room. He dumps his cereal into the cereal box throws it in the trash. He then gets another bowl of a different cereal to eat.
Take Advantage of the FREE 2 day Trial to watch all the drama!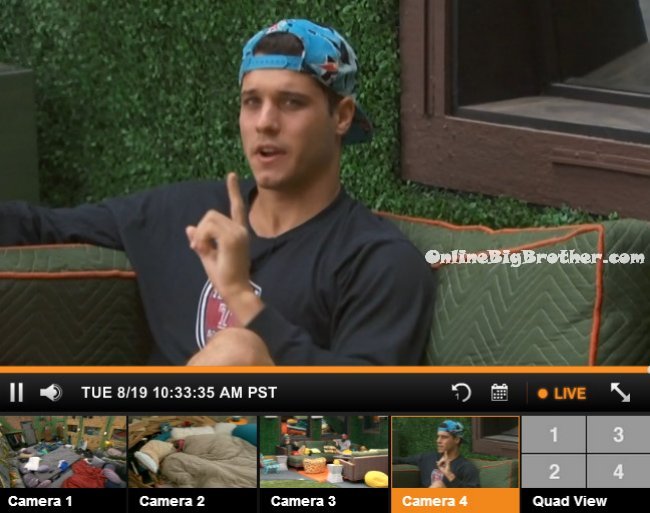 10:15am – 10:55am Cody gets up and joins Donny in the backyard. Cody says Victoria and Zach.. let me just tell you its about to get loud in there then next couple days! He went into her stuff early on in the season and took it from her without asking and last night she took it back and tore it up! last night he was asking for it back and she wouldn't give it to him. Don't tell Zach. Donny says I wont tell nothing. Cody says man she had some built up anger towards him! Donny asks and he knew she took it? Cody says yeah. I don't know where she put it and I don't want to know so I don't have to lie to Zach when he asks. Donny asks are you okay with 6th place? Cody says nope. Donny says I know there are a group of 6 and Caleb's not one of them. He's been used to take the fall when they needed to blame something on. Donny says Christine is going to play handsie with you and play with your hair and then send you out the door. Cody says I'm already on to that. I need to start winning HOH's to start making decisions or I know I will be going. Donny explains how he already figured out before Zach went up that he was the real target and not Victoria. Donny says I wouldn't bank on Derrick to save you if I were you. He was close to Hayden and look where he is now. The three of them – Derrick, Frankie and Christine .. you're not going to break that up. Cody says I know that Frankie lies to get people out. The thing that I'm worried about is that there are still 2 days left. Donny says Victoria is going to be the GinaMarie.. she is going to ride it out and last longer than you and me. She's done nothing to be here. Cody says that Caleb has already mentioned things that make me think he wants to go to the end with Frankie. Caleb is a crazy, crazy loyal guy. Donny asks how are you going to make to the end? Cody says I know where the game is and I know I need to start winning. Donny asks if you win HOH are you going to waste trying to get me out or are you going to start helping yourself? Cody says I am going to start helping myself. Donny says if I'm here, I can help you. Cody says I could be then next to go. Donny says if we don't win HOH, we will probably be sitting up there together. Donny talks about how Cody shouldn't trust Derrick. Cody says Derrick is the one in that group that I trust the least. Cody says that Hayden was crazy loyal and I wish he wasn't gone. Cody says Thursday there could be a buy back Hayden could come back. Donny says you only hope might be to turn Derrick against one of them two. Donny says I need someone that I can trust. Cody says you can trust me. Donny says you can only make it to 5th or 6th. Do you believe me? Cody says I know I'm next. Donny says if you win HOH they're going to want you to put me up but you could tell them you want to back door me just to pacify them. You could says I'm so good at the veto you didn't want to put me up and then when the veto is won you backd*or one of them. I need to trust someone or I'm gone and I want to trust you.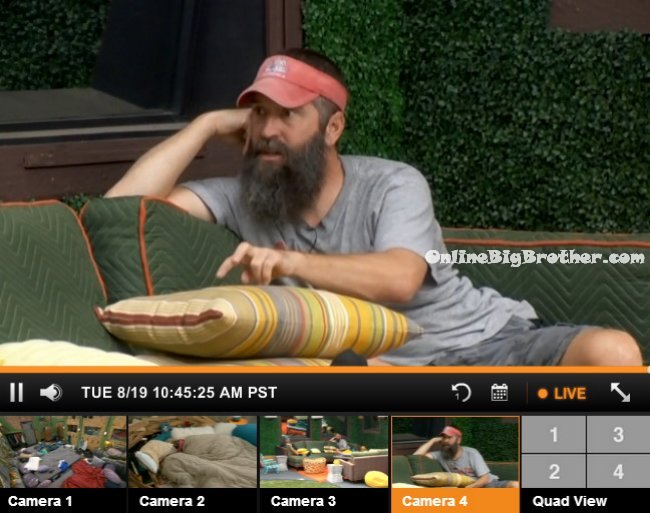 11:10am Donny says of Christine, Frankie and Derrick who could you get to turn on them. I wouldn't waste your breath on Caleb. Cody says the only person I would think would be Derrick. Donny says Derrick plays everybody. Donny says if I go next week, then you're next. Donny says I hope if I win HOH, you're not my target. I wouldn't say Frankie is my target because he is a target because of his sister. Christine doesn't have target. Donny says I can't keep winning HOH, then Veto, then HOH.. I'm too old. Cody says it just doesn't happen. Donny says that they're going to keep Victoria longer than you. Cody says I know I need to start winning HOH's or pack my bags and I'm going home. The end their conversation to not be seen talking by the others. Donny heads to the diary room. Cody says to himself Oh Donny, Donny Donny. Oh Donny! Necessary or not!? Was that a necessary conversation?! HHmmmm..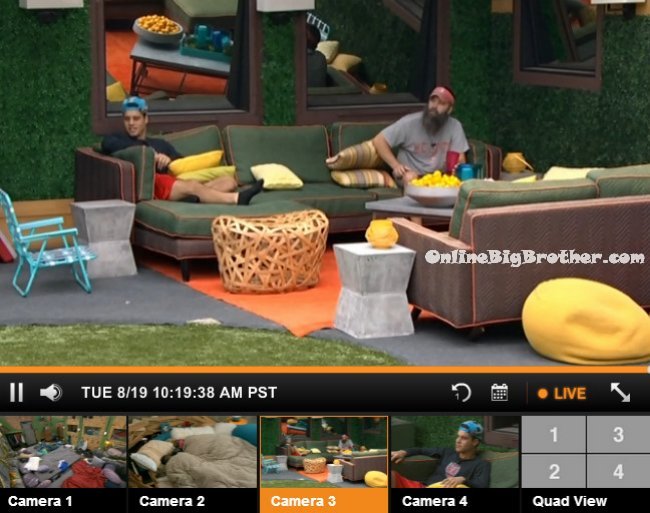 11:10am – 11:50am Donny heads into the diary room. Cody makes breakfast. Donny gets out of the diary room and works out on the elliptical.
12pm Victoria wakes up and grabs tinfoil from the kitchen. She heads into the bathroom and takes the cut up pink hat out of her basket and wraps it up in the tinfoil. She then shoves it into a ziplock bag and puts it back in her basket.
See what they can't show you on TV! -Try the Big Brother 16 live feeds for FREE!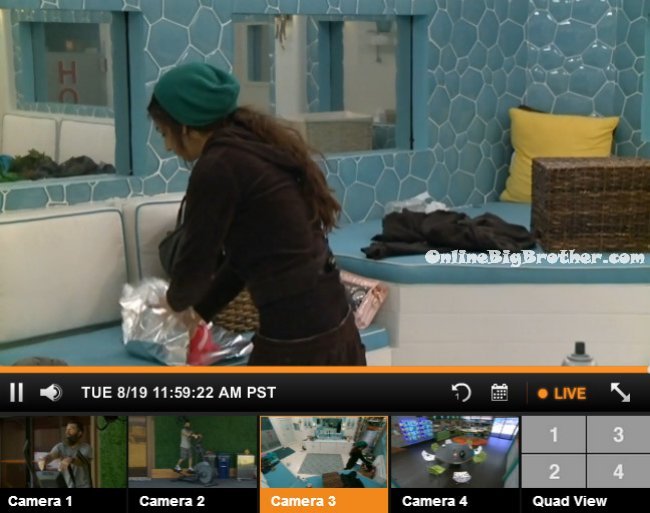 12:45pm – 1:30pm Christine wakes up and joins Donny in the backyard. They lower the awnings together. Christine heads to the bathroom to get ready for the day. Victoria comes out of the diary room and heads into the bathroom. Victoria says I already know what Zach is going to wear today .. his gator shirt and pink shorts. Christine laughs and says I love you more and more each day. Christine asks are you going to tell him about the hat before he leaves. Victoria says no. I don't want him to come close to it. I want it in my hands. Christine laughs.
Alliances
"The HITMEN" – Cody & Derrick
Team America = Donny, Derrick, Frankie
More polls here https://www.onlinebigbrother.com/big-brother-compendium/big-brother-16-polls/
[polldaddy poll=8255055]
[polldaddy poll=8244330]