Want to watch the Big Brother Canada 5 live feeds but live outside of Canada?
Bypass the geoblocking with HideMyAss VPN and be Canadian Anywhere: VPN Help Guide
Bruno and his hot tub boys
10:51am Sindy and Jackie

10:55pm Kevin and Bruno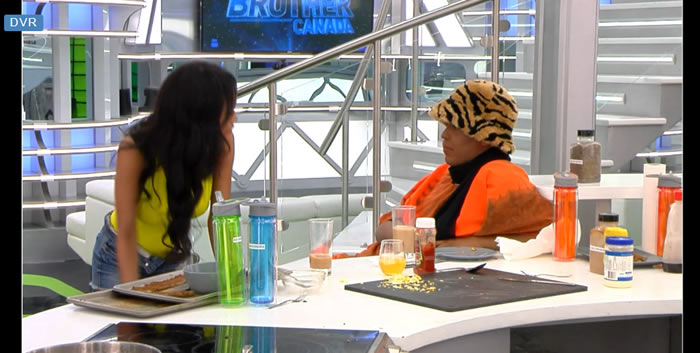 12:57pm Ika and Gary Kitchen
Gary – KAren will vote, Dre will vote
Ika – KAren will go tell them we forced her to do this.. you know Karen
Gary – LIsten to me Karen is scared and doesn't want to play Neda's game..
Ika – I don't want to play Neda's game
Gary – I'm not playing her game
Ika wonders why everyone is scared of Neda
Gary says they aren't scared of Neda that's why they are voting for Cass to stay.
Gary – trust me I feel good about this..
Gary – when I think about it and how strong she is she needs to go
Ik a- and how wicked she is
Gary – Lets not play stupid we're already targets.. it's one side against the other side
Gary – we're in the numbers this side.. lets make it hot.. they're going to gag
Ika – they're going to gag
Gary – Neda didn't think about it.. we have the numbers
They agree they'll have to tell Cassandra to "Calm the f*** down"
Ika is worried that they can't control CAssandra. Asks Gary to make sure he keeps her under control.
Gary is going to tell her straight up they are keeping Cassandra in the house only on a few conditions. she needs to calm the hell down, don't talk shit about anybody inside the group, and learn the tea.
Gary – I am going to go to Karen, Will and Dre and say we're keeping CAss.. She out number she's on our team.. the house is divided.
Ika says once that is confirmed she'll talk to demetres.
Gary – You're only job is to work Demetres.. you have all day take your time.
(So looks like they are going to keep Cassandra now.. Tomorrow should be interesting)
Karen and Cassandra hot tub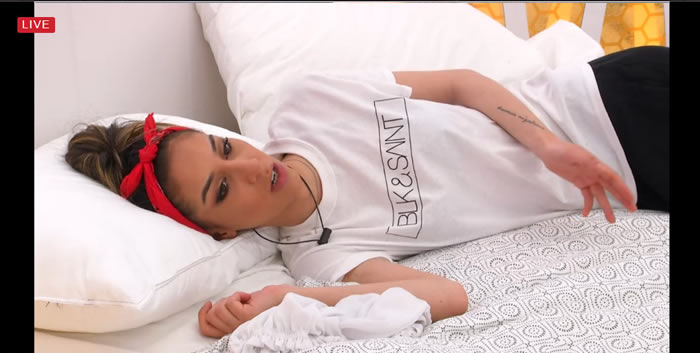 Neda and Kevin HOH (Black and Saints is Neda's clothing line)
Kevin says Jackie trust Bruno and Kevin.
Neda – she's sketchy
Kevin – super sketchy
Kevin – Gary speaks so loudly when he speaks game
Neda – Jackie is all over the place..
Neda says Dre is pulling Jackie back in
Kevin – I doubt I have her
Neda – she'll go after you guys
Neda says if something crazy happens tomorrow and saves Cassandra she'll put up Gary.
Neda says it will be perfect if they can get rid of Gary, Dre and Jackie.
Neda mentions how Jackie has stopped talking game to her.
Kevin – Bruno told me that Ika confronted Jackie.
Neda – the whole point was for me to tell Emily and then Emily to be like oh ya you should bring in Ika and Demetres.
Neda – Ika f***d it up (huh)
Kevin – would be awesome if Emily and Dillon won
Neda – they want to go hard on Dre
Kevin says Dillon and EMily are "so onboard" to work with them.
Neda – did you hear about the name.. It's black and Saints.. I didn't bring it up I swear
Neda says the other options that was brought up was p$nis in your @nus
Kevin agrees that was a stupid name he's not going from the diaper alliance to that.
Kevin thinks Black and Saints it awesome "No more a$$ no more bums"
Neda – don't tell Ika, Demetres's of Sindy about the name it'll sketch them out.

1:06pm Ika and Demetres
Ika- I hate Jackie
Dre joins them
Ika – I hate water ..
(LOL)
Best of BBCAN5.

4:30pm Feeds have been down for a bit…
6:10pm Karen and Gary
Karen – I hate Jackie
Karen – Who do we believe more Neda or CAss or neither because Cass went in and said lets get rid of JAckie and Karen.
Gary says it doesn't matter what they do Demetres is not budging the plan is out the window. (to save Cassandra)
Karen – so he's with the guys
Gary – yes.. it's bad for me especially because I went out on a limb just now.
Karen – what did you say to Demetres
Gary – I'm annoyed with myself.. I'm just playing devils advocate..
Gary adds that Demetres told him he's thinking about it but Gary felt like Demetres is not budging.
6:10pm Ika and Dre Bathroom
Dre says imagine if they all say "YA YA we're voting for her to stay" and they don't leaving just him.
Ika says That Cassandra is working really hard
Ika – I don't think Demetres is.. if Demetres changing his mind I'll vote for her to stay.
6:30pm Karen, Dre, Gary and Ika Ika tells Gary Demetres mind is not made up.
Ika leaves.
Karen – Demetres and Ika are not with us 100%
Gary thinks Demetres will join the other side and take Ika with him
7:55pm KAren and Neda Bathroom
Ika tells Bruno that the other side is working on her and Demetres to try and save Cassandra. (If Ika is telling Bruno this there is no saving Cassandra.. )

Bruno and Neda

8:36pm Ika and Bruno HOH. Ika – what you need to know is that Gary mentioned your name and Kevin's name. They think that you, Neda, Emily, Dillon and Kevin are in an alliance. Bruno – like Neda told you .. the fake 5? Ika – yeah. Bruno – but they think that? Ika – yeah.
9:50pm Ika and Demetres HOH
10:34pm Karen and Demetres
Karen says Cassandra is going home it's only William, Dre and Gary pushing to save her.
Karen says they can't afford to be on the wrong side of the vote this week.
Karen to Ika – Do you want to keep her? Tell me the truth. Ika – between you and me if we do that we're putting a target on our backs and I don't want to do that. Karen – thank you! Ika – they keep telling me that you're on board and that you want to do it. Karen – Let me tell you something. You guys are trusting Dre. Dre just went and talked to Jackie. Then Jackie goes and tells f**king Neda. And Neda comes and tells me. And Gary is trusting f**King Dre and Dre is selling us down the river. You can't blow up on her. Ika – I promise I won't. Karen – You guys are trusting Dre.. and Dre went and talked to Jackie and then Jackie goes and tells F8*king Neda. Dre is selling us down the river. She went to Jackie and said that we are campaigning .. and you know that's not happening.
12:40am Cassandra and Demetres Kitchen
12:40am Gary and Ika Storage room. Gary – people are treating me differently and like Jackie is treating me weird. And like Dre isn't looking at me and its like weird! Do you know what I mean. I trust my gut and my gut always tells me.. Ika – I need to talk to Demetres and ask him what's going on. Gary – things have shifted …like Dre's not getting the blame for the Cass thing and like me. Ika – I am telling you I haven't heard your name when it comes to campaigning. I've only heard about Dre. Gary – something's fishy.. even Williams fishy. Dre's fishy, Jackie's fishy.. somethings going on in my gut. Gary – Cass is going home. Ika – so we don't have Dre? Gary – do you want her to stay? Ika – I thought that's what you wanted to do. I thought that's why we're down here. Gary – Cass could give her first unborn child… Demetres isn't budging. Ika – when we were upstairs he was like we have the votes … I don't care whatever. Gary – I don't want to keep her. Ika – are you sure.. because then you're going to blame me if something goes wrong. Gary – Karen doesn't want to keep her. As much as I like Cassandra, I know you're there more for me than she is. And I need to show Neda while she is still in power and the queen that I will be loyal to her and give up my right hand man for her. And this move will give her ego a boost. William is voting out Cass. Karen is voting out Cass. I'm voting out Cass. Ika – okay then we're voting out Cass. Gary – I'm done! I'm not dealing with this bullsh*t! And I'm not saving her a$$. She hasn't been in a position to show me that she would save my a$$. And I go off of action. Ika – are we solid without her? Gary – we never will be, we're the underdogs. We'll be Karen, Gary, Ika, Demetres, Will, Dre.. us 6. We're a smaller number but we'll be good.
12:44am Storage room Gary and Ika
They're voting Cassandra out.. Gary – I'm done. I'm done! She needs to go. She's too much .. just go! GO! Ika – In my heart I felt like she should go and then after speaking to you, you made me believe in keeping her. You made me work Demetres all day and now you're telling me we're not keeping her. Gary – it was a lesson because now we know Demetres is a ride or die. Ika – that's true. Gary – and I learned that Karen is a ride or die. Will and Dre are flip flip flippity flops… just like Jackie. I think maybe you should plant a seed (to Demetres) that maybe it should be Cass. And Gary actually is on board. Ika – god I just did all that f**king work.. you are a mess. Gary – you, me and him by the pool. You break it to him and then I'll act like .. we'll break it down like it was your idea. Don't make it seem like I influenced you. You need to look like the strong person. Like Gary no. Because I already campaigned, I'll look stupid if I changed my mind. You just need to be like Gary honestly .. and I'll be like okay, she has to go.

CAssandra comes in to talk to Gary. Gary tells her the only person that is 100% is him. CAssandra thinks she has more votes than that..
This next clip happened last night. I thought it was Emily but that's Gary near Dillon. .. LOL lots of material for the Kraken hour 🙂