POV Holder:
Cody
Next POV
Aug 30th
POV Used
No
POV Ceremony
Sept 1st
HOH Winner 1:
Cody
Next HOH
Aug 28th
Nominations:
Donny & Nicole
Have Nots
Donny & Nicole
POV Players
Donny, Nicole, Cody, Frankie, Derrick, Christine
See what they can't show you on TV! -Try the Big Brother 16 live feeds for FREE!
1:55pm Big Brother blocks the live feeds to wake up the house guests again. Caleb says I'm going to go up and see if my boys awake. Frankie asks who? Caleb says Cody. Frankie says that's one boy. Caleb finds Cody still passed out and leaves the HOH room. Caleb explains how bad the ants were this morning. Caleb says then I did a raid commercial. Frankie asks RAPE? Caleb says Raid! Frankie laughs and says you to can be raped.
2:10pm – 2:25pm In the kitchen –
Donny tells Derrick that he's tried to talk to Frankie but he is always around someone. Derrick says he hasn't said much to me either which isn't good. Donny says I tried to talk to him earlier but he went back to bed. I'll try and talk to him later today too. Donny says he's very popular. Derrick agrees. Derrick heads to the bathroom and asks Christine if she is good Christine or bad Christine today? Were you just in a bad mood last night? Christine says yeah. Derrick says we'll have plenty of time to talk today. I'll be up your a$$ all day. Christine says I'll take it! She laughs. They head to the kitchen. Christine comments that last night she said something about her makeup and Cody said but you don't wear makeup. I said Cody I'm still a girl!!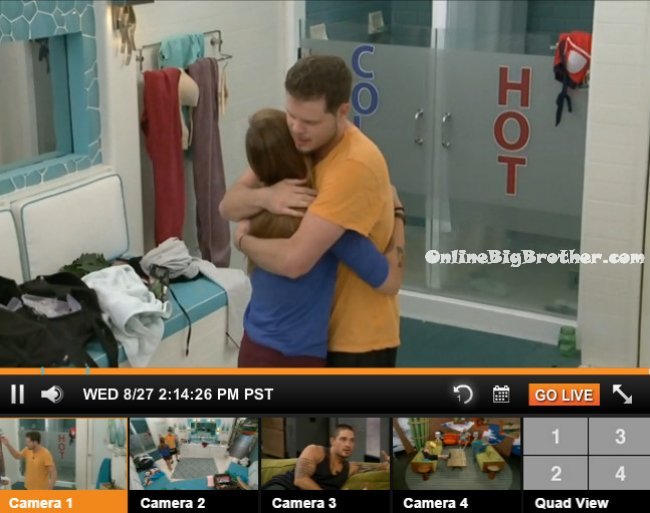 2:30pm In the bathroom – Donny asks Frankie is there any way to save a member of team america. Frankie says you don't have to convince me. I've been trying. Donny says I've been hearing the same ..that I just need to talk to you. Frankie asks from..? Donny says Mmmhhmm. Frankie says the only person we could possible sway is Caleb. Frankie says but to do it you would need to come up with something … like a rabbit in your hat. Like being military or something you know what I mean. Like he wants the truth from you. Donny says I have told the truth. We could come up with a lie. I am the truth. Frankie says I know. Donny says I talked to Derrick and he said to talk to Frankie. I haven't asked anyone but the two of you because I didn't want you to think I was campaigning against your or nothing. Frankie says if he comes to me and says we need to keep Donny then I'll be like great! Donny says I understand its only a game and ya'll have to do what you have to do. If I leave will I still have your vote? Frankie says I would probably still vote with the house but if you can get the votes then you have my vote. Frankie says just please try. Donny says I will, thank you.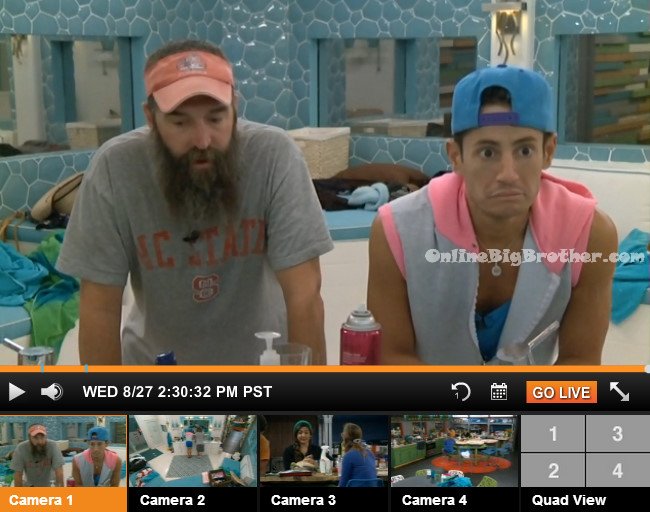 2:40pm In the living room – Donny, Caleb and Nicole are talking. Donny says if I get out on a work day on my way home from the airport I would like to go by my work and talk to my boss man. I had a dream about my boss man last night and how he tried to fire me but couldn't.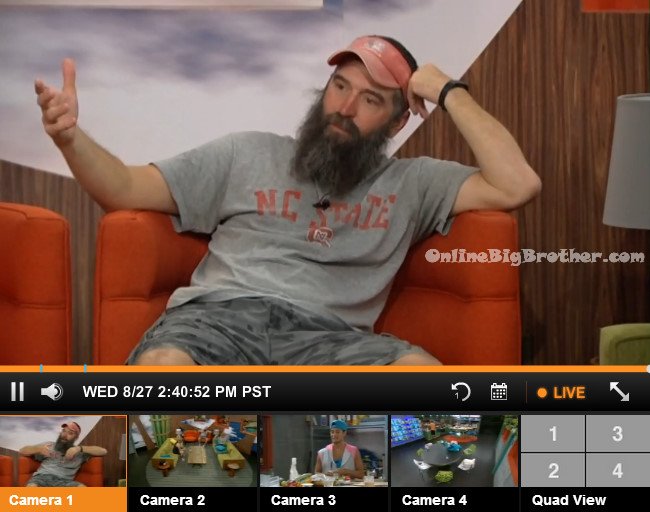 2:50pm In the bathroom – Frankie says to Derrick thanks for sending Donny to me. Frankie laugh and says its okay. He asked if he would still have my vote and I told him no unless he has the votes. I told him to go talk to Caleb but to leave our names out of it. We've done all we can do. Derrick agrees.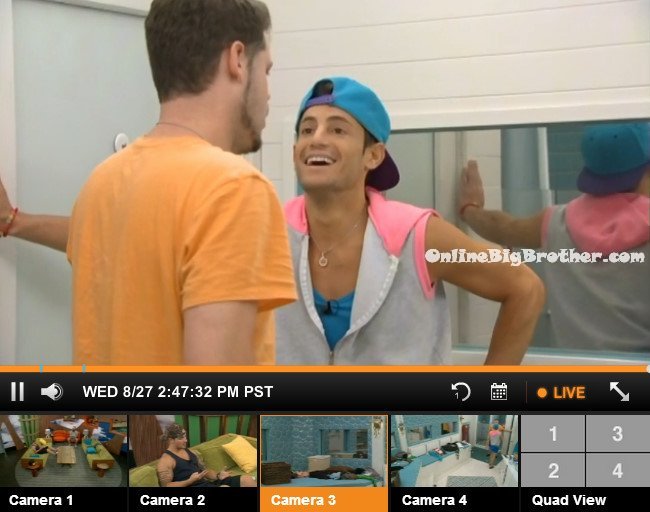 3pm – 3:15pm At the kitchen table – Derrick, Nicole and Victoria are scrubbing their running shoes with bleach to get out the stains. Donny says he's going to leave his the way they are because its a conversation piece. Derrick talks about getting a tattoo of the big brother house on his arm with a 16 in it. He says the wants to the house to to be more of a 3D version. Caleb talks about how he wants the Big Brother key on his forearm or calf with BMC (Beast Mode Cowboy) BB16 on it. Victoria asks if someone drinks bleach what would happen? Derrick says it could kill you, I think.
3:15pm – 3:25pm Frankie and Donny are doing the dishes. Frankie asks do you have a suit for the finale? Donny says no. Frankie asks are you just going to wear this. Donny says I had some collared shirts that they snatched up from me. Frankie says so maybe you can wear one of those. Donny says if not I have my Harvard shirt and camouflage shorts. Donny asks is it going to be a double eviction tomorrow? Frankie says its very possible. Donny says maybe we'll get to play darts or something in a little while. The house guests are cleaning the kitchen and bathroom. Frankie tells Donny that he would have to be the one to initiate the conversation with Caleb and that he needs to keep our (Derrick & Frankie's) names out of it. Donny says he will.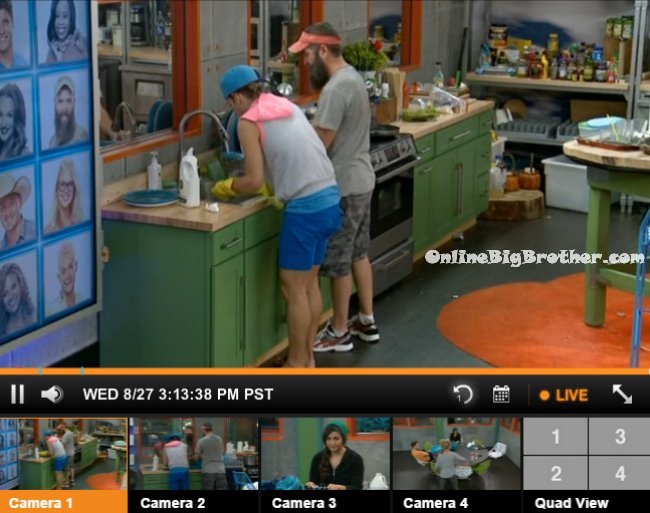 One way to support this site that doesn't cost you anything extra is making your
Amazon purchases through the links Below
For in Canada use the following link:
Amazon.ca
More polls here https://www.onlinebigbrother.com/big-brother-compendium/big-brother-16-polls/
[polldaddy poll=8260325]
[polldaddy poll=8261457]