POV Holder:
Cody
Next POV
Aug 30th
POV Used
No
POV Ceremony
Sept 1st
HOH Winner 1:
Cody
Next HOH
Aug 28th
Nominations:
Donny & Nicole
Have Nots
Donny & Nicole
POV Players
Donny, Nicole, Cody, Frankie, Derrick, Christine

3:35pm
The houseguest are cleaning up, COdy who is sleeping.
Frankie and Donny were cleaning the kitchen, THe girls doing the bathroom and
Caleb and Derrick in the rock room.
They are believing it's double eviction tomorrow so are trying to gather up all their "Props"
Nicole and Christine comment on how gross the floor is in the bathroom.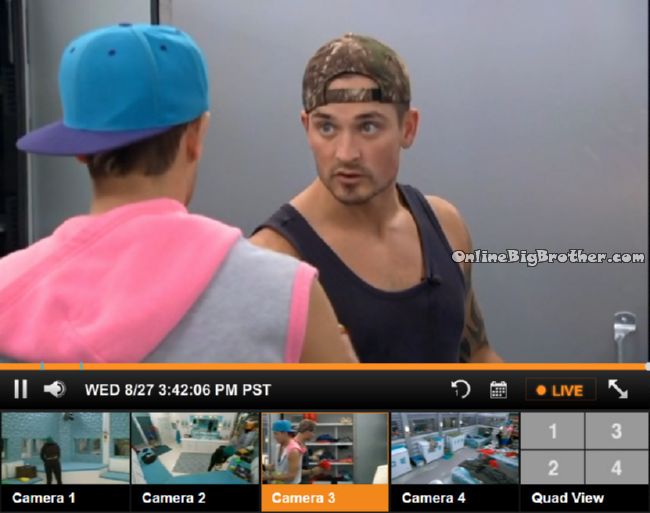 3:40pm Have nots room Frankie and Caleb
Frankie says Donny is going to talk to Caleb, "He talked to me earlier.. he said.. I don't understand why people are keeping her she's won more HOH's
Frankie told Donny – "I'm sorry I have to go with the house majority.. that's all I said.. He asked me if he should campaign I told him sure it wouldn't hurt.. I don't know where it's going to get you.. he's got a weird way of making me feel bad.
Caleb – Honesty him going home before Victoria sucks cause he's worked his butt off to be here. but it's what works best for our alliance.
Frankie – is it weird I feel weird..
Caleb – that guy fought and fought and fought and made it this far because he saved himself the entire time.. you're only human.
One way to support this site that doesn't cost you anything extra is making your
Amazon purchases through the links Below
For in Canada use the following link:
Amazon.ca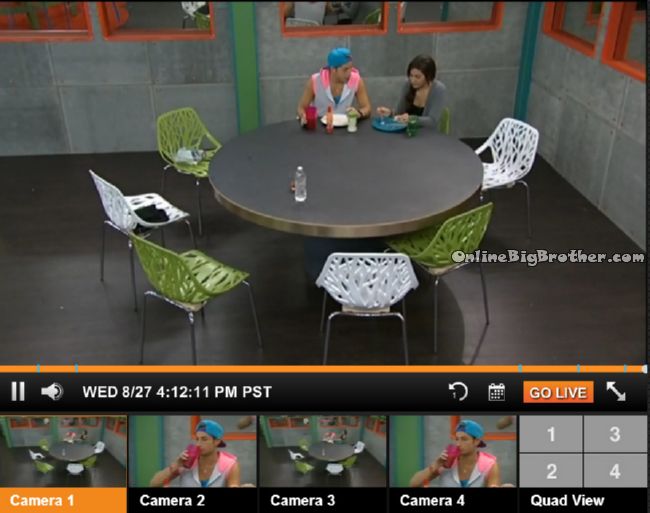 4:09pm dinner table.
Frankie talking about the British pound and how the smartest thing London ever did was not go with the Euro and stick with the British Pound. Frankie equates a countries economic success with the value of their currency.
they talk about the indoor lock-down so early Frankie thinks they are just doing it to physiologically mess with them. Frankie adds that he's feeling more and more there is a double eviction tonight. Vicotira was supposed to go to Greece last year but the trip was cancelled. Frankie mentions how cheap everything is in South Africa and how expensive it is in Europe.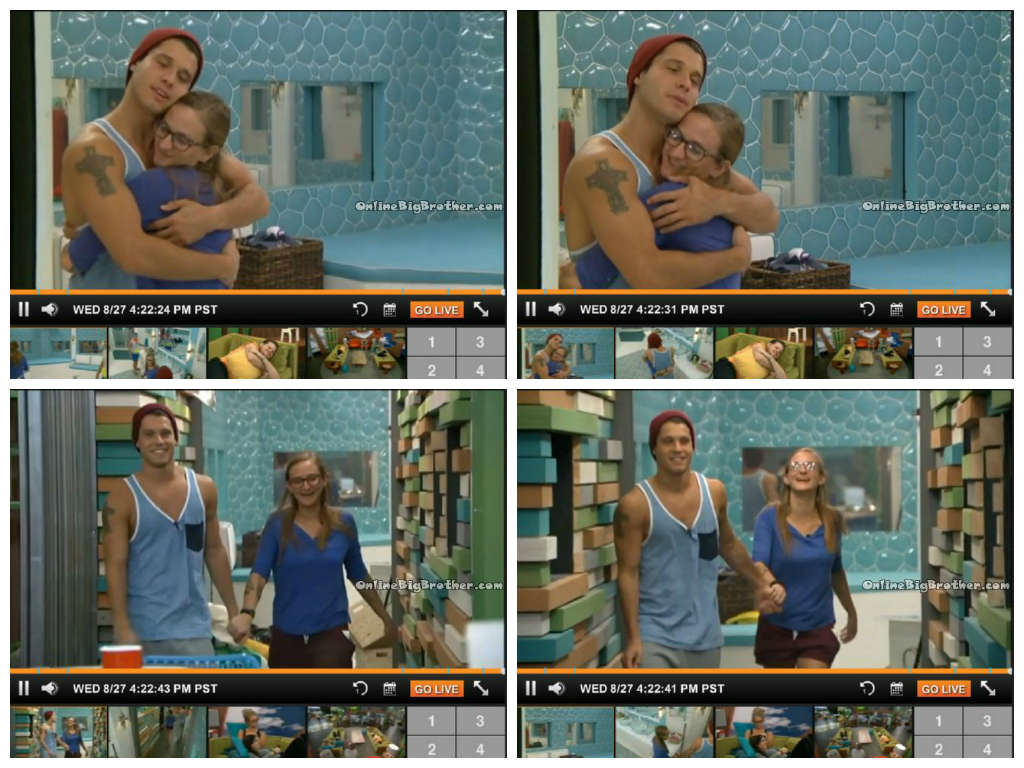 4:23pm Cody wakes up Finds Christine… the rest is in the pictures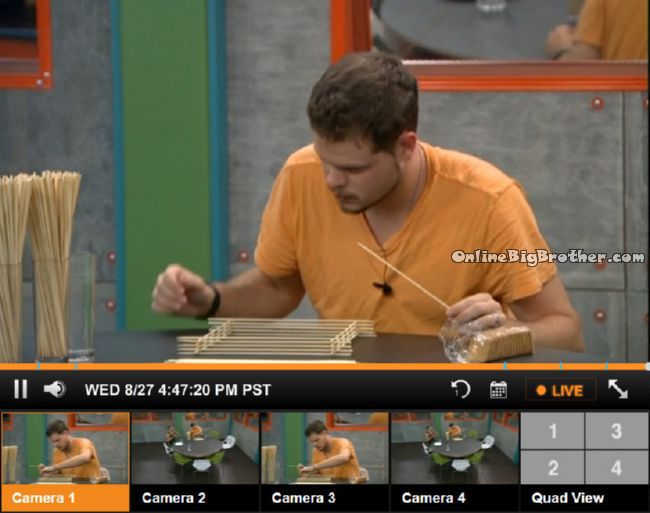 4:36pm Kitchen table Caleb and Derrick
(Looks like Derrick is building transfer of power two)
Caleb – Frankie tell you
Derrick – doesn't matter at this point
Caleb – he just wants A vote
Derrick – doesn't make sense though.. he's telling three different people that
Derrick you are the only one that doesn't talk sh1t when I'm not in the room.. Is that bad to admit kinda, with 8 people left but, that's just how I feel"
Caleb – I feel people do for their game.. IN case we don't win.. at the end of the day that is the way it's played.. if you don't win and not Sunk in with someone..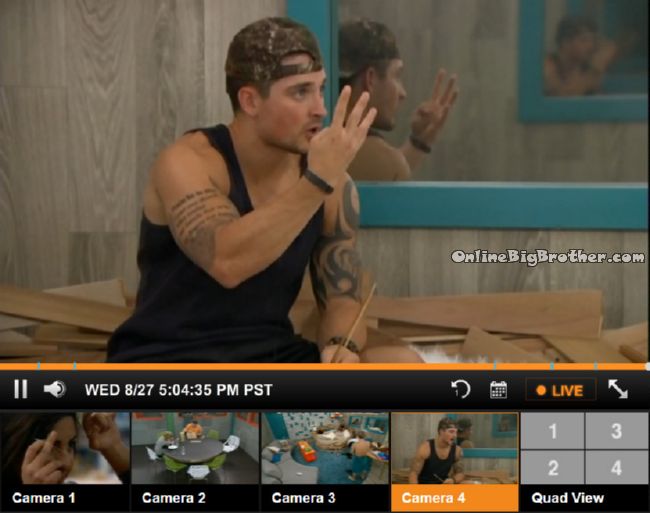 5:04pm HOh Frankie and Caleb
Talking about all the mental comps. franke – it's been the hardest mental season ever
They start studying comps and trying to figure out what to study.
Caleb says the "timeline one" is the hardest competitions. Frankie agrees but points out that this year they did it early
Caleb doesn't think it's double evict this week
Frankie thinks it could be this week or next week.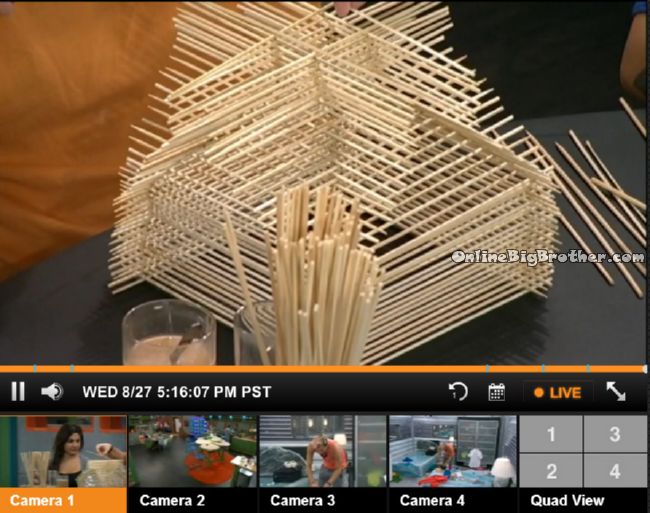 5:12pm Kitchen
Derrick continues to play with the kaboob sticks, making what looks like a cabin. jokes than Donny says one big word and everyone
Nicole – What are you building
Derrick – I'm going to try and build a crane with dental floss.. probably not going to work.. trying to be as neat as possible"
Derrick tells them he wanted to be a architect but after taking a class in highschool and finding out you needed to know math he was dropped it. He completed the course but the magic was gone.
Derrick – "I noticed too late in life that school is important.. I screwed up so bad.. "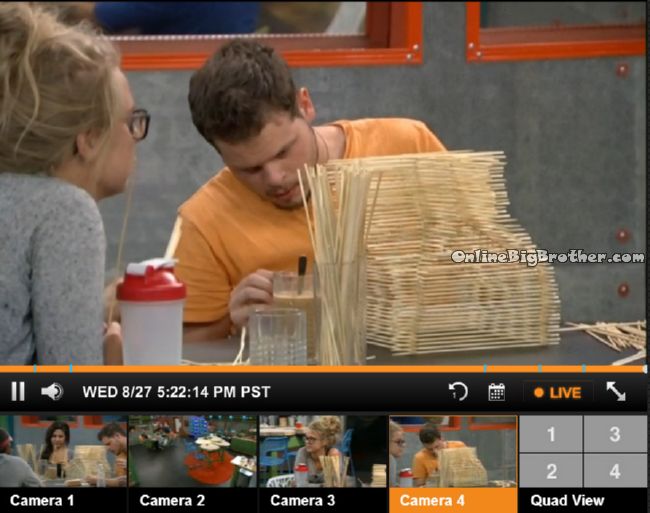 Where is the vote
Donny is going home.. The house has flipped before on a Wednesday but i'm doubting it will tonight.
More polls here https://www.onlinebigbrother.com/big-brother-compendium/big-brother-16-polls/
[polldaddy poll=8260325]
[polldaddy poll=8261457]