POV Holder:
?
Next POV
Aug 16th
POV Used
?
POV Ceremony
Aug 18th
HOH Winner 1:
FRANKIE
HOH Winner 2:
Frankie
Battle of the Block Winner
Donny & Christine
Next HOH
Aug 21st
Original Nominations:
Derrick's Noms (Donny & Christine) Frankie's Noms (Caleb & Cody)
Final Nominations:
?
Have Nots
?
POV Players
Cody, Caleb, Frankie, Victoria, Donny, Christine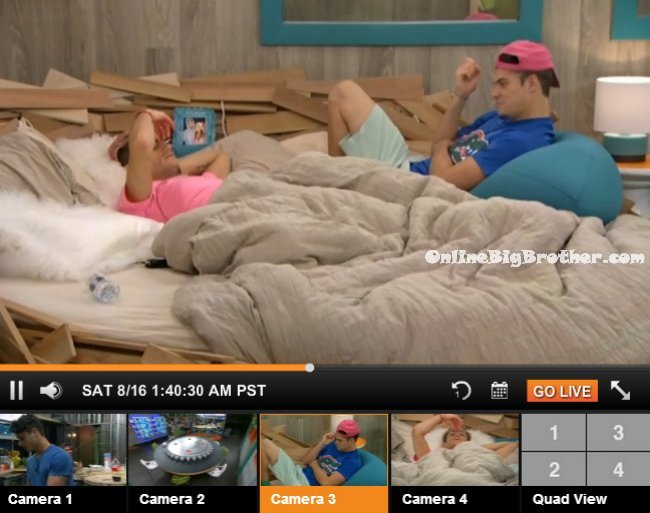 WATCH the next 48 hours for FREE – Big Brother 16 Live Feed TRIAL!
1:40am Up in the HOH room – Zach says I don't think its the worst thing for us if Donny wins HOH. We've got to keep swinging at him though. If he makes it through the next couple weeks he could pull out a final 3. If he makes it to the final 3 he will win the final HOH. Frankie says yeah he will. Zach says he won't win the physical but he will win the next two. Frankie agrees. They comment on how funny Caleb is. Frankie wonders where that's been. Zach says its because Ambers gone. Frankie says finally he's a normal person. Zach says goodnight and tells Frankie he loves him. Zach says please win tomorrow. Frankie says I will.
1:45am – 2:15am In the hive room – Caleb and Derrick are talking. Derrick hopes that Zach doesn't go run his mouth to Donny. Caleb says well we could say everyone knows Zach is a liar. Derrick says Donny won't tell anyone though. His game is to just listen. Derrick says anyone but Donny wins, its a wrap. Even if Donny wins .. there could be a conversation with him where he knows that Victoria is the target. Maybe you come down. If Donny wins HOH next week he is a player and he is going to try and take one of us out. I think we need to win this veto and HOH. In addition to that there will probably be a buy back where Hayden would come back. My only focus is getting you off the block tomorrow. If Victoria comes in last again she is literally no threat. Caleb says maybe its time to get Zach out. Derrick says I will agree with whatever you say. Derrick says I was up in the HOH crying like a little bitch because I had to give my photos back and Victoria came up talking to me. And I was like you have no idea you will probably be going home this week. Derrick says you're not going home. Derrick says Zach will stab us right in the chest, right in the heart. He won't even stab us in the back. The talk about there possibly being money in the veto tomorrow. Caleb says I would go for it. If I could get another 10K with my 5K and the 13K stipend. That's 30G's I will go home with that, that's no joke. Derrick thinks Donny would go for money too knowing he's safe. Caleb says but tomorrow I am going into that veto treating it like its Iraq! I can't lose! Caleb says again this might be not be a bad time to get Zach out. I said it to Frankie the other night and he was okay with it. Derrick says it might be time for it. He will try and make up lies and sh*t but we just all need to not believe it. Cody joins them. Caleb brings up how Victoria isn't a threat to us. Cody agrees. Cody says I love you dudes. I am going to lay down. Derrick heads into the bathroom.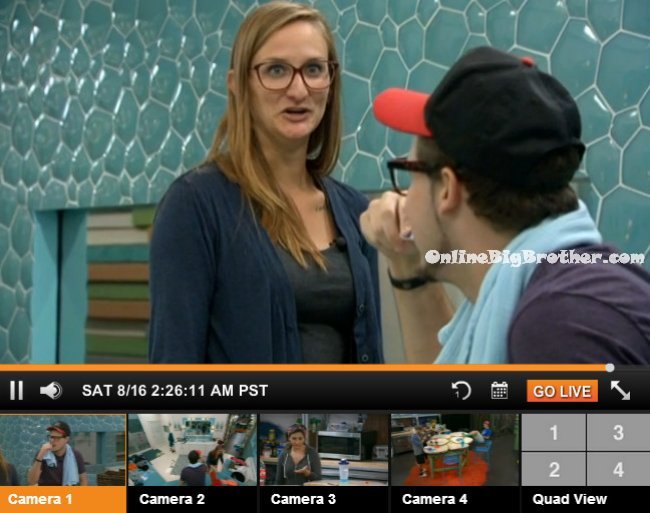 Derrick talks with Christine. Derrick asks what did they say during the BOB? Christine says they (production) said if you pick up a bone you have to bring it back to your board. I was like crap! When Caleb took the one from me they said it again. He (Donny) knows that.. Big Brother blocks the feeds.. When they come back.. Christine says I am a trouble maker and rule breaker.. Derrick says what if that was your strategy!? Apparently they didn't want it to happen. Derrick says Donny is definitely the fan favourite. Every year there are alliances that you do not want to make it and unfortunately we're it. Nicole, Jocasta are great people but do we let them knock us out? We're unfortunately the ones they don't want to make it. They want a good story and he might make it to them end and if he does he is winning hands down. Derrick says Donny has already won 6 comps. Christine says wow he is so good. Derrick says Donny is in okay shape but he is smart. If he beats us all, if he's up there at the end he is probably getting it. Christine leaves. Derrick talks to Zach and says that the jamoke (Donny) is going to make it to the end. He's won 6 comps already. If you're up there with him at the end I am voting for you. I've been with you since the beginning.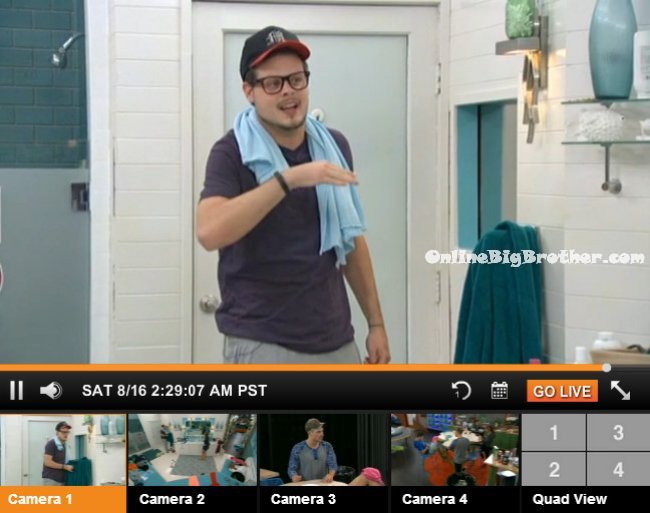 In the bathroom – Caleb is talking to Zach while he is in the bathroom stall. Caleb says I am going to win the Veto tomorrow. Zach says you should! You've got to! Zach asks Caleb if he is going to stay here for a bit? Caleb says it depends, they might already have the tickets bought and say that if I want to stay I have to fund it by myself.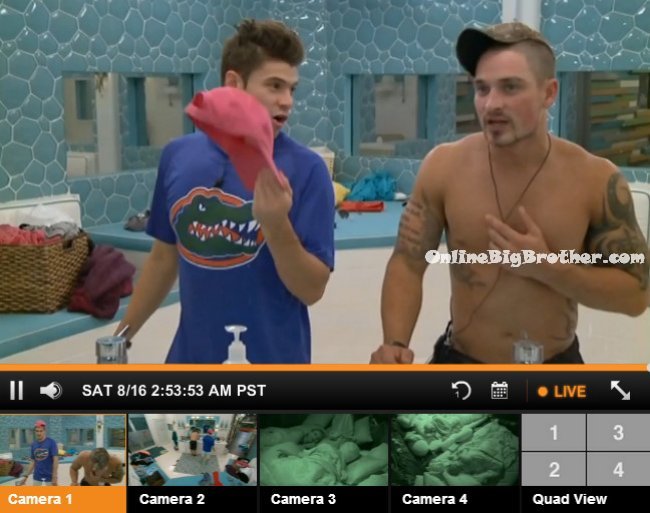 2:55am – 3:20am In the earth room – Cody and Christine are talking. Cody says I'm literally going to go home and f**k with them. I'm going to run into the room and ask them if they're talking game. Are you guys trying to get me out? I don't think Polly (His dog) is going to do good in the POV. I'll tell them we need to backdoor striker (his other dog). Christine says I hope my family doesn't hate me. Cody asks why? What are they saying to you, that you don't really want to say? Christine says Nicole and I were ranking past house guest hotness for fun. Like Jeff would be hot and Dominique would be number 2.. And they they would get me to say things like don't worry honey I love you but this guy is way too hot. I hate it but I said it twice now and I wish I didn't. Cody says I don't think it matters. Zach and Caleb join them. Christine says in highschool she used to be called "MV" and then later found out it stood for man voice. Cody says that's mean. Zach says I think you're voice is cute. Christine says thank you, that's nice of you to say. Cody and Christine go to sleep. Caleb and Zach lay there and talking about random things.
Take Advantage of the FREE 2 day Trial to watch all the drama!
9am The house guests are still sleeping..
Alliances
The new bomb squad – Caleb, Zach, Derrick, Frankie, Cody, Christine
"The HITMEN" – Cody & Derrick
Team America = Donny, Derrick, Frankie
More polls here https://www.onlinebigbrother.com/big-brother-compendium/big-brother-16-polls/
[polldaddy poll=8244330]
[polldaddy poll=8248683]