POV Holder:
?
Next POV
Aug 16th
POV Used
?
POV Ceremony
Aug 18th
HOH Winner 1:
FRANKIE
HOH Winner 2:
Frankie
Battle of the Block Winner
Donny & Christine
Next HOH
Aug 21st
Original Nominations:
Derrick's Noms (Donny & Christine) Frankie's Noms (Caleb & Cody)
Final Nominations:
?
Have Nots
?
POV Players
Cody, Caleb, Frankie, Victoria, Donny, Christine
9:13pm
Living Room Zach, Christine, Derrick and Caleb
Caleb is talking about the odds of Victoria and Donny both getting picked fo the Veto and NOt Derrick/Zach. Derrick isn't worried about Victoria winning is he's worried Donny will.
Zach – Beast mode Cowboy won't let him
Caleb says he'll trip donny up break his face all up .
THey start talking about hearing the applause after Donny won the BOB. PRoduction comes on the Speakers tells them they are not allowed to talk about production. They warn Zach 3 times before he stops talking about it. Generally Zach doesn't think is proves they were supporting Donny. Christine thinks it might be.
THey mention as king as POV ic played and it's not won by Victoria she is going home. Zach points out that Victoria will use the veto on Cody over caleb. Derrick isn't sure about that.
Zach – Dude Donny is a beast
Caleb – rips his arm off and it's all machine

9:44pm HOH Frankie and Derrick
Derrick says the draw for POV players could not be worse. Frankie agree.
Frankie – do you want to be a have nots
Derrick says whatever is fair if he doesn't do it this week he does it next week.
Derrick – Poor girl doesn't realize she's going home now
Frankie – hopefully
Derrick – she's going home..
Derrick says his main focus now is the team America
Victoria joins them.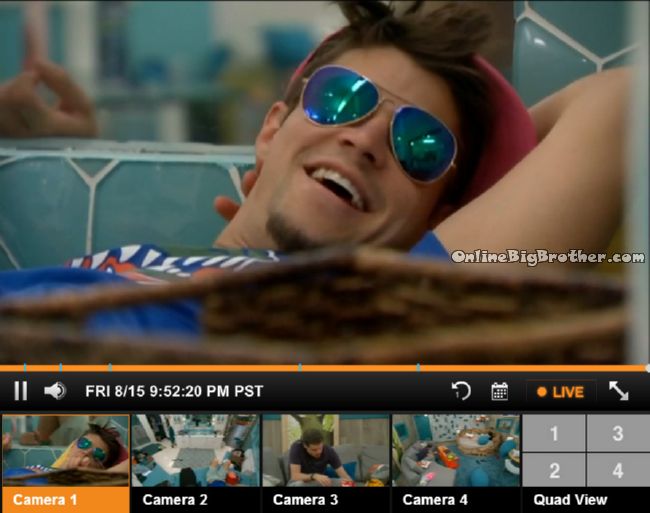 9:57pm Like a boss
Caleb thinks he can win this POV competition.
Caleb – when I don't talk to people and I chill and relax my brain I do good at stuff..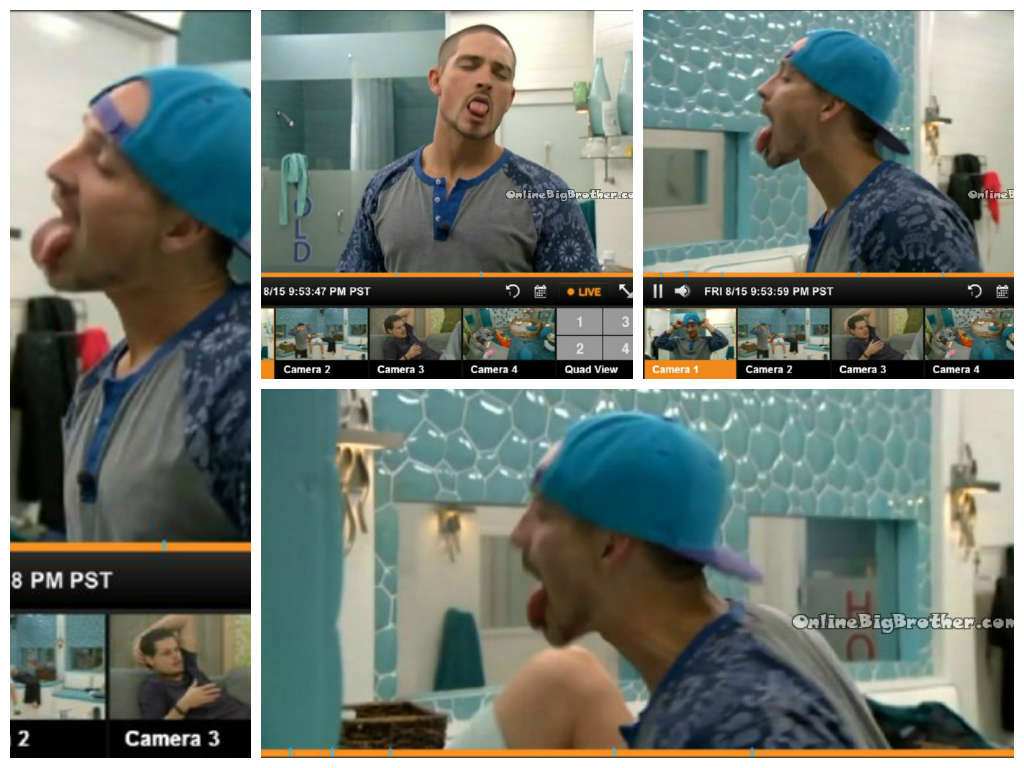 10:05pm Caleb, Christine and Zach joking around in the bathroom.. Caleb is really goofy
Caleb – I've made out with a girl for hours
Caleb rhyming. does so for a bit..
"U G L Y you're kinda ugly .. Hold up listen.. I'm rhyming off the brain.. I don't even know whats going down i'm kinda insane.. like my instagram insane physik.. When you miss with Caleb you mess with more than me. I'm not alone there's like three of 4 of me.. I'm like kinda Devin with the personalities.. "
10:16pm Zach jumps in and they have a rap battle.
Caleb – I'm a lyrical genius.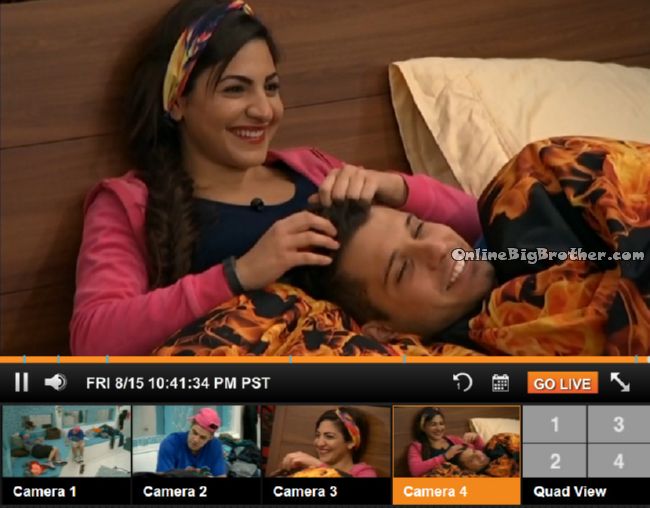 10:41pm Victoria and Cody
Victoria – "I feel like a outsider I don't know why" (Could it be the 6 person alliance Nicole/Zach and Donny told you about.. But Victoria never believed them. lol ) Victoria thinks if she doesn't win the Veto shes going up as the replacement nominee this week.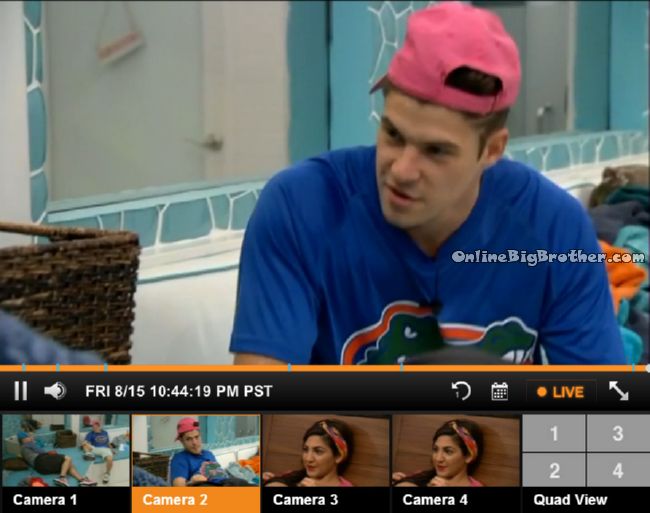 10:44pm Caleb and Zach
Caleb says production knows they are running through the house and they are switching things up with the BOB competitions. It use to be more team based but now you can win it for yourself. Caleb suspect the BOB was slanted to help Donny win mentions something about the correct fitting bones around Donny's location.
Donny joins them. Zach says Donny goes into every competitions thinking he's going home that is why he wins theme all.
Caleb – Victoria cannot win the veto
Zach – She's not winning it
Caleb – It's big Brother she's going to wn it
Zach – SHe is NOT winning the veto.
They all think the POV starts at midnight but none of them know for certain.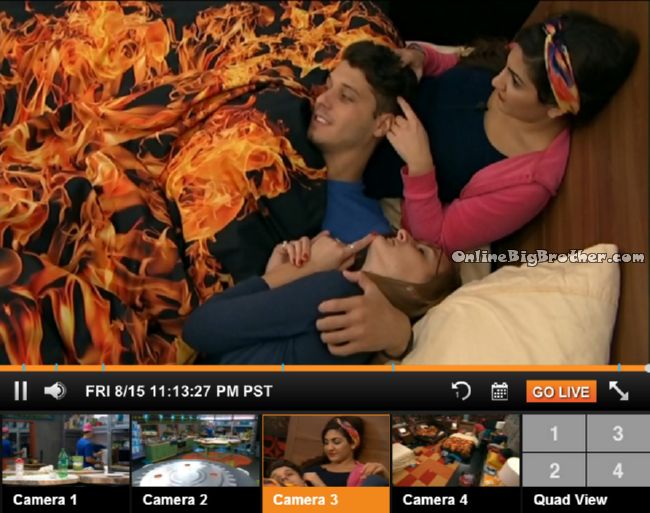 11:10pm Production tells them the Veto is not tonight it will be tomorrow.
last two girls sharing Cody (see image)
11:37pm Rock Room Donny and Caleb
Caleb saying if he stays on the block he's doing the same thing that Donny did when he was on the block. Lay low and keep your mouth shut. (Donny and Caleb have been talking a lot lately)
11:47pm HOH Derrick crying
Derrick – I've been so focused on the game.. it's funny how one little thing can throw you off
Victoria wonders if it's because he had to give back his HOH pictures. (Apparently Nicole got to keep hers last week)
Victoria asks if something happened. Derrick says he can't say, not his family nothing happened…
She wants to know what it is but he won't say.,
Derrick – You gotta win that POV
Victoria – I know, or I go up
Derrick doesn't know for sure could be him, Zach or Victoria.
Derrick wishes he was playing in the Veto.
Derrick says he can't wait until they talk outside of this house. this is all nothing. seriously it's nothing.
Victoria says its getting so dirty
Derrick – The game
Victoria – no the people
Victoria doesn't know where people stand anymore. Derrick explains people are going to do what is best for them and you can't blame them it's no personal it's 500 thousand.
Victoria – I feel like you know something
Derrick – If I knew something I would tell you
Derrick says if Christine wins it she'll probably use it on Cody, If Frankie wins it he'll use it on Caleb, Donny is a crap shoot.
Victoria knows if she uses the veto Derrick could go up as the replacement nomination. She's not prepared to put him in danger.
Victoria – If I go you better f***g win"
Derrick says the social game and competitions aren't very hard. The hard part is the time away from family "It's just a game it's what we signed up for
Victoria was surprised the cast was such young people.
Victoria – Why isn't Christine being a have nots
Derrick – She is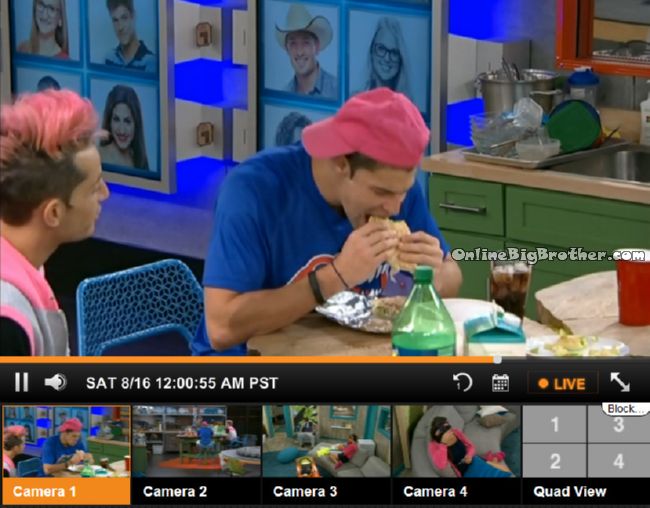 12:02Am
Zach Attack gets to eat. Donny got called into the Diary room has to wait.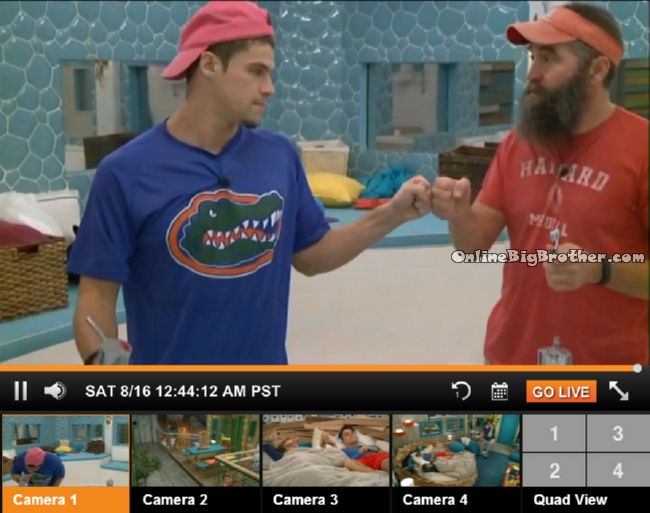 12:38AM Kitchen Donny and Zach
Donny – Everyone that plays in it will use it… that means a replacement nominee.. BUT you never know
Zach – you never know
They are excited to not have to sleep on the have nots "slabs" Zach says he's going to take a hot shower
Donny mentions that he's alone and it's rough. He collects up some objects on the table lays them out says if you have this person and this person and this persona and they are alone. You group them together what do you get .
(Hinting at an alliance)
Donny leaves to the bathroom Zach "Preach it Donny"
Zach – If that Veto is used and I get thrown up there will you vote for me
Donny – ya ya you have my vote
Zach – you're a beast
Donny – I'm not a beast but i'll help you if I can
Donny – I'm safe this week.. I want you to be safe.
Donny – I have no one I can't keep doing it by myself
The Live Feeds are archived. You can go back and watch everything that happens
Try It Free! Subscribe now to the official BB16 Live Feeds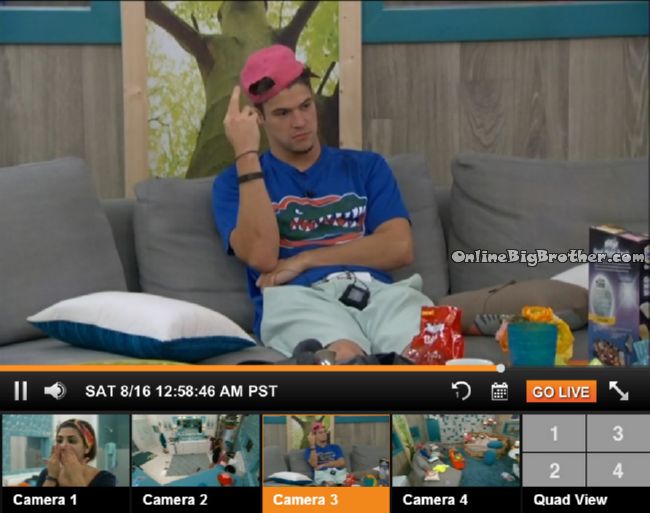 12:57AM HOH Zach, Christine, Derrick, Frankie, Cody
Derrick saying if the POV is running laps Cody will win it if it's find a bone in the dark Donny will win it. Derrick is sure Donny will try to win it like the rest of them. He has no idea what Donny would do with it.
Donny knows Christine threw the BOB. COdy adds that donny asked him what his colour of skittle was, Cody told him orange.
Zach – When we sat down for nominations ceremony he said might as well call this the Skittle ceremony
Derrick – this guys I'll tell ya..
Zach – He's going to win it
Derrick – Well I wouldn't go that far
Zach – if he wins every veto
They agree Donny is a beast in competitions.
Cody thinks the BOB competition was a joke. They talk about how the BOB competitions have changed in the beginning it was team based now it's individual.
Christine suspects that America hates them.
Derrick says Victoria has no clue about what is going on in the house but outside this house she's not a bad person. Derrick knows Zach hates her but she's not a bad girl. Zach – I love her
Frankie – She not a bad person
Derrick – Spoilers, privileged, sheltered.. she's not the brightest person i've ever met .. But I think what she does she's good at it
Derrick tells them it's a group of 6 people versus 1 man people are going to root for the 1 person. (They heard applause after Donny won the BOB)
Victoria comes in.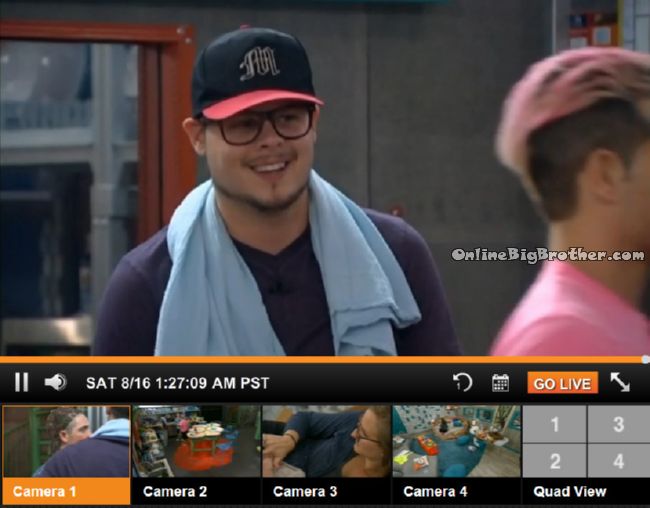 1:26AM Caleb, Derrick and Frankie
Caleb tells them about Donny chatting with him about game. Donny brought up Caleb being born near where Donny lives. Franklie – "He's trying to get in"
Derrick laughs.
Caleb – "you and me are from the same neck of the woods Caleb" They laugh at Donny making moves now. Caleb asks Derrick if he should talk to Donny see if he would use the veto on him. Derrick tells him to not "say a word to that man"
Alliances
The new bomb squad – Caleb, Zach, Derrick, Frankie, Cody, Christine
"The HITMEN" – Cody & Derrick
Team America = Donny, Derrick, Frankie
More polls here https://www.onlinebigbrother.com/big-brother-compendium/big-brother-16-polls/
[polldaddy poll=8244330]
[polldaddy poll=8248683]