POV Holder:
Cody
Next POV
Aug 30th
POV Used
No
POV Ceremony
Sept 1st
HOH Winner 1:
Cody
Next HOH
Aug 28th
Nominations:
Donny & Nicole
Have Nots
Donny & Nicole
POV Players
Donny, Nicole, Cody, Frankie, Derrick, Christine
Take Advantage of the FREE 2 day Trial to watch all the drama!
1:45pm – 2pm In the kitchen – Derrick tells Cody you can have your own conversation with Caleb but he definitely thinks he could smoke us in the finals. Victoria joins them from the backyard. She tells Derrick how Christine was asking where you were. It pisses me off!! Derrick says I love it when you get jealous. Victoria says no, I'm not! That's not even what I'm getting at. Victoria says I hate you (Christine)! Go be up Cody's a$$! Go be up each others a$$es! I literally feel like the third wheel when its him (Cody) and Christine. They're so weird together. Victoria explains how Christine said you haven't been awake for HOH photo's since you were HOH. Victoria asks why is she mentioning you every two seconds?!!! Why are you always on her mind?! She doesn't ask where's Caleb! Why is it only you. Derrick says I don't know I'm a popular guy! You can't have me all to yourself Victoria! Derrick talks about how Victoria's impersonation of Amber was very provocative. Victoria asks was it really bad? Derrick says it was pretty good! You were pushing your boobs up over your bra. Derrick says they were asking me about in the DR and I was like damn girl. Victoria asks did my legs look skinny? Derrick says no one was looking at your legs. Victoria asks did my hair look good? Derrick says no one was looking at your hair.
In the bathroom – Victoria asks I'm allowed to bash people on the show right? Derrick says yeah you just can't bash people not on the show that haven't signed releases. Victoria says okay good.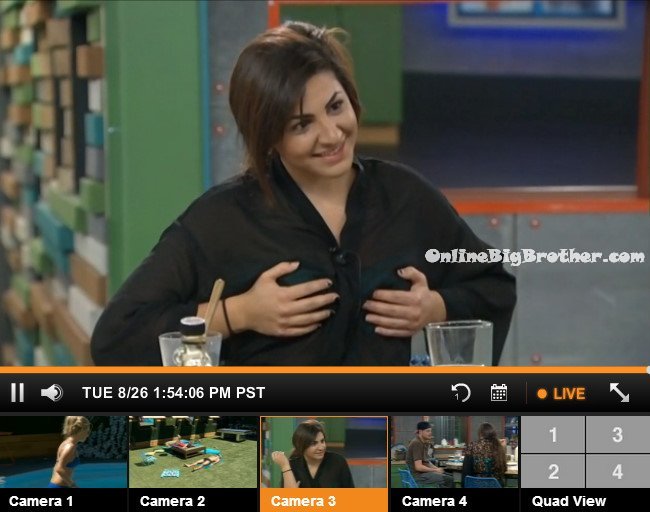 2pm – 2:10pm Out in the backyard – Cody is talking to Nicole. He says that if he wins the 500K he will put 10K down in the casino. If you've got money you might as well blow it. Cody says he's going to jump in the pool. Big Brother says there's no jumping in the pool. Cody does a cannon ball into the pool. Big Brother says there is absolutely no jumping in the pool!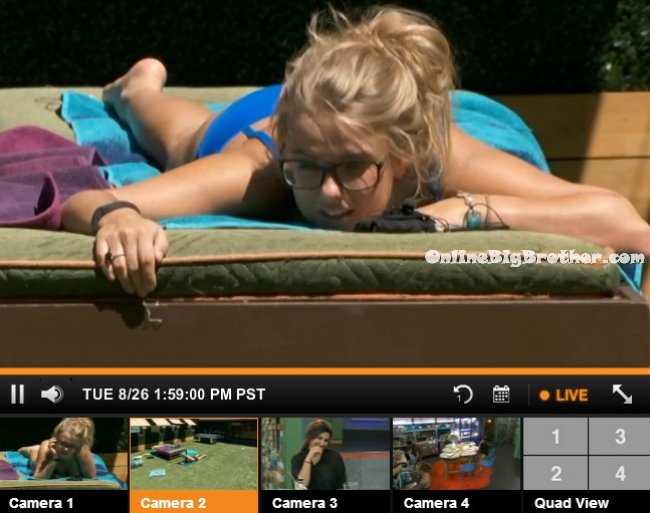 2:20pm – 2:35pm Cody and Christine start splashing each other in the pool. Christine yells at Derrick .. you don't have to put a shirt on to go inside you know!
2:50pm – 3:10pm Derrick, Cody, Christine, Nicole, Donny and Victoria sit around and in the hot tub. Derrick comments that he's shaving off his beard tomorrow. Frankie wakes up and asks Cody if he got his camera? Cody says yeah I got it hours ago. Frankie's sad he missed it. Cody says I took a picture of you sleeping. They all sit around the hot tub in silence. They chat about random things. Caleb wakes up and joins them.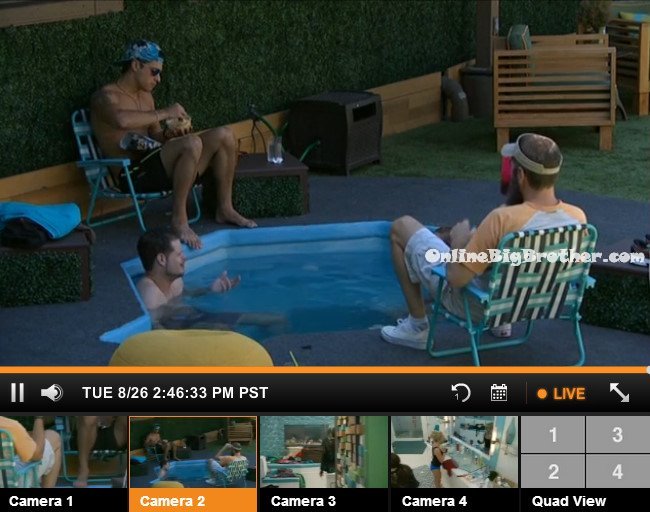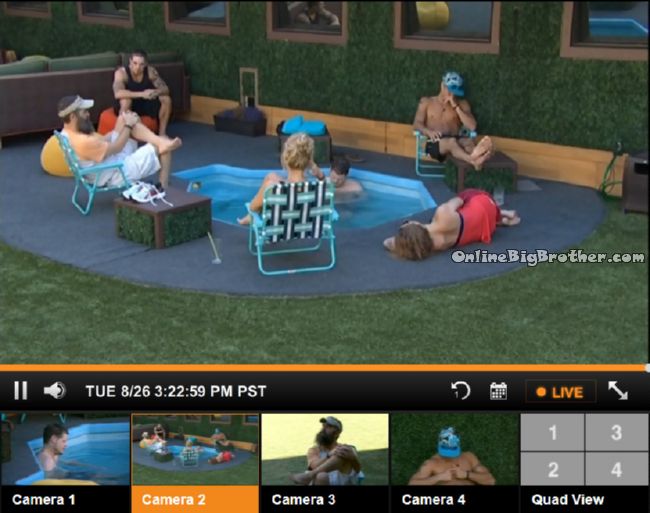 3:22pm Hot tub time..
Talking about the "play" CHristine and Frankie don't think POW or Joey will have a issue with their impersonations.
Christine points out that POW really did try to get into COdy's pants.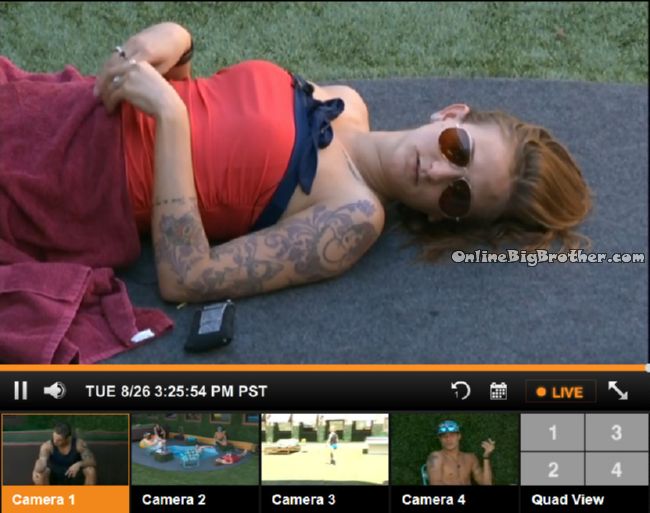 3:25pm Lockdown called,
Caleb points out that Victoria had one bathing suit on now she's just changed into something new.. "you got your hands full with that one derrick"
Below are the pictures of Victoria changing out of her Blue swimsuit into her black yoga pants.


3:29pm FIREROOM Derrick, Victoria and Cody
Cody is complaining at how messy Frankie is, Says there is never a clean cup because he uses them all up. HE knows it's Frankie cause they always are half filled with water down milk.
Derrick agrees points out in the FIRE ROOM all the dirty things Frankie Leaves laying around,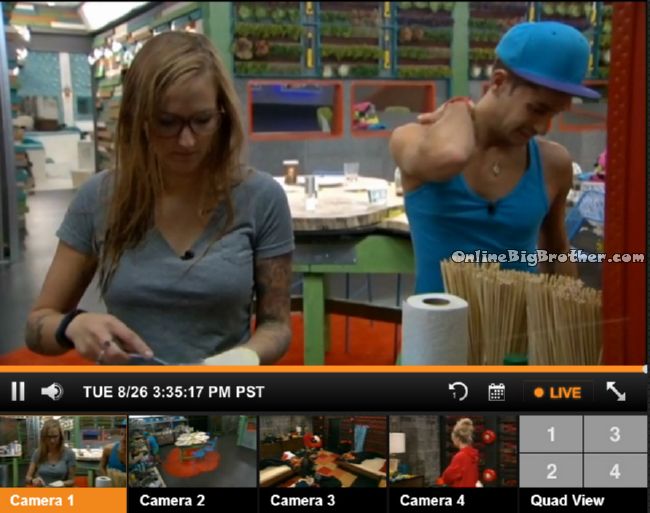 3:35pm Kitchen Frankie and Christine
Frankie says Nicole it feels like Nicole has campaigned to everyone but them
One way to support this site that doesn't cost you anything extra is making your
Amazon purchases through the links Below
For in Canada use the following link:
Amazon.ca
More polls here https://www.onlinebigbrother.com/big-brother-compendium/big-brother-16-polls/
[polldaddy poll=8260325]
[polldaddy poll=8261457]