POV Holder:
Cody
Next POV
Aug 30th
POV Used
No
POV Ceremony
Sept 1st
HOH Winner 1:
Cody
Next HOH
Aug 28th
Nominations:
Donny & Nicole
Have Nots
Donny & Nicole
POV Players
Donny, Nicole, Cody, Frankie, Derrick, Christine
Take Advantage of the FREE 2 day Trial to watch all the drama!
11:50am Nicole joins Donny out in the backyard. She complains that she didn't have a good experience the last time she took the cold shower. Donny suggests she get in and out quick and its not that bad. Nicole says I would 100% rather sleep in this grass (than the havenot ice beds). Nicole heads inside and braves the cold shower. Christine joins her and starts getting ready for the day. Cody comes down from the HOH room and goes into the diary room to get the HOH camera. Donny heads back to bed in the havenot room. Cody heads into the fire room and starts taking photos of himself with sleeping Caleb, Frankie and Victoria. He holds up the HOH boxing belt and takes a photo. He then heads into the bathroom and starts taking photos with Nicole and Christine. Nicole says CODY! We're not friends if you do that!!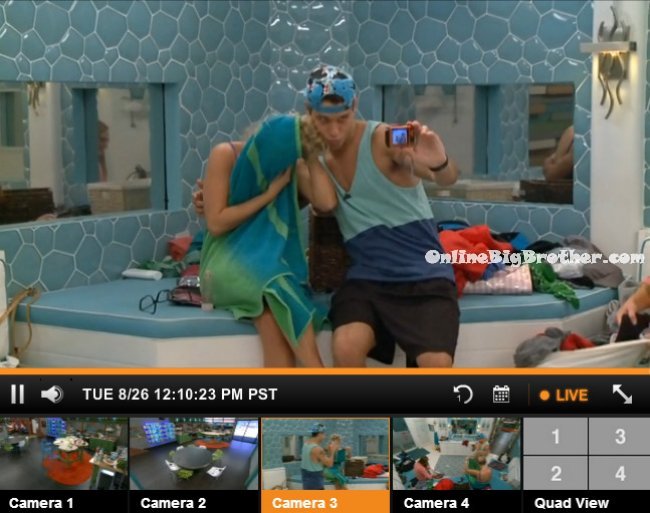 12:15pm – 12:30pm Nicole and Cody head out into the backyard. Nicole goes to take a shower in the backyard to wash her hair. Cody says backyard photo shoot!! Nicole says if you take a photo of me you don't respect me. Cody says that's not fair! Cody says WHOA!! Super model! Nicole says you better not take any photos!! Cody says you got to work it! Yeah Work it girl! Cody tells Christine I got a good one! She's going to hate me. Nicole comes over to look at the photos. Cody says look at your body it looks so rocking! I don't know why you would be mad at that! Nicole asks did you really take photos of the sleeping people? Cody says yeah, Victoria is going to cut my pen!s off.

12:30pm – 12:55pm
Cody and Christine heads into the living room to take photos. Nicole gets called into the diary room. Christine says that's weird. Nicole asks do they ever call people in when we have the HOH camera? Christine says no. Nicole says maybe its an emergency. Christine wonders what Cody's HOH twitter questions will be. She says can you please wear less shirts. Cody asks what photos should we take? Christine we could take ones with your shirt off? We could take jumping ones? Cody says yeah lets take jumping ones.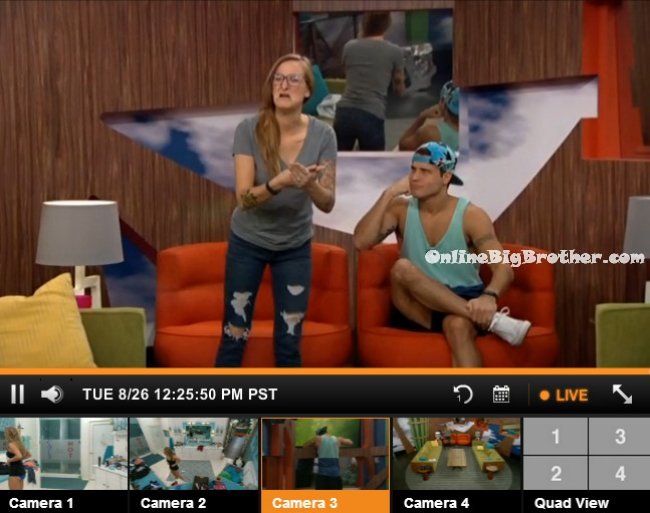 1:15pm In the living room – Derrick and Cody are talking. Derricks says I can tell Nicole doesn't trust Frankie. She says I know you trust Cody. She asked me what's the divide in the house. I don't mind her knowing I trust you. They agree that they think if Nicole wins HOH she is going to go after Frankie and Christine. Cody talks about how annoyed Caleb is with Christine how she won't let them talk. He said it right in front of Frankie. Derrick says Caleb wants to go to the finals with us because he thinks he would beat us. If it was up to me I would go with you. I wouldn't trust how the votes would go with him. Derrick says Christine is the biggest rat in the house right now besides Frankie.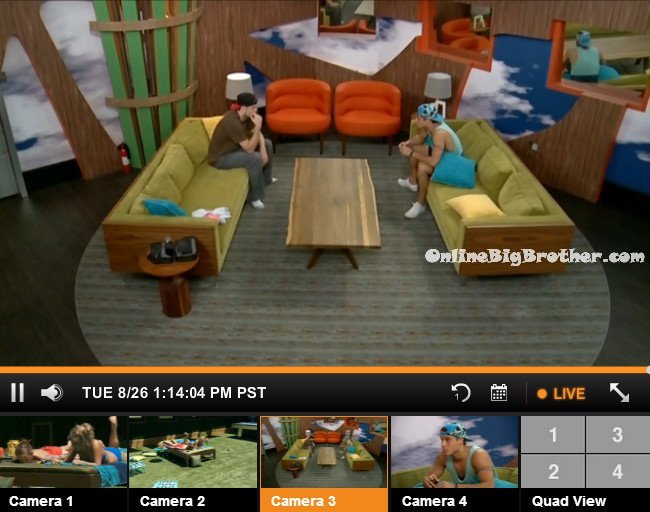 1:20pm – 1:40pm Out in the backyard – Nicole and Christine are suntanning and talking. Nicole says people should vote for who played the best game and not for personal reasons. Like if Brittany was in the jury she would not vote for me because of the bed situation. Christine says she told Derrick last night that she feels like she is playing for second place. Nicole says you can't think like that. Christine tells Nicole ..when I was getting married I told my Mom that I was so excited to show Tim my TA-TAS! Nicole asks wait… he hadn't seen them before your wedding?! Christine says no. Christine says you missed crabby Christine this last week. Nicole asks do you miss Tim a lot? Christine says MMMmmHmm. Nicole says we're getting so close. I can tell Derrick's been missing his family a lot. Frankie's missing his family. Everyone is. Victoria joins them. (Derrick sent her out to spy / break up their conversation.)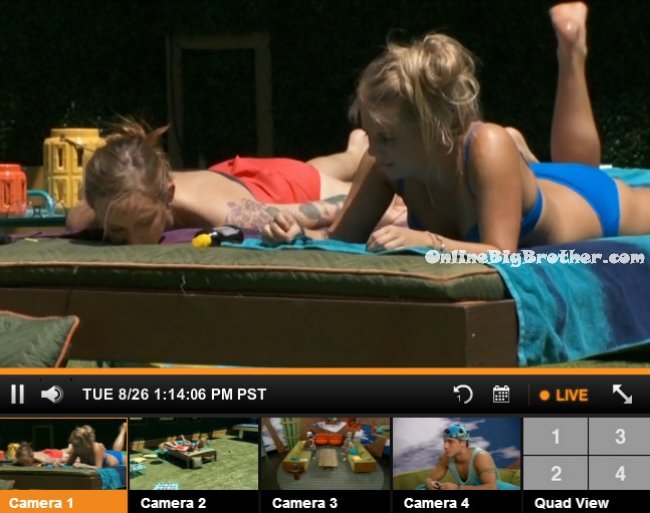 One way to support this site that doesn't cost you anything extra is making your
Amazon purchases through the links Below
For in Canada use the following link:
Amazon.ca
More polls here https://www.onlinebigbrother.com/big-brother-compendium/big-brother-16-polls/
[polldaddy poll=8260325]
[polldaddy poll=8261457]