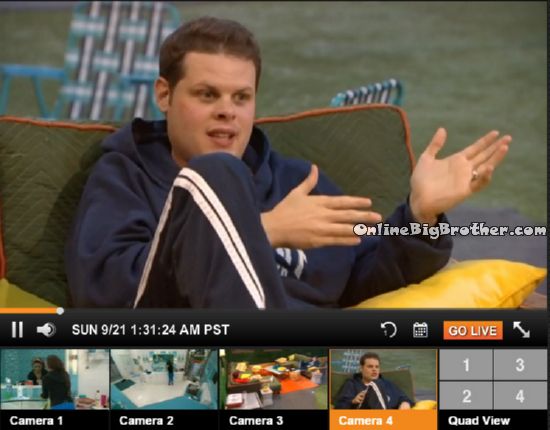 1:30AM Derrick and Cody
Derrick talking about about how it would have been just as awkward if Caleb was there.
Cody thinks Victoria is worse
Derrick – Ya for me
Derrick says Victoria keeps asking him if he's taking Cody and he keeps telling her what did Cody say during his speech (When he evicted Caleb said his final 2 was Derrick)
Cody – That is the definition of insanity "Doing the same thing and expecting different results"
Cody – when her and I sit together we rarely talk ..
Derrick – If I beat ya i'll be the bad guy and send her home and you and I can do what we want to
Derrick – "Nothing is going to change this"
Derrick says in the DR they ask him and he's like NO NO
Cody – Dude i'm not even worried about that at all.
Derrick – NO FU***G CHANCE NONE it's not happening Jesus himself would have to come in here and tell me to do it.. then I would Consider it "
Cody – I won't hold it against you
Derrick lets make a pact right now we know we're going to final 2 lets make a pact to enjoy these final days
Derrick is going to make a more of a effort says they played hardcore for 94 days he doesn't want to sit in there and bicker with Victoria
Cody – she's just.. ugh
Derrick – I've been dealing with it from the beginning.. it's the worst
Derrick – we didn't take her here because she was entertaining.. we took her for the exact reason of what just happened.. for a minimum of wining 50K I can deal with that..
Cody – she might hear it from me if she keeps going
Derrick – Do your thing man..
Derrick says Victoria is deep down a really good person.
Cody doesn't understand before the button twist they were about to vote her out and she knew that so why does she think now she's staying.
Derrick mentions how Victoria Believes she's meant to make it to the final 2 they saved her on purpose.
Cody – She always say everything happens tor a reason.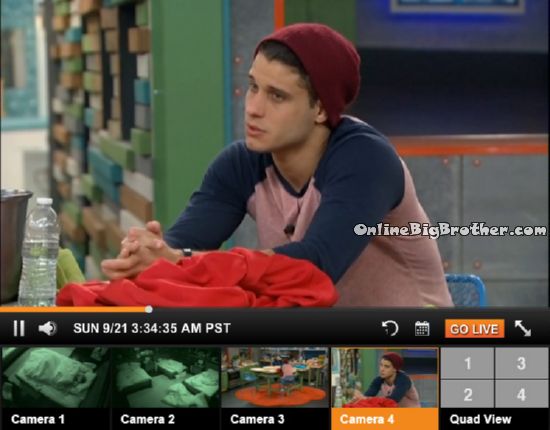 3:30AM Cody and Derrick Kitchen (Mostly just chit chat)
Cody saying the cops in his home town make bank. mentions hi cousin in rhode island making very good money and the crime is so low where he works.
Derrick says where he lives there's some cops that make good money but other towns they make shit adds that the cops around his home town don't do well, "Local cops make 30 or 40 the troopers in jersey make 75-80"
Derrick brings up how all the holidays are so much better when you have kids because you really play up the even, "I do a Turkey fry at my house.. it's in and out"
Derrick – three day away.. Sunday is going to cruise .. Monday tuesday down days Wednesday game on
Cody – Tuesday is tomorrow.. you know what I mean.
Derrick says he's going to Smoke Cody in the "Booth" competitions on Wednesday. Cody says he's beat Derrick twice in "Booth" competitions before.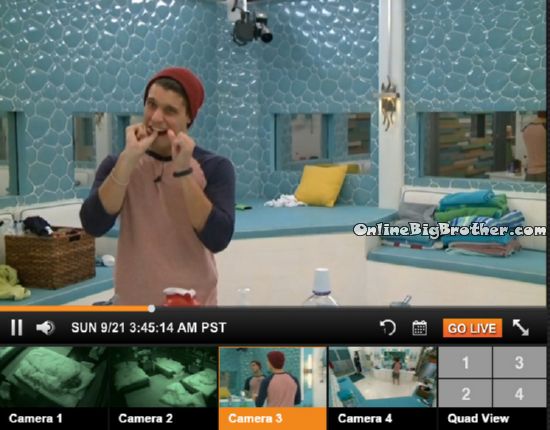 3:41AM They go into that bathroom to brush their teeth.
Cody says he shaved his "pubes" in the toilet/Shower
Derrick says that's gross
Cody – you guys are all like the amazon rain forest
Derrick says he never had lot of hair there "At home I crush it out but here.. their ain't nothing going on for me buddy"
Cody – I don't do it for that reason.. there's nothing going on here
Derick – you are going to have a couple days coming up you better be prepared
Cody doesn't plan to start banging girls right when he gets out.
Derrick says he likes Victoria a lot their friendship is not pity, "You can tell she's got a lot of things going on"
Cody – Donny thought she had something off
Derrick – it's possible I don't know I just have a soft spot for her.. from the beginning after that whole Jewish thing came out.
(Derrick's wife is Jewish or part Jewish)
Cody says in the beginning Victoria would always want to talk, "I remember at one point Hayden came out said Victoria, Cody wants to talk to you.. it was about nominations".. "the things she would say I was like MAN ALREADY then after she was nominated and the reaction she had at first, I was being nice then it was really repetitive I was like I can't I cant' do this.
Derrick – It was a sign of things to come
Cody – She said to me I didn't even make eye contact with her when we're all sitting there after the nominations
Derrick – that was the most awkward point in this house… it got really ohh shit
COdy – Yup nominations shit is goes down it's not a party
Derrick says he cannot believe they made it even great players sometimes get "nicked" they played a great game and got a little lucky
Cody – yup
They head to bed. They don't wake up until after Noon..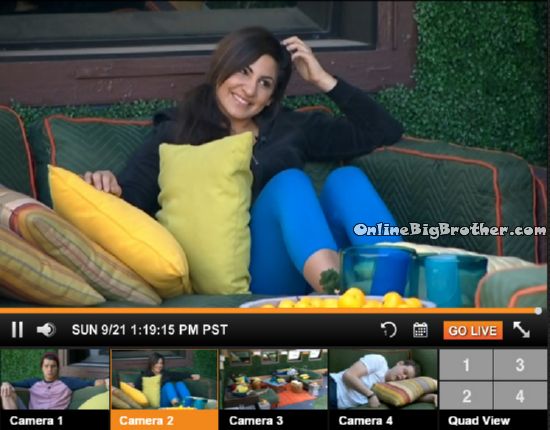 1:19pm
(talking about a fast food spot)
Victoria – in High school this kid uumm worked there that I knew..
Cody – did you have the hots
Victoria – no
Cody – you are a liar you did
Victoria – I would go in and get free food every day.. isn't it that cool
Cody – ohh that's f***d up you are going to get him in trouble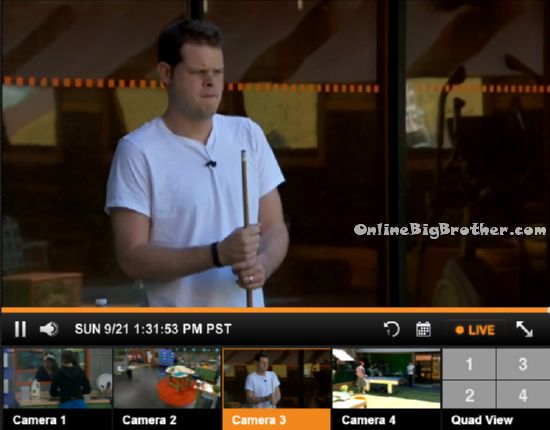 1:21pm Derrick and Cody playing pool
"Crushing it"