Victoria campaigns to Cody and Derrick in front of them both.,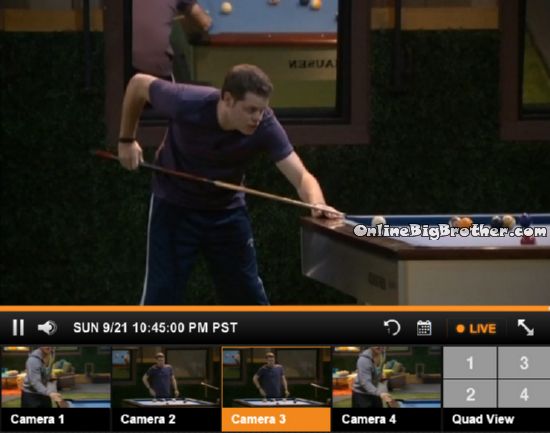 10:44pm
Cody and Derrick complaining about Victoria campaigning. They agree taking Victoria to the end would mean giving her the win. They believe the jury will be bitter because they brought Victoria a player that didn't do much in the game.
Derrick can't understand why she doesn't know everyone will vote for her. Cody says it would be messed up if they tell her she doesn't deserve to be in the final 2. The Jury all think she's the biggest floater in the game, THey are all pissed at her for lasting longer than them and winning more money. Derrick mentions how the Jury won't give her the win because they thought she played well they will give her the win o FU** over one of them.
Derrick says Victoria has no idea how intricate the game they played, Day 12 when people were learning names Derrick and Cody were making plans.
Derrick says Victoria is a good person she's never maliciously attacked anybody. Derrick doesn't think they will be friends after the show if he sends her out.
11:46pm Victoria and Derrick Hammock
Cody is sleeping
Victoria – you enjoying these days
Derrick – Not really i'm trying to take it all in what I haven't took in these last 94 days.. every blade of grass you know.. kinda sad to know we have no more compos Victoria agrees points out he still has one comp left.
Victoria – you are going to win.. I know that
Derrick asks her what's the percentage if he's going against Cody
Victoria – 99%
Victoria says the one vote against Derrick will be Jocasta.
Derrick says Meeting Victoria was "Definitely Cool.. he didn't think he would meet someone that he'll be friends with outside the house"
Victoria feels the same way says a real friendship is harder to find than romance.
Derrick thinks it might be true romance.
Derrick teases her about her lust for a boyfriend says maybe there will be a spin off show like the bachelor but they are all jewish late 20 early 30's .
Victoria thinks 15 guys fighting for a date with her is weird
Derrick says she's lying she would love it
Victoria laughs agrees.
Victoria says she hopes her business booms from being on the show.
Derrick thinks it will big time.
They talk about Frankie Derrick mentions how Frankie told them all he's a millionaire before he left. Derrick doesn't think Frankie will talk to them much after the show.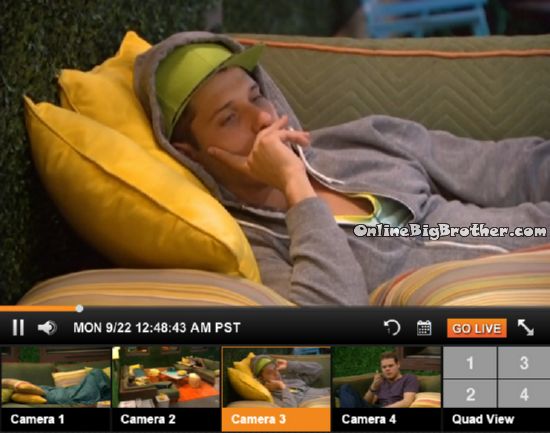 12:48AM Backyard Cody and Derrick
Derrick talking about getting a propane generator, it wasn't cheap but they needed it for heat in the even that the power goes out. This year he plans on getting a snow blower. Production tells them sleeping only allowed in the bedroom (It;s direct to Victoria who is on the hammock) Victoria heads inside.
Derrick says the conversation he had with Victoria was so f****g bland.
Cody talks about entering the real world again from being on Big Brother all summer.
Cody talks about working for Total Entertainment (totalentertainment.com). says he's a MC, hoist and a dancer. People hire him
"You call my company total entertainment you get everything.. you are getting me you get a MC, DJ, 4 or 5 dancers.
Derrick – dancers girls guys?
Cody – both
Cody says they party with the adult but with kids they teach them how to dance.
Cody says he started working for the company wanting to host but everyone has to start as a dancer.
Cody says he's the dancer and he interacts with the people. He says the MC;s make the most money. MC's make 800 a night plus tip, "One MC got a $800 tip"
The lead MC brought Cody in and said "Dude you remind me of me" Cody has been working towards being a MC.
Cody – Dancers starts off at 200 dollars to party..
Derrick says he'll make Bank in the entertainment business now that he's been on Big Brother.
Cody doesn't think so because they can't use Big Brother in promoting themselves (as per the contract they signed before entering the house)
Cody – I don't know the party we do are like hedge fund owners..
Cody says he got tired of how much of a$$holes the husbands are. "They're all rich d1cks and their wive's are smoking hot"
Cody – one guy came up to me to said hey get away from my wife. I was like get out of my way or i'll knock your teeth down your throat. (Just like when he called Donny out this season all the times he said he would)
Derrick doesn't understand why he would come up to him
Cody says he was dancing around in a group near his wife. "All of us talk about it cause the other guys aI work with are super good looking"
Derrick says the last thing he wants to do is "Crack:" a guy that has a lot of money. Cody know says he would never do that he would be DONE.
Cody says these mean are the biggest losers he's ever seen "The good looking guys are the coolest on.. the loser ones the wives are just with them because they have money"
Cody loves the job though hates not having weekends though.
Derrick – It's Monday officially have one more down day to go after this one.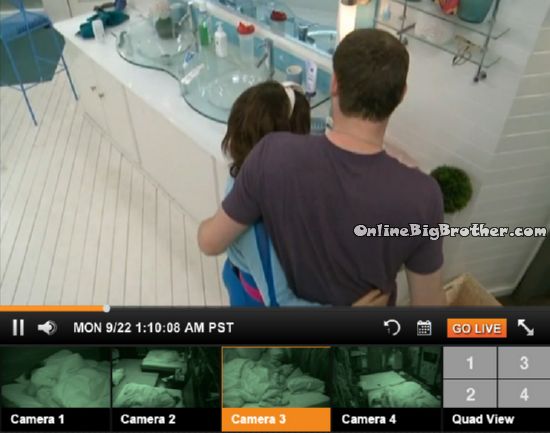 1:10AM Derrick goes inside for a moment gives Victoria a hug says he's going to bed soon.
Derrick goes back to the backyard with Cody they talk about the hitmen's game for about a hour. 1:10-2:10am.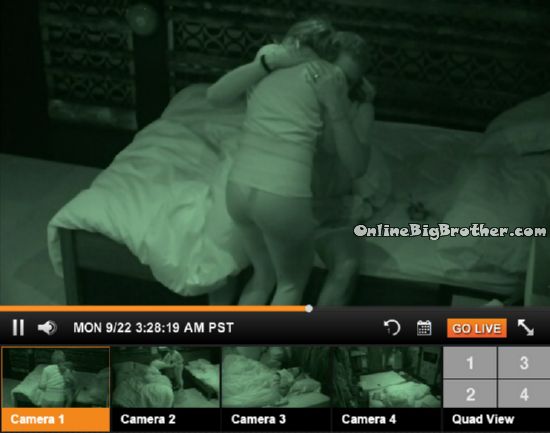 3:06AM Derrick and Victoria
Victoria asking if she was funny to watch. Derrick says she was mentions how
Derrick – All you have to know regardless of what happens I care about you and you will be my friend for a long time.. forever.
They are both happy/sad that the summer is coming to an end.
Victoria – I never thought I would have met someone like you it's so weird.
Victoria – Derrick thanks for being there for me
Derrick says they have to enjoy these last 2 days because they will never be in this house again together.
Victoria agrees "No more game talk"
They start talking about this skiing trip they have planned.
Victoria – Derrick we've been together since day one..
Derrick – yup and you said you never thought you would be here..
They hug and go to sleep..
6:14Am everyone still sleeping
7:28AM ZZZZzzzz
10:43AM ZZZZzzzz
(If you enjoyed the spoilers Please consider a donation through PayPal)
Make your Amazon purchases through the links below it Supports this site
[polldaddy poll=8244330]