| | | | |
| --- | --- | --- | --- |
| POV Holder: | ? | POV Used | ? |
| HOH Winner | Caleb | Nominations: | ? and ? |
12:30am Up in the HOH room – Caleb is talking about his Dad to Frankie and Cody. Caleb says his Dad is a bad dude. He lived it rough for a while and has some tattoos he's not proud of. Caleb talks about his brothers and how his brother Damon has a different Dad but that his Dad was there when he was born and is basically his Dad. Caleb says his Dad is a smart as Einstein and he didn't even finish high school. Victoria joins them. Derrick joins them not long after. Derrick looks at Caleb's photo and says this doesn't even look like him. Furthest thing from a cowboy right here. Cody says oh yeah, he dresses like me at home. Derrick says rocking the pea coat.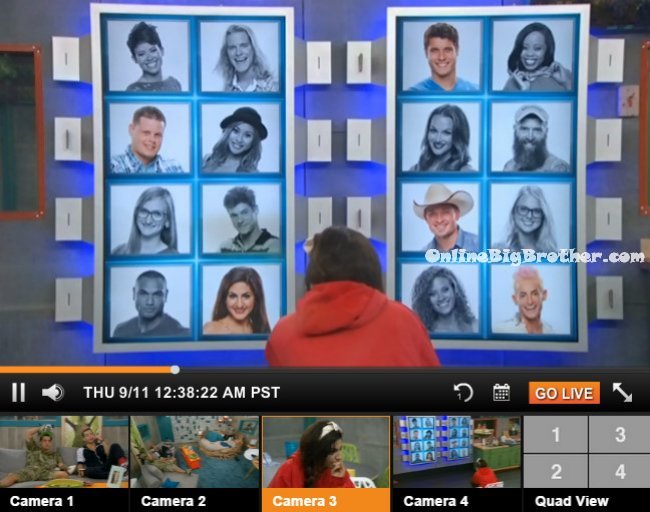 12:55am Derrick and Frankie head outside to play a game of pool. Frankie says the good thing is whoever is up against her is even safer than they were last week. Derrick asks why what happened? Frankie says she is just up in everyone's grill now that she doesn't talk to you any more. It's been 3 hours and everyone is already rolling her eyes at her. Derrick says so be it. I told you earlier she was flirting hard with Caleb. Frankie says he asked Caleb if he was concerned about the nominations and Caleb said no because whoever it is I know they're not the target. Frankie says oh god you're so naive. You're so naive because every action has meaning. Derrick says so you're saying I should be pissed if he puts me on the block? Frankie says every move has repercussions. Whoever he puts on the block if they decide who will go to final 2 they will take that into consideration. Derrick asks where's your head at in this game? Frankie says I am really happy where you and I are in this game. Caleb and Cody I am a little worried about but it could be just a friend ship. I am extremely, extremely, extremely pleased that we succeeded at a mission. That's what tonight was, we're going to show them that they succeeded. Frankie says you know what would be sweet if they throw us another mission this week because it is a rewind. Frankie says or the same mission. Derrick says oh yeah.. and it ain't going to be hard because Caleb is fixated on that mouse. Frankie says I think you and I are good. if you hear anything about me please let me know so I can squash it. I think we are good because I get to play in this HOH and next HOH. That's why I was so happy about the rewind. For one of us to go home two have to get together. Frankie says I don't think I could magic Cody on the block. Derrick says Caleb is definitely going to put up who he wants to put up. I will be Victoria and one of us but regardless of who goes up it will be fine. Frankie says you or me need to win the veto and I will even use it on you if I see something going sour. Derrick says at this point you have to trust in what you've had this entire time. What I did for you week 5 was genuine. If you screw me you look like the schmuck. Frankie says you and Caleb have an odd, odd relationship .. you've tried to get him out and he's tried to get you out but you're both super tight. Frankie says I would love for you, me and Caleb would be in the final 3 but same with Cody. Derrick says if I don't take you to the final two I look like a douche bag. I just took money out of the schools in Africa. I think you've built a legendary resume in this game and you've guaranteed yourself a spot on All-stars. Frankie says well I accept. Derrick says she (Victoria) ain't going to vote for me unless I save a baby. Its a blessing she isn't going to jury and that I have another week with her before she ruins me with the jury. Derrick says we deserve to be there in the final two but this years jury is going to be bitter.

In the kitchen – Victoria and Cody are studying the memory wall faces for the morph POV competition. Victoria says the fact that they are going to wake us up in the middle of the night to do this I don't know why?! Cody says yeah no idea. Cody says Brittany has beautiful eyes. Victoria laughs. Cody says so you do you. Victoria thinks this week will be extremely accelerated. Victoria and Cody study the memory wall for a long time and then Victoria goes to lay down. Cody says to himself I am going to smoke everyone in this comp.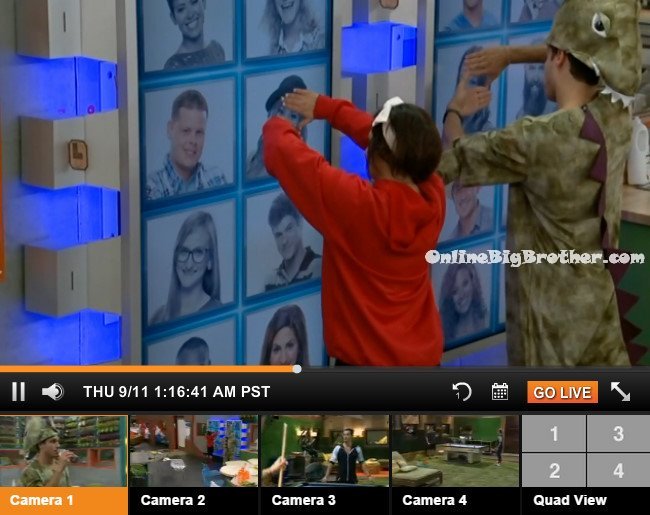 1:50am Frankie heads inside and Caleb plays Derrick in a game of pool. Derrick says I had a long talk with Frankie tonight and I said I'm not going to lie Caleb is probably going to throw me and you (Frankie) up on the block and we said we won't throw each other under the bus. Whoever he puts up, regardless we are going to the final 4. Caleb says I don't think I could put up Cody again, he's had enough stress this week. Derrick says if he (Frankie) gets hinky.. if he wins the veto we're boned. One of us is going home. And it ain't you .. it would be me or Cody. Bottom line even if he wins the veto he can't send one of us home.. he wouldn't have the votes. Derrick says its just too much of a risk, if Frankie doesn't go up he could ruin one of our games. He physically is in able to do it, the only one that could ruin our games is Caleb and that's it. And I have more trust in you than anyone, so if you're good! I'm good! With him able to control who goes home, its scary. Because you don't have the power this week. If he isn't on the block he now has the power if he wins the veto. IF Frankie wins the veto and takes Victoria off .. then one of us are going home and there's nothing you can do about it. And all it takes is for him to think you and I are getting close and its a wrap! Caleb says yeah. I'm going to be honest.. especially with this win .. he knows he ain't beating me in the end. Derrick says you have to think mathematically if he is on the block he can't ruin your game. All I would say is let him talk to you. Derrick says Frankie's one regret was that he didn't get to play in this next HOH because if he wins it he is guaranteed final 3 and now he can play in it. Frankie joins them.
See what they can't show you on TV! -Try the Big Brother 16 live feeds for FREE!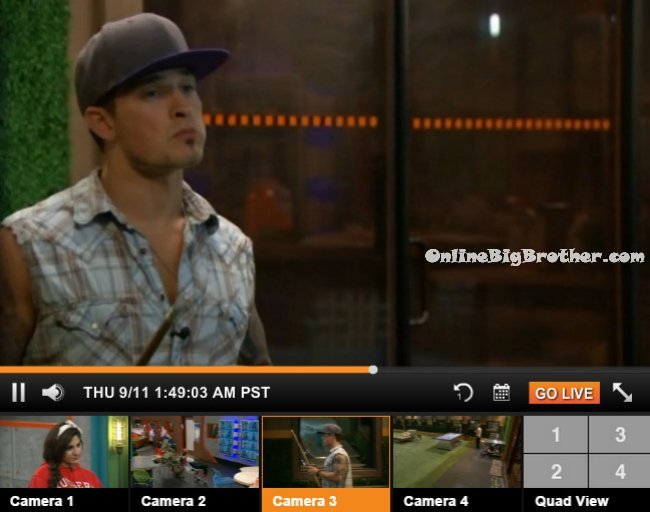 2:10am – 3:50am Frankie, Derrick, Caleb and Cody head up to the HOH room. They talk about how the game is still going to end the same time. Pushing the rewind only changed the course of the game. If we hadn't pressed it Victoria would have gone home. Derrick talks about his disconnect with Victoria and how she feels I betrayed her. Caleb says she won't win the POV. Frankie says no way. Caleb talks about a story of a King with girls everywhere and slavery and says him and his brothers remind him of that. Cody asks they sold you to slavery? Caleb says everything but that. Honestly when I was little, they would have if they could have. Seriously. I was Caleb before I was Caleb. Seriously. I was supposed to be born a girl. Everyone thought I was a girl. My mom thought I was a girl for the full 9 months. My name was Kayla. And then I popped out and they were like wow! My dad said his name is Caleb. For my fist Halloween my mom dressed me up as a girl. My brothers wanted me to be a man and toughened me up. Caleb starts telling his hog hunting stories. He says his girlfriend at the time went hog hunting with him and beat him to the hog. She had blood all over her .. on her face and all up her arms and she looked up at me and said we should just have s*x right now. Frankie asks so did you!? Caleb says no. He said is body was literally 6 degrees from swimming the freezing river so there was no way it was happening. They finish the hunting stories and talk about how tonight went down with the rewind. Caleb says but we send her home this week and then we can congratulate on the final 4. They speculate on when the season will end. (They have no idea the finale isn't until September 24th.) Caleb says to me I think you (Cody) being put up there is a lot of stress and I don't want to have to do it again. Cody says I don't want to go up again either. Caleb says I don't want to put any of you up. Caleb says as long as Victoria doesn't win the veto she is going home. I know how it is being on the block on Thursday, you have to give a speech and your butt hole is this big. I get it. Us being in the final 4 means everything to me and that's not changing. Caleb says if I was sitting up there next to Victoria I would hope you would want to keep me because if you didn't you would get boo'd when you walked out. Caleb says at noms she is going to know she only has one more chance to save herself. Frankie and Cody head down to get ready for bed.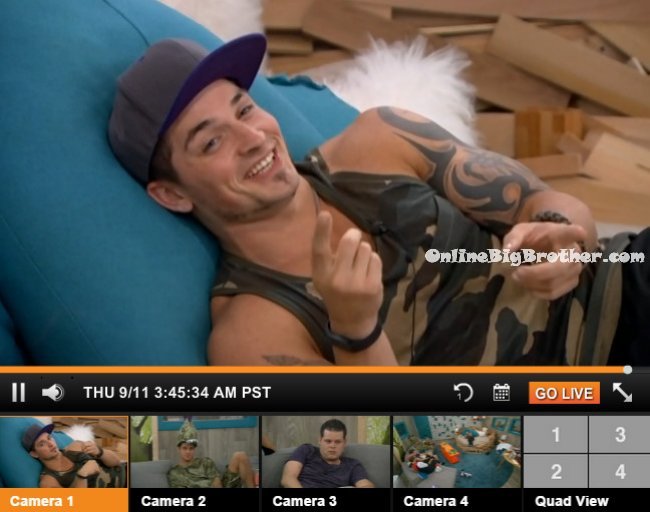 3:55am – 4:05am Derrick stays to talk to Caleb about trying to get Frankie up on the block. Derrick says if Frankie isn't up and wins the veto and thinks you, me are getting too close he could take Victoria off the block. Then you have to put me up and maybe I am naive but I think you would keep me over Cody because he's got a lot of love in the jury house and more importantly we've been true to each other. But I still don't want you to have to make that decision. Caleb says yup, me neither. Derrick says and frankly if he (Frankie) does pull himself off I will volunteer to go up on the block and you'll keep me. But instead of having only me play against him next week for HOH, you're going to have Cody too. So not only are you keeping us safe you're protecting yourself for the following week because you can't play. Would you rather me and Victoria go against Frankie or me and Cody?! Caleb says yeah that's better. I wouldn't even mention to him that he might take Victoria off because that shows a lack of trust on your part. Caleb says I definitely wouldn't say that. Derrick says if Frankie goes home this week then you're the top dog. You've got more wins than anyone at that point. Caleb says I don't want to go to jury with Frankie because I don't know that I would get America's Fave then. Derrick says I think you're closer with Donny than him. He's not that well liked in jury. If its going to be me and you in the final 2, Frankie can't be there and you don't want to give him a shot at final 3. Frankie comes up and breaks up their conversation. Frankie asks to talk to Caleb. Derrick leaves.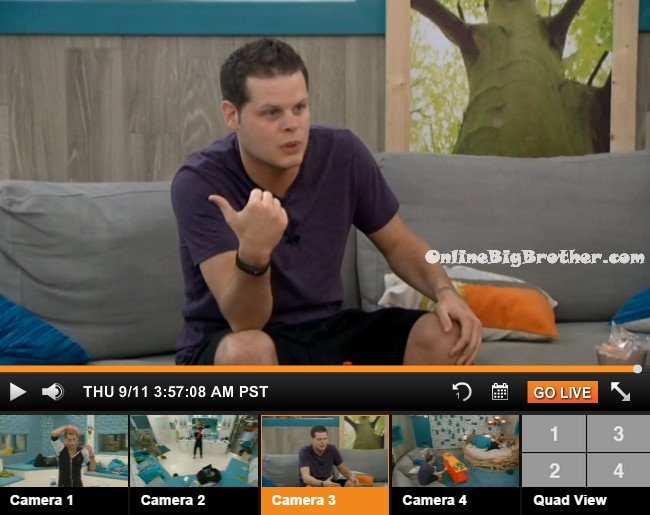 Derrick heads to the bathroom and tells Cody about how Frankie just interrupted Caleb and I talking and asked me to leave so he could talk to Caleb. Cody says wow!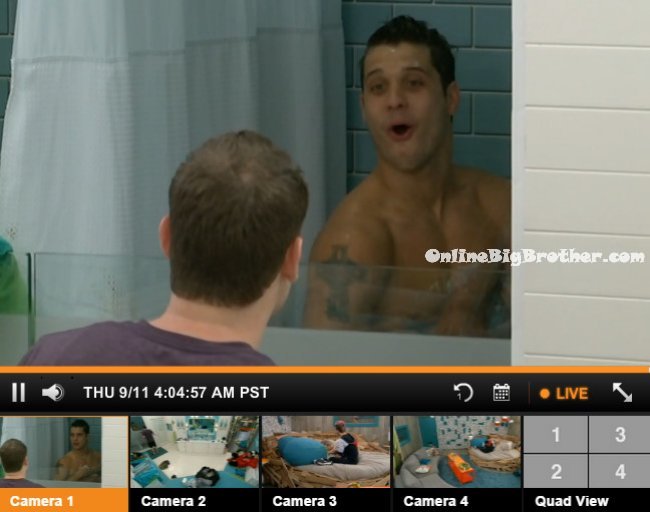 One way to support this site that doesn't cost you anything extra is making your
Amazon purchases through the links Below
For in Canada use the following link:
Amazon.ca