| | | | |
| --- | --- | --- | --- |
| POV Holder: | ? | POV Used | ? |
| HOH Winner | Caleb | Nominations: | ? and ? |
6:49pm Kitchen
Derrick saying Noms will be Friday.
Everyone is studying the memory wall getting ready for the Power of Veto competition. Vicotira is looking extra stunned.
Frankie wonders if Jeff will propose to Jordan again.
6:59pm Cody Studying hard for the POV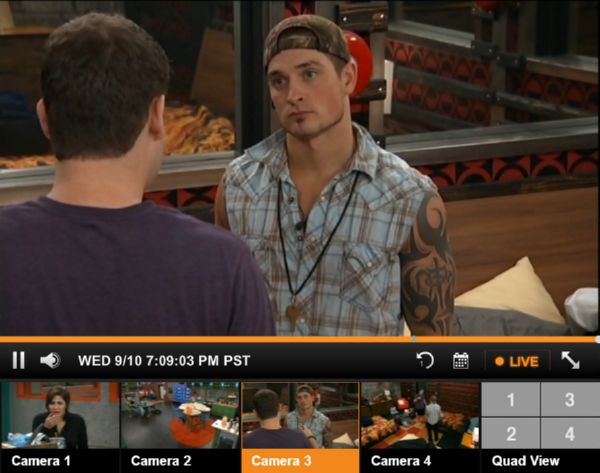 7:07pm Derrick and Caleb
Derrick saying that Caleb is more liked than Frankie, "You're a big target now you are the BEAST"
Caleb wants to talk to Cody and Derrick "I have to watch out for my own game and keep you guys safe"
Caleb – Worst comes to worst I say we all talked and we all know what is going one I'll say Derrick and Victoria hypothetically go up"
Caleb doesn't want to put Frankie up because he feels that will fuel Frankie's fire. Clabe doesn't want Frankie or Victoria wto win POV.
Derrick – he was off the block last week and he smoked that things
Frankie comes in Derrick switches to talking about them distracting Victoria so she doesn't study the Memory wall. "If she stay there for three days and study's that wall it could be a problem.. i cannot talk to her.." (because they are fake fighting)
Frankie – I can beat her
Derrick – Now she has an opportunity Stranger things have happened on Big Brother
Caleb says if Victoria wins he has to nominate two of his best friends in the game.
Frankei – we all knew it was going to be shitty.
Derrick – as long as she doesn't win POV it's the same.. if she wins the POV a lot of Sh1t can go wrong.
Caleb – She doesn't win POV status quo
They are agreeing there is a double evict coming up to bring the numbers down.
Caleb leaves. Frankie says he thinks Derrick or him are going up says Caleb has a weird thing with Cody.
Frankie says he's so happy he gets to play in the HOH next week.
7:14pm Caleb and Cody Cam 1
CAleb says he talked to Derrick and they think putting Frankei up right away will make Frankei think he's threatened and he'll fight extra hard for the POV.
Caleb – I'm thinking of not putting him up making him feel safe
Cody doesn't want to be nominated again.
Caleb – "I'm Hoping Derrick will say Dude put me up I haven't been put up yet.. I know I'm not going anywhere. "
7:21pm Cody, Caleb and Derrick in the Kitchen, Caleb is making a peanut butter and jelly sandwich. THey are talking about getting some alone time in the HOH soon to talk about who they will nominate. Derrick doesn't think Frankie will give them any time alone. Caleb doesn't want to says Frankie will win the POVa if he feels threatened. Derrick doesn't think it will matter points out that last week Frankie crushed it and was the HOH didn't feel threatened at all.
Derrick thinks they should put Frankie up so he feels the pressure "maybe he'll f** up"
Cody continues to study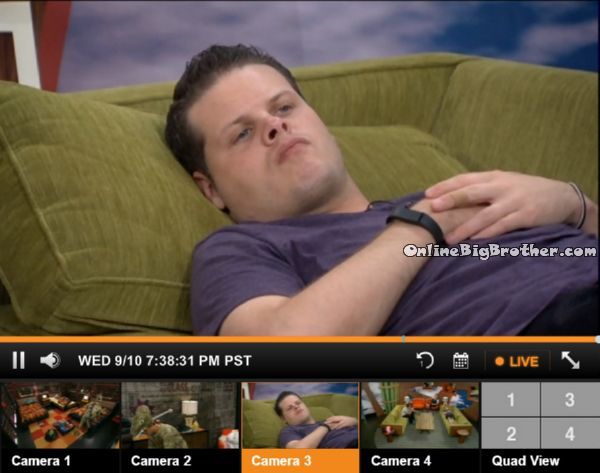 7:36pm Derrick may be in danger for the first time this season.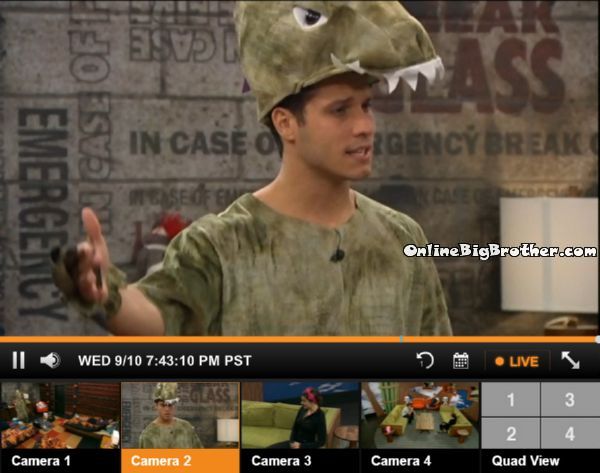 7:42pm Fire room Derrick and Cody
They are pissed about Caleb not wanting to nominate Frankie.
Derrick – I'm putting his a$$ on the F***g block and sending him home if I win HOH next week.
They agree to take Victoria to the final 3 with them. They need to get Frankie on the block this week so they can evict him.
Derrick wants tot tell Caleb – "Dude you are soft as baby sh1t"
Cody swears Frankie did not try to win that HOH comp
Derrick – he said I can't believe I get to play next week
Derrick is sure that Frankie will take Caleb to the end and they have some deal worked out. That is why Caleb doesn't want to put Frankie into danger he knows Frankie will take him to the end.
Derrick – he's not a pussy.. He's trying to not show his cards to us
Cody says right after Caleb won Frankie ran to him and said "Noms are the same Cody is going up… (Cody's reply to that) GO F*** yourself"
Derrick – He (Frankie) is not going up I'll tell you that
Cody – Caleb is soft as f***g baby sh!t..
They are worried if they push too hard on Claeb he might put them both up. Derrick says if that happens Cody will most likely be the one going home because he's seen as the bigger threat. Cody agrees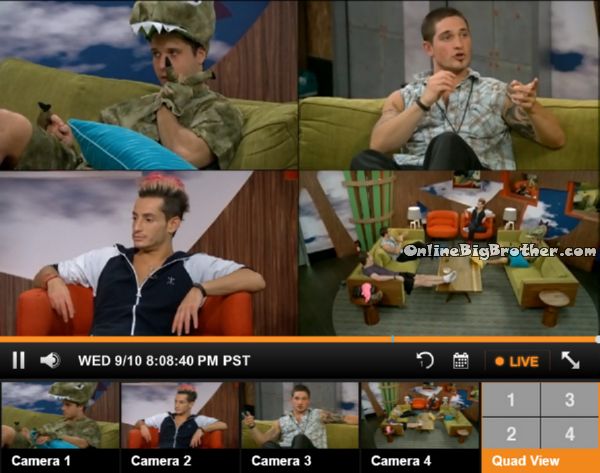 8:18pm Living room Chit chat and speculation about the season and how it will play out , the episode, the competition, the POV competition, diesel engines.. etc etc.. .
8:32pm
Studying and speculation Frankie and Derrick
Frankie thinks there is a eviction coming up soon
8:39pm
Cody and Derrick studying..
(There's going to be lots of memory wall studying until the POV)
The Live Feeds are archived. You can go back and watch everything that happens
Try It Free! Subscribe now to the official BB16 Live Feeds